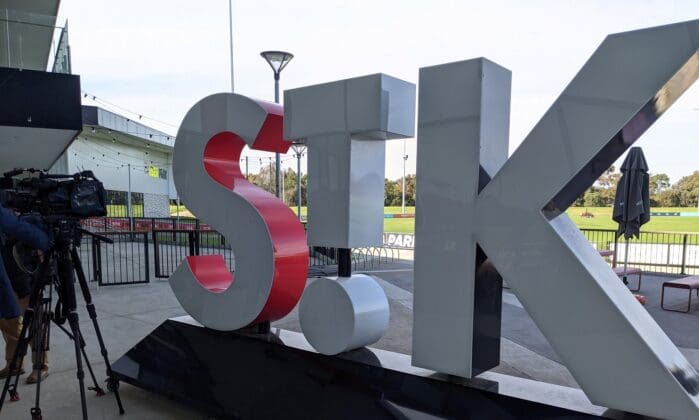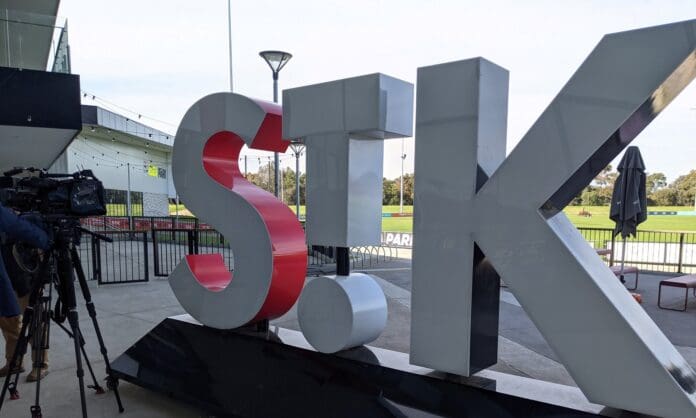 St Kilda Head of Football, Simon Lethlean, put on a brave face as he fronted the media at Moorabbin this afternoon, following the Saints devastating 111-point loss to the Western Bulldogs on Saturday night.
Lethlean said there were difficult conversations held within the club across the weekend.
"Performances like that don't make for pleasant Sundays, that's for sure. Both the players and the club are acutely aware we've got a membership base that was the highest retained membership from last year during pretty troubled times, and has the highest growth membership this year as well, so we're acutely aware of the passion and the demand for success that's out there, and we're accountable for that."
It's just so fucking embarrassing seeing the likes of Freo, Crows, Pies, Dons every week, even north, bust their ass, win/loss/draw and saints fans see the absolute tripe dished up every 2nd week by their team

It's not good enough, record membership numbers, pitiful performances

— Tim Fernando (@TimFernandoITPB) May 23, 2021
"It's made for a tough conversation with the leadership group just then."
"There's varying personalities in there. [Defenders] (Dougal) Howard and (Callum) Willkie were abit under siege on the weekend, down back, that wanted to have a conversation about how that makes them feel when the mids aren't doing their job. Some mids in there like 'Steeley' and Ross that are in reasonable form, want to talk about how it makes them feel when they're letting down their teammates as well.
"It's a pretty honest and open conversation."
ROUNDTABLE: Which 4-6 team has the best chance of making the AFL Finals? 
But the Saints footy boss made it clear there was nothing obviously wrong within the playing group or coaching staff that needed drastic changing.
"This is not a disenchanted playing group that doesn't have a coach they want to play for... they've got a coach the players love and respect, and so there's more to all this and we've got to uncover what it is to get this gulf between our best and worst... is not good enough."
Lethlean said the club had gotten it's list to a level that was good enough last year, when other teams potentially struggled to cope with the demands of the Covid-19 affected season, but that their performances were simply not good in enough this year when others had improved.
"We're not talking about just effort and 'why didn't you strive for the ball?' We're talking about 'why did you hesitate? Why aren't you talking?' theres a whole lot in it and we havent got all the answers right now, but we're searching for it and we're not in denial..."

— n 1 c k (@nicksplitter) May 24, 2021
"There's a fair bit going wrong on matchday, and that comes back to the program to find ways to support and focus and get a response."
While it was only 12 games ago the Saints defeated the Bulldogs in an Elimination Final, Lethlean says the way the 'Dogs dispatched his side on the weekend shows the gulf in the level of development and improvement across the competition.
FT |

Worst performance in quite a while.

STAT DIFFERENTIALS:
Disposals: -48
Clearances: -13
Tackles: -24
Inside 50s: -27
Scoring Shots: -31
Score: -111

Not sure where to go from here.#AFLDogsSaints #TogetherWeRise pic.twitter.com/uGnaqNnY8p

— Unpluggered Podcast 🔴⚪⚫ (@unpluggered) May 22, 2021
"It shows the difference in where we're at, as of Saturday night. The Dogs' have improved again, they're playing with confidence and they've kicked to a new level in 2021 that wasn't there at the end of 2020 for them, it was for us in 2020 but that level is not good enough and we saw that."
When asked if a response this week included "shaking up the team," as coach Brett Ratten alluded to on the weekend, Lethlean was unequivocal in his answer, despite the selection committee having not yet met at the time.
"Yeah, we'll have to. There will be changes. How many, we're not sure just yet... there will certainly be changes and we need guys to come in that are going to give their all. How many changes we're not sure just yet."
But, he said the club wouldn't be making changes just for the sake of making a statement at selection.
"It's a pretty thirsty industry for 'making statements.' We'll make the best decisions for the balance we need to beat the Kangaroos this weekend, if that's a big-name player so be it."
Mentioning midfielder Luke Dunstan as one of the players slated to return to the senior lineup after another best on ground performance for Sandringham, Lethlean said "it's not all about talent sometimes, it's about how connected and how driven, and just, what sort of response they give [on] gameday."
Lethlean implied the club had maybe gotten ahead of itself following an impressive run to the AFL Finals in 2020.
"We have to reset the expectations as to what's required to be a premiership team... We are a long way off it.
Right now we're not looking at what the end of the season looks like for is, we're looking at this week."
REVEALED: Updated list of EVERY club's free agents
The Saints have confidence in Ratten and his coaching staff to turn it around, with Lethlean admitting that the team is just not competitive enough, consistently enough, right now.
"2020 was a pleasing year for the club, but right now we're not contending.
We're confident that our game plan and our best footy is good enough... but if the contest and pressure isn't there we're not going to be able to compete."
Lethlean denied the theory that the Saints lacked cohesion between their home-grown youngsters and players recruited from other clubs.
"The recruits that played last year - there's five or six of them - I think four or five were in our best ten at the Best and Fairest.
"We actively sought to bring in some players - you're probably alluding to (Shaun) McKernan and (James) Frawley - we brought them in for depth for our team, and sure enough, Carlisle and Marshall aren't playing, [so] they're playing.
"You make recruiting decisions every year, we're comfortable with the ones we've made."
"They dont all work (recruitment decisions), everyone alludes to Dan Hannebery and has that worked? At the moment it hasnt because hes not playing footy."

— n 1 c k (@nicksplitter) May 24, 2021
"I wouldn't put the performance on the weekend down to cohesion. There were some players that were recruited that weren't playing as well, like Zak Jones, who when he played the last two weeks, was out best player, so I don't buy into 'St Kilda lack cohesion because of outside players coming in.'"
The former AFL executive said the Saints would invest heavily in the draft, perhaps hinting at another 12-months before the chase for Gold Coast forward Ben King ramps up, and said the club hasn't lost faith in it's own youngsters.
"We'll keep investing in the draft, we've got a first round pick this year that we'll be using. We've got some pretty impressive young players as well. I think everyone would like Max King and Hunter Clark on their list. Jack Bytel and [Ryan] 'Ronnie' Byrnes, have been our best players the last few weeks, Byrnes was possibly our best on the weekend.
"We keep picking kids, we keep playing them when we can - we've got some who haven't played still, Clavarino and Allison that are heading the right way for Sandringham."
When asked about the upcoming mid-season draft, Lethlean tried to temper expectations, saying while the recruiting team was "assessing that now," he didn't "expect the club to use more than one selection.
"Our guys are assessing that now. I don't expect us to hit it any harder than maybe one pick."

Simon Lethlean on @stkildafc plans in the midseason draft.@zerohanger

— n 1 c k (@nicksplitter) May 24, 2021
"Even then, we've got to make sure that there's a person we want available that's going to be on our list for a number of years, not someone to fill a gap for 6-months, that's not fair on them, or the right strategy for us."
RELATED: "If a team does need experience..."
In the short term, Lethlean said Frawley had an "aggravated shoulder." and despite reports from media "about a hamstring" was okay, and expected to play on the weekend.
Lethlean reiterated the support for Ratten and the coaching staff, saying "often when you lose by 110-points, one of the questions you'll ask is 'has the coach lost the players?' or 'is this a disenchanted playing group?' well it's the exact opposite.
"That's a good thing, because you can eliminate that, but it leaves lots of question as to how to sort the rest out."
"We're testing our depth and our depth at the moment isnt playing well enough... We've got some players that are pretty important to us that aren't there, but its not all about the talent list, sometimes its just about how they gel together and how they get on with it."

— n 1 c k (@nicksplitter) May 24, 2021
With ruckman and talisman, Rowan Marshall, still weeks away recovering from plantar fascia surgery, Lethlean said the Saints have to get better at using their depth to cover his absence.
"We certainly play better when Rowan's out there. He's a good player, a big, strong player. He can play ruck and forward, he can help Max, he can help Paddy, and he's probably the most connected guy in the group, so they miss him.
"It's okay to be honest about that."