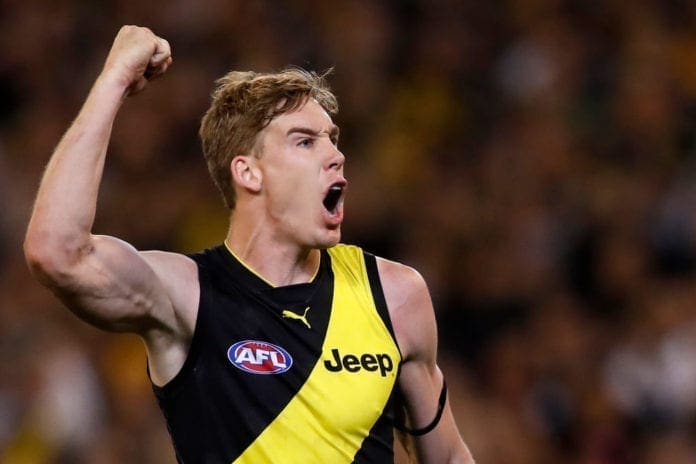 What Round 8 lacked in entertainment was made up for in the insights we gained about each side in the competition.
Port has seemingly found their footing as they sit a game outside the eight after beginning the year 0-5, while Gold Coast continue their streak as the Swans' hoodoo side after a 14-point victory at the SCG.
Things continue to spiral for West Coast as their season slips further into the abyss, while Patrick Cripps should be leading the Brownlow race after another dominant display against the Crows.
Here are 20 thoughts and opinions from Round 8:
Looks like another five-year grand final hangover for the Dogs. The Whitten Oval side has underdelivered to date in 2022 and is severely compromised down back while being dreadfully woeful in front of the big sticks. Aside from their midfield productivity, the Bulldogs just can't seem to click and things are beginning to look bleak as they currently sit at 3-5 and are set to take on an emerging Collingwood outfit in Round 9.
2. In Ken we trust. After an abysmal 0-5 start to the season, chaos seemed imminent for the Power as their proverbial 'premiership window' was thought to be slammed shut. However, three consecutive wins have Port remaining in touch with the eight as they appear to have figured out the structural woes that plagued them throughout the opening month of the season. Considering their loss to the Crows in Round 3 came courtesy of a Jordan Dawson miracle goal after the siren, the Power could easily be 4-4 and currently seem poised for a spot in the finals.
3. 'Flagmantle' with another defensive clinic. Justin Longmuir's carefully orchestrated rebuild of the Fremantle Dockers was a slow but methodical process that has them poised for sustained success. Freo was built from back to front and has had two full seasons to master the defensive system that has conceded the fewest points in the league. They held North Melbourne to 24 points in Round 8 as they holistically dismantled the young Roos en route to a cruisy 78-point victory. At this stage, Fremantle poses the largest threat to reigning premiers Melbourne given their ability to suffocate their opposition's attacking rhythms and generate scores from turnovers.
4. Alarm bells are sounding at Arden Street. 2021 was far from a success for David Noble and his men but at least last season the team seemed eager to fight for their new coach, unfortunately, the same can't be said through the first eight rounds of 2022. Aside from a round two win against that WAFL team and a pair of 'honorable' losses, North has been convincingly beaten on five other occasions, including four consecutive defeats by at least 50 points. Losses are expected from a youthful side but the sheer lack of enthusiasm with which the Kangaroos play is an embarrassment to the rest of the competition.
5. Tom Lynch put the league on notice. Six majors is a good day at the office but to add 25 touches and 11 marks into the mix is just pure lunacy, Lynch clearly played the most complete game of his career against the Pies and it was a scary sight. If the Tigers' spearhead is to continue with his current form then he will likely snatch the title as the comps best forward, all while breathing life back into Richmond's premiership hopes.
6. Jack Ginnivan may get under the opposition's skin but Rhyan Mansell is a thug. The bleached blonde Magpie is no doubt an antagonizer - whose play actually backs up his antics - but for Mansell to intentionally clobber a defenseless player over the back of the head multiple times because he's 'annoying' is an inexcusable act that severely disrespects the integrity that underpins footy. The league needs to set an example here as dirty antics like this are the epitome of what the AFL has been trying to eradicate for years.
7. Gold Coast and Panadol go hand in hand. The Suns managed to down Sydney at the SCG on Saturday arvo in a contest that they largely dominated, flashing every bit of potential that they've teased for several years now. The Suns are by far the most frustrating team in football and are reminiscent of persuing a partner that's giving you mixed signals. Who knows what'll happen when they take on the red hot Dockers at Metricon in Round 9.
8. Sydney isn't impervious to the growing pains of a young side. After a reality check against premiership contenders Brisbane, the Swans failed to cement their spot in the top four as they were rattled by the more physical Suns. The Bloods' veterans struggled to influence the game which left their plethora of younger stars to carry the load, they did well to surge late but their immaturity ultimately cost them in a gimme game. This is by no means a sign of concern but rather an honest evaluation of where the club is currently at.
9. Leon Cameron is cooked as the Giants fall to 2-6. It's unfortunate but his time at GWS feels like it's all but over as a finals birth from their current position seems like a pipe dream. It's almost impossible to fathom that Cameron failed to win a premiership when considering the abundance of talent at his disposal during his tenure. The club is clearly in disarray and would benefit from a fresh start and fewer expectations.
10. Jeremy Cameron proves his worth yet again after bagging five majors. The former Giant turned up to play against his old side as he snagged three goals in the opening quarter to quickly open the gap on the scoreboard. Geelong gave up a small war chest to secure the gun forward's services during the 2020 off-season and he's proved the difference on a pair of occasions in 2022.
11. Bombers win ... big whoop. The Dons managed to win convincingly after coming from behind in the final term with an eight-goal barrage but did so against a very young and raw Hawthorn outfit who is still in the first year of a rebuild. Essendon was meant to be a top-eight side but to date looks like an overrated shamble of a club with an assortment of impressive pieces. No one cares, beat a real team.
12. Sam Mitchell is the appropriate successor to Clarko. After eight rounds of footy, the Hawks feel like a better team than their records suggest as they sit at 3-5, with two flat fourth quarters against the Swans and Bombers the only thing keeping them outside the eight. Mitchell's ability to empower the youngsters down at Waverley has, no doubt, flooded Hawks supporters with an abundance of hope as he continues to build toward the club's future.
13. McStay's worth will be put to the test. The in-demand forward was in the midst of a blinding purple patch as anticipation surrounding his upcoming free agency was at a scintillating high. The degree to which Brisbane is affected up forward by his impending absence will likely impact his asking price once the off-season rolls around.
14. West Coast should go on hiatus for the remainder of 2022 and join the WAFL. This club has to be the laughing stock of the AFL, which speaks volumes considering that North Melbourne is a thing. Injuries and COVID are unfortunate but fair considerations to account for the Eagles' subpar efforts, however when seven players disregard the club's covid guidelines to go clubbing ... the world's smallest violin comes out. Absolute joke.
15. Melbourne and then everyone else. The Dees were meant to face their biggest challenge of the season when the Saints rolled up to the MCG but what ensued was a holistic display of dominance from the reigning premiers. Melbourne looked unphased as they cruised to a 38-point win and sent a frightening message to the rest of the comp, a message that read 'your best isn't good enough'.
16. The Saints are exactly where they should be. St Kilda has been playing some brilliant physical footy that had them featured as a premier team to date but their performance on Sunday highlighted their limitations going forward. They have the capabilities to initiate quick and dangerous attacks but lack polish when entering inside 50 and are wasteful in front of goal. St Kilda is likely a top eight side but one that won't pose a serious threat come September.
17. 'Crippa' for 'Charlie'. A back injury and lack of sufficient midfield depth in 2021 caused many to speculate about the validity of Patrick Cripps' footballing credentials, yet after a full pre-season and some reinforcements, the man looks like the weapon he was threatening to be several years ago. Cripps racked up a causal 35 touches, 10 clearances, seven tackles and two goals on the weekend in what would be close to another three-vote performance. If he manages to clear a sanction from the MRO during the week then there's no reason why Cripps shouldn't be the frontrunner for the Brownlow.
18. Blues' number one forward being usurped by fellow big. Charlie Curnow has seemingly found his feet over the past several weeks and managed to boot six goals against the Crows to take second place in the Coleman race. He currently sits five goals clear of 2021's leading goalkicker and Carlton teammate Harry McKay who's bagged a more than respectable 20 goals to date. While the duo is pretty much on par with one another things appear to be in favor of Curnow as he's managed to kick five goals on three occasions throughout the first eight games, whereas McKay has failed to do so.
19. What's the point of a floating fixture if the most anticipated games fail to receive top billing? North and Freo on Friday night was a snore-fest as there was no way that the discrepancy in class between the two sides would make for an engaging watch on a Friday night. Conversely, results aside, Collingwood v Richmond and Melbourne v St Kilda were far more attractive matchups for prime slots but for reasons unbeknownst to the public, they were relegated to afternoon encounters. Part of what makes the floating fixture attractive is that matchups can be shifted to maximise the entertainment value of the AFL, yet the league's made a habit during the past several weeks of failing to give the audience what they want.
20. Scrap the term 'medical' from the medical sub. You'd have to be a damn fool to really believe that teams wouldn't pounce at the opportunity to inject fresh legs into a contest, irrespective if an injury occurs. Teams are likely already implementing loopholes for the current system, so why not just scrap it and allow clubs the freedom to use a sub as they wish.