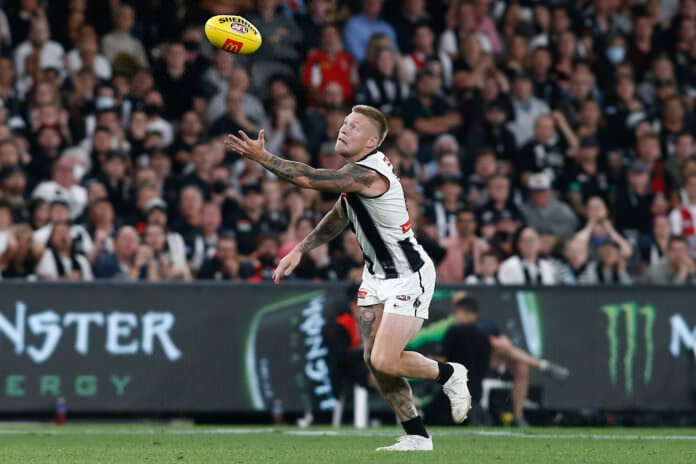 St Kilda legend Nick Riewoldt is not opposed to a Saints pursuit of Collingwood's impending restricted free agent, Jordan De Goey, on the condition that he cleans up his off-field act and shows remorse for his actions.
After reports emerged that the Magpies retracted a juicy contract offer to the 26-year-old, speculation about rival club pursuits of De Goey has resumed.
Speaking on Fox Footy's On the Couch on Monday evening, Riewoldt expressed concern at De Goey's recent public statement, disagreeing with the Pie's sentiment that the media is forcing him into a corner.
"The statement a couple of days ago would concern me, certainly if I was a potential suitor because we aren't seeing that level of contrition at the moment," Riewoldt said.
"We're seeing a player that feels persecuted, which I can understand because players do at times feel persecuted by the media, that is a real thing.
"But I don't think that's what's occurring in this situation. It wasn't entrapment. They didn't send a camera crew over there.
"If you can see a situation where he can be surrounded by the right people, and steps have been taken, then I think clubs would entertain it. And he's a free agent, so you can potentially get him for nothing."
JORDAN DE GOEY
Midfielder

Collingwood

2022 SEASON AVG

20.8
Disposals

3.5
Tackles

5.1
Clearances
However, despite his dismissal of De Goey's complaints, Riewoldt went on to entertain the idea of his beloved Saints making a move for the 26-year-old during this year's free agency period.
"It's something you can entertain as a football club because let's not forget, we are talking about a serious on-field talent," he said.
"For a club like St Kilda, which has won one premiership, he's a difference-maker. But this is all if you have a level of confidence a level of contrition has been shown."
While it is yet to be seen if De Goey truly regrets his recent off-field escapades, what is known is that St Kilda is in desperate need of a game-changer if it is to truly contend for a second club premiership.