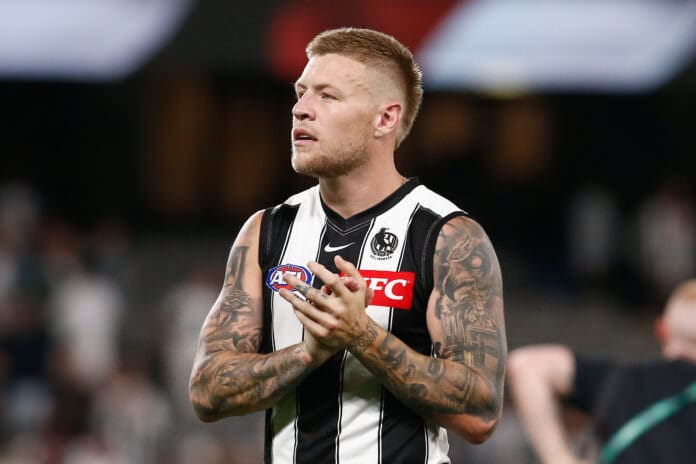 Collingwood have responded to recent footage circling on social media of star player Jordan De Goey, who has also spoken out on recent coverage of his actions.
Earlier this week, videos emerged on Instagram of De Goey in Bali on a mid-season trip as the Magpies enjoyed a break with their scheduled bye.
Some aspects of the footage have raised concerns around the AFL landscape, with Collingwood having now responded to the videos.
On Saturday, the club released a short statement in regards to the vision, stating they have been made aware of the videos and will make further comments soon.
"The Collingwood Football Club is aware of video footage involving player Jordan De Goey that was taken in Bali in recent days," the statement reads.
"The Club will comment further as soon as it is in a position to do so."
De Goey broke his silence on Saturday evening via social media, calling for change after facing further "persecution" by the media.
The Magpies star stated his thanks for surrounding support, but stressed that the "uneducated, bias and ill-informed narrative" has "gone too far".
"I want to take the opportunity to thank my family, friends and supporters who have checked in or sent messages of support in the past 24 hours," De Goey wrote.
"I want to openly address the relentless pursuit and persecution of athletes by the media to create an uneducated, bias and ill-informed narrative that has gone too far. I am one of the lucky ones with amazing support, however not all athletes are so lucky.
"This will end in tragedy if no one speaks up. It's time for change."
De Goey has already been among the headlines for the wrong reasons in the past 12 months, having been stood down by the club following an altercation at a New York nightclub late last year.
He was eventually reinstated into the club's AFL program after a plea deal was agreed to following charges of assault.
The 26-year-old has played 12 games for Collingwood this season, totalling 130 matches in the black and white since 2015.