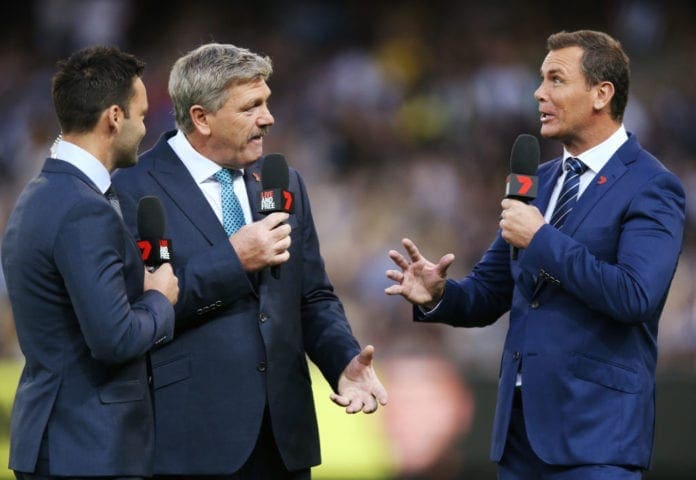 While most fans simply assumed former Collingwood coach Nathan Buckley would be lining up in the mainstream media calling football sooner rather than later, Channel 7 boss Kerry Stokes recently seemingly put a line through recruiting 'Bucks' to his footy broadcast team, saying there's currently not a place in the squad for the AFL Hall of Famer.
"We have Australia's strongest commentators bench already, so he will have his work cut out to get a spot," Stokes told The Herald Sun's Tony Sheahan.
Of course, Stokes is referring to the broadcast team of Brian Taylor, James Brayshaw, and Hamish McLachlan, and special comments/analysis of the likes of Wayne Carey, Luke Hodge, Matthew Richardson and Daisy Pearce.
Now, as any football fan on Twitter will tell you - Friday night football with BT and JB isn't always the acclaimed, premium product Channel 7 is trying to sell.
Week after week the broadcast team is ridiculed on the social media platform, with the major complaint being that Taylor and Brayshaw, specifically, spend more time on entertainment and stories than actually calling the game for the viewers.
Brian Taylor. Too busy adding in little titbits and forgets to nail the actual piece of play #giveussomethingbrian

— John Meesen (@johnmeesen) July 2, 2021
He is woeful, but James Brayshaw is worse

— DonnaDub€ 🇨🇦🇦🇺 (@KarenAldridge1) July 2, 2021
Is Brian Taylor the most annoying football commentator ever? #AFLCatsDons #AFL

— Jacoby (@adamajacoby) July 2, 2021
It might be time for Channel 7 to start listening to it's audience more.
In fact, one of the major complaints of recent times has been the reluctance to hear further from the likes of Hodge and Pearce - newer faces in the team who perhaps understand the nuances of the modern game a little better for a deeper analysis - in favour of the historical "boys club" that both TV and radio have relied on for years.
I bang on about it, but it's not even close with how much better Daisy Pearce is than anyone else in that comm box. With her you learn stuff about the game and how certain teams play- from week to week, within games. The rest just cheerlead each other #AFLCatsDons

— Social Kristancing (@DesignedToFade) July 2, 2021
This is another game where Brian Taylor is completely ignoring everything Daisy Pearce is saying. #AFLCatsDons

— Peter Phoebe (@EatDrinkCricket) July 2, 2021
On the "football adjacent" 2 Guys 1 Cup AFL Podcast, comedians Wil Anderson and Charlie Clausen mentioned Stokes' Channel 7/Buckley comments in passing, on a recent episode.
"We've got too many good commentators here, we've got BT and JB. We don't need somebody coming in here who actually knows anything about the game, ruining it for the shit we've got going on here," laughed Anderson, an avid Western Bulldogs fan.
"They don't need some epidemiologist wandering into the QANON paradise they have over there in the Channel 7 commentary box..." the comedian exclaimed, using recent political and sociological discussion to highlight the dissonance between the broadcast supply and public demand.
whatever the opposite of chemistry in a commentary box is channel 7 is nailing it

— andie (@anndeejam) July 2, 2021
It might be time for Channel 7 to start listening to it's audience more.
It does make one wonder how the people at Ch7 can't see what the rest of us see. Can't fathom how people enjoy him.

— Darren (@DrBlackVelvet) July 2, 2021
We've already seen throughout this season and last, FOX FOOTY has given more opportunity to the emerging Kath Loughnan, while Nick Riewoldt and Jason Dunstall have emerged as the true elite television analysts, focusing on premium football content and discussion, rather than solely relying on the more 'old school' commentary of Anthony Hudson, Gerard Whateley et al.
Maybe it's time Channel 7 followed suit?