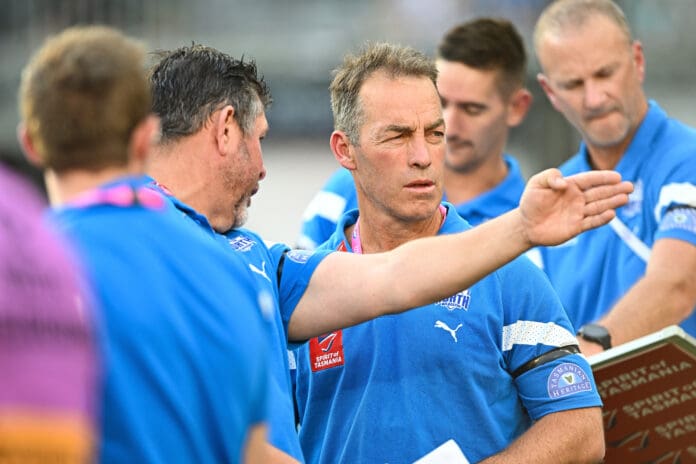 After almost three months away, North Melbourne head coach Alastair Clarkson is back on deck at Arden Street, set to resume game-day duties this Sunday afternoon when his Kangaroos play host to Melbourne in Tasmania.
Ironically, the clash between the two clubs Clarkson pulled the boots on for during his playing days will be his 400th as head coach at the AFL level.
The four-time premiership coach has not held the reins since Round 9 - a reality-checking 70-point defeat to Port Adelaide - and in his absence, the Roos have been routinely bruised, even falling to the hapless Eagles out west last weekend.
Foisted with wooden spoons in their past pair of campaigns, 2023 has been another down year for the Roos, with Clarkson, as well as president Dr. Sonja Hood, spending time away from the club as the team has hopped from one loss to another, all to little respite.
But as the idiom goes, it's always darkest just before the dawn, and with Clarkson and Hood's roadmap still intact, North will be out to salvage as much as possible from the final month of this shipwreck of a season.
And with just four rounds until it all comes to a close for another year, we run the rule over the many permutations facing coach, club and locker room.
What is the lay of the land?
May 13.
That was the last time Clarkson led his joeys into battle.
Reports of a colossal half-time spray and furniture being thrown would arise after that bleak afternoon at Bellerive, and while the Roos' then-record of two wins and seven losses was far from ideal, the outlook would only gain gloom, with North still yet to taste victory since the club's controversial Round 2 win over Fremantle.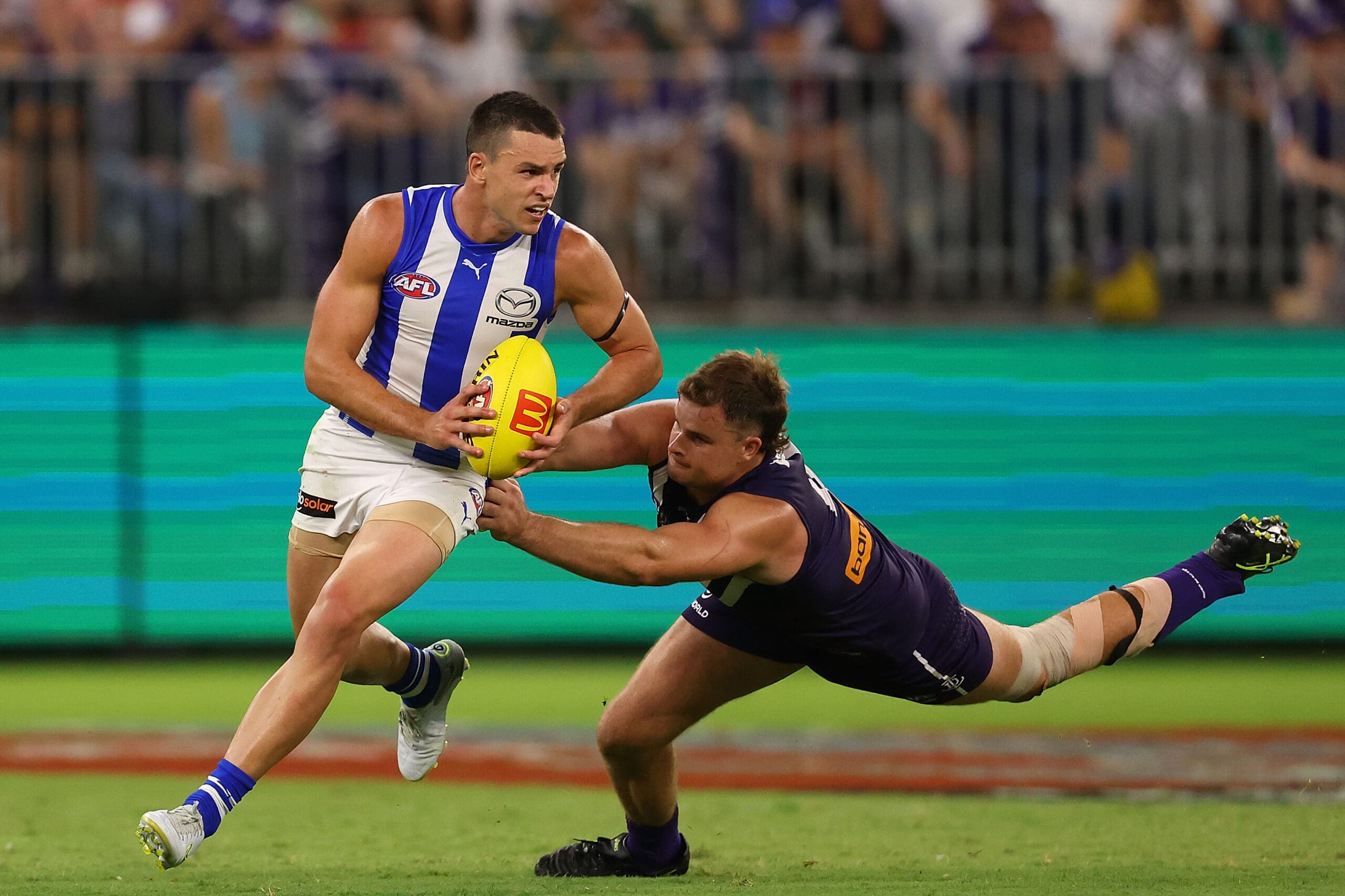 Under interim coach Brett Ratten, the Roos lost 10 on the bounce by an average of 28 points, yet despite the still-unbroken string of defeats, Ratten's men - read as boys - were able to keep themselves in four of these losses.
North have four chances to score an overdue win with fixtures against Melbourne (H), Essendon (H), Richmond (A) and Gold Coast (H) before the book closes on their season.
If not, 2023 will become the club's second two-win season in succession, with the club's solitary-win campaigns in 1929, 1930, 1935 and 1972 acting as the historical low watermarks.
What changes now Clarkson is back?
Given Clarkson revealed on Friday that he and Ratten had held regular conversations regarding on-field matters over the past 4-6 weeks, the needle isn't likely to move far within the next month.
Without a crystal ball, let alone a magic eight ball, predicting the near future can prove a challenge. However, if past performance in similar circumstances is any indicator, Roos fans might earn one last chance to join in the chorus before season's end.
Over the back half of 2005 - Clarkson's first season at Glenferrie - Hawthorn lost eight of nine games from Round 9 onwards. Yet, with a team containing youngsters in Jarryd Roughead, Jordan Lewis and Lance Franklin, the Hawks were able to cause a Round 20 upset against archrivals Essendon - the club's first win against Kevin Sheedy's side since Round 11, 1997.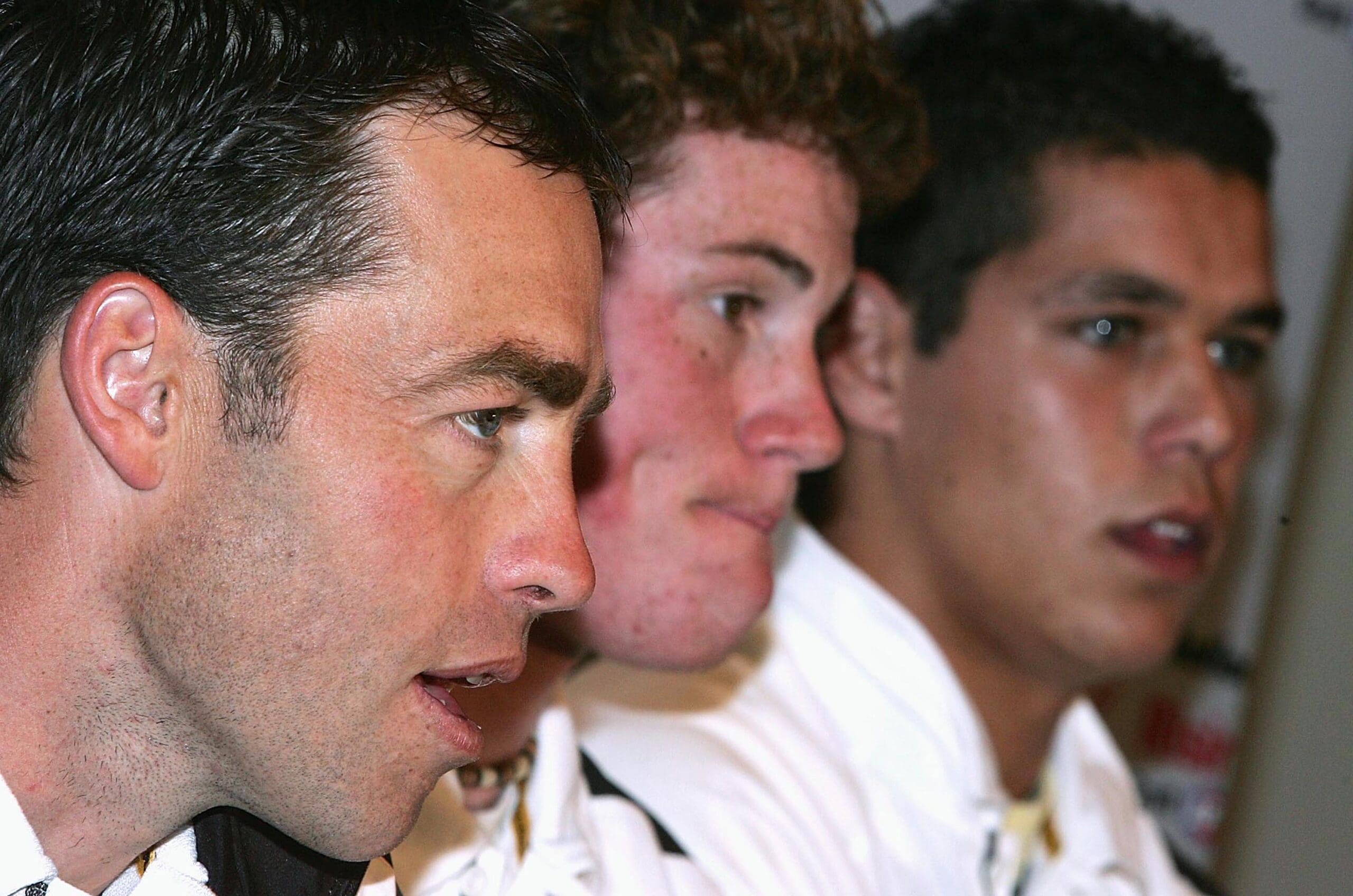 Though the odds are against a similar circuit breaker arising against the Dees, Dons, Tigers or Suns, Clarkson has proven he is happy to upset the party by serving up pre-vintage wine.
That being said, you would have to be one-eyed, numb-skulled or know something to put your bottom dollar on North this weekend.
How important is it to see progress?
In terms of easing aching hearts and continuing to sell the roadmap ahead of next season, it is paramount.
Great play from the green shoots have been spied from time to time, but as the ledger shows, the Kangaroos are still on track to record another bottom-five season in the club's history.
Still, as Clarkson eluded to ahead of the weekend, the AFL may be one of the most brutal competitions on the face of the earth, but it isn't entirely zero-sum for rebuilding teams.
"We know we're still nowhere near good enough to compete with the really, really strong clubs in the competition...we're seeing some progress be made," Clarkson expressed. "It's just to the wide football community, that's not being seen at the present time."
Nobody inside, or on the periphery, of the Kangaroos' huddle is expecting miracles in the form of an undefeated run home. But if ever there was a time for a young team to bite the bit and uncork some of that Shinboner Spirit, that time is now.
Is the wooden spoon still on offer?
Unfortunately for those with hearts that pump blue and white, the answer is yes.
Still, this is hardly going to be revolutionary news given your side hasn't stood in the winner's circle since March and just lost to a club - West Coast - that has developed a recent habit of coughing up cricket scores.
With both the Roos and Eagles stuck on eight points, just percentage separates this pair of cellar dwellers. However, given Adam Simpson's side has conceded an average just shy of 119 points per game, that buffer is currently set at an even 17 per cent.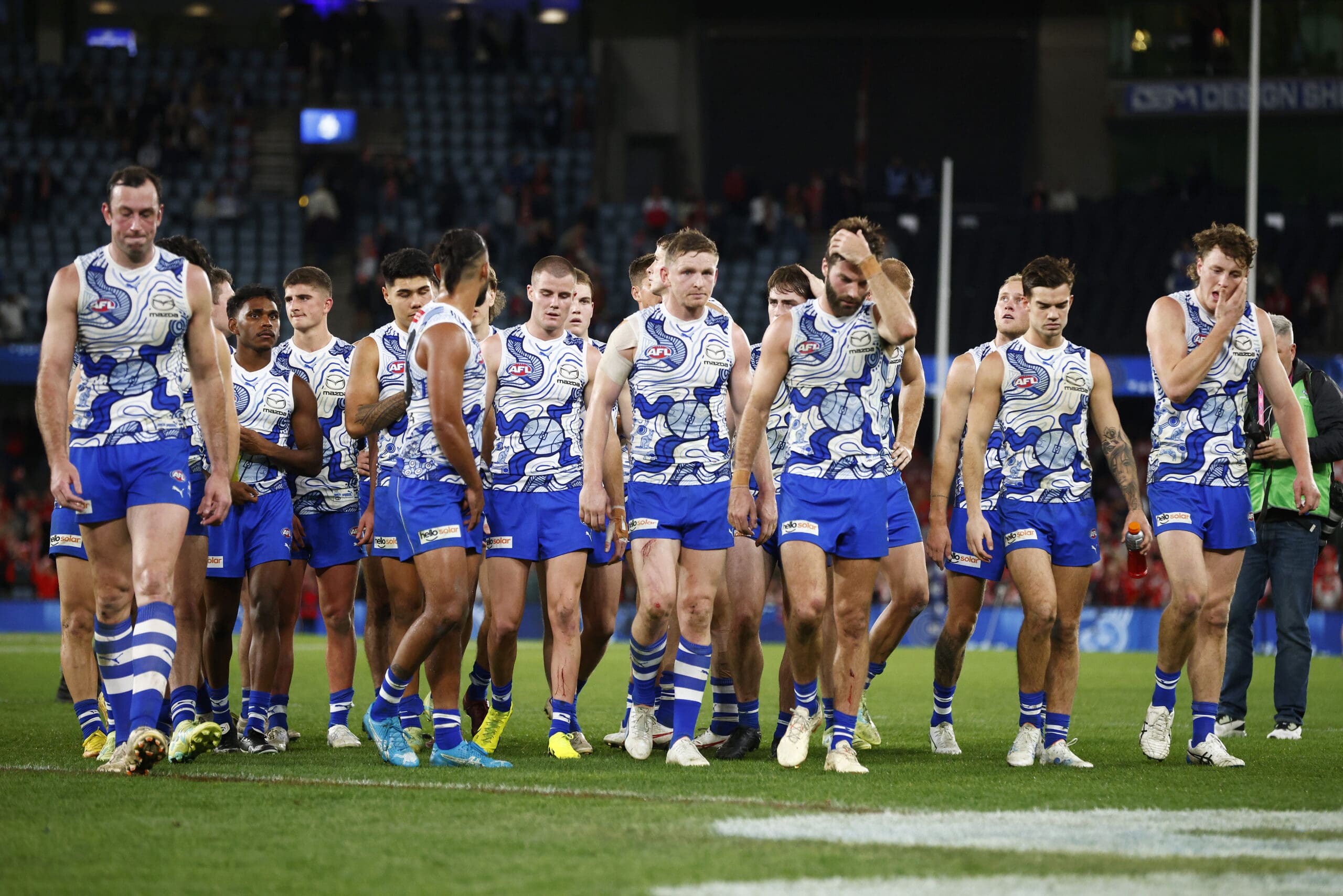 A win of any form over the course of the season's final month would almost certainly consign West Coast to the ladder's final rung for just the second time in club history. But if the once-mighty Eagles can turn the tables against one of Essendon (A), Fremantle (H), the Western Bulldogs (A) or Adelaide (H), the equation becomes muddled.
Either way, the loser of this thoroughbred-less amble to the post will send their list-management teams into raptures, given the carrot of consensus No.1 draftee Harley Reid on offer.
What will selection look like? 
Again, like the plans now Clarkson has the wheel back in hand, selection, for the next fortnight anyway, isn't likely to change too drastically.
Scan your eyes over North's 26-man squad selected for Sunday, and little argument can be made that both eyes have been turned to the future.
| | | | |
| --- | --- | --- | --- |
| Age bracket | Number of players selected from bracket | Percentage of selected team | Players |
| 18-21 | 9 | 34.62 | Archer, Goater, Ford, Phillips, Curtis, Sheezel, Powell, Lazzaro, Hansen Jr. |
| 22-25 | 10 | 38.46 | McKay, Thomas, Davies-Uniacke, Scott, Taylor, Stephenson, Larkey, Xerri, Simpkin, Young. |
| 26-29 | 4 | 15.38 | Corr, McDonald, Tucker, Turner |
| 30+ | 3 | 11.54 | Goldstein, Ziebell, Cunnington |
Even without any roster additions, the Roos' locker room is set to become younger over the off-season, with Jack Ziebell announcing his retirement during the week, a call that came days after being named as North's tactical sub against West Coast.
With far more to gain than lose in playing youth, one would imagine that irrespective of form and injury willing, Clarkson will be affording all nine names in the youngest bracket an unimpeded run of senior football to round out the year.
Who is yet to debut?
After mid-season draftee Robert Hansen Jr became Shinboner number 1055 in Perth last weekend, only three listed Kangaroos are yet to see senior action: Jacob Edwards, Brayden George and Hamish Free.
As George (knee) and Free (shoulder) have been ruled out of action for the season, Edwards is the only live option to be blooded before curtains are called.
As a 202-centimetre project ruck, it appears highly unlikely that the selection committee are going to hurry along the 20-year-old, especially with Todd Goldstein and Tristan Xerri fit and firing, as well as Callum Coleman-Jones making his way back from concussion.
Add in that Edwards has averaged just 4.7 disposals, 4.3 hitouts and 1.2 marks across his 15 VFL outings this season, and it is crystal clear that the Sandringham Dragon's product isn't likely to debut any time soon.
Will the veterans get farewell games?
With Ziebell and Aaron Hall having already called time, and fellow veterans in Goldstein and Liam Shiels still without deals to go on next season, at least four names could be bidding farewell for good at season's end.
Barring Shiels' one-year contribution, each of Goldstein, Hall and Ziebell have left indelible marks at Arden Street, either in the locker room, on the honour boards or both.
But the question remains: will each, or any, of them earn a farewell game?
At the present, Hall called time on his career with immediate effect, and Shiels (calf) is sitting outside of Clarkson's senior side, so unless he earns a spot on the track, or the mastermind mellows as selection, a chance to bid farewell may be denied.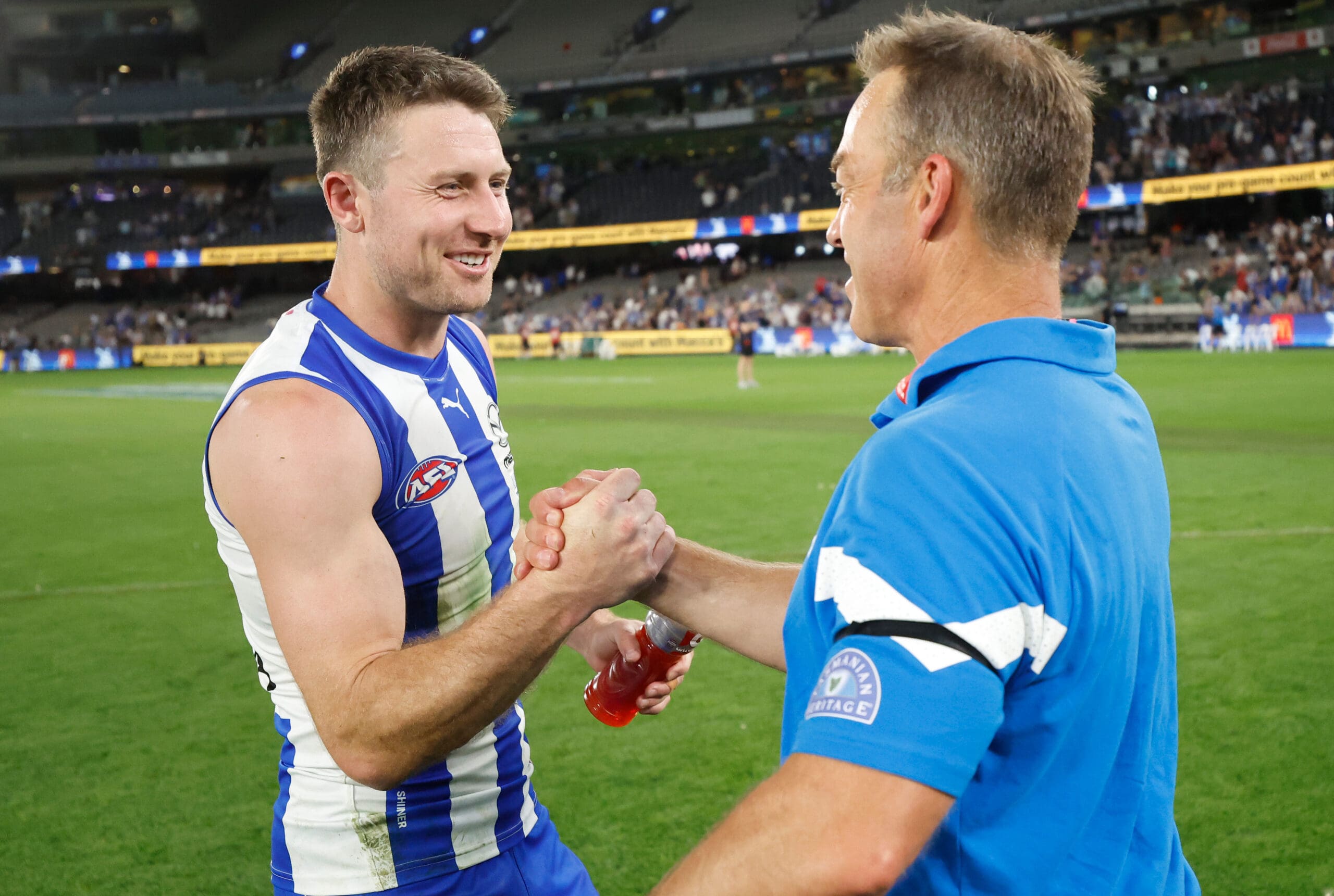 Possession is nine-tenths of the law in football, so unless Goldstein or Ziebell drop off or pull up lame, they will likely be given the opportunity to run out before bowing out.
Some may suggest this is off-base, but with Clarkson's current imprint on the group so small and the mountain still left to climb so high, sentiment is unlikely to win out over planning for the future in the mind of a blinkered operator like Clarkson.
What can actually be expected?
As previously mentioned, the future, however near, is often tough to predict.
Yet, with Clarkson's appetite for the game rekindled, runs on the board in building winners up from scratch and a signed contract for the next four seasons, the skies may be dark over Arden Street at the minute, but dawn will break soon enough up over Flemington Road.