The 2022 AFL National Draft order is set to see further shuffling at the top of the queue due to a number of highly-rated father-son prospects, while this year's Draft will again see a system in place for matching selections on Next Generation Academy (NGA) prospects.
Multiple father-son prospects, such as Will Ashcroft (Brisbane) and Alwyn Davey junior (Essendon), are seen as first-round selections in this year's draft class, which will warrant high bids from rival clubs.
These bids will reshuffle the draft order, with the Lions and Bombers needing to package up their own picks in order to level the required points tally for those early certain selections.
VIEW: 2022 DRAFT POINTS INDEX
Every selection from Pick 1 (3000 points) to Pick 73 (9 points) has a "value", while clubs have priority access to players from their own Academies, and father-son prospects.
AFL clubs are able to bundle multiple later draft selections in order to match the required points tally, with clubs that have access to father-son and NGA players given a 20 per cent points discount for those selections.
Following the Jamarra Ugle-Hagan selection at No.1 in the 2020 AFL Draft - in which the Western Bulldogs matched Adelaide's first pick - the league reformed the system for bidding on NGA prospects ahead of this last year's AFL Draft, meaning any bid for an Academy player inside the top 20 selections can't be matched.
This year, that cut-off has been extended to the top 40 selections, placing a player like Anthony Munkara, who is tied to Essendon. as an NGA product, is no certainty to join Essendon despite being on the outside of first-round calculations.
So what does this mean? Here are some scenarios to help.
Scenario 1: North Melbourne currently hold Pick 3 at the 2022 National Draft and may look to select father-son prospect Will Ashcroft should he still be available for selection.
Let's say the Roos 'select' Ashcroft with Pick 3, the Lions will need to match that selection with draft points. Pick 3 equates to 2234 points and with a 20 per cent discount, Brisbane's required points tally comes to 1787 points.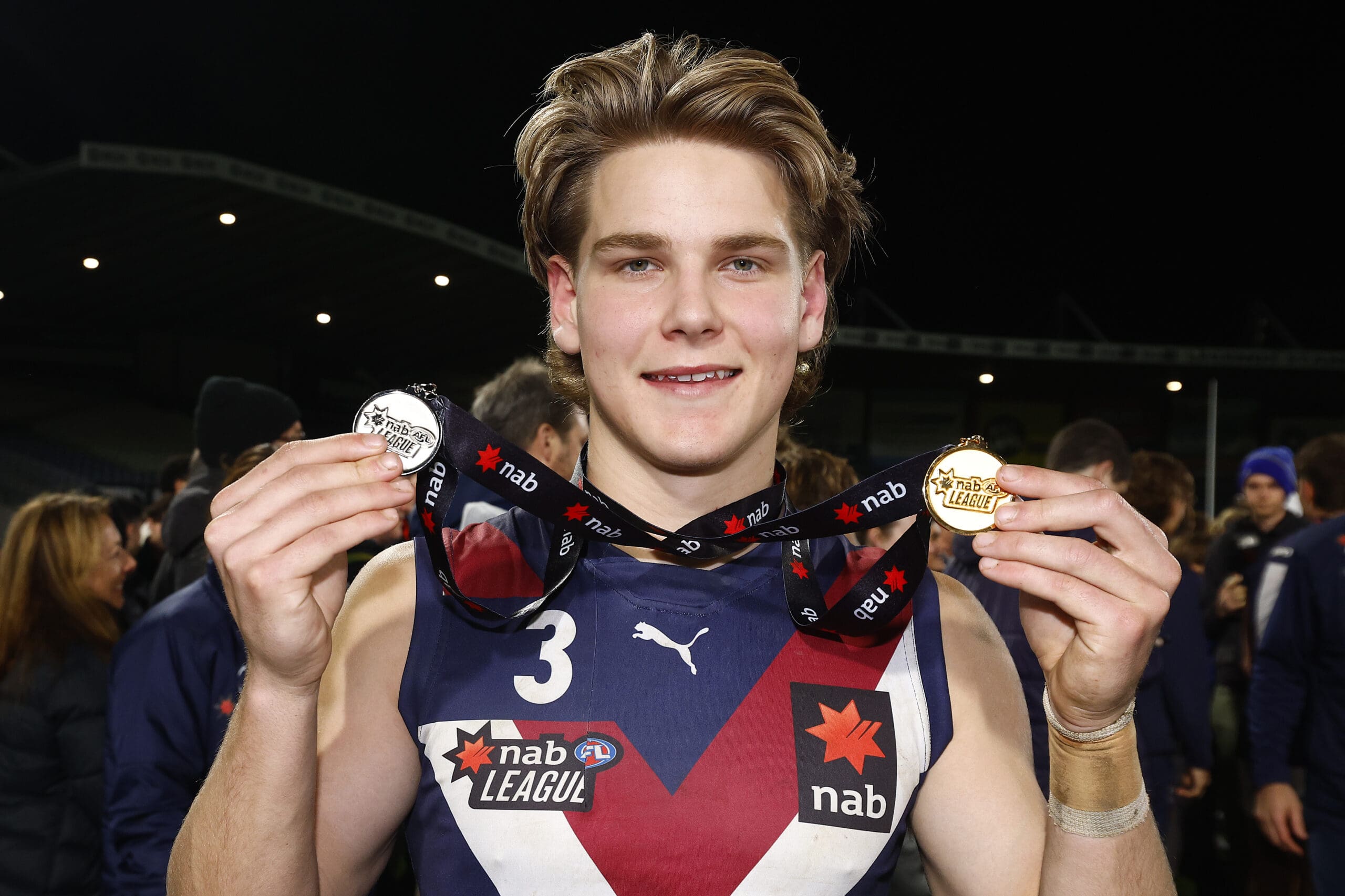 The Lions will then need to package up multiple draft selections of their own in order to match the selection bid on their father-son prospect and attain Ashcroft's services.
Collectively, the Magpies' current draft hand of picks 21, 25, 34, 35, 36, 56, 73 and 91 tally a total of 3319 points.
Therefore the Lions won't have to give up all of their draft hand, however, will lose a majority of their picks in order to match the required total of 1787 points.
Those picks will then come out of the draft order and each club placed behind those picks will advance their position on the board.
Scenario 2: GWS may look to select Ashcroft with the first overall selection at the 2022 National Draft.
Pick 1 is worth 3000 points alone, which will see the Lions require 2400 points (following the 20 per cent discount) to acquire Ashcroft, the son of Brisbane champion Marcus.
If the Lions' draft hand failed to match the total points tally, then they would have a few options.
Brisbane could look to trade draft future selections in order to attain enough draft points to match the Kangaroos' bid, or, could go into deficit for the 2023 AFL Draft, which would see the Lions' first pick in next year's draft lose value.
Fremantle did this in 2019, matching an early bid on NGA prospect Liam Henry at Pick 9, however, the Dockers didn't have enough points to match the required total. That bid saw the Dockers lose 264.9 points from their first selection in the 2020 AFL Draft, moving back their first-round pick in the draft order from 7 to 12, which ended up being the 14th selection after two earlier academy selections (Jamarra Ugle-Hagan and Braeden Campbell).
Scenario 3: Hawthorn select St Kilda NGA prospect Cameron Mackenzie with Pick 6.
Despite being a prioritised prospect, the Saints are ineligible to match Hawthorn's bid on Mackenzie, as his selection comes within the top 40 picks of the draft. As mentioned earlier, the AFL reformed matching bids for NGA prospects ahead of the 2021 AFL Draft.
St Kilda would have been able to match the bid in 2020, as seen with the Bulldogs and Jamarra Ugle-Hagan, however, from 2022 clubs can only match selections on NGA prospects after pick 40.
Should a team use Pick 41 or later to select an NGA product like Mackenzie instead, then the Saints will be able to match the bid and recruit the teenager.