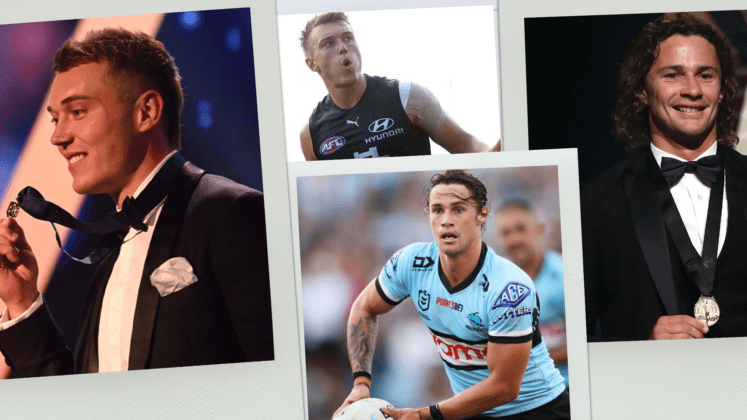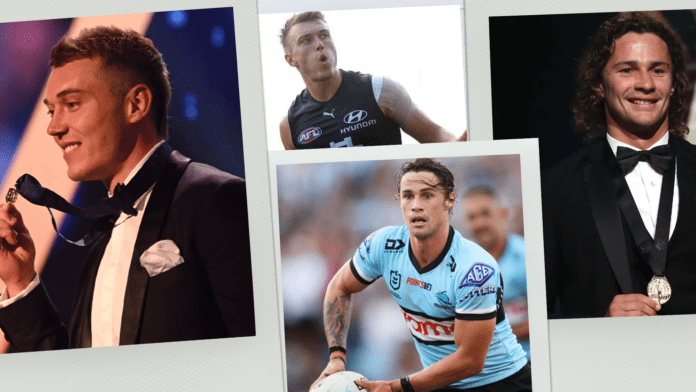 Stale, predictable and shrouded in controversy, the annual Brownlow Medal count is in desperate need of a reboot.
Far from the liniment rubs and coaching sprays, the Casino-held count acts as the only chance for players and their partners to cosplay Monégasque elites, each spruiking fashion houses before tottering in to watch another short-priced midfielder make Charlie's acquaintance.
But with Monday's television broadcast set to span five-and-a-half hours - more than twice the length of 'The Dark Knight' - the only folks that are sure to be geed-up from go-to whoa are those with a bet on and the bookmakers holding their dough.
According to reports from The Age last season, the league is said to haul in between $30 to 40 million annually from gambling profits, margins that will be boosted by the many bets that never get up on Brownlow night.
And with the league's partner bookmaker, Sportsbet, offering more than 100 markets for this year's count, each made up of near-infinite combinations, the league's winnings from these losses are set to be sizable.
Even before Victoria's off-track gambling laws were altered under the watch of the successive Cain, Kerner and Kennett governments, punters have always found ways to lay a Brownlow bet, whether above board or below it.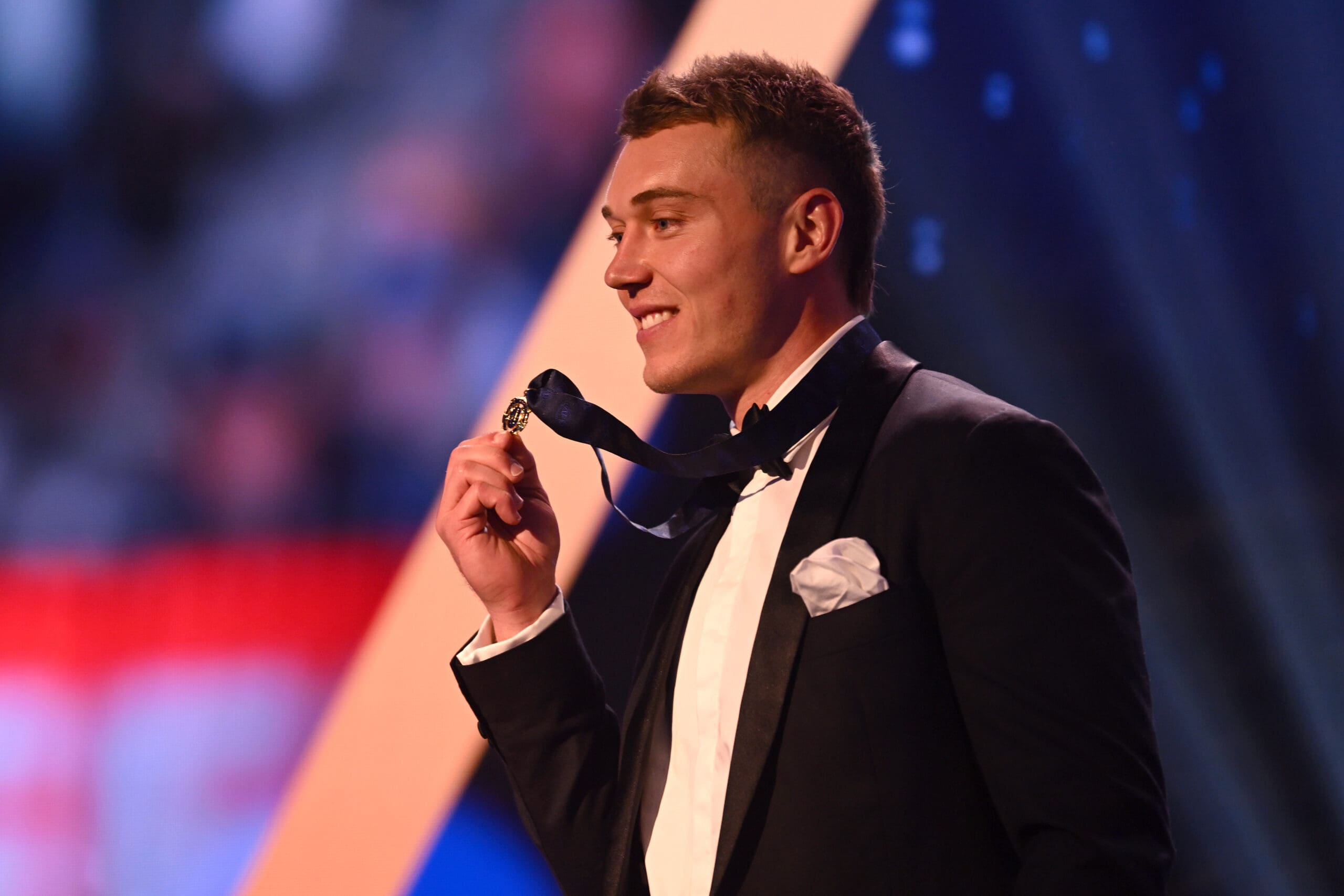 Yet, with more markets on offer than goals scored so far this September, and the recent umpiring better scandal still lingering, despite bookies meeting regulatory marks, the status quo requires a shake-up, not just a stir.
Across the oft-petty length and perpetually bitter breadth of Australian rules football's 'Code War' with rugby league, the league, in all of its past and present guises, has been loathe to tip their cap to the rival code, or take any wins on board. 
Outside of Magic, sorry, Gather Round, of course.
Still, despite the slings and arrows shot from both sides of 'The Barassi Line', if the AFL is ever keen to add some excitement to its glitz and glamour, it could do far worse than take a few leaves from the NRL's book, and the code's own dolled-up count: the Dally Ms.
From the number of votes to questions of fairness, here are the changes to AFL should mull over mimicking.
Dual judges, double votes
Following their own betting scandals in recent years, the NRL is set to implement the policy of allowing two anonymous judges to submit their own set of 3-2-1 votes for every game, meaning six votes are on offer in every contest.
If awarding six votes per game instead of the now-standard three sounds silly, just remember, our game has done it before, and despite the small sample size, the proved to be far more meritocratic and illustrative.
Following the advent of the two-umpire system in the late 70s, the VFL afforded both men in white the right to cast votes, allowing for a stand-out best on ground to earn 'double bubble' for an afternoon's work.
And though the reform would only last two seasons, the 1976 and 1977 seasons saw a greater rate of players earn votes, with both counts also closing with ruckmen - Bomber Graham Moss and South Melbourne's Graham Teasdale - with the medal around their necks.
Throughout the course of 1976, a total of 200 different players from the 12 VFL clubs earned at least one Brownlow vote. For context, only 431 players were used competition-wide for the entire season, meaning more than 46 per cent of players had caught the umpire's eye.
The following season, although the total number of players used spiked (442) and the total of players earning votes (189) dipped, the representative percentage produced was significantly higher than in seasons in which a single set of votes were submitted, including 2022.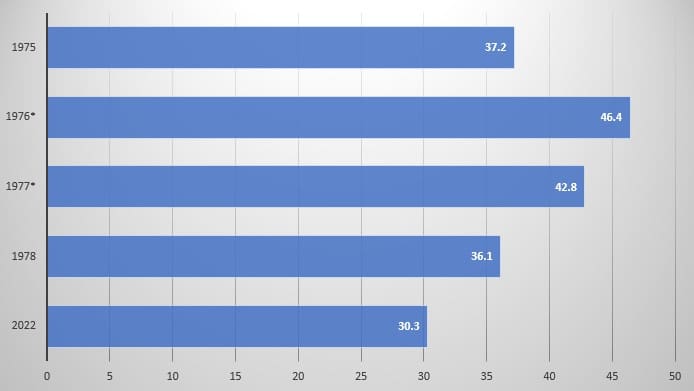 And though some may stress that the number of players represented matters little when seeking to find a best and fairest footballer, the fact is that since the league reverted back to three votes instead of six, the likes of big men like Moss and Teasdale saluting has dried right up.
So too from other players who ply their trade outside of the engine room.
With the NRL - then the NSWRL - first awarding the Dally M Medal in 1979, if you take in the position played by every Brownlow winner inside this same 44-year window, the breakdown reads as such:
39 midfielders (76.4 per cent of the whole)
6 ruckmen (11.7 per cent)
3 defenders (5.88 per cent)
3 forwards (5.88 per cent)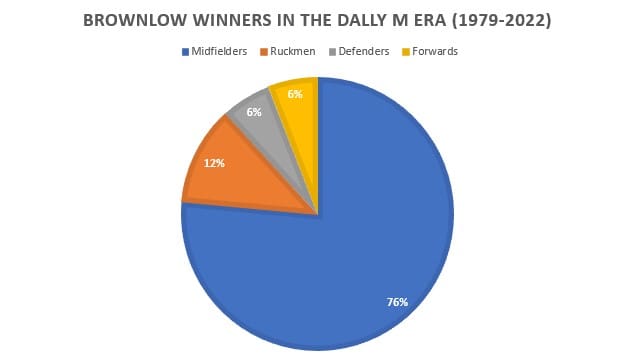 And should you take in just the AFL era (1990 - present) and the past 30 seasons (1994 - present), the results become even less varied.
Throw in the fact that the only non-midfielder to win the award in the past three decades - Adam Goodes in 2003 - claimed his second Brownlow playing in the middle, and the traffic becomes entirely one-way.
Position played by winner
AFL era
(1990 – present)
Past 30 seasons
(1994 – 2022)
Midfielder
33 (89.2%)
32 (97%)
Ruckman
3 (8.1%)
1 (3%)
Defender
1 (2.7%)
0 (-)
Forward
0 (-)
0 (-)
Compare the largest set of figures with the NRL's own breakdown since 1979, and it becomes even clearer that AFL umpires vote with the same predictability as Texan oil barons.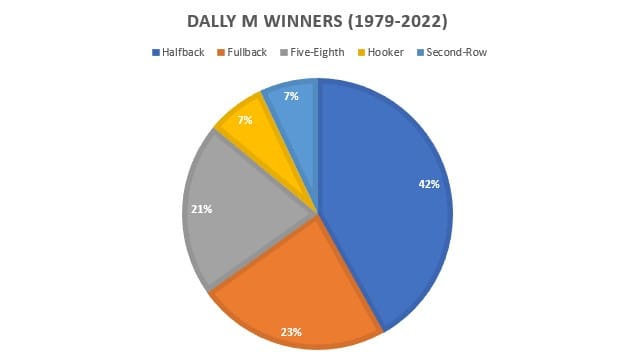 While the NRL has rolled out its own dual adjudication system this year, even if the code doesn't see the spread of names VFL football saw half a century ago, at least the winner - or winners - would be conclusive, with a higher portion of players sighted and ranked.
If the AFL was set to reprise its own voting system, it would, of course, need to follow the NRL's model, with both judges asked to submit their own votes separately.
However, unlike in league circles, the identities of these adjudicators must be made public in order to help alleviate some of the controversy that occurred following last season's count.
Though certainly a deviation from the norm, this isn't the only change that should be considered in an effort to bring clarity.
Visible votes
Unlike on Brownlow night when a season's worth of votes arrive in an Armagard-ushered briefcase, by the NRL's movers and shakers sit down for their annual Dally M count, the entire room has a crystal-clear clue as to who is leading the count.
Poles apart from the program in Melbourne, one in which every vote of every game is read out by a tuxedoed powerbroker, the NRL makes its votes visible until Round 12, before building suspense behind closed doors.
For the sake of clarity, if the AFL were keen to shed the recent sulliment of their count, the same practice would be put in place.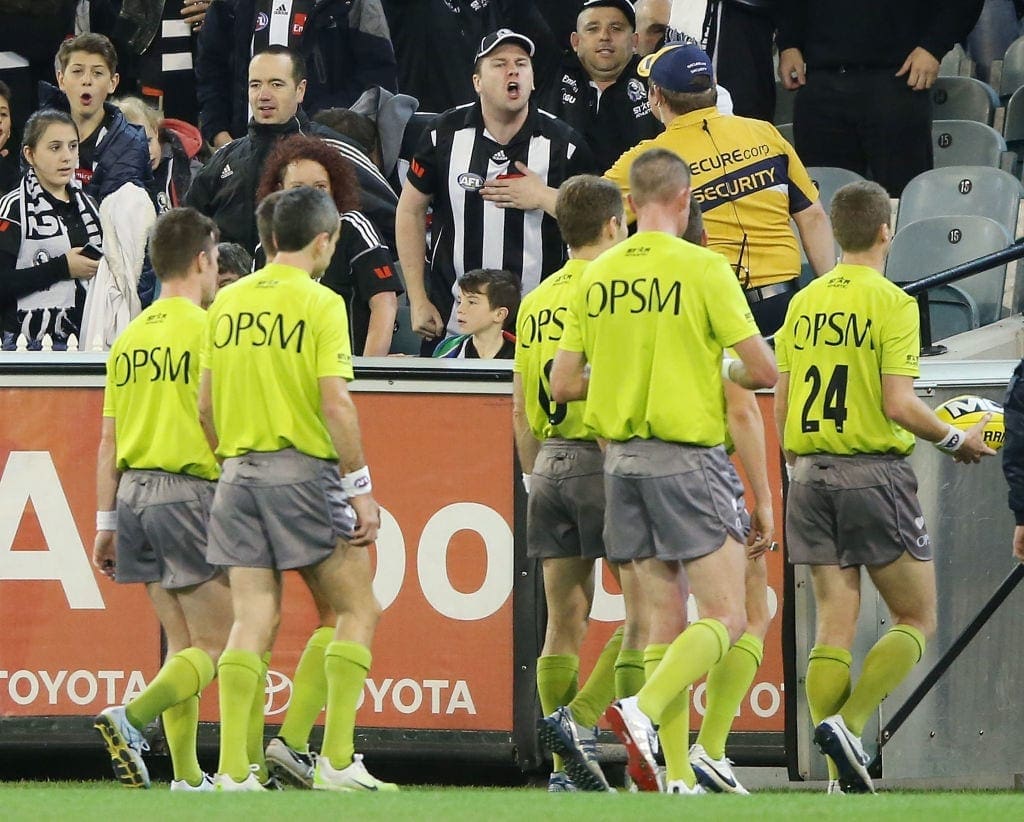 While it can be argued that given the nature of their relationship with an array of bookmakers, the league would never go for such a radical overhaul.
However, with the ability for bookies to invent new markets off the back of the curtain being pulled back, voting visibility, at least until the bye, is likely to provide some benefit to both invested parties.
Remember, this is a country that spent upwards of $11 billion on sports gambling between 2018 and 2019, so if there is a game, a set, a match, or even a snail race, markets will be available.
And with the AFL still drawing the biggest crowds of any code in the country, you can bet your bottom dollar that more markets will spell more money.
Best, not fairest
Since Geelong's Edward 'Carji' Greeves accepted the first medallion almost a century ago, the Brownlow Medal has always been said to have been awarded to the league's best and fairest player.
But in this age of slow-motion replays, match review officers, and trial by social media, the ability to see a special season smashed to smithereens is, seemingly, larger than ever.
Although only two players - North Melbourne's Corey McKernan and champion Bulldog Chris Grant - have ever lost a Brownlow due to on-field indiscretions, names such as Patrick Dangerfield and Nat Fyfe can easily make cases for small suspensions costing their further wins.
Once again, rugby league has provided a foolproof fix for this problem: keep suspended players in the running.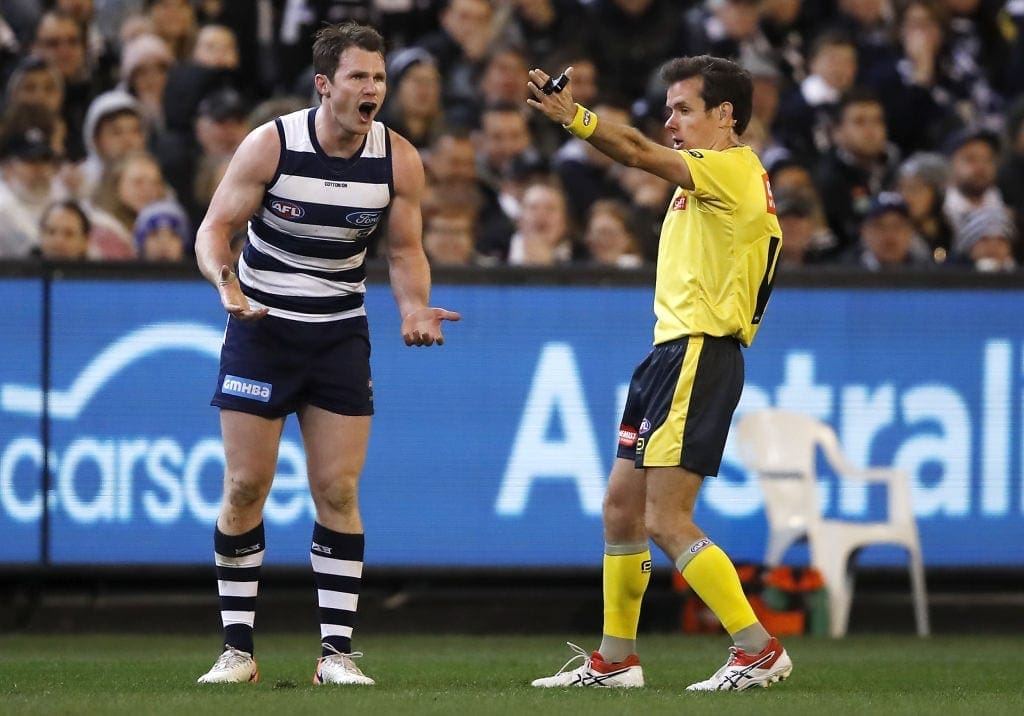 While we know that any suspension is enough to deem any player ineligible for Brownlow honours, the NRL hosts a policy by which any player who has been rubbed out for no more than two weeks is still in the race for that season's Dally M Medal.
However, there is a catch.
For every week that any suspended Raider, Rooster or any other rival team spends on the sidelines, they will be handicapped three (now six with two judges in place) votes on count night, thus maintaining the deterrent for dirty play.
Adopting this policy would spice up future counts from their current status as snorefests, and allow for the competition's crème de la crème to continue vying for top honours, even if they had blotted their copybooks.
Just imagine if current Dogs skipper Marcus Bontempelli was rubbed out for a week following a crude tackle, but still finished the count six or seven votes ahead of his peers.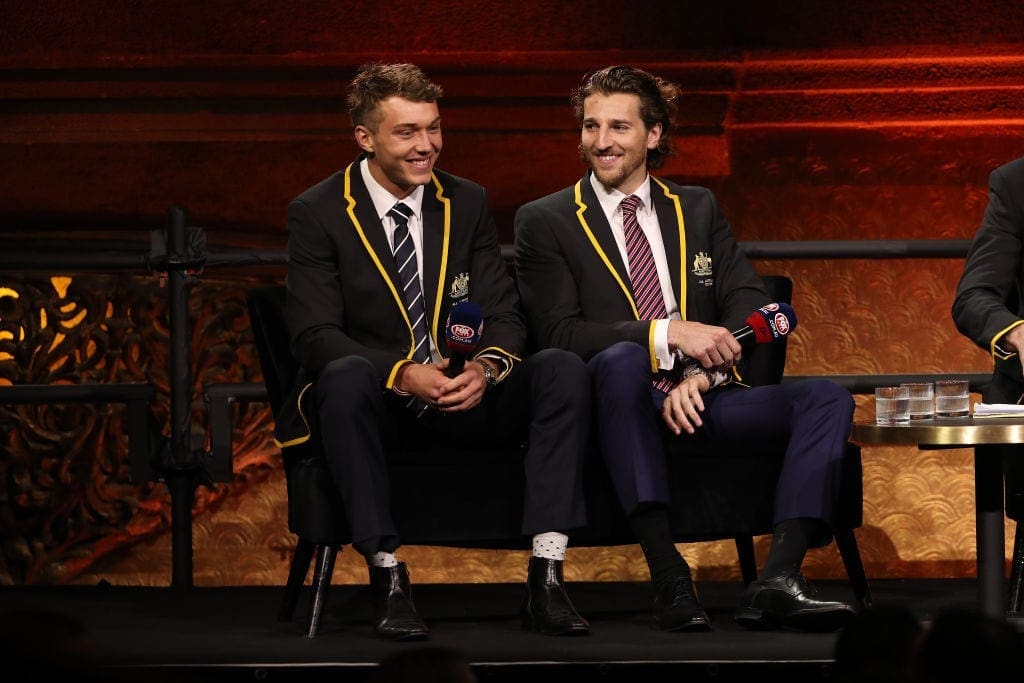 Under current laws, 'The Bont' would be sat at home wallowing like McKernan and Grant before him. But under rugby league's contemporary laws, Bontempelli would either take 'Charlie' home himself, or be splitting it with another worthy winner.
Fair play may have been the order of Greeves' day, a time when pocket watches, perisols and petticoats were considered footy-going fashion. But with more rules to rub a player out than Tom Wills could have ever envisaged, the time is nigh to cut bait and move with the times.
After all, if it weren't for some high-end lawyering on the part of Christopher Townsend KC, Carlton's Patrick Cripps would have joined McKernan and Grant in wondering what might have been.