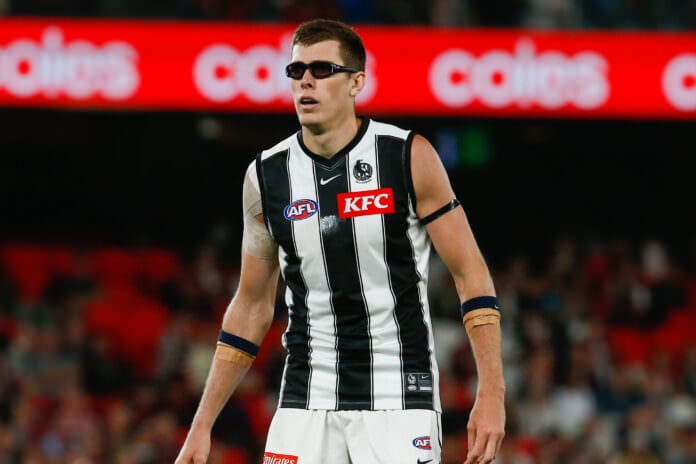 Collingwood big-man Mason Cox has revealed the lows he experienced when battling eye injuries.
Cox now wears protective glasses when playing in the AFL, with the reality being that one more poke to the eye would almost certainly render the American blind.
The big Texan has had to have both eyes operated on, suffering a torn retina in separate incidents. The first incident occurred in the 2018 Grand Final but went undetected by Cox at the time.
Speaking on the Dyl & Friends podcast, Cox detailed the journey he had gone through to get to the point where he could return to the field with protective eyewear.
"The first injury (to my eye) happened in the 2018 Grand Final, and I didn't know it had happened. So it wasn't until I had the injury to the other eye (that we noticed)," Cox recalled.
"I was playing against Gold Coast in the ruck and the other ruckman came down and he accidentally got his finger in my eye and ripped off half my retina. It wasn't really painful, I just couldn't see.
"I played out the rest of the half and came into the rooms and started seeing these dots everywhere.
"I went to the doctor just to flag it, and he looks at me and whenever a doctor looks at you with a worried face you kind of know it's serious. He goes 'you're going straight to hospital'."
Speaking about the eyewear, which has garnered much attention across the league, Cox said that it wasn't a matter of choice, but of necessity.
"My left pupil doesn't constrict anymore, so if it's sunny out my left pupil doesn't restrict the amount of light that comes into my eye," Cox said.
"So the glasses dissipate the amount of light that comes into my eye. So that's why there's a tint to it.
"If I get a finger to the again I'll go blind, no doubt. So they're for vision and protection."
Cox detailed how he was forced to head to the hospital in his Collingwood jumper and shorts, such was the rush to get him attended to. However, due to it being a weekend, he was forced to wait in the public sector.
"It was a Sunday so they didn't have the private hospital open so I sat in full game kit in the waiting room," Cox said.
"I went in and got checked out and the doctor came back and says he's got some bad news."
The road to recovery was a long and scary one for the USA export, who was only allowed to move around his one-bedroom apartment for 15 minutes every hour post-surgery.
"After the first surgery, the surgeon had to essentially sew my eye back together, whereas five or 10 years ago you'd just lose the eye," Cox said.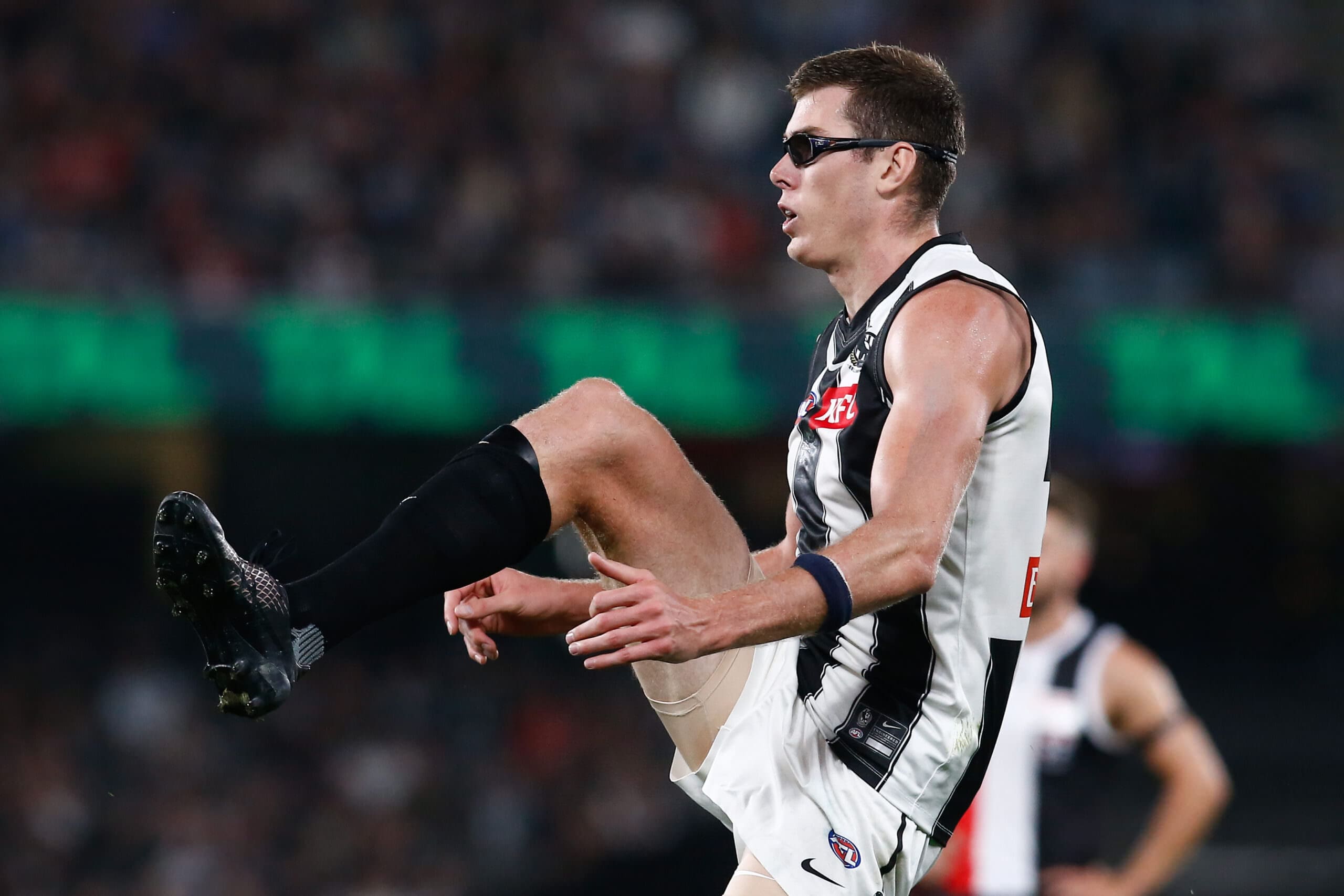 "For the next two weeks, for 45 minutes of every hour, I had to be on my back and couldn't move. My vision was so bad I could only make out colours, I had these droplets and had to get a friend to come over and put a highlighter to them (so I could see)."
Since moving to Australia Cox has formed a close relationship with former Collingwood president Eddie McGuire. Cox was full of thankfulness and grace for McGuire, recalling how he appreciated McGuire's efforts to help when Cox's movement was so limited.
"I didn't tell too many people how serious it was but there's one person who has always looked out for me and is like a father figure for me in Australia and he's the only person from the club that messaged me after the surgery," Cox said.
"It was Eddie McGuire. I thought of all the people in the world, the guy who's the busiest out of everyone, for him to go out of his way, it's things like that that let you know that people give a damn about you."
Cox will make his return to Craig McRae's side for Sunday's trip to Optus Stadium to face Fremantle.