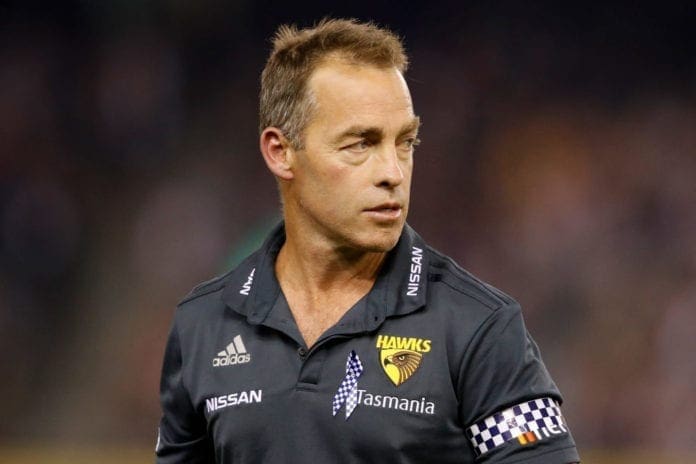 The GWS Giants have met with in-demand free agent coach Alastair Clarkson as they try to fill their senior coach position, according to Channel 7's Mitch Cleary.
The 54-year-old has been the subject of much speculation over coaching vacancies since he stepped away from his role as Hawthorn coach at the conclusion of last season.
Ex-Essendon player Mark McVeigh is currently serving as the Giants' caretaker coach and boasts a 3-3 record since taking the reins from Leon Cameron, who relinquished the position earlier in the season.
Speaking on Seven News on Monday evening, Cleary provided an update on GWS' search for a permanent senior coach.
"This is a big result for the Giants," Cleary said.
"Alastair Clarkson accepting a sit-down with GWS powerbrokers in the last fortnight. It included football director Jimmy Bartel who'll be central to their decision.
"It's hoped (by the club) the Giants will have more contact with Clarkson in the coming weeks.
"The four-time flag winner is now clearly No.1 at the top of their wishlist, that is understood to include Melbourne's Adem Yze, Sydney's Don Pyke and current Giants interim Mark McVeigh, who will present his case this month."
Cleary also spoke on SEN Breakfast on Tuesday morning about the recent developments surrounding GWS and Clarkson.
"Yes, I understand that there has been at least one meeting with at least one Giants powerbroker," Cleary reported.
"I know the Giants are hopeful that will increase in the next fortnight or so.
"They've obviously got a process they're working through, the Giants, that includes a number of people on their wish list. That includes Alastair Clarkson.
"I think it is a big result for the Giants that he has accepted at least one meeting so far and is keen to be a part of or has shown a willingness to be part of this process.
"That will ramp up over the next few weeks. I guess Leon Cameron departing early has allowed them to get ahead of this and sit down and chat to Clarko before any others."
There is obviously still a lot to play out in this space, but it is also hard to ignore the positive nature of these developments from a GWS perspective.