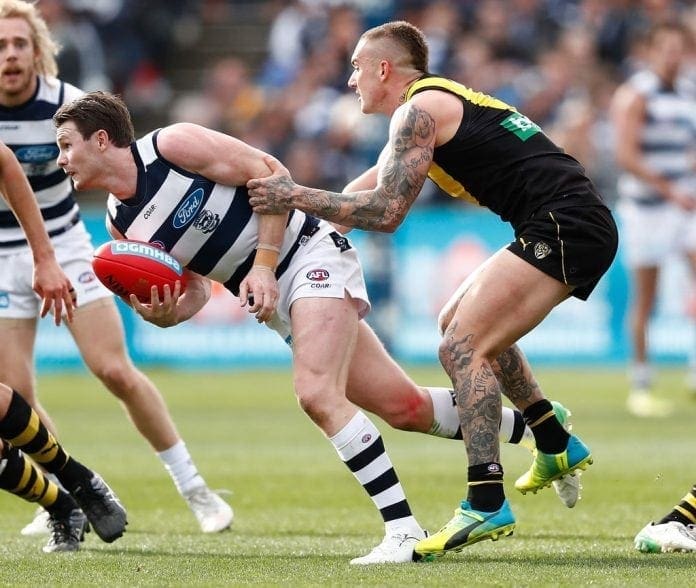 After the most challenging season to date, it now comes down to two clubs slogging it out for this year's flag.
Both the Tigers and Cats, like all Victorian teams, have had arguably the hardest road to get to the big dance.
Being forced to relocate to Queensland in July when the situation in Victoria deteriorated and having to sacrifice seeing their family and friends to keep the season alive would have had a profound effect on most players and coaches.
However, it is clear these two clubs have had the resilience and mental fortitude to overcome this obstacle, and now find themselves in the last game of the season.
Whilst it has been prolific, their finals series hasn't been flawless.
Geelong faced Port Adelaide at the Adelaide Oval in week one, and fell short going down by 16 points in front of a bloodthirsty Power-dominated crowd.
However, the next week the Cats mauled the Pies in Brisbane, embarrassing Nathan Buckley's side by 68 points off the back of a nine goal to one first half.
Chris Scott's men then triumphed against the Lions on Saturday in the second preliminary final, running out 40-point winners to advance to their first Grand Final since 2011.
The Tigers too faced adversity when they were outworked and outplayed by the Lions in their qualifying final, going down by 15 points.
Their semi-final was noticeably easier as they dominated the Saints to win by five goals at Metricon Stadium.
Port Adelaide was the obstacle Damien Hardwick would have to overcome to get his side to a third grand final in four seasons, and in a tough contest, Richmond pipped the Power by a single goal to advance.
So what got each team here?
For Geelong, it was their silky, pinpoint ball movement.
Against the Pies, it was almost unfair how accurate it was.
Midfielder Mitch Duncan, who has been in blistering form this finals series, racked up 30 disposals with an incredible 86.7% disposal efficiency from the wing.
On Saturday night against the Lions, Chris Fagan's men were comprehensively beaten by the Cats, with their speedy ball movement and transition being too hot to handle.
It also helped that Geelong's stars stepped up in a big way.
Patrick Dangerfield lead from the front a fortnight ago, constantly menacing the Magpies as he finished with four majors.
Patrick Dangerfield wasn't letting Jack Madgen go anywhere 💪@MonsterEnergy | #AFLFinals pic.twitter.com/wFkuiuiShJ

— AFL (@AFL) October 10, 2020
The little master, Gary Ablett, was huge for Geelong against the Lions, kicking two third quarter goals and looking at his scary best.
Adding to this, the Cats were fairly inaccurate in front of goal, kicking 11.16 and still managed to run out 40-point winners.
If they can wipe off a few behinds, then the Tigers will have to do well to stop the flow of goals.
Speaking of Richmond, they too have stood tall when they've had their backs against the wall.
Their win in the semi-final came through some Tom Lynch dominance, as the key forward returned from a hamstring injury to menace St. Kilda's defence.
Although he finished with two goals and five behinds as a result of poor set-shot accuracy, the big man was continuously crashing packs and giving Dougal Howard major headaches.
Last time the Tigers travelled to play Port Adelaide, they were beaten convincingly around the footy, but did not have most of their premiership-winning midfield available.
With Dion Prestia, Trent Cotchin, Jack Graham and Shane Edwards locked in to play, they overpowered the Power at their own game.
Their work around the stoppages drastically improved, with the Tigers winning the clearance count 11-4 and pipping Port 66-62 in the tackle count.
Dustin Martin was at his brilliant best, and has now cemented himself arguably as one of the best big game players to ever kick a Sherrin.
The powerful midfielder kicked the first goal of the match and was dominant the whole night, as he found fortune through the middle and in the forward-line, with Darcy Byrne-Jones left powerless against him as Martin finished with two majors.
Dustin Martin is unstoppable in Finals 🔥#ColesGoals | #AFLFinals pic.twitter.com/KdbvrrWIFG

— AFL (@AFL) October 16, 2020
Now we cast our minds forward to Saturday night, where these two star-studded sides will face-off.
Last time these two met was back in the penultimate round of the home-and-away season, when the Tigers ran out 26-point victors on the Gold Coast.
Both the Gary's - Rohan and Ablett - were absent for the Cats, with the former a late withdrawal due to a glute injury.
It was an affair where Richmond were in control for the most part, with Jack Riewoldt kicking a bag of four, whilst the Tigers' youngsters in Liam Baker and Shai Bolton also shone.
However, Saturday will be a different kettle of fish, especially if Rohan and Ablett play anything remotely similar to how they did in their preliminary final.
Chris Scott would also be savouring the opportunity to put his critics to bed after he labelled the flak he copped for his poor finals record as "lazy".
If there wasn't already enough incentive to win for the Cats, then they will be fighting tooth and nail to ensure that champion Gary Ablett finishes his football career with another flag under his belt.
On the other side, the Tigers will come into this as the villains after the ethics of their footballing philosophy has come under intense scrutiny from opposition fans in recent weeks.
There is no doubt that a majority of neutrals will be salivating for a Tigers loss, but Damien Hardwick and his side would love nothing more than to spoil Gary Ablett's farewell party.
In the end it will come down to which game plan will stand up.
We don't need to discuss whether Richmond's game plan will work against Geelong, as we've witnessed the Tigers outlast the Cats on multiple occasions since 2017.
However, in their home-and-away fixture, Geelong's ball movement was nowhere near the levels that they've hit over the last fortnight.
Their kicking was predictable and slow, and the Tigers were able to force turnovers and hurt them.
But with the two Gary's back and Chris Scott sure to have learnt from his mistakes, you can be sure the Cats will be better prepared for the contest.
Don't expect the Tigers to go into this fearing the Cats though, as we have learnt; write them off at your own peril.
The weather for Saturday night according to the Bureau of Meteorology is forecasted to be around 25 degrees, but there is a thunderstorm and possible rain about.
This would play into Richmond's hands should it rain, as their surge game-style suits wet weather footy to a tee.
So who wins it then?
If the Cats' ball movement stays at an elite level and their big stars flex their muscles, then they will be tough to beat.
However, the Tigers have been in this position three of the last four years, and with the experience, their recent record against Geelong combined with their tactics, it is looking likely that they will rain on Gary Ablett and his side's parade.
But as we've said so, so many times this year, expect the unexpected.
Prediction: Tigers by 9 points