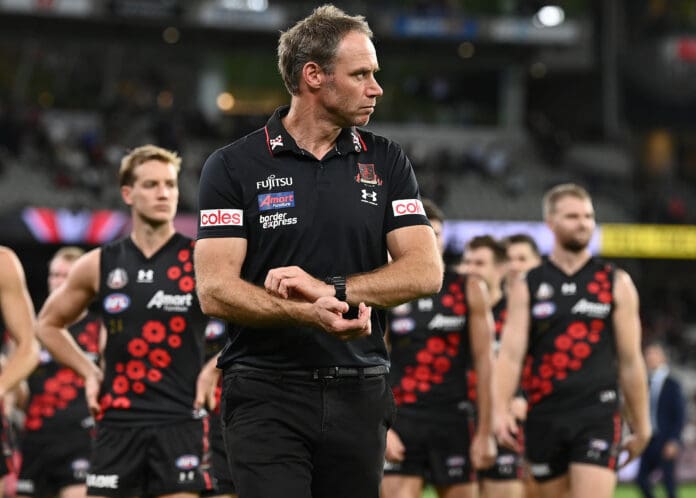 Melbourne coach Simon Goodwin has leapt to the defence of former teammate Ben Rutten as the future of the embattled Bombers coach remains still unclear.
Rutten's position has been under fire for the best part of the last two months, with his role at the club becoming seriously in doubt over the course of the last week.
Four-time premiership coach Alastair Clarkson is the name on everyone's lips with the Bombers reportedly in a tussle with North Melbourne for the unemployed coach's signature.
Despite this, Rutten's Adelaide teammate and Melbourne premiership coach Goodwin has thrown his support behind the 39-year-old and called into question the industry's treatment of under-the-pump coaches whilst speaking to AAP. 
AFL NEWS: Essendon defender Michael Hurley announces retirement
"I am a mate of Ben, I have reached out to Ben, it's a really tough situation," Goodwin said on Thursday.
"To be honest, I think we all sit here as coaches and we look at our situation and the one thing you want in our industry is respect.
"And I don't think Ben has been afforded that. I think it has been pretty poor how he has been treated.
"Hopefully he comes out the other side but he has showed enormous dignity in the way he has gone about his business."
The support didn't stop there for the man in the hot seat, with former colleague Damien Hardwick also voicing his sentiments for the Essendon coach.
Rutten was part of the coaching team that broke Richmond's premiership drought in 2017, making the switch at the end of 2018 to The Hanger to coach under John Worsfold.
"Ben Rutten's a terrific coach, we've had him in these four walls, we know what he's capable of and how well he can do the job," Hardwick said.
"What I do empathise with is the human element, it's a tough situation but that's the caper we're in.
"It's unfortunate in nature, but what we care about is the person and we hope Ben himself is doing OK."
AFL NEWS: Star Don Zach Merrett claims club must show 'ticker and spine'
Although he has received support, Rutten's destiny is now in the hands of the Essendon board with the club's heart apparently set on poaching Clarkson to take the helm from 2023 onwards.
Despite their wishes, the four-time premiership coach is set to announce his decision in the coming weeks and could very well put the Essendon board in a very precarious position should he reject their advances and choose North Melbourne instead.
Should this transpire, then it could be a very interesting summer at Tullamarine with Rutten clearly not holding the faith of the Essendon board with the team failing to make progress on what was a relatively prosperous 2021 season.