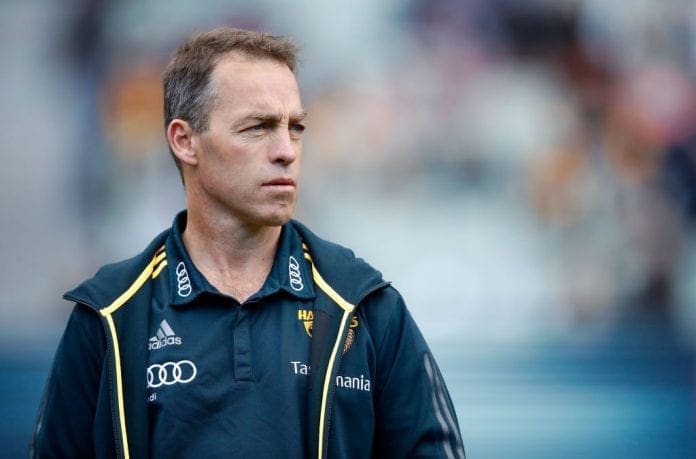 Speaking on the In The Game Podcast, former Saints great Danny Frawley reveals how he and Hawthorn senior coach Alistair Clarkson's relationship broke down.
Frawley was a former specialist defensive coach under Clarkson with the Hawks before moving on to become the CEO of the AFL Coaches Association. It was in his time at the Coaches Association where they began to have a difference of opinion.
When the Essendon doping saga came to surface, Clarkson, among other coaches thought that Frawley could do more as the CEO of the association to denounce the Essendon coaches involved.
However, as an employee of the Coaches Association, he had to first and foremost look after the well being of the coaches they represent.
"I was on an island because I had Clarko and Ross and all the other coaches saying, 'How can you deal with the Essendon coaches?'," Frawley said.
"But the number one thing on our mission statement was to look after the welfare of person. I was out there walking laps of The Tan with James (Hird), wanting to know how his welfare was."
Their discontent with the situation lead to an independent review and eventually Frawley losing his position as CEO in part due to Clarkson's actions.
"So for three years there, I had a huge grudge against Alastair and Mark Brayshaw to a certain degree, because he did the independent review and he took over as CEO, so I was left without the job that I loved," Frawley said.
Frawley also mentioned some of the mental issues he was dealing with around that time that he went on to deal with. However, he wasn't aware he had the issues at the time and it impacted him.
Throughout the podcast he mentioned that he and the Hawks coach have mended their relationship and are back on good terms.
"We've patched things up. He's a star. He's the best coach ever really, when you think about it," he added.
"All due respect to the past, but it was train twice a week, play, and there were three or four teams that year who were a chance to win it. Now we've got 18 teams in the competition.
"He's a freak."