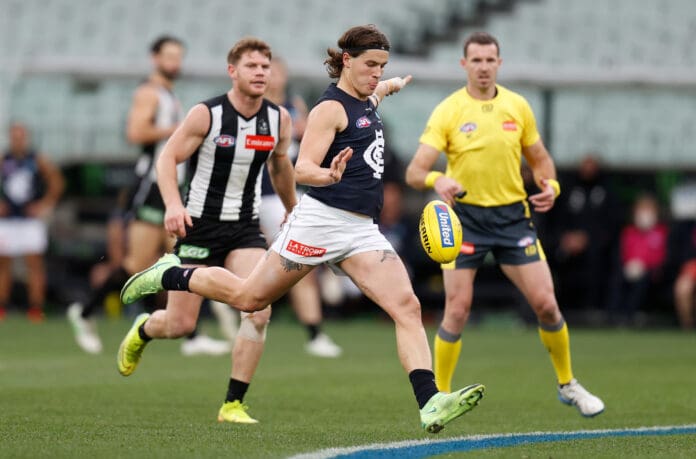 Former Blues list boss Stephen Silvagni has lauded Liam Stocker's footballing qualities and questioned Carlton's development in the aftermath of his shock delisting last month.
This is contextualised by Silvagni's infamous 2018 decision to swap future first-round picks with Adelaide in order to draft Stocker, who they rated as the sixth-best player in that year's draft class.
Speaking on AFL Trade Radio, Silvagni questioned whether Carlton gave the 22-year-old enough opportunity to develop as an AFL player.
"As a club, when a player is on the way out, you have a checklist about whether you've done everything possible for this kid to play AFL footy. I don't think (Carlton) can do that," said Silvagni.
"He's a tough nut. If I was playing, I would love Liam Stocker next to me because I know he's going to go hard. There are plenty of footballers out there that don't go hard but can run and that's their asset – he's tough.
"He played on Jamie Elliott and did a really good job on him, he played on Gary Rohan and did a really good job on him. I've seen him play on Tom Papley and the guns, so it's not as if he was being given a free ride and playing on the least dangerous forwards, he's been given some really big jobs."
Stocker played predominately as an undersized defender in 2022 as the strength of Carlton's midfield unit continued to grow.
He played just six games this year, having fallen down first-year coach Michael Voss's pecking order.
Despite this, Essendon's all-time leading goalkicker Matthew Lloyd expects Stocker to find a new home during this year's offseason.
"I coached Liam at Haileybury so I'm a big fan of Liam, he's got AFL attributes," said Lloyd on AFL Trade Radio.
"They signed Ed Curnow and David Cuningham over him, so that's interesting, so there must be more to it.
"I think if he can get his running right and he does sometimes try to bite off more with his kicks and misses a few targets at times, but he should be on an AFL list next year."
There are a number of clubs looking at Stocker, who has reportedly met with Essendon about reigniting his AFL career.