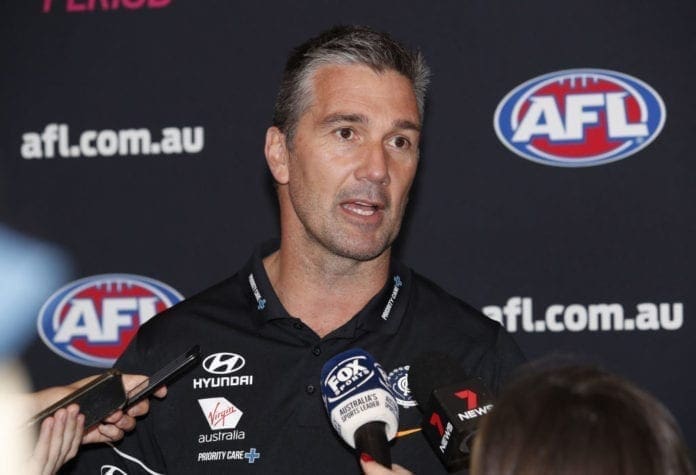 Carlton's favourite son Stephen Silvagini recently vacated his role as head of list management and strategy at the football club he won two premierships for, as being the father of two players on said list was apparently too much for some board members to handle.
Rumblings of discontent from CEO Cain Liddle and other senior board members of Silvagni's
position, while he has two sons on the playing list, meant the position had become untenable.
Silvering took the extreme measures to attend the club's AGM to tell the powers that be exactly how he felt on his way out of the club.
The relationship between Liddle and SOS had reportedly become strained when Liddle approached management of potential trade and free agency targets, in particular, Brandon Ellis.
We are going to take a look back at Silvagni's record in his time at Carlton and judge the hits and misses brought into Princes Park in SOS' time.
2015
Jacob Weitering - Weitering was an instant hit it seemed when he debuted. His 2018 was a year to forget however, his inexperience was exposed and he found himself in the VFL. A good 2019 gets him on the hit list.
Harry McKay - McKay was second in the league last year for contested marks, after a slow start to his career he arrived on the scene in 2019 as an elite mark of the footy. Another hit.
Charlie Curnow - Charlie Curnow is a huge hit, a future star of the game who has engrossed the Carlton faithful like no one has since Brendan Fevola departed the club. Can be the best in the competition if he reaches his full potential.
Jack Silvagni - Son of the man in charge of recruiting brought on undue pressure, seemed lost for a spot in 2018 and destined for the scrap heap. Found form when tagging Nat Fyfe and finished 2019 well. Jury still out.
David Cunningham - Cunningham has been injury-prone most of his career so far, has shown glimpses and earned a rising star nomination in his first years. Too early to tell after only 25 games.
Daniel Gorringe - Better known for Instagram exploits then footy. Miss.
Matthew Wright - Delisted free agent who won goal kicking, hit for the price paid.
Sam Kerridge - Always seemed destined to break-out but never made the jump. Miss.
Jed Lamb, Liam Sumner, Andrew Phillips - All had good moments after crossing over, never seemed part of the big picture. MISS!
Lachie Plowman - Mr Fix it, plays on tall and small and was third in Carlton's Best and Fairest in 2019. Hit for Plow.
2016
Sam Petrevski-Seton - Found his feet in 2019, was elite in win over Bulldogs polling two Brownlow votes. Played forward, mid and back and has elite skills. Hit.
Zac Fisher - Made the move from small forward to midfielder, doesn't find heaps of it but always good with ball in hand. Hit again.
Harrison Macreadie - Hasn't featured much, hasn't been terrific when in the side. Miss at this stage.
Cameron Polson - Has looked out of his depth most of the time, super quick but doesn't offer much else. Huge miss.
Tom Williamson - Seemed destined to replace Kade Simpson after debut year, although a debilitating back injury has kept him out for two years making it too early to judge. Promising though.
Caleb Marchbank - Has been super when fit, can be injury-prone but is a real talent and therefore a hit.
Patrick Kerr, Alex Silvagni, Kym Lebois, Rhys Palmer, Billy Smedts, Jarrod Pickett - None ever found a regular spot, all gone now.
2017
Paddy Dow - Kicking came into spotlight earlier this year after some close losses, went back to VFL before breaking back in late in the year. Has the tools, hit.
Lochie O'Brien - Was made to earn debut post-draft, found some consistency in 2019 and made his way to hit column after teetering on the border in 2018.
Tom De Koning - Seen as the successor to Matthew Kreuzer, made debut last year after good VFL run. Too early to tell.
Matt Lobbe, Angus Schumacher, Jarrod Garlett, Cameron O'Shea, Matt Shaw - All gone now and none of them will be long remembered.
Matt Kennedy - Brought in to help Patrick Cripps, didn't find form before finding a home down forward. That form has him a hit… just.
Darcy Lang - Hasn't found the form expected, don't see him in the next premiership side. Miss.
2018
Sam Walsh - 2019 NAB Rising Star winner, is a superstar already. HIT!
Liam Stocker - The deal that may shape the legacy of SOS, traded 1st round picks with Adelaide to get Stocker. Too early to tell after five games.
Hugh Goddard, Finbar O'Dwyer, Ben Silvagni, Matt Cottrell - Not enough evidence to judge.
Michael Gibbons - Huge hit considering he cost nothing, played all but one game in 2019.
Tom Bugg - Hard to be a hit if you retire before round one.
Josh Deluca - Mid-year recruit, played six games, gone now and unfortunately a miss.
Mitch McGovern - Sent to get in shape mid-year, will be a hit no worries at all though.
Will Setterfield - Worked his way into form late 2019, too early to tell but looks to be a hit all things being equal.
Nic Newman - Huge hit, was a massive asset for a clearance sale price.
Alex Fasolo - Never fit in.
2019
Is too early to judge but Eddie Betts seems a win at the price, Jack Martin coming in the pre-season draft is a massive win for SOS.
Stephen Silvagni came in with a big reputation and lived up to that and more, his legacy, however, is in the hands of the men mentioned above, or in the court of public opinion.