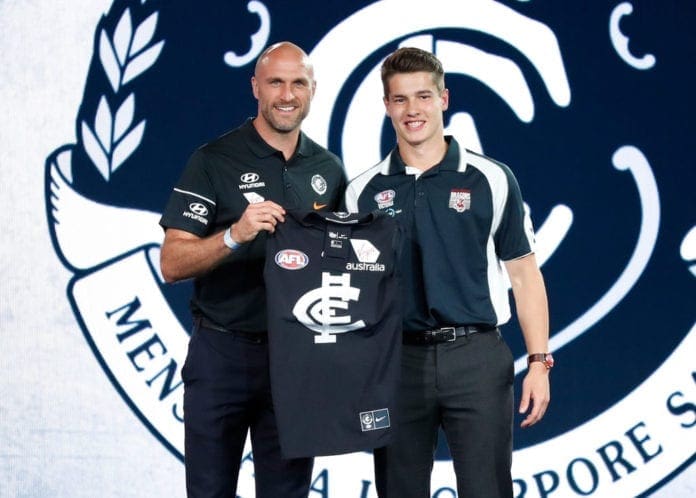 Former Blue Liam Stocker could be in line for a career lifeline less than a week after being told his tenure at Princes Park had come to a close.
Stocker, 22, was delisted by Carlton following the cessation of their 2022 campaign, with many Baggers barrackers left shocked by list manager Nick Austin's choice to sever ties with the Sandringham Dragons product.
Having tasted senior action on 28 occasions since making his debut during the 2019 season, Stocker's ability to attack the ball head-on often earned praise during his stay on Royal Parade.
However, now cut adrift from Carlton's program, 7News' Mitch Cleary claimed that the inside midfielder had met with Essendon ahead of the sign and trade period.
While the Bombers are sure to have been drawn to Stocker's coalface skillset and discount pricetag, the Morrish medallist has spent the majority of 2022 plying his trade in defense at VFL level.
In the wake of Stocker's delisting, Austin paid further praise to the fledgling bull, stating that Stocker's resilience and work ethic would be of value to secondary suitors.
"Liam gave great effort during his four seasons here,"  Austin said.
"And while he was not able to solidify his place in the side this year, his capacity to continue to work hard was a testament to him."
Given Stocker's delisted free agent status, Essendon will not be required to part with any of their current draft picks should they wish to bring the midfielder-cum-defender through the Hangar doors.
At present, Dons list manger Adrian Dodoro currently holds the 4th, 22nd, 40th, 58th and 76th selections at November's National Draft.