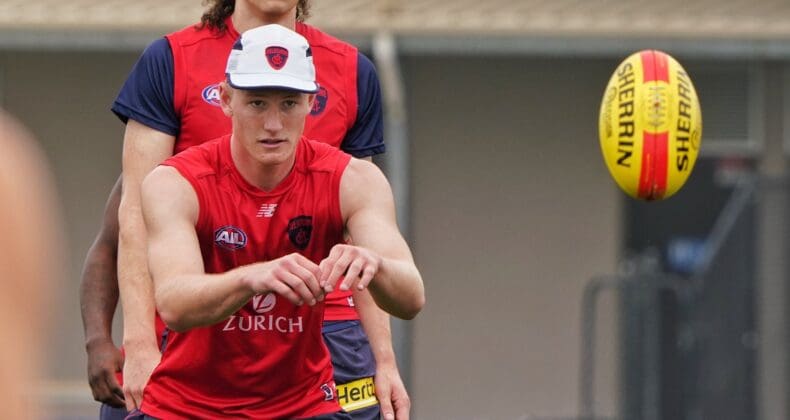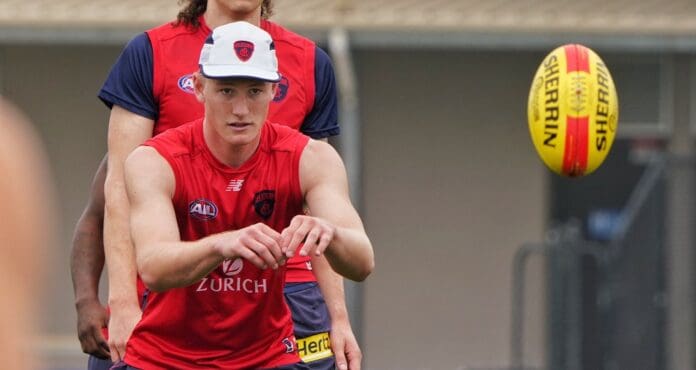 Melbourne were the team to beat after 2021 and looked to be raising their trajectory through the first 10 games of 2022. A few factors lead to their end-of-season collapse hwoever.
One factor was the motivation of all opposition sides to take down the reigning premiers and make a statement to the competition the way Fremantle, Collingwood, Sydney and Brisbane all did.
Opposing teams brought their A game against Melbourne, which exposed cracks and allowed them to develop.
The presence of Lever and May would usually ensure a rock-solid defence. However, once opposing coaches began applying methods of limiting their impact (forcing May to defend up the ground), chaos ensued and halted Melbourne's organised defence.
The loss of Tom McDonald forced Ben Brown to become the lone frontman in attack, exposing his weaknesses at ground level and in contested marking contests.
Brown also wasn't helped by the lacklustre organisation when moving the ball inside 50. Too often Melbourne lacked midfield-forward connection and relied on dump kicks to full-forward where opposition defences could get to work and launch dangerous attacks of their own.
All of these factors would materialise in a shock semi-final loss to Brisbane, ending their season prematurely.
Fortunately, Melbourne turned heads during the trade period and acquired quality players with the potential to fill some glaring holes.
INS: Jed Adams, Brodie Grundy (Collingwood Magpies), Lachie Hunter (Western Bulldogs), Matthew Jefferson, Josh Schache (Western Bulldogs), Oliver Sestan, Will Verrall
OUTS: Oskar Baker (Western Bulldogs), Toby Bedford (GWS Giants), Mitch Brown (retired), Majak Daw (retired), Jayden Hunt (West Coast Eagles), Luke Jackson (Fremantle Dockers), Fraser Rosman (delisted), Sam Weideman (Essendon Bombers)
Here we assess Melbourne's depth chart for 2023 and name their best 23-man side.
Defenders
The decision to put Angus Brayshaw in an intercepting role last year was an intriguing one. He displayed his versatility by playing the role to a tee but consequently couldn't be there to stabilise the midfield when their opponents got on top.
The addition of Lachie Hunter to go with the development of Tom Sparrow and James Jordon may effectively replace the midfield impact of Brayshaw, allowing him to impact games defensively and alleviate pressure off May and Lever.
Harrison Petty had a good season last year and even displayed his own versatility with a last-minute 'hail mary' move to the forward line in their semi-final loss. He and Brayshaw are excellent 3rd and 4th options in Melbourne's defence.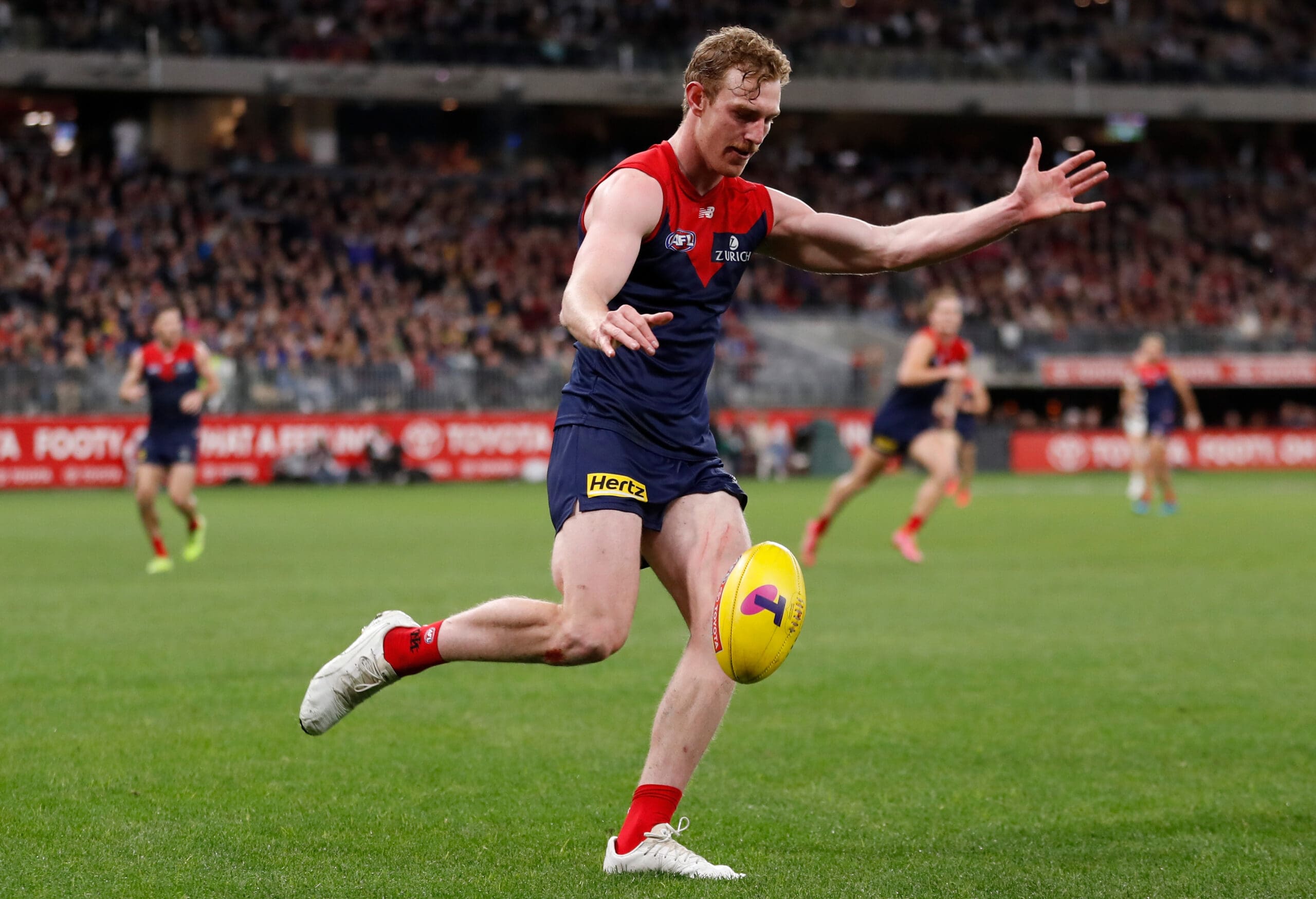 If Trent Rivers can show some of his lofty potential after three years of experience in the system, he could compliment Christian Salem's defensive 50 ball use brilliantly with his own run and dash while locking down opposing smalls.
We'll wait and see what the development of Jake Bowey looks like as well as how Michael Hibberd is tracking at 33 years old. We'll also see how Simon Goodwin and company will deal with the systematic methods of limiting May and Lever.
Midfielders
Melbourne may have the deepest midfield in the competition in 2023 after adding Lachie Hunter and Brodie Grundy, while Sparrow and Jordon continue their development.
It is hard to believe Clayton Oliver will enter the season at just 25 years of age with all he has achieved alongside Christian Petracca and Jack Viney. This stoppage trio will be remembered among Melbourne folk for their toughness at the contest and dominance around the ground.
However, part of Melbourne's 2022 downfall did involve their midfield.
The struggles entering forward 50 were system-based and will require coaching adjustments, but Lachie Hunter on a left-side wing compliments Ed Langdon beautifully and drastically improves the ball use entering the forward line.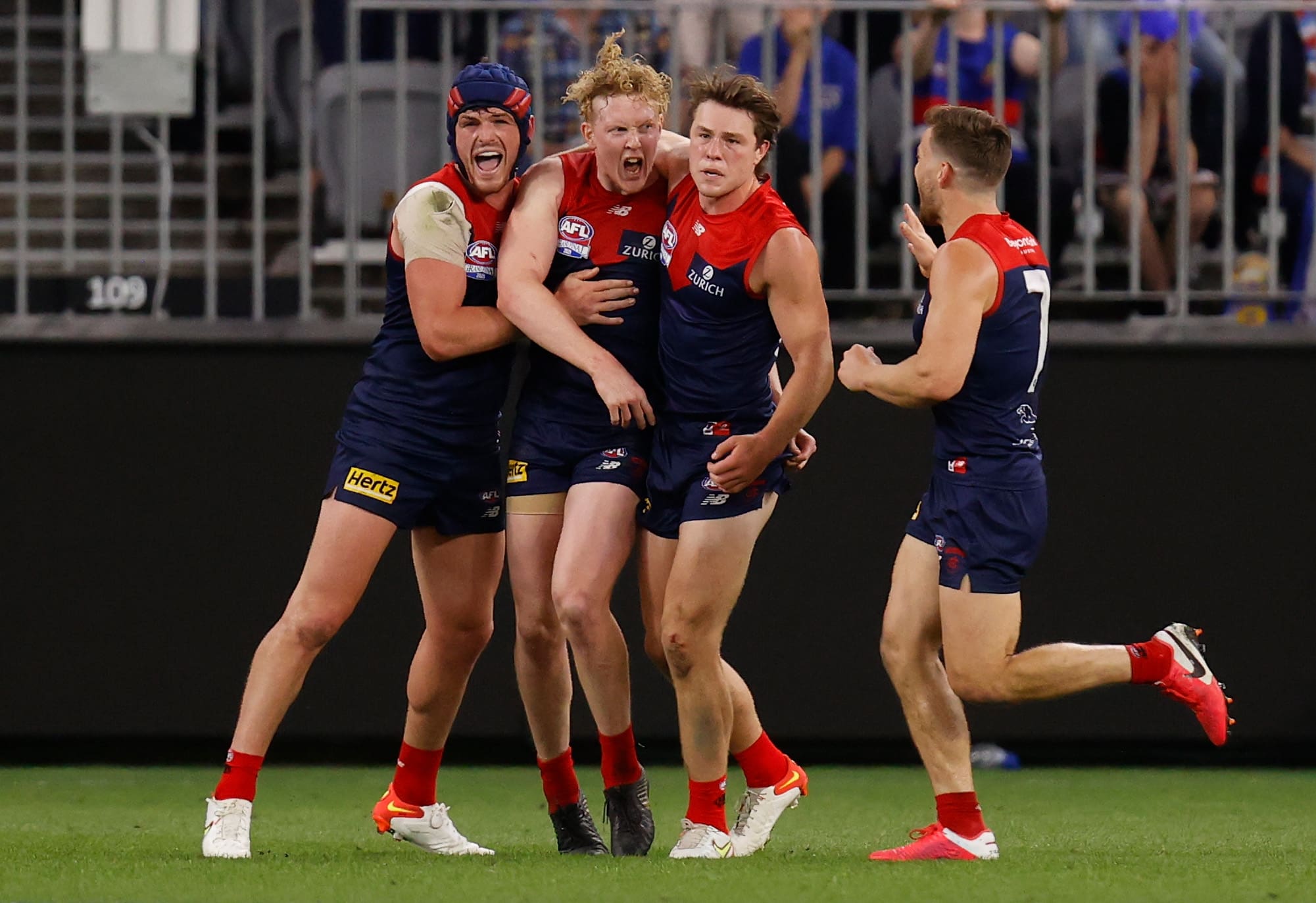 Brodie Grundy obviously takes some heat off Max Gawn, but also creates an exciting around-the-ground dilemma with two primary ruckmen. It seems like Gawn will simply become the defensive-half ruckman while Grundy will take forward half stoppages. This will create headaches for opposing coaches and selectors.
Finally, watch for some alternative options like Brayshaw, James Harmes or Kysaiah Pickett to enter centre stoppages during the season.
Forwards
The most surprising flaw in Melbourne's system last season was their forward 50 efficiency and productivity, given it was such a strength in '21.
Tom McDonald's injury increased the pressure on Ben Brown and unfortunately, he wasn't able to deliver. While Melbourne typically look to 'lower the eyes' and hit Brown on a strong lead, he lacks the ground-level ability and doesn't impact marking contests in the way that teams desire from their key forwards. This renders him ineffective when Melbourne are forced to dump the ball deep inside 50.
Jacob van Rooyen is fresh off a stellar season in the VFL and at 20 years old, looks to be the likely replacement for Brown or McDonald alongside top draft pick Matthew Jefferson when the veteran pair move on. 2023 may be the year van Rooyen gets his foot in the door.
There are no clear reads yet on how Grundy will be positioned, but resting him forward to start games creates a difficult situation defensively with four marking options for Melbourne inside 50.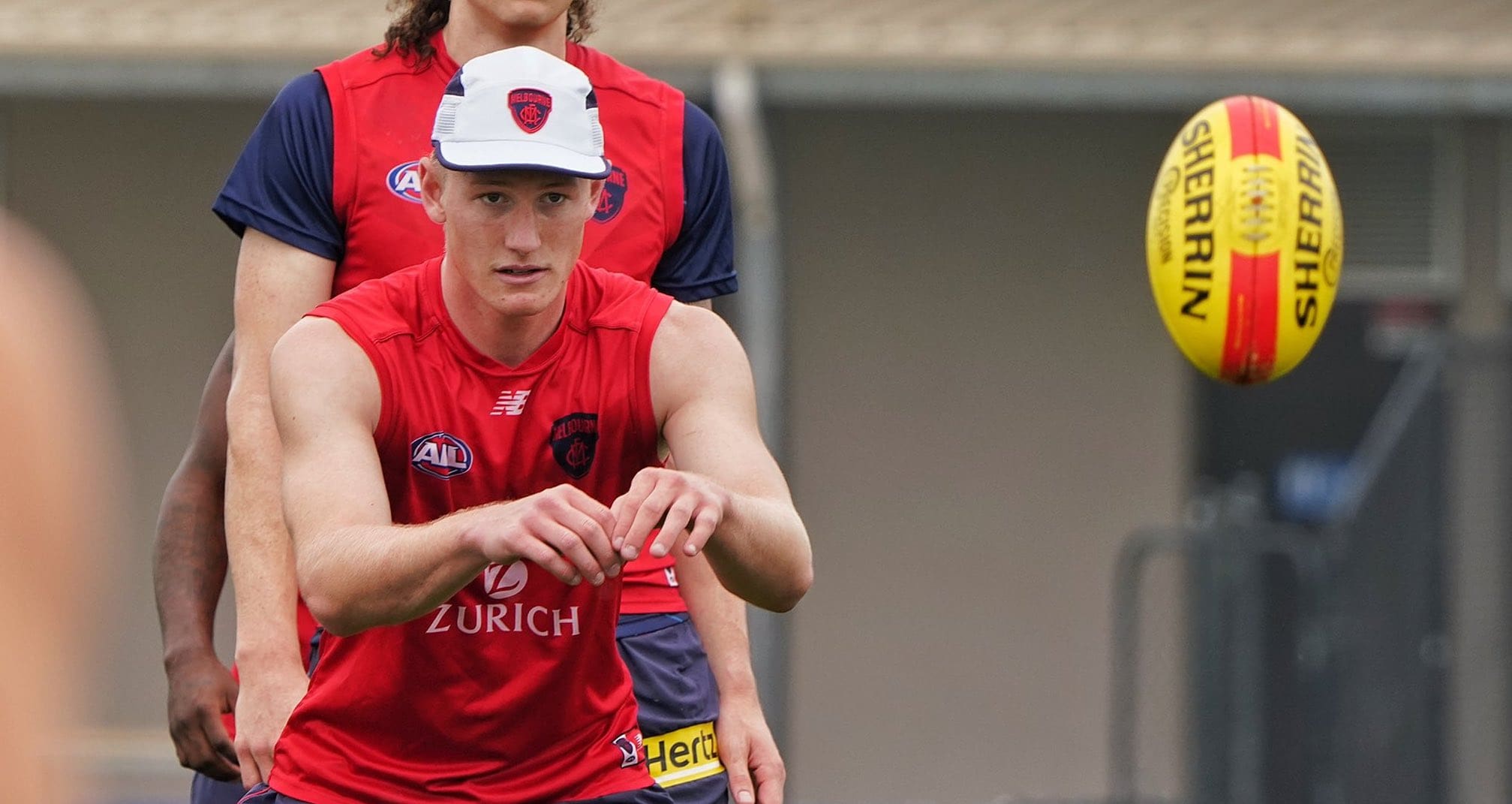 The hybrid talent of Bayley Fritsch makes this forward structure conceivable with his ability to inflict damage as a ground-level and crumbing forward while still posing an aerial threat.
Improvements in Melbourne's organisation inside 50 will allow the likes of Kysaiah Pickett to thrive with a polished system, similar to Tyson Stengle for Geelong last season. Demon supporters will be hoping for an All-Australian level season from the young star.
Their other small forward, Charlie Spargo, is proving to be one of the more underrated players in the competition with his class and high football IQ. In 2023, he should continue to show his value forward of centre with poised ball use and irritating defensive pressure.
Alex Neal-Bullen will round out the forward line on the interchange bench and pose yet another goalkicking threat for the opposition to worry about.
That leaves at least nine quality players without a spot in this starting 22, highlighting the depth of Melbourne's squad.
Ben Brown, Michael Hibberd and Jake Melksham are all 30+ but may still have some fuel  in the tank, but we will wait and see how their bodies hold up during the year.
Adam Tomlinson, Luke Dunstan, Joel Smith, Kade Chandler and Josh Schache would all likely be in the starting 22 for most AFL sides and should hold the Casey Demons in good stead until they are potentially called up for a game in the seniors.
Throw in young talent in the form of Matthew Jefferson, Bailey Laurie and Dan Turner and the Demons aren't short on promising options either.
Best 23
FB: Trent Rivers, Steven May, Harrison Petty
HB: Angus Brayshaw, Jake Lever, Christian Salem
|C: Ed Langdon, Jack Viney, Lachie Hunter
HF: Kysaiah Pickett, Tom McDonald, Charlie Spargo
FF: Brodie Grundy, Jacob Van Rooyen, Bayley Fritsch
FOL: Max Gawn, Clayton Oliver, Christian Petracca
Int: Tom Sparrow, James Harmes, Alex Neal-Bullen, James Jordon
Sub: Jake Bowey
Emerg: Ben Brown, Adam Tomlinson, Luke Dunstan
We've picked our side, now it's time for you to pick yours with our PICK YOUR TEAM page.