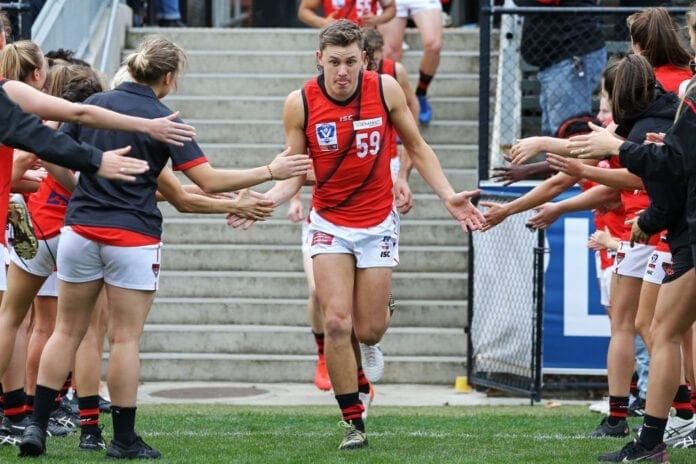 Essendon VFL star Aaron Heppell, brother of Essendon captain Dyson, has announced his retirement.
The 26-year old followed Dyson to the the club ahead of the 2014 VFL season and carved out a successful career.
He is a three-time best and fairest winner in the 2016, 2018 and 2019 seasons and captained the club.
Heppell made the call to retire in order to spend more time in his hometown Leongatha where he will take on a player/assistant coach role at the Leongatha Football Club.
What a champion you've been, Hepp.

Forever part of our fabric ❤️🖤

— Essendon VFL (@essendonvfl) February 11, 2021
Heppell said he enjoyed his time at the club and is looking forward to what comes next.
"Essendon has been a family for me the last seven years. I moved down when I was 18, with not much down here other than my two brothers," Heppell told essendonfc.com.au.
"In my early days, I'd go to the club six times a week to hang out with the VFL boys, train, shoot hoops and hang out. They're my best memories.
"I got to play in three prelims as well, so we came bloody close, but they were exciting years.
"The friendships I've formed with coaches and players are going to be the hardest thing to say goodbye to, but spending more time in Gippsland during the lockdown has re-ignited my love for the country.
"I thought it'd be a good time to get out and spend more time down there. I've still got school mates playing for Leongatha, and I'm keen to head down the coaching path, so this is a good opportunity."
New Essendon VFL head coach Leigh Tudor said Heppell is the sort of player you want around a football club and will be "a massive loss".
"His leadership, the way he trains, and the way he played the Essendon way made him exactly the type of person you want to lead your VFL program," Tudor said.
"You can see why he won best and fairests and why he was the captain of the club.
"He's going to be a massive loss because he's been a super player for the club."