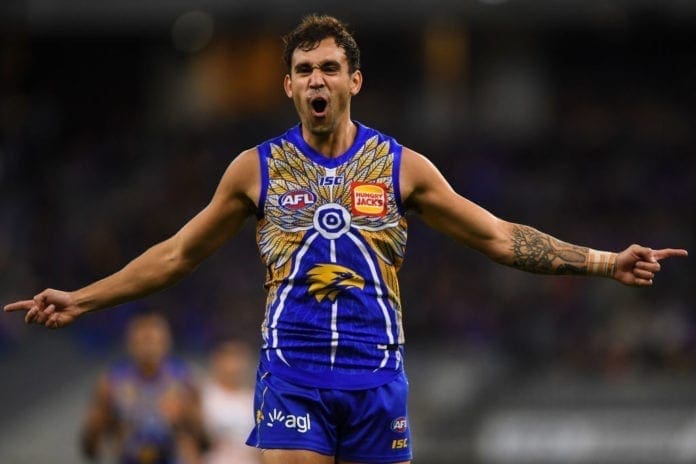 West Coast have announced the re-signings of Nathan Vardy, Mark Hutchings, Brendon Ah Chee and Jamaine Jones for the 2021 season.
The club have also upgraded defender Harry Edwards to the primary list after signing a two-year deal.
Vardy will remain on the senior list while Hutchings, Ah Chee and Jones will be rookie listed for next season.
2018 premiership pair Vardy and Hutchings battled through injuries in 2020, with the Vardy not featuring for Adam Simpson's side this season.
Hutchings was kept to just three games due to a hamstring injury.
Ah Chee has his best season in the royal blue and gold, playing 16 matches, with Jones playing two games in 2020.
"Unfortunately because the AFL wasn't able to confirm list sizes until after the Trade Period we were in a holding pattern with several players and it was an extremely difficult period for them," Eagles list manager Darren Glass told westcoasteagles.com.au.
"Firstly, we have upgraded Harry to our senior list after two years as a rookie, which is a reflection of his encouraging development and we believe there is a bright future ahead for him after his AFL debut this year.
"We are also really pleased we have now been able to offer Nathan, Mark, Brendon and Jamaine contract extensions.
"Nathan endured a tough time this season with that nasty leg injury, and his experience will continue to be important for our ruck division.
"Brendon and Jamaine both showed good signs this season playing in attack and will remain on our rookie list for next year.
"Mark has also been very patient while we worked through our list composition and with primary list spots reduced we have shifted him onto the rookie list.
"He had a challenging year on the injury front but is a true professional and we are confident he has plenty to offer our group in 2021."