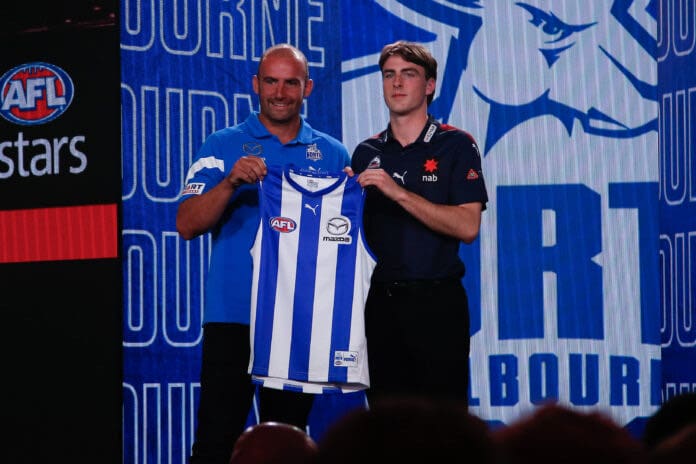 North Melbourne co-captain Luke McDonald has looked to remind fans of the talent George Wardlaw is set to bring to the team this year, with the teenager nearing a return to action following a troublesome run with injuries.
Wardlaw joined the Roos as the fourth overall pick in last year's draft, falling one spot after Sandringham small forward and new teammate Harry Sheezel.
Sheezel has been among the most impressive rookies across the course of the pre-season, while Wardlaw has been required to take a different route as he looks to recover from lingering ailments.
The Oakleigh Chargers sensation last played in August, with a string of hamstring setbacks hindering his draft campaign. But with enough runs on the board, the inside onballer still managed to find himself toward the top of the draft order.
After working through a crucial training block over the past eight weeks, Wardlaw is set for a stint at VFL level as early as this month.
Speaking to Zero Hanger, McDonald said anticipation surrounding Sheezel has taken some attention away from Wardlaw, who is tipped to be "one serious player" soon enough.
"It's a long list," McDonald said of the players who have impressed over the pre-season.
"Harry Sheezel is starting to get a fair bit of attention, he's got some serious tricks.
"But I think everyone has kind of forgotten about George Wardlaw. We've been building him really slowly with his training.
"Once we unleash him he's going to be one serious player."
While the 2022 draft pairing were the first to come to McDonald's mind, the Roos skipper said developing forward Charlie Comben will be another one to watch at Arden Street in 2023.
The 199cm spearhead has battled back and leg injuries to be limited to just two appearances in three seasons with North Melbourne, with the club taking a patient approach to Comben's recovery.
Speaking on the 21-year-old, McDonald said Comben looms as a key piece in the club's plans to return to the premiership race.
"He's had a really injury-interrupted few years, but he's just got to get some continuity and play some games," McDonald said.
"He's going to be a key pillar for us for a long period of time."
With a majority of Alastair Clarkson's squad still cutting their teeth at senior level, the Roos were able to gain plenty from a winless pre-season schedule.
Albeit in a loss, the Roos impressed against Richmond at home before falling to the Western Bulldogs by 58 points the following week.
McDonald said the signs of improvement among the young core were there despite the results.
"We got to play against two really good sides," he said.
"We played Richmond and lost by four points, and took a lot out of that game. Then against the Dogs there was a lot of learnings to come from (the loss).
"It was good to challenge ourselves against two top-four aspirants. We know we're on a journey and it was good to see a lot of improvement in a lot of individuals who have had a really good pre-season.
"Even if the result wasn't ideal, there was still so much to take out of those games."
North Melbourne will host West Coast at Marvel Stadium on Saturday to open their 2023 campaign.
2023-03-18T02:45:00Z
North Melbourne WON BY 5 POINTS