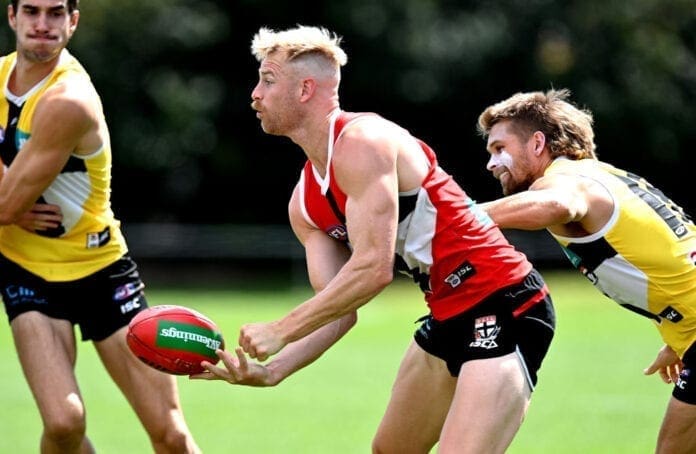 Axed St Kilda defender Jonathon Marsh remains in pursuit of an AFL lifeline after being delisted by the Saints last week.
Marsh joined St Kilda for the 2019 season after being recruited through the supplemental selection period having previously played for Collingwood between 2015-2016.
The 25-year-old is now looking for opportunities at a third AFL club and has been training at Moorabbin to better his chance of gaining a list spot for 2021.
Speaking on SEN's The Sporting Capital, Marsh revealed his management has been in contact with AFL clubs in the past week.
"I gave my manager a call the day I heard and he's just getting on the front foot and calling clubs asking if anyone needs a player like myself," he said on SEN's The Sporting Capital.
"I myself rung in a couple of favours to potentially help me out, if anyone could put in a good word for me or just to make someone lean my way.
"I've made those phone calls myself over the last week or so.
"It's a tough one because the option to get on a list drags out well into next year so I think it's just hearing from clubs if they've got any interest at all and selling yourself on that.
"The fine balance is maintaining a good physical and mental health and to get in as many facets as possible and put your name out there."
Marsh revealed he was originally expecting to receive an extension with the Saints.
"Personally, to be honest, it was kind of a little bit more out of the blue than some others at the club," he added.
"I was thinking I was in a good position to receive a contract for next year and then obviously I got the call and it didn't go my way.
"Initially it probably takes you a couple of days to get rid of that shock factor. Instantly your mind starts reeling towards, 'How do we pay the bills?'
"But as soon as you get away from that, what was important for myself was just to focus on the good things coming out of it.
"I'd love to continue my AFL career so if I'm able to pursue that another club, fantastic, but you've also got to understand the reality that that might not happen.
"In a way it's kind of exciting for me. I'm 25 and if I can sort that out, that's fantastic. If I was 30 or 31 leaving the AFL with not a whole lot of cleat direction that would be an even more daunting prospect."
Marsh further added that there was no resentment between him and St Kilda.
"The club said they appreciated everything I did over the two years and I said I'm not leaving with any bad blood either," he said.
"It's not like I didn't enjoy my two years at the club. I'm hoping I can leave the club and people there can say some good things about me instead of having it be a bad break-up."
JONATHON MARSH
KeyDefender

St Kilda

2020 SEASON AVG

7.8
Disposals

1.3
Marks

0.2
Rebound50s