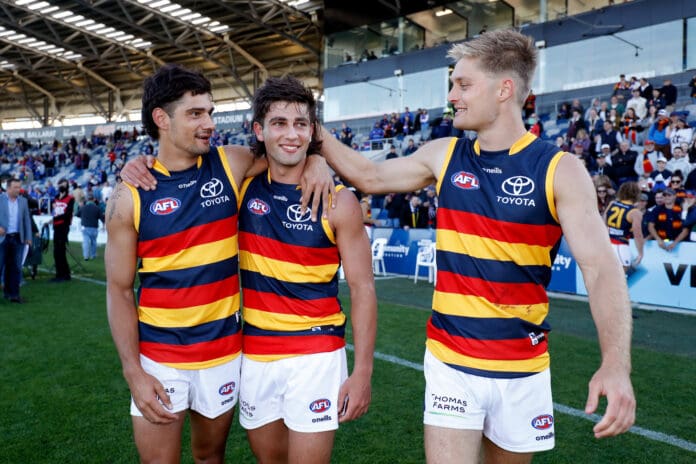 The Adelaide Football Club has confirmed the departures of Andrew McPherson, Jackson Hately, Tariek Newchurch and Tyler Brown after each failed to win contracts for the 2024 season.
The call to commence clearing house comes after the Crows missed the eight in heartbreaking fashion, finishing 2023 in 10th position.
While Hately and McPherson were each able to feature for the Crows, playing 15 and 28 games respectively during their days at West Lakes, Newchurch and Brown failed in their bids to see senior action under Matthew Nicks after each joined the club via the rookie list in January.
Speaking by way of an official club statement, Adelaide list boss Justin Reid took time to thank the quartet for their efforts during their time wearing tri-colours.
"These are always difficult decisions that unfortunately need to be made at this time of the year," Reid told Crows Media.
"Andrew, Jackson, Tariek and Tyler have all made valuable contributions to our Club in the varying amounts of time they have spent with us.
"All four players leave the Club with our thanks and best wishes for the future."
Reid still has list calls left to make ahead of the exchange period, with each of James Borlase, Shane McAdam and Tom Doedee all currently without contracts.
However, it appears unlikely that either of McAdam or Doedee will be Crows in 2024, as the former has formally requested a trade to Melbourne, while the latter has been targeted by Collingwood as a free-agent acquisition.