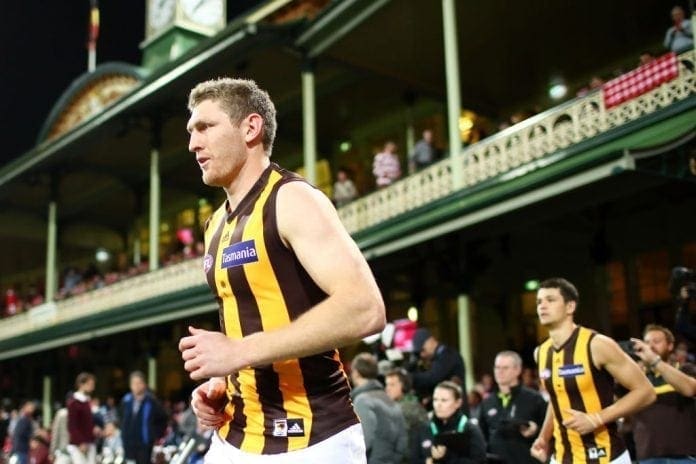 Champion Saint Nick Riewoldt has chided his former club's choice to push incumbent Hawthorn captain Ben McEvoy out the door in 2013, taking aim at St Kilda's short-sighted recruitment strategy.
At the cessation of the 2013 season, McEvoy, a former first-round draft selection, had donned the Saints' red, white and black on 91 occasions, with those in the know believing the 'Big Boy' to be a captain in waiting.
However, after a campaign in which the men from Moorabbin limped to a 5-17 record, powerbrokers and pencil pushers on Linton Street opted to place the ruckman on the trade table, eventually agreeing to a deal that saw ex-Hawk Shane Savage and draftee Luke Dunstan join the club.
Following the closure of Savage's career in 2020 and Dunstan's acrimonious exit last year, McEvoy celebrated his 250th AFL appearance during Hawthorn's win over Gold Coast on Saturday afternoon and compounded St Kilda's trade pain.
The 33-year-old's ability to claim a pair of premiership medallions and ascend to take on the Hawks' captaincy has only rankled minds further.
Having shared a locker room with the Murray Bushrangers product for six seasons, the depth of McEvoy's skillset was not lost on Riewoldt, with the spearhead using his seat on Fox Footy's 'Best on Ground' to take aim at his former club.
"He didn't leave, the club traded him. At the time it felt like the people in charge making those decisions were saying, 'look how clever we are. Let's trade this bloke and this bloke and we'll get in some picks, we'll show how clever we are with recruiting'," Riewoldt said.
"You've got to get your picks right, and they didn't ... it was mind boggling, and still is.
"He's been a superstar and it he was still at St Kilda — a bit of a void of leadership is the criticism at times — he would've been perfect.
"But good luck to him, he's gone on to great things."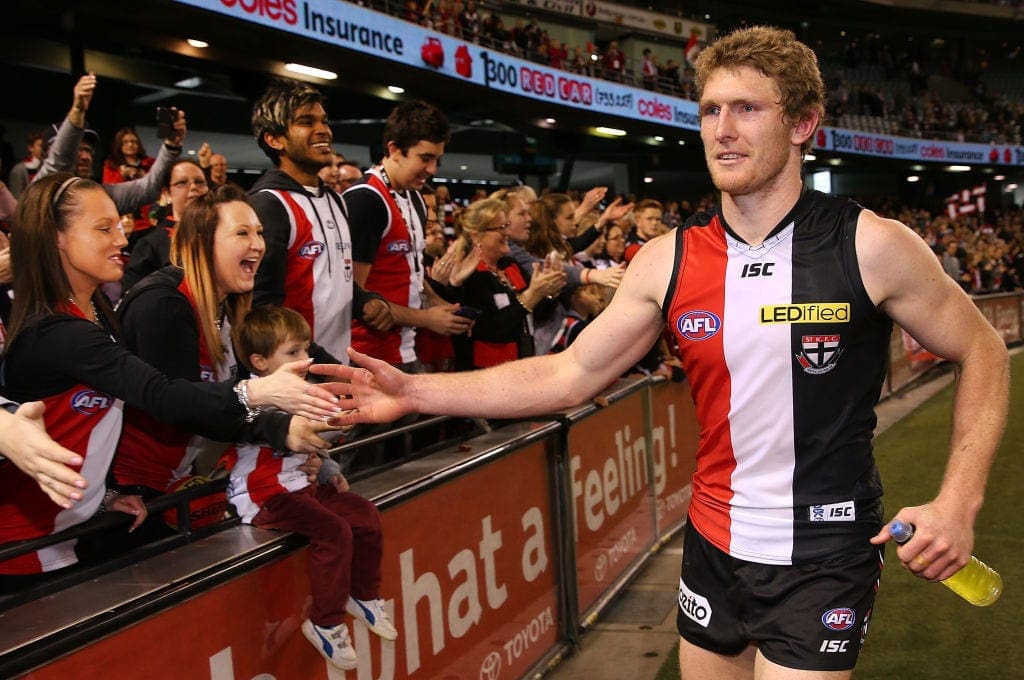 With a goal and 31 hitouts during the Hawks' seven-point win in the Apple Isle, McEvoy was all smiles as he was chaired from York Park by Luke Breust and Jack Gunston as the afternoon sunlight faded on Saturday.
Following sundown, the outwardly rudderless Saints capitulated to an under-strength Cats outfit at Kardinia Park, with the home side's dominant 45-point victory enough to effectively extinguish St Kilda's slender finals hopes.
While McEvoy remains uncontracted at Bungil Bagora beyond the end of the season, the skipper's ability to play a role across multiple lines, as well as accelerate the development of mile-long youngster Ned Reeves, should see him earn a much-deserved extension if he opts to play on.
RELATED: How is Hawthorn's puzzle progressing?
McEvoy has pulled on Hawthorn's famous brown and gold bars on 159 occasions and became the storied club's 45th captain following Ben Stratton's retirement at the completion of the COVID-cut 2020 season.
Though out of the finals race, Sam Mitchell's Hawks have tasted success in four of their past five fixtures and will round out their year with clashes against Richmond and the Western Bulldogs before the end of August.