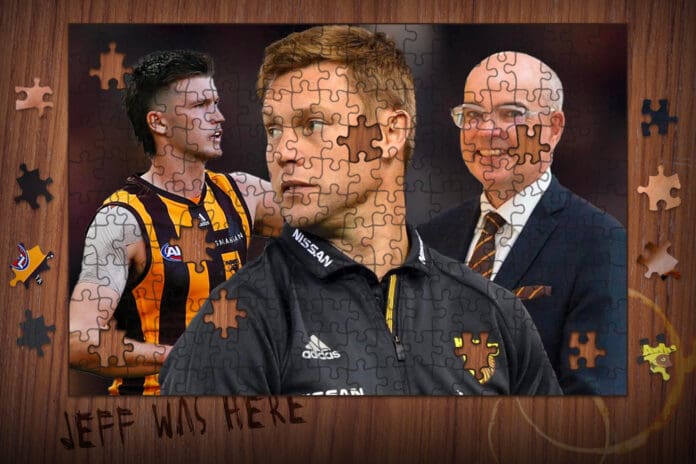 Over the course of the seemingly ceaseless months that Australians spent cloaked from COVID, each of us lent our hands to new hobbies in an effort to spin the clock's hands.
For some, acting as artisanal bakers kneading sourdough saw off the stir craziness. For others, binge-watching, homebrewing and board games scythed through the boredom.
Still, for the most tolerant and tranquil among us, piecing together panoramic shots of Paris or Port-au-Prince's pastel hillsides proved the antidote.
While there are plenty of people that lack the requisite patience to assemble a 10,000-piece puzzle, the concept of completing one doesn't raise much confusion. However, actually putting these plans into place is another matter entirely.
Experienced dissectologists will claim that the joy of the pursuit lies in the assembly and not the finished product, but for Hawthorn's kettle of members far more accustomed to success than the strains of rebuilding, the message becomes a harder sell. Especially when placing a strict timeline for completion remains an impossibility.
At the cessation of their meandering 2021 season, capped by the departure of their chief architect, even the most ardent of Hawks were forced to embrace the fact that their most recent golden run had ended.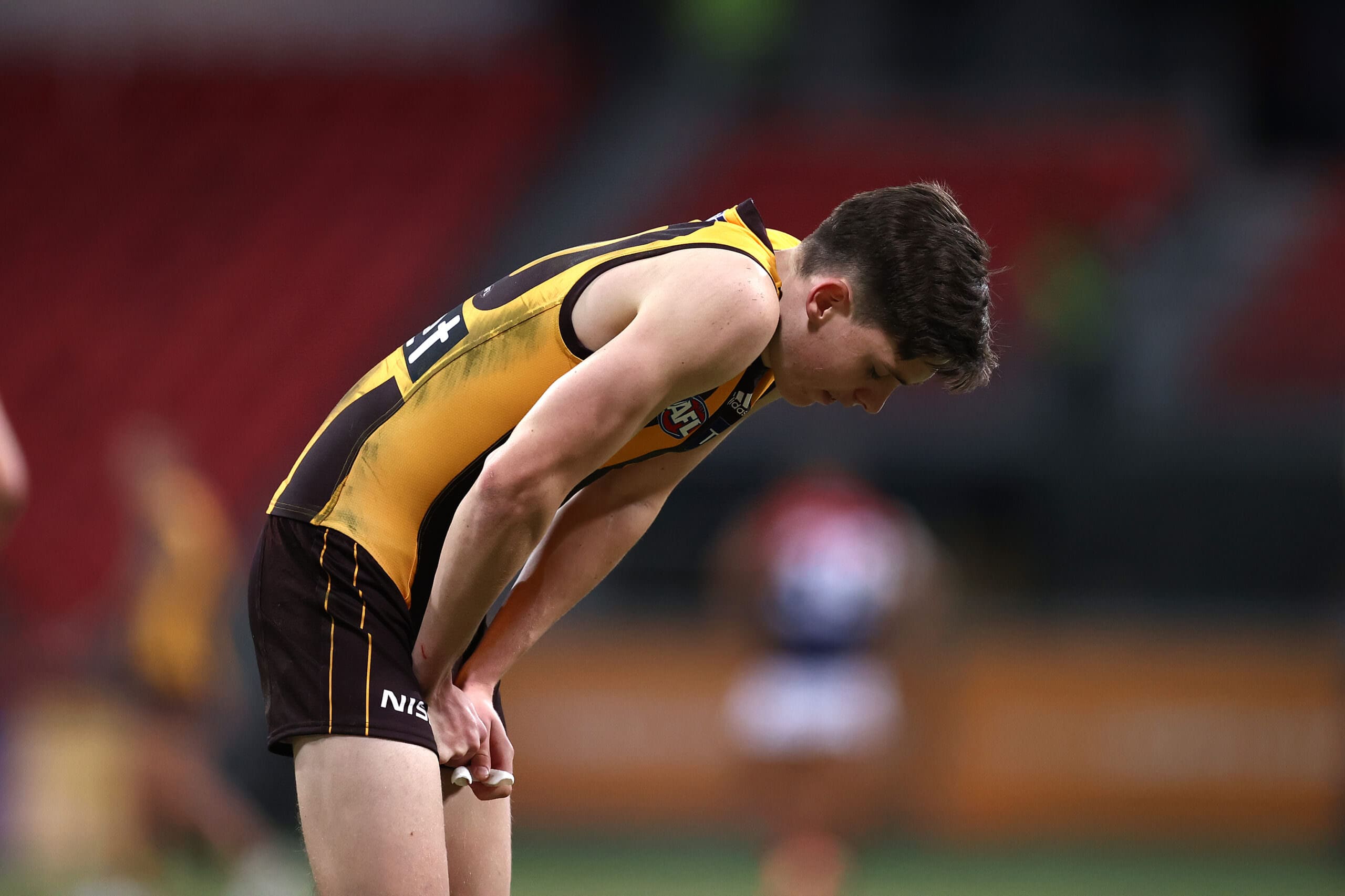 Stepping into the colossal void left by Alastair Clarkson was one of his most trusted lieutenants, Sam Mitchell. Yet, with the silk of Shaun Burgoyne stepping away, as well as a pair of once-touted teenagers in Tom Scully and Jonathon Patton, at first glance, it appeared that Mitchell had simply inherited tens of thousands of unintelligible pieces.
But spin the hands back to the commencement of Clarkson's tenure in 2005, and the master coach who holds more currency that currently presiding stewards had been foisted with a perplexing puzzle of his own.
Still, with Hawthorn plucking the ilk of Jarryd Roughead, Lance Franklin and Jordan Lewis with successive selections ahead of his debut in the box, the corners of what proved to be a gleaming premiership picture fell face up out of another.
But as Mitchell sat down over the summer with a fresh pot of coffee and the guiding box propped up, what exactly was the five-time Peter Crimmins medallist left to work with?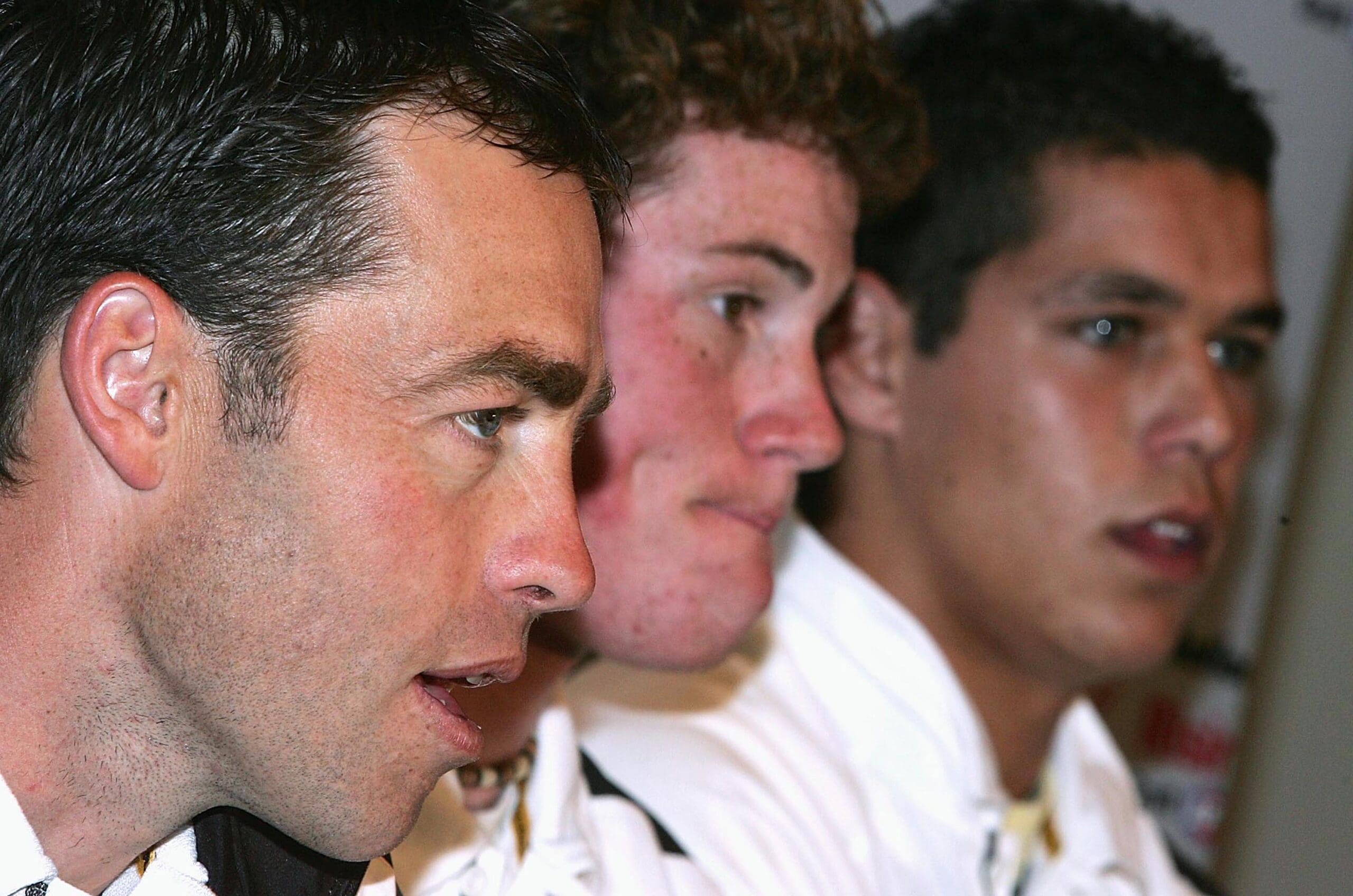 If the 39-year-old had his ears attuned to noise away from Sir Kenneth Luke Boulevard, he will have found that there was little belief from the game's many talking heads. But after 18 clashes played on each of this continent's coasts, the premature bashing of the Hawks has been whittled back.
However, wins over Geelong and Brisbane still haven't been enough to eradicate every skerrick of slander.
While Hawthorn's 6-11 record this season will see them avoid their first wooden spoon since 1965, it hasn't seen them escape the scorn of footy's most fiery critic. Earlier this month, via one of his many seats, Kane Cornes called the club out for its perceived insignificance.
"We can go weeks and weeks without talking about Hawthorn, have they become the irrelevant team of the competition?" Cornes pondered on Footy Classified. "They're a bit nothing, aren't they? They're a bit bland."
"Whose guernsey are you buying if you're a Hawthorn supporter?"
Despite the tag applied by the former tagger, Hawthorn are a far more interesting club than Cornes is willing to give credence to. The whole picture just requires assembly.
"Have they become the irrelevant team of the competition?"@kanecornes worries the Hawks have become 'a bit nothing' as they look to rebuild, while @MatthewLloyd18 hopes Tom Mitchell can find a new home. #9FootyClassified | Watch on @9Gem pic.twitter.com/ObFotXtGVS

— Footy on Nine (@FootyonNine) July 4, 2022
Since their first flag in 1961, Hawthorn has gone on to hoist premiership cups every four-and-a-half years, ensuring that fans aged in their sixties and younger have all become incredibly acquainted with success. And with their current dry spell now into its seventh season, those without the patience to construct a 10,000 piecer have been heard voicing their concerns at stages this season.
But given the ability to blood youth, develop key posts, cement spots and even find time for boardroom alterations, Hawthorn's strides this season have seen them enter a new era. One that promises to be unlike all others woven throughout their storied past.
So, as his debut season at the helm creeps to a close, we took a peek over Mitchell's shoulder to see just where the pieces lie as he attempts to reconstruct a picture of glory that has long been familiar to him.
The Philosophy
Put simply, since beginning his professional footballing journey 21 years ago, Mitchell has proven, time and again, that he is a winner.
Still, like Kurt Warner across the Pacific, as well as premiership teammates in Ben Stratton, Paul Puopolo and Isaac Smith, the champion turned coach was forced to start his sprint down the straight from well behind the starting blocks.
Despite claiming back-to-back best and fairests with Eastern Ranges, Mitchell was snubbed during his draft year, failing to hear his name called out with any of the 167 picks available to clubs.
Undeterred, the 18-year-old wrote to every side in the competition pleading for a chance to train and earn a rookie spot. Yet, of those that responded, their answers were all the same. The Mooroolbark junior then made his way back to Box Hill City Oval for the 2001 VFL season, eventually capping it with three goals during the club's inaugural division one premiership.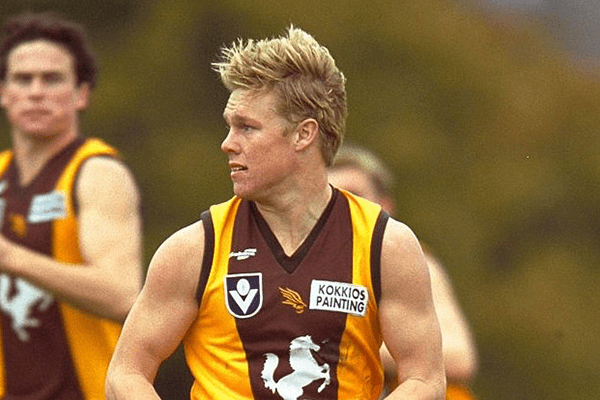 Over the next 18 months, the reinvigorated midfielder earned a JJ Liston Medal, a place on the Hawks' AFL list and the AFL's Rising Star prize in 2003, brandishing a bird to every recruiting team in the country.
Just shy of two decades on since announcing himself at AFL level, Mitchell's mantel is short of available real estate, with Crimmins and premiership medallions eating into every possible cranny, along with his belated Brownlow.
But while Mitchell's self-dubbed relentlessness has flown him into rare air at Hawthorn, perhaps his true strength as a leader lies in the fact that these snubs saw it all born.
Given his back-door entry into the league and shoulder-ride exit from it, Mitchell has the ability to speak both sympathetically and insightfully to every member of his current squad, from the skipper and his superstars and right down to the fresh-faced kid overlooked time and again.
Prior to last year's COVID-interrupted season, Mitchell returned to his roots and took the head coaching reins at Box Hill. Having already gained experience in the caper as an assistant with both the Eagles and Hawks, moving magnets was not entirely unfamiliar to him. Still, up until then, it was yet to be seen just how a side cast completely in Mitchell's image would stack up.
Keen to plant his flag early, Mitchell spoke openly to a room containing many of the youngsters still under his tutelage at Waverley about his philosophy on football. In between jibes at player's dress senses and sly hints about the rigours of the pre-season, the local lad made good expressed that high standards and an ability to control one's mind were a must under his watch.
The end result? An 8-2 record and an average of 108.5 points on the board each week.
Although these messages appear basic, for a rebuilding club, there remains little need for revolutionary memos. Ask anybody that has gone on to achieve grand feats in any avenue, and they aren't likely to spin tales filled with schemes and shortcuts, as in the eyes of Mitchell, there is no secret to success. The key lies in getting some dirt on your hands.
Nevertheless, as success in the AFL requires more than just a locker room buy-in, analysing how Mitchell's charges stack up on match-day is mandatory.
The Style
Scan a list of contract statuses for those at Waverley Park, and a level of clarity surrounding the present puzzle arises. Of the 44 current Hawks, only eight have deals that will keep them in brown and gold beyond the cessation of the 2023 season.
While more than 80 per cent of Mitchell's men are yet to renegotiate terms with the club or be asked to clear their lockers out, the likes of Blake Hardwick, Changkuoth Jiath, Conor Nash, Denver Grainger-Barras, Jack Frost, Jack Scrimshaw, Mitchell Lewis and James Sicily are all set to remain until the end of 2024 at a minimum.
If Hawthorn's team sheet is one you are quick to pour over on Thursday nights, the common thread binding the bulk of these names doesn't require highlighting. However, if you're in the same camp as Cornes and the skillsets of most remain a mystery, six members of this octet are members of Mitchell's mainline defence.
Shave this back even further, and in a genuine break from their conventions, it is clear to see that Hawthorn's next premiership push will be built off the back of those at the back.
Despite the fact that legendary figures in Chris Langford, Gary Ayres, Chris Mews, Kelvin Moore and Peter Knights held down defensive roles with aplomb across the glory years of the 70s and 80s, their names weren't adorning as many duffle coats as the collective of Matthews, Dunstall, Platten, Brereton and 'Dipper'.
But with each premiership team since 2015 having stumped their successes on their series of stoppers, the option to rebuild from the backline is one that looks primed to bear fruit.
Need proof? Take Fremantle's fly up the ladder this season for example.
After coming across from Collingwood at the cessation of 2019, Justin Longmuir implemented a defensive blueprint in an effort to make an offensive rise up the ladder, adding draftees Hayden Young and Heath Chapman to a backline unit already including Alex Pearce, Brennan Cox and Griffin Logue.
Akin to the construction of a home itself, the décor was only added after the floor had been laid, with the Dockers' most recent draft class set to add the frills above the existing foundation.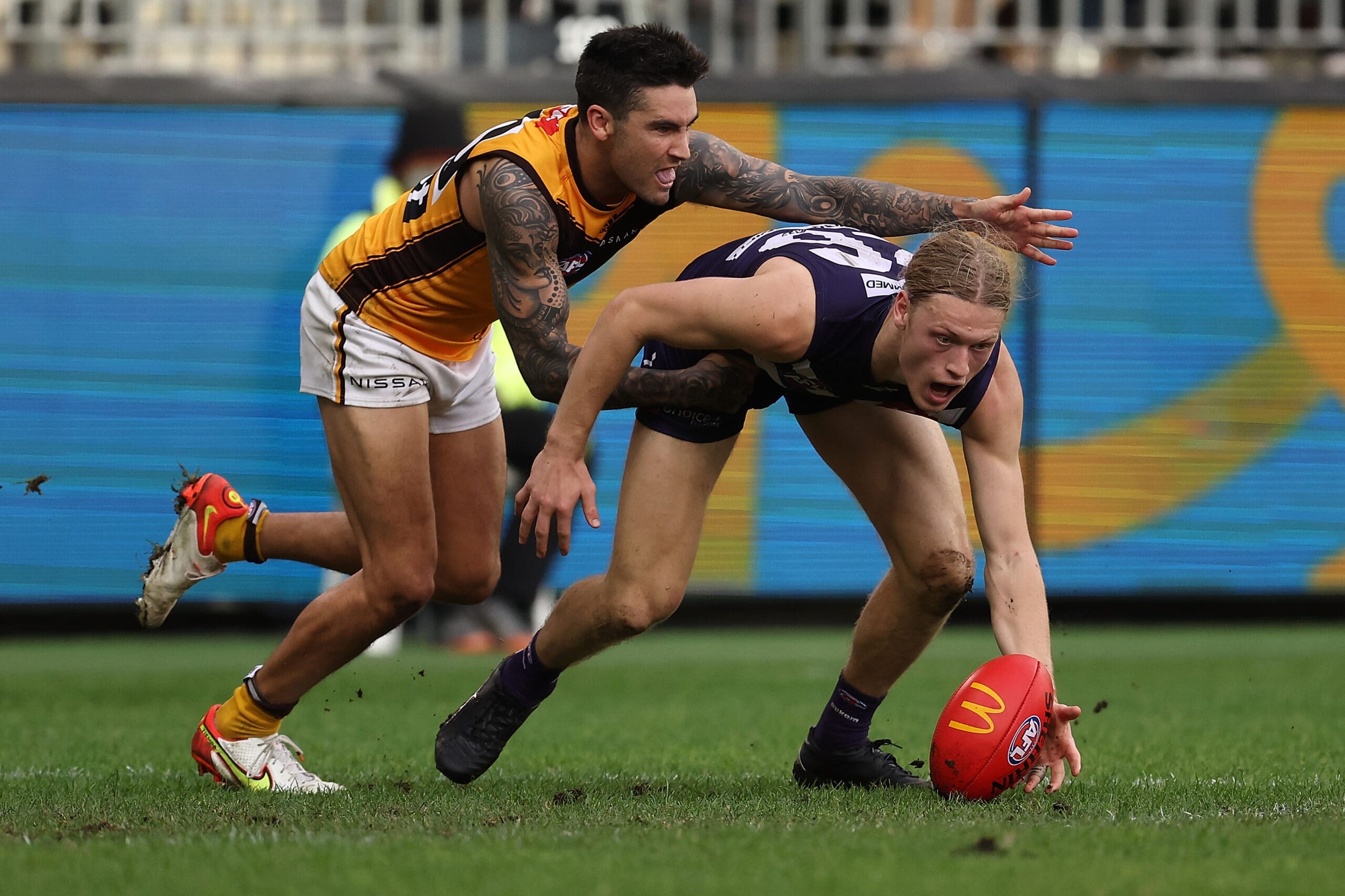 Cross back over the Nullarbor and head up Wellington Road, Hawthorn's youthful exuberance is also primed to come to the fore, even when the scoreboard is stacked against them.
Across the course of Clarkson's final season at the helm, his Hawks were the most handball-happy team in the competition, peeling off an average of 167.6 per game. Yet, this season under the four-time premiership coach's protégé, this figure has plummeted to 139.4 each week, the sixth lowest in the league.
With a desire to attack the corridor, spark movement and fire the ball forward, Mitchell's squad has opted to use the ball by foot, with their kicking mean jumping from 211.5 last year to 223 across the first 18 rounds of this. Still, given their efficiency in this department sat at 64.6 per cent coming into last Sunday – the third-worst figure in the competition - there is plenty of honing left to be had.
Though Lewis remains the only forward currently holding a deal with Hawthorn beyond the completion of next season, the ability to make hay from their inside 50s has been a genuine highlight for Hawks in the outer.
Notwithstanding their flaws by foot further afield, heading into their win Round 18 victory, Hawthorn held the third strongest scores per inside 50 percentage (45.2) and the second straightest shot-at-goal accuracy (51.5) among their peers.
Add in the 27 scoring shots at a rate of 55.55 per cent in the wet against West Coast, and there has been plenty to toast ahead of the ball this season. The thrifty Hawks have also managed to see a spike in scoring this season, jumping from 74 points per game to a respectable 82 each week.
While his tinkering and tailoring have peaked at stages, Mitchell professed that the wins and losses column would not define his side's success this season, with growth in the group the only marker on his mind.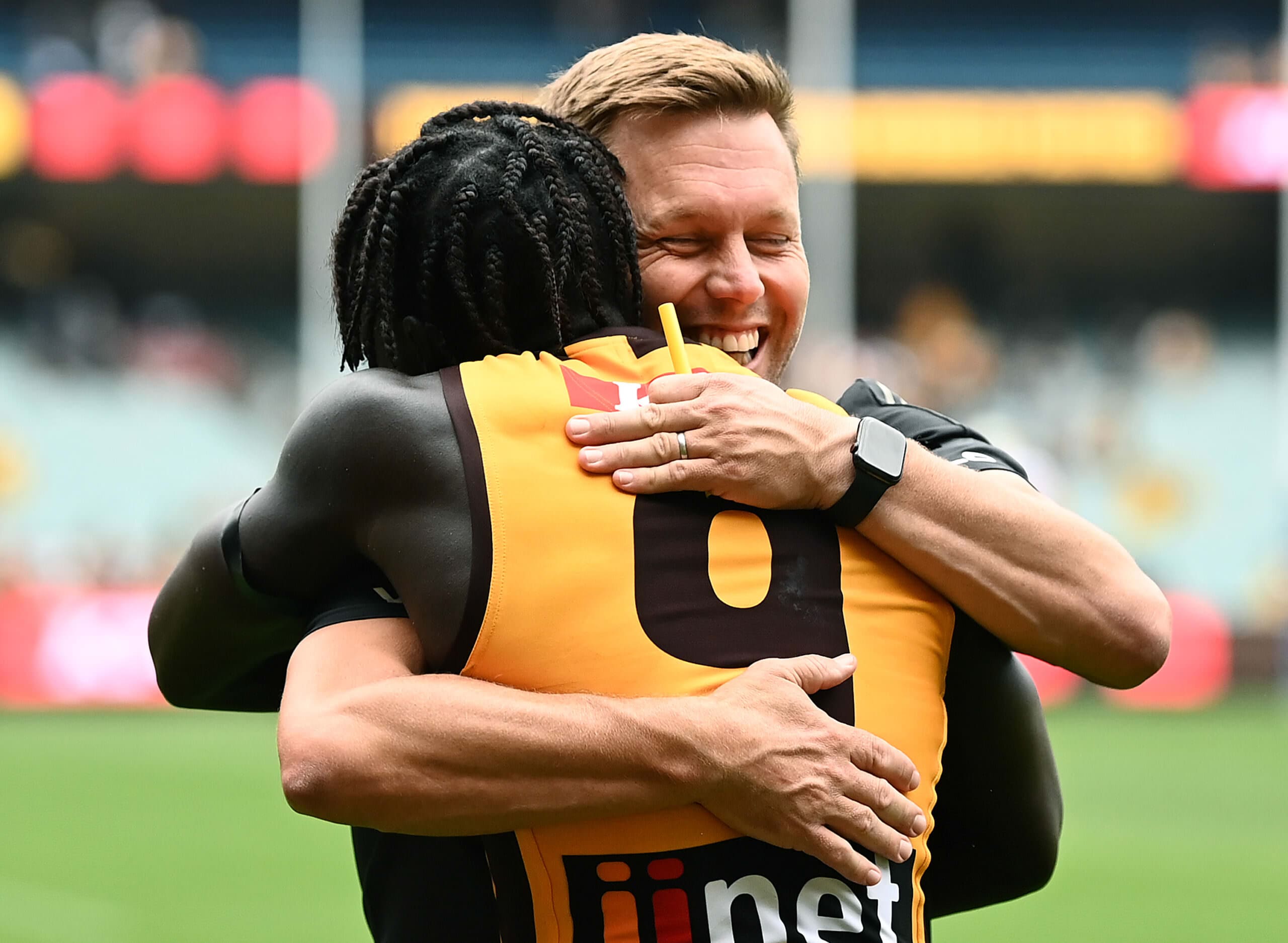 "When we lose a game, we're trying to make progress in the direction to be the team that we want to be. When we win, you get a little bit of affirmation and some of the things you're trying have worked," Mitchell told Zero Hanger following last Sunday's final siren.
"But it's not to say that everything we're doing is set in stone. We continue to try and make progress every week.
"I've been pleased with the individual growth and the collective growth together."
In spite of Mitchell's praise for the collective, and sustained, rises of Dylan Moore and Jai Newcombe, the straight-shooting pedagogue sought to herald others that have stepped up to the plate.
"At the start of this season, we had a lot of players who we weren't sure whether they would be able to establish themselves as regular AFL players," Mitchell added.
"Guys like Harry Morrison have played every game. He might have missed one that we rested him, but guys like him have been able to take the next step to become not just AFL players but good AFL players."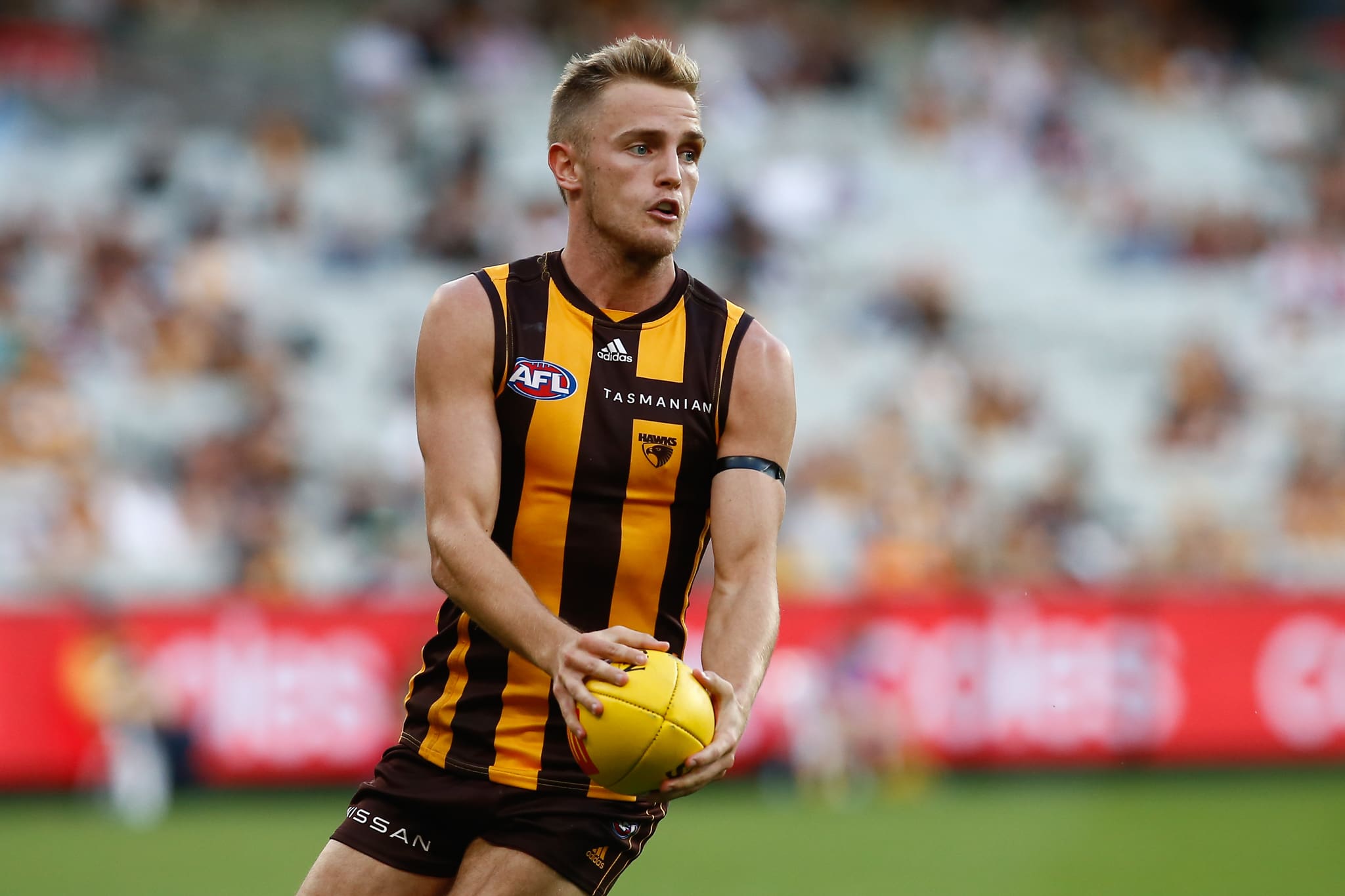 And though there are few names more adept to understand the read of Waverley's locker room, even the man who skippered the club into their most recent golden age was still figuring out who would be leading the next.
"One of the other things that I'm most pleased about so far is that if you come into the four walls of our football club, you couldn't say who the genuine 'this is their club' (group of players are) because it's so even," Mitchell delineated.
"There are some older guys who really drive our standards, but then there's the younger group, like Mitch Lewis and Dylan Moore and James Worpel and Will Day, that are really producing high levels of performance and also leadership off the field.
"That growth in our group, from a maturity point of view, I think will be important over the next 12 to 24 months."
The Squad
Just like high school, footy clubs are perfect breeding grounds for cliques to form.
Scan your eyes across the Hawks' current roster and at least six sects become apparent: the veterans, the fighters, the defenders, the kids and, most intriguingly, those made in Mitchell's own image.
In short, the definitions for each group read as such:
- In this particularly instance, a veteran player is one that has been on an AFL list for at least 10 seasons or has played a minimum of 150 AFL games.
- Players that are currently in the final year of their contract and facing a fight to land a new deal have been listed as fighters.
- A defender is anyone who is officially listed by the Hawks as, you guessed it, a defender.
- A consolidator is a player who has either broken into the team, earned a greater amount of playing time, has shifted their role or is enjoying a breakout year.
- Any player aged 22 or below as of mid-July 2022, has been labelled a kid.
- Finally, given Sam Mitchell's ability to seal his legend status at Hawthorn after going undrafted and then onto the rookie list, a 'Mitchell Moulder' is a player that has made their way to Waverley via similarly unconventional means.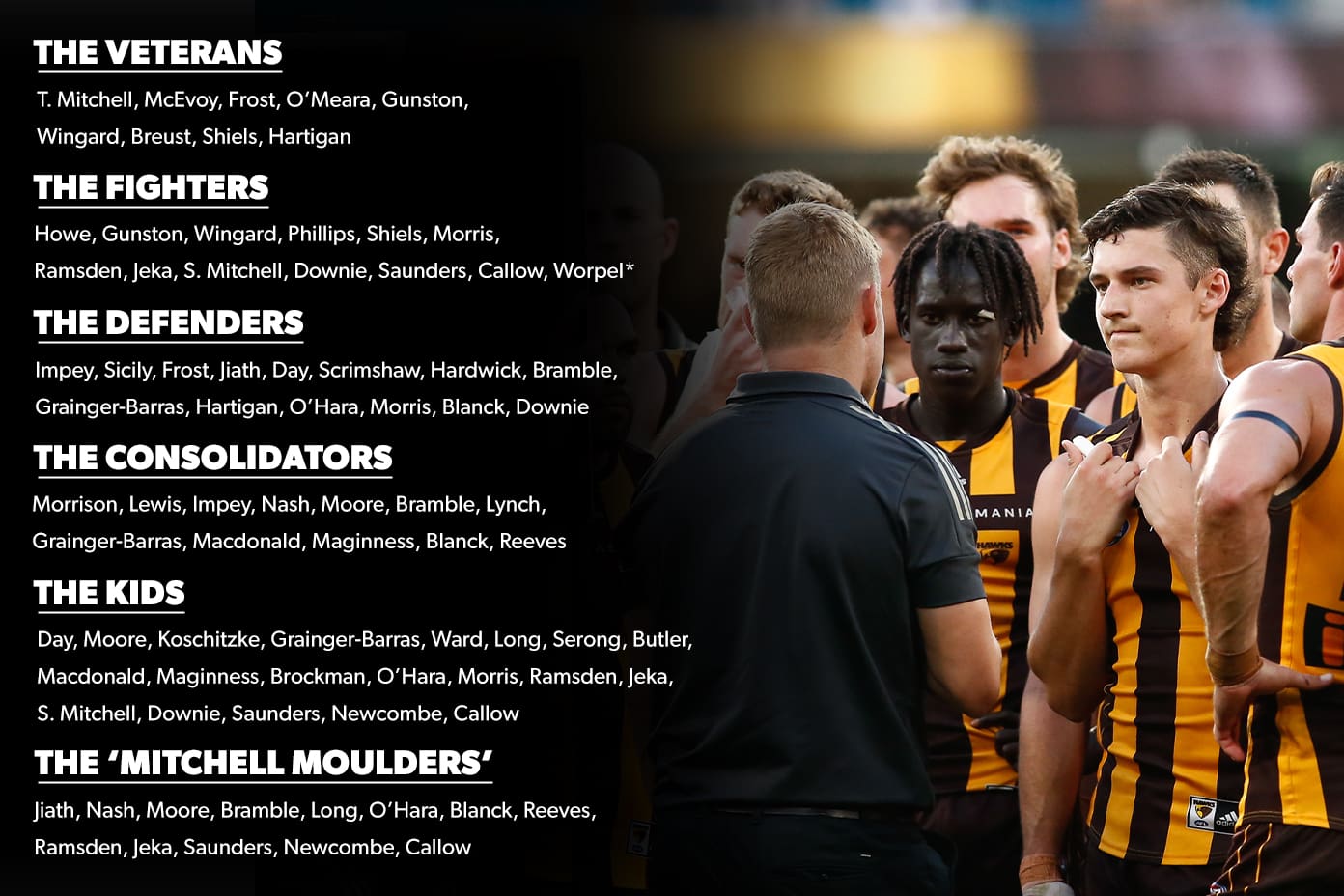 While Mitchell was forced to tackle 2022 with a list that club director Tim Shearer agreed was a "mess" during a radio interview with Cornes late last year, the tackle machine turned tactician hasn't been forced to assemble things in total darkness.
Just as Clarkson was left with the picks to prepare a premiership assault ahead of the ball, Clarkson gifted Mitchell the ability to build from behind it, with the Hawks' defensive unit already in place by handover day.
Add in the litany of blossoming youngsters already available to him, as well as the output of the vast majority of his veterans, and the lay of the land appears a tad tidier than Shearer's first assessment.
Still, with the propensity to bluntly drive standards well known even to those unknown to him, the task before Mitchell was made much easier given his ability to call on at least 13 devout disciples.
With his blonde locks, close shave, hard nose, fueled belly, Eastern suburbs root and rise from the rookie list, if it wasn't already clear to those with stifled senses, Dylan Moore's upsurge under Mitchell should come as little surprise, given the pair are practically the same person.
Speaking to Zero Hanger in March, the 22-year-old, who cut his teeth on the same fields as his mentor, claimed he wasn't the only name at Hawthorn to have stalked back alleys before finally kicking the door down.
"Half of us are late draft picks or have battled throughout our careers to get to this point. So, we're going to show everyone what we can do," Moore said.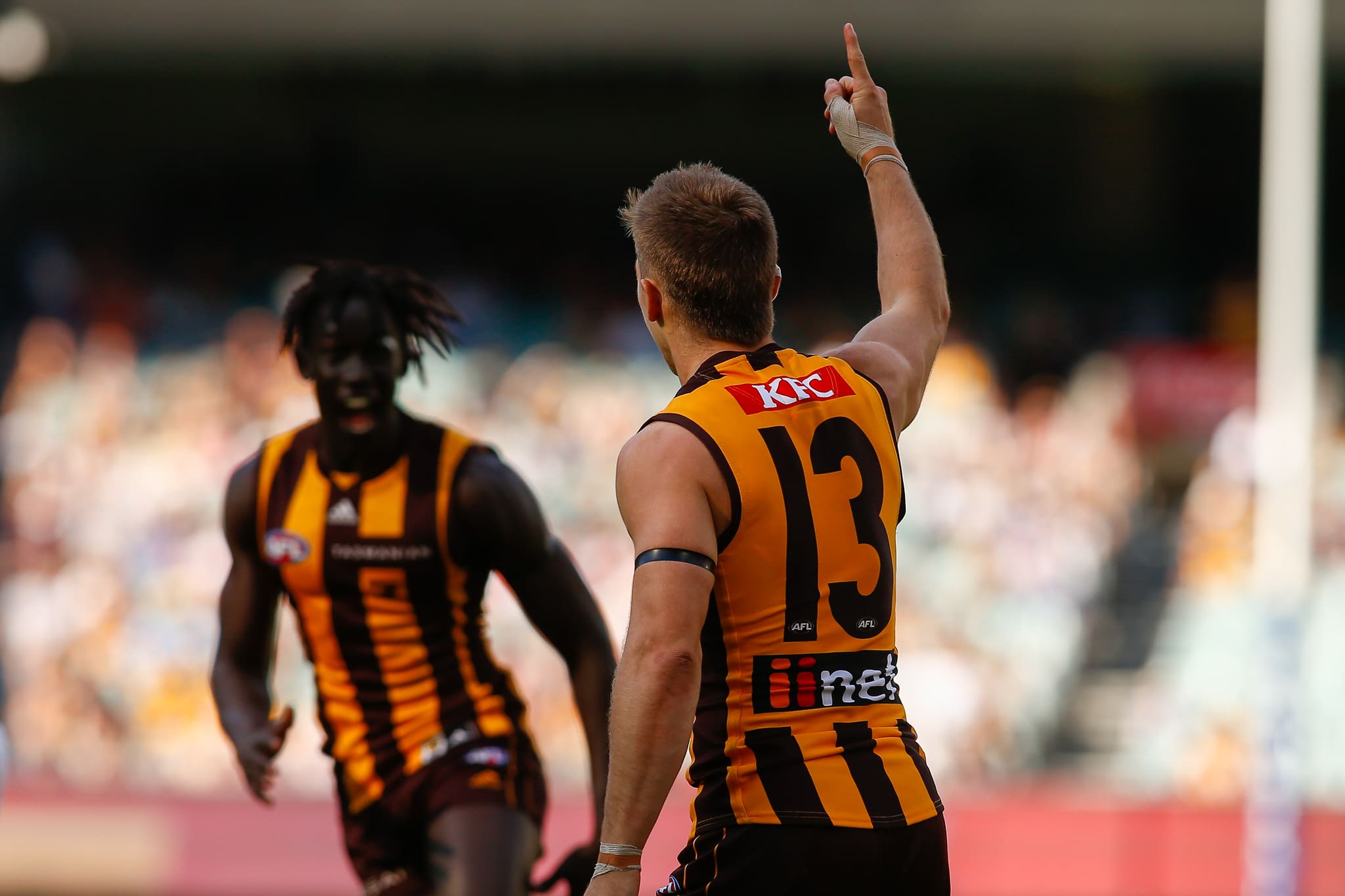 As another to make the leap from the rookie list to prominence, Changkuoth Jiath echoed Moore's sentiments, claiming everyone had bought in this season.
"We've built a lot of chemistry in the background. We're starting to cement ourselves and lead in the space we want to be in," Jiath told Zero Hanger earlier this week.
"We're playing an exciting brand of footy at the moment. We're playing tough, hard and fast, and it's been more about expressing yourself and playing in a manner that allows us to score and I think we've built on that pretty well."
Along with Poowong man-child, Newcombe, gung-ho Leinsterman, Conor Nash, and mile-long ruckman, Ned Reeves, Moore, Jiath and their fellow 'Mitchell Moulders' are creating waves across most thirds of the ground.
And with the same dare as one of his customary runs off half-back, the Ethiopian-born speedster wasn't shy in telling the footy world what they had planned for the future.
"It's very exciting. We're building towards a premiership," Jiath added with confidence.
"We're developing really well as a team and as players. It's just nice to have all these guys sign up and be a part of the next wave of the next frontier."
But with only Lewis inked to a long-term deal further afield, the 23-year-old is still waiting to see whether Jacob Koschitzke or Emerson Jeka can step up to stand alongside him. Still, with the latter being trailed as a defender at Box Hill, the pool appears to have thinned again.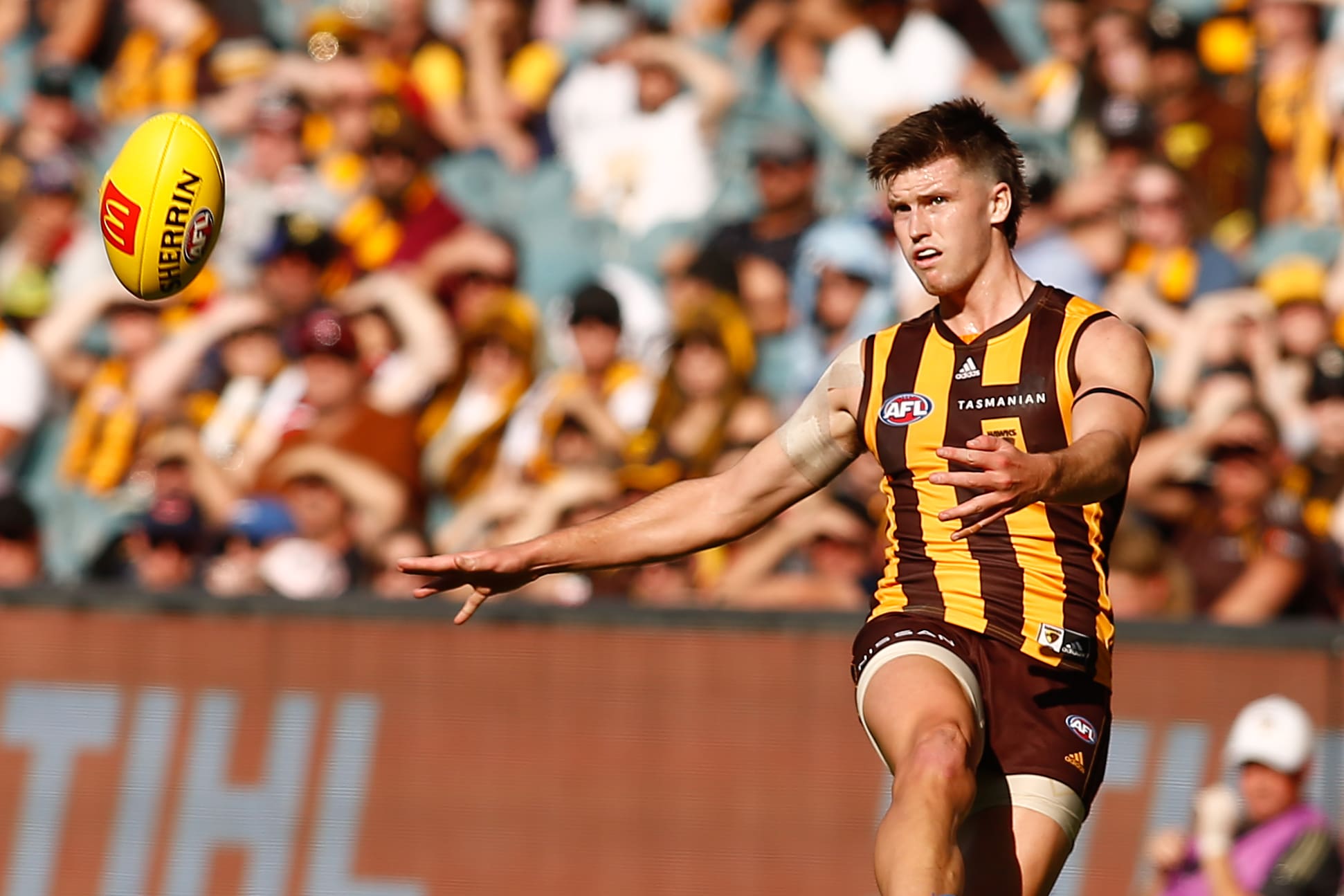 As neither of Lewis' foils took the field against the Eagles, and with Chad Wingard ruled out for the season, Mitchell was forced to experiment in an effort to kick a winning score. The result? 102 points from 15 majors with less than half coming from the boot of a recognised forward.
"We've tried a couple of things over the last two weeks," Mitchell told of his tests.
"With 'Jars' (Jarman Impey) going into the forward line, it gives us a great amount of spark and energy. With Ben McEvoy coming back into the team, it straightens us up from a leadership point of view and I think he really drives our standards really well.
"Having the twin rucks as well is pleasing. I've liked how that's looked over the last two weeks. It's not necessarily their individual game influence but how that looks for us going across the field is important.
"There's a couple of examples of things we're trying, but the way I look at it is that we're on a longer journey."
Despite his wingers, midfielders, a repurposed rebounder and even his resting ruckman proving the difference on a down day for Lewis, it is still stark that Hawthorn will have to move pieces ahead of summer to land the ones needed to complete their puzzle.
The Off-Season
Following reports that Tom Mitchell, Jaeger O'Meara, Jack Gunston, Chad Wingard and Luke Breust were placed on the table, irrespective of the lack of movement by the deadline, Hawthorn showed their hand during the 2021 trade period.
With current captain Ben McEvoy having just blown out 33 candles on his cake earlier this month, Mitchell and the Hawks' stronghold of members caught a glimpse of how their leadership would look during the 'Big Boy's layoff with a fractured neck.
Though skipper in waiting James Sicily took the reins for the brunt of McEvoy's brace-clad break, O'Meara shared the duties at stages, as vice-captains are typically wont to do.
But with recent history painting a different picture, and his centre bounce attendances falling from a team-high 73 per cent last season to just 60 in 2022, it is still yet to be seen whether the former Sun will be around to rival the tempestuous defender for the role going forward.
As Mitchell's own CBA rate has fallen from 70 per cent last season to 55 this year, the Brownlow medallist could also be dangled as bait again. Nevertheless, those with eagle eyes and a finger on the statistical pulse will also know that Mitchell (86) and O'Meara (82) are still Hawthorn's clearance kings.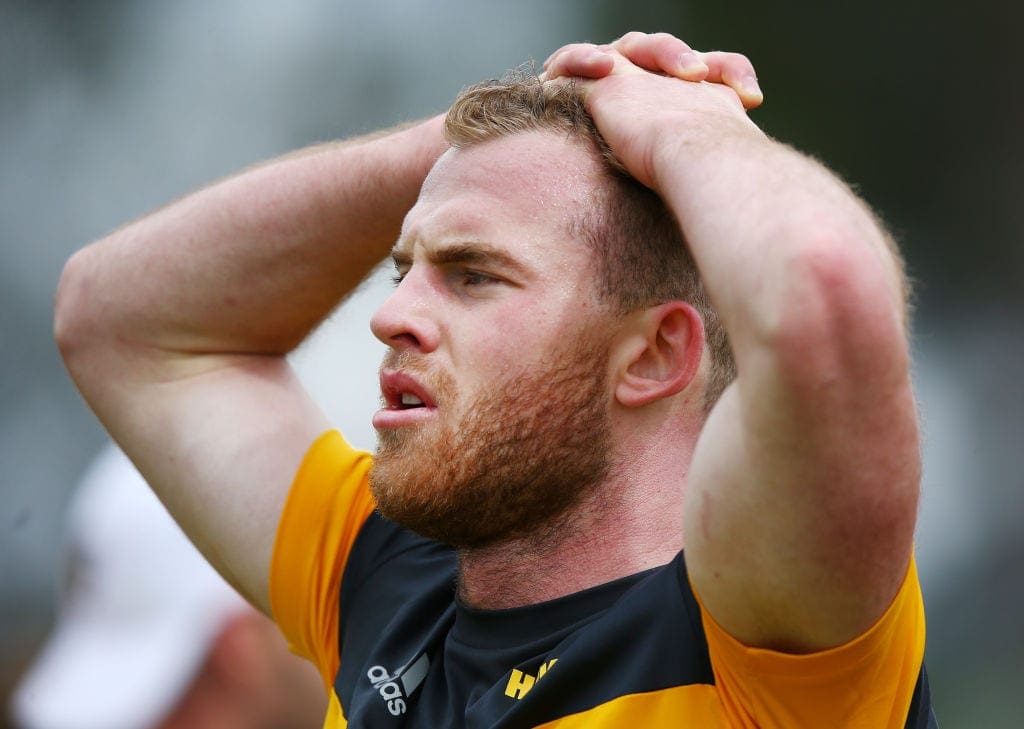 Yet, with Shearer outlining late last year that Hawthorn "must go through this transitional period keeping some of the senior players around", the prospect of losing each and every member of their veteran class is likely to prove an immediate impossibility.
Though Mitchell provides his namesake in the box with the ability to continue steering the youth around him at stoppages, his presence may actually have a detrimental effect on a fellow best and fairest winner.
After breaking his leg during a tackling drill in January of 2019, Mitchell was put on ice for the entirety of the year, with the keys thrown to James Worpel ahead of his sophomore season. Across the course of his 22 outings in the centre of the ground, the now 23-year-old averaged 26.5 disposals and 6.3 clearances, going on to win the Peter Crimmins Medal.
Since claiming the club championship and the former Swan making his return to the rotation, Worpel's means have dipped to 19.2 disposals and 3.5 clearances throughout his last 46 games. The former pick 45 also saw his CBA rate fall from 65 per cent in 2020 to 58 last year and just 47 this season.
Given the Geelong Falcons product remains contracted for the 2023 season, his name has earned an asterisk in the fighters column, but with his perceived market worth sure to have taken a hit, the purported rival interest in Worpel is unlikely to net the Hawks much at the present.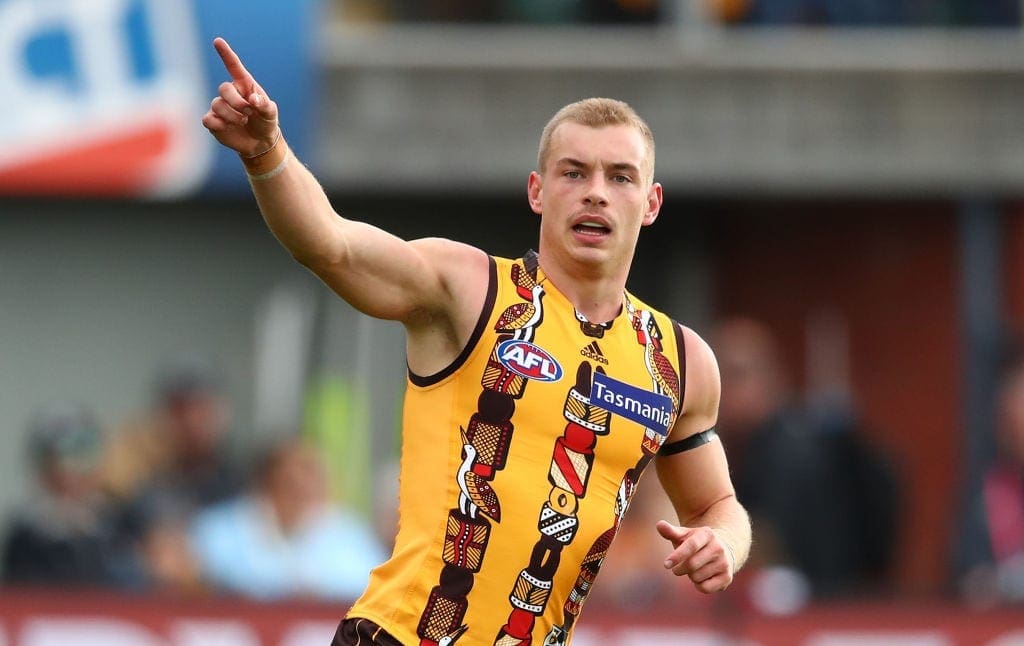 There also remains the small matter of trying to maneuver Karl Amon away from Alberton at season's end. Should the winger follow the lead of Wingard, Impey and Burgoyne in trading the City of Churches for Melbourne's east, Worpel's already weakening hold on the position is all but certain to fade further.
But bearing in mind Hawthorn's glaring need to find a long-term partner for Lewis, the reality that the blossoming spearhead is set to turn 24 before the end of the year proves that now is the time to find him his Robin.
In an effort to effectively end their rebuild, Fremantle went to last year's draft with a full clip, firing off selections to land local lads Jye Amiss, Neil Erasmus and Matthew Johnson within the first 21 picks.
Irrespective of the fact that their cross-continent rivals are still streets away from capping their own roster reshuffle, the fact remains that if Hawthorn's list management team, headed by Mark McKenzie, opts to accelerate the Hawks' rise by adding blue-chip kids at pace, their current arsenal of picks will require improving.
At the present, Hawthorn is set to enter the draft with the 6th, 24th, 51st, 61st and 78th selections. But given the abundance of talented teenagers that could slot seamlessly onto Hawthorn's list tipped to go within the top 30, will claiming just two of them prove enough?
Of the talents currently seen as locks to become drafted later this year, the list of names that McKenzie and Company will have wished upon a star for is likely to include:
- Aaron Cadman – GWV Rebels - (Key Forward – 194cm/88kg)
- Jhye Clark – Geelong Falcons - (Midfielder – 181cm/77kg)
- Elijah Hewitt – Swan Districts - (Midfielder – 185cm/84kg)
- Oliver Hollands – Murray Bushrangers - (Midfielder – 184cm/71kg)
- Matthew Jefferson – Oakleigh Chargers - (Key Forward – 194cm/76kg)
- Isaac Keeler – North Adelaide - (Key Fwd/Ruck – 198cm/88kg)
- Harry Lemmey – West Adelaide - (Key Forward – 199cm/94kg)
- Cam McKenzie – Sandringham Dragons - (Mid/Fwd – 187cm/80kg)
- Mattaes Phillipou – Woodville-West Torrens - (Mid/Fwd – 191cm/83kg)
- Kobe Ryan – West Adelaide - (Midfielder – 183cm/73kg)
- Tom Scully – West Adelaide (Key Forward – 201cm/83kg)
- Mitch Szybkowski – Dandenong Stingrays - (Midfielder – 186cm/84kg)
- Elijah Tsatas – Oakleigh Chargers - (Midfielder – 186cm/79kg)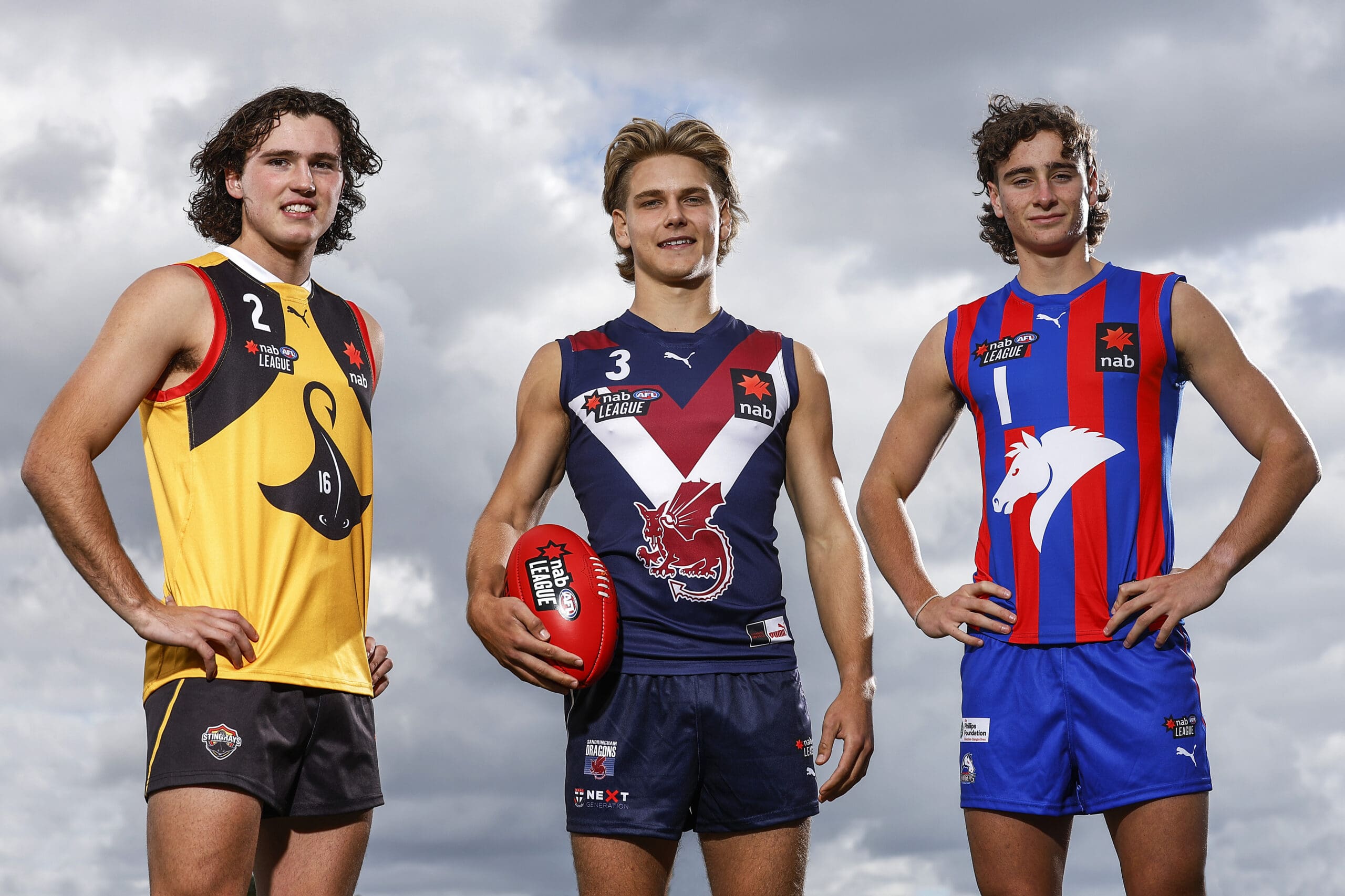 For those who have studied the underage form of this collective like yearlings in the mounting yard, it is abundantly clear that no more than one (or two, at the most fortuitous stretch) of these teenagers are likely to join the feathered family next season.
But if wandering into day one of pre-season to a roster dosed with a healthy injection of top-end youth is what McKenzie desires, then his current haul of selections will need to be bolstered.
Should sufficient bargaining be done to allow for a series of early picks to be gained, Mitchell's roster will be dented due to a loss of experience on some line or several. All the same, as past summers at Glenferrie and Waverley have proven, one off-season is often all it has taken to turn the tide on-field.
But what then of the wheeling and dealing away from the boundary line?
The Backdrop
Although the ticker tape and champagne taste of their three-peat years have, well and truly, wafted away, Hawthorn's black-inked books present a picture of a club in great health.
With upwards of 77,000 paid-up members in 2021, and plans to breach the 80,000 barrier during Mitchell's first year at the wheel, the Hawks have come a long way since their merger fight in the mid-90s when less than 13,000 names had the desire to stand alongside the club.
However, if you take the stairs above the membership team and head through the boardroom doors, the tension is palpable and the proverbial knives out.
In June, Hawthorn announced that despite still having a year left to run in the role, 2022 would act as Jeff Kennett's final season as the club's president. Though the oft-outspoken figurehead would remain at the tip of the table until December, the former Victorian premier announced his deputy, Peter Nankivell, as his official successor.
As a commercial lawyer with over 30 years of experience in the field, Nankivell's professional credentials are plain to see. However, the means by which the 59-year-old ascended to become head of the nest haven't sat comfortably with all and sundry.
In an effort to find the club's 25th evident president, an independent nominations committee was constructed, with former football director and 1991 premiership player Andrew Gowers said to have been promised the role as its chair.
But in a move labelled as "flawed, failed and wrong" by grassroots campaigning group Hawks For Change, it was Nankivell who was instead thrust into the role, thus providing an admittedly a mirky path to his place as Hawthorn's president-elect.
With Kennett set to officially end his tenure during the club's annual general meeting which is currently scheduled to take place prior to Christmas, the view remains that Nankivell will stand before voting members and be bureaucratically sworn in as chief.
Still, given concerns regarding "good governance, transparency and accountability" during the altered process, the lobbying collective has stated that they would be "actively considering" plans to contest three board seats and the presidency itself.
So, while a swathe of green talents will be placed under a wing and ushered out onto Waverley Park's expanses in November, the cohesion found in Mitchell's change room is yet to be entirely mirrored on the stories above.
Don't be mistaken though, Hawthorn is far from a club in crisis. They are merely one at both an ideological and democratic impasse.
Even so, the club's recent multi-million-dollar windfall created after the sales of their pair of pokies venues has seen them take a monolithic step towards becoming a socially conscious entity. According to The Age, Hawthorn gained more than $40 million after parting with gaming venues in Caroline Springs and Mulgrave, but exactly where this boon will be spent is still shrouded in mystery.
What is known is that their field of dreams in Dingley won't be seeing any wedge of it.
As reported Jake Niall earlier this month, irrespective of the fact that Hawthorn still requires another $20 to $25 million to complete the construction of their new home base, the Kennedy Community Centre, no amount of their recently acquired eight-figure sum will be spent on bricks, mortar or hyperbaric chambers.
With $40 million of funds already secured from federal, state and local grants (as well as a $10 million donation from Flight Centre founder, Geoff Harris) since purchasing the 28-hectare property in December of 2016, Hawthorn's future-proofing has taken on an undeniably tangible appearance.
Though built on a former landfill site, the aim to bring every arm of the club under the roof of a multi-purpose precinct spruiking two purpose-built ovals, rehab and aquatic centres, indoor training spaces, a running track and a seated grandstand is likely to provide more treasure than trash.
Add as each of the Hawks' AFLW, VFLW, Wheelchair and Blind teams will ply their respective trades on Tootal Road, and the self-appointed moniker of 'Family Club' begins to become more than just a letterhead once again.
While a river of funding is still required to fully thatch their new nest, should a Tasmanian team enter the AFL within the next decade, Hawthorn – along with North Melbourne – will be readying themselves to wear an untimely financial uppercut.
Having inked a one-year extension to call Launceston their home away from home in September of last year, the rally of calls from both sides of the Bass Strait for the injection of a Tassie team could see the 2022 act as Hawthorn's final stand on the banks of the Tamar.
And with the previous deal - a five-year agreement sealed in 2015, netting the Hawks' a cool $20 million for 80 quarters of work, if the island state is finally called up to the top flight, Hawthorn will likely be turning to present premium partners in iiNet, Nissan and KFC to help refill their coffers.
Further work is also required on the home front, as evidenced by Cyril Rioli's claims that Hawthorn was the only club he had no current desire to be involved with. The lightning rod for the superstar's justified disdain? The man with a controversial doll collection, Jeff Kennett.
After abruptly hanging up his boots less than a fortnight before his 29th birthday, Rioli traded Melbourne's chill for Darwin's tropical savanna in July of 2018, only returning to the scene of his four grand final glories to submerge himself in iced water 11 months later.
An incident between Rioli's partner, Shannyn Ah Sam, and Kennett regarding to garments and shrapnel acted as the final straw for the Norm Smith medallist and his football club that has form with flawed optics.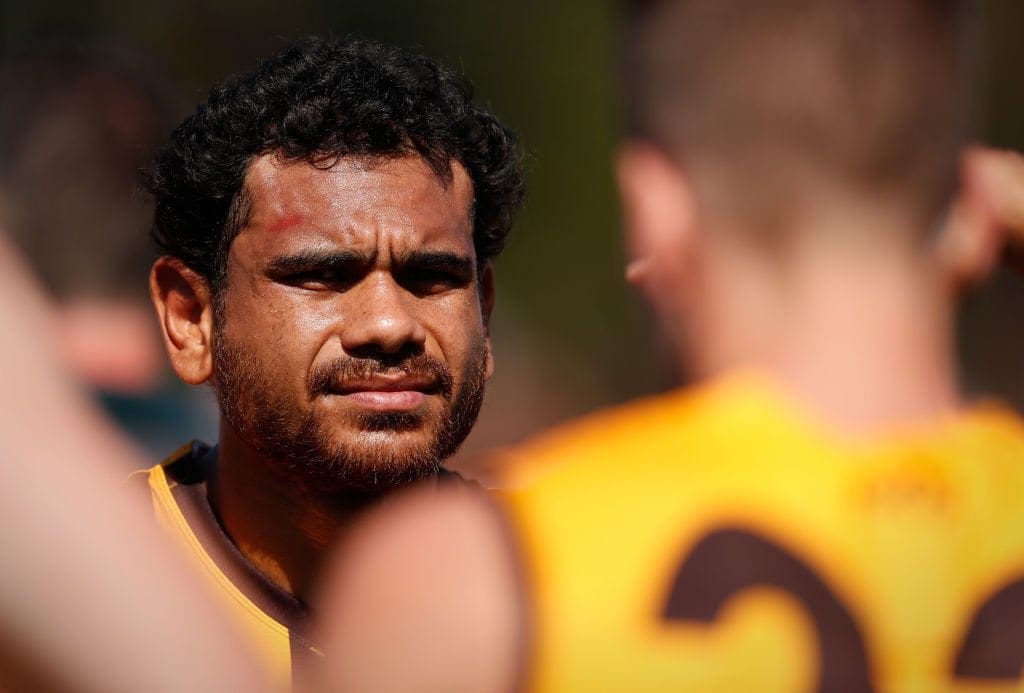 Between the completion of Percy Cummings' five-game career in 1965 and the recruitment of premiership hero Chance Bateman in 1999, the Hawthorn Football Club won eight flags, but scouted, developed and played a grand total of zero First Nations footballers.
Though champions in the form of Franklin, Burgoyne and Rioli have since walked through the club's doors after Bateman cleared the cobwebs and recut the path, the 34-year stretch in which brown and gold sides were almost entirely Anglo-Saxon is said to have been of no coincidence.
Before taking the reins as Hawthorn's chief recruiter during the mid-90s, John Turnbull claimed he was offered the key to the Hawks' enrollment process. After being wished luck in the role, Turnbull was infamously told by an anonymous, senior staffer, "just remember, don't draft anyone with skin darker than mine".
Though it may seem incongruous to turn back to this dogeared page from the past, the mere fact that the same historic ill is continuing to cause concern in contemporary times shows that there is still work to be done. A point echoed by Leon Egan, Hawthorn's former indigenous manager.
"They were too busy winning to worry about issues like putting in place adequate cultural awareness," Egan told The Age in April of Hawthorn's past catching up with them.
Going on record last month, Nankivell stated that he held hope Hawthorn could mend the fractured relationship with Rioli. The president-elect wasn't alone in this regard, with Mitchell reaching out to his decorated teammate ahead of the Hawks' Round 11 loss in the Top-End.
In a now publicly published text message, Mitchell professed to Rioli, that under his watch, the process of educating his largely Caucasian list of the pains caused by Australia Day celebrations and exactly why the date remained so contentious had commenced. The first-year steward is also said to have held healing conversations with Hawthorn's three current indigenous players – Impey, Wingard and Tyler Brockman.
While Mitchell is acting as an agent of change, given his pay cheque is still made out to him for his ability to drive on-field results, it is on those clad in suits and ties, rather than branded polos, to augment these positive strides and implement policies more concrete than tokenistic.
With his hands full sculpting a squad designed to taste the same successes he became accustomed to most Septembers, in a perfect world, the background chuntering and boardroom squabbling should prove nothing more than a fly in the ointment to Mitchell as he spins, sizes and slots piece after piece into place.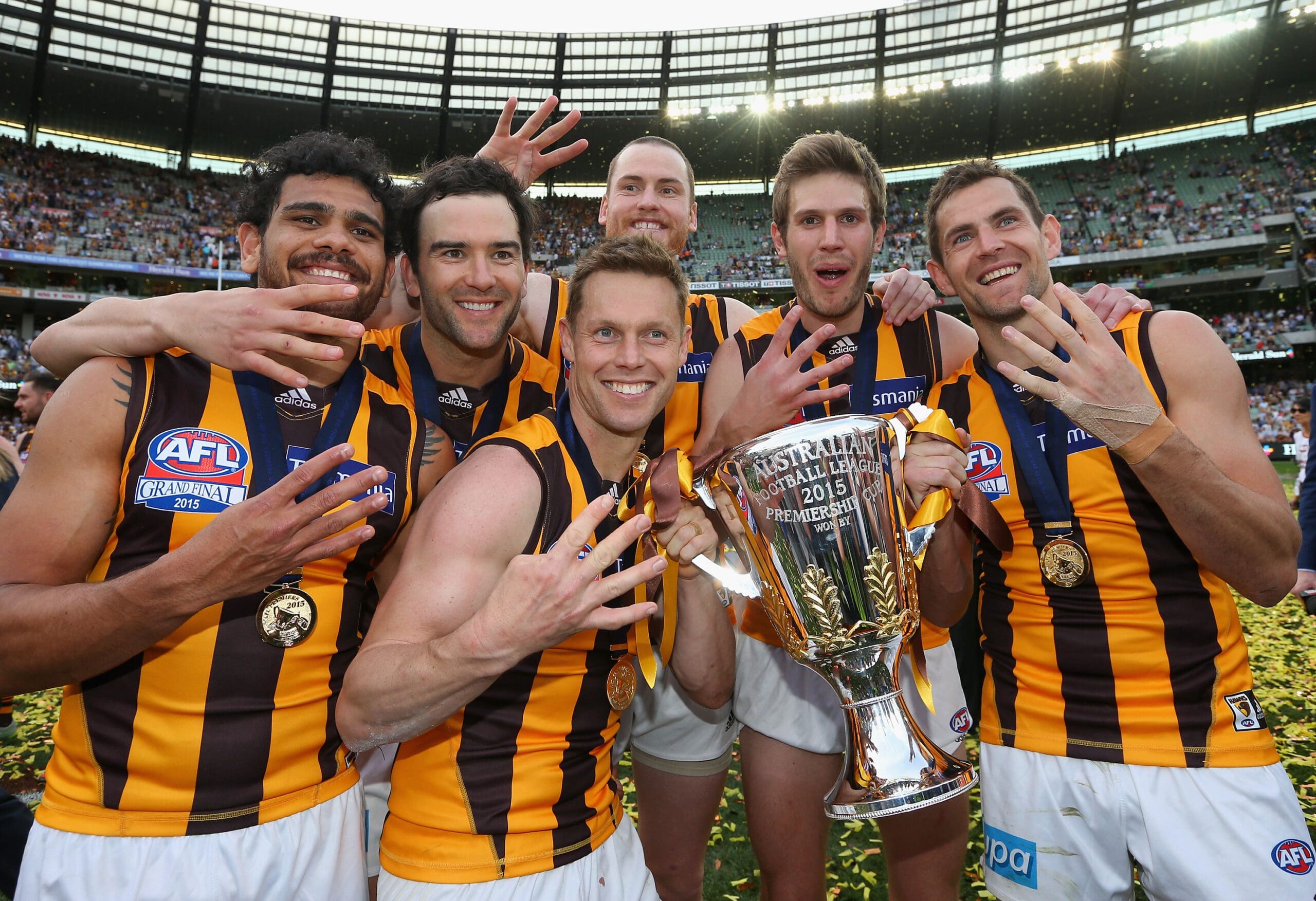 As Mitchell would have found during his days in boots under Clarkson, the role as Hawthorn's chief steward has often been one played out under duress. With his gaudy jacket, cringeworthy interviews and mocked visibility, in spite of his ability to hold high office, Kennett has become a genuine meme.
So, while little is known of Nankivell – aside from his resume – the club's commitment to build, heal, help and learn away from the paddock will hopefully create fewer spot fires as Mitchell forges on to make the puzzle look like the box.
Even still, if a reprisal of the rubbish is to arise, Mitchell's ethos should see him more than equipped to drive through the drivel.
With his want to craft, and maintain, high standards, Mitchell's unwavering choices have acted as the key to his rise, as well as those around him. Or as put more succinctly by a former member of the Hawks' fold, the decorated champion 'has a very low tolerance for shit'.
As raised by Mitchell following his side's four-goal win over West Coast, Hawthorn's on-field arm remains a work in progress and is one without a completion date in mind.
But with a credo that saw him go from unlisted prospect to a premiership skipper in six short seasons, you can bet your bottom dollar that the Hawks won't appear irrelevant for long as Mitchell moves everything else off the table to finish piecing everything together.