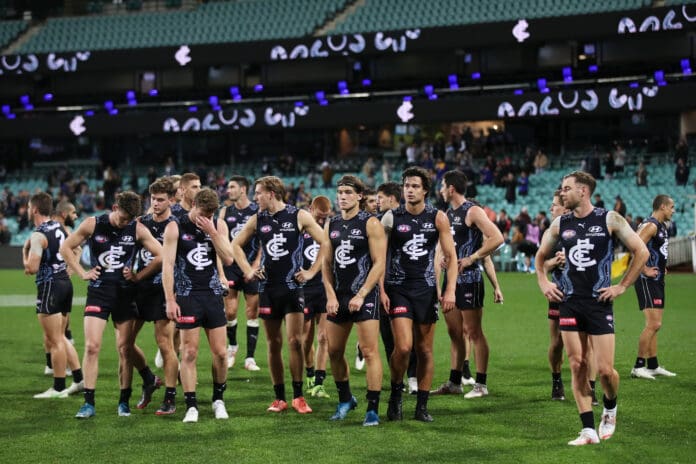 The Carlton Football Club is currently picking up the pieces after an independent external review has seen the club part-ways with coach David Teague.
While the sacking of Teague may have been the right choice, the way the club went about it was average at best. Add to that, the Blues have seen Alistair Clarkson and Ross Lyon pull out of the race Carlton are seemingly on a hiding to nothing.
Now the Blues embark on a 30-45 day process to select a coach for 2022 and beyond. But they made a rod for their own back when President Luke Sayers said that he wants an experienced coach for the club going forward.
Sayers has refused to guarantee the futures of CEO Cain Liddle and Football Manager Brad Lloyd which can't make the club a safe place to be at the moment.
There are reports that Lyon was all-but offered the job by parts of the Carlton board, while other board members weren't as keen on the former St Kilda and Fremantle coach.
The alignment between key figures at the club has been off for quite some time, and has seen unrest and key people walk out the door with not so much as a thank-you. Liddle and Stephen Silvagni were so out of sync at the end of last season that the full-back of the century left the club with no love lost.
The Blues don't seem to run on the same level as Richmond or Geelong. There needs to be one mission and one path that everyone is on and working together to move forward on.
It seems the Carlton Football Club is currently sorting through the rubble of its football department and board to pick up the pieces.
RELATED: Blues review findings revealed
But what if those pieces have the answers? The review may well have taken a few victims, and it may have not been "high-performance" according to Teague. But Carlton may well have had to go back to go forwards.
While on-field the club and its fans won't and shouldn't accept going backwards, inside the four walls of Princes Park, maybe it had to crumble so the could build it back up.
Carlton embarked on its first ever rebuild when it hired Brendan Bolton. That was a step in the right direction and their list looks in pretty good shape because of it and could significantly improve before Round 1 2022, with the likes of Adam Cerra and George Hewett linked with the Blues.
However, Bolton turned out to be the wrong hire at the time. He was the first coach carlton had ever really hired off the back of a thorough process but they got the wrong guy.
Look back as far as Carlton's last premiership. They don't hire on process. David Parkin re-joined the Blues with no process and that paid off. In 2001 his assistant Wayne Brittain took over and was then sacked at the end of 2002.
Dennis Pagan was brought in in 2003 as the saviour of a team crippled by the loss of draft capital due to salary cap breaches. He was dismissed in 2007 and replaced by assistant and club legend Brett Ratten after no real process.
Ratten was sacked in 2012 and Mick Malthouse was brought in with no process yet again. Fast forward to 2015 and Malthouse is marched out the door and looking to take anyone he can down with him.
Finally a process saw Bolton appointed before he was dismissed in 2019 and David Teague was appointed without a real process again. The pattern of an untried coach being sacked and a proven experienced coach being brought in with no process has been tried and tested at Carlton.
So perhaps Lyon and to a lesser extent Clarkson walking away from the role was the blessing the Blues need.
Now they have to go through a deep process to appoint the best man for the job.
They have finally taken the role of football director seriously. Chris Judd previously occupied the role but wasn't as hands on as some of the best directors in the league. That's no knock on Judd, but on Carlton's understanding of an important role in modern football.
Greg Williams now assumes the role and leads the clubs search for a new coach.
Four members of an eight person board have departed, meaning a new way of thinking may be on its way through Ikon Park.
Carlton have long been stuck in their past glories and have all-too-often turned to them as a way out of their 20-year period of mediocrity. They have been miles behind the best high-performance football clubs since the turn of the millennium.
It has been a messy month for the Blues but now with the clubs weaknesses being exposed not just on-field but off it, they can finally move to fixing those problems and catching up to the rest of the league.
On-field, there hasn't been a head-coaching job as inviting as this since the Cats parted ways with Mark Thompson in 2010. Their list has stars on every line and incredible upside given a rotten injury run and seemingly no defensive structure.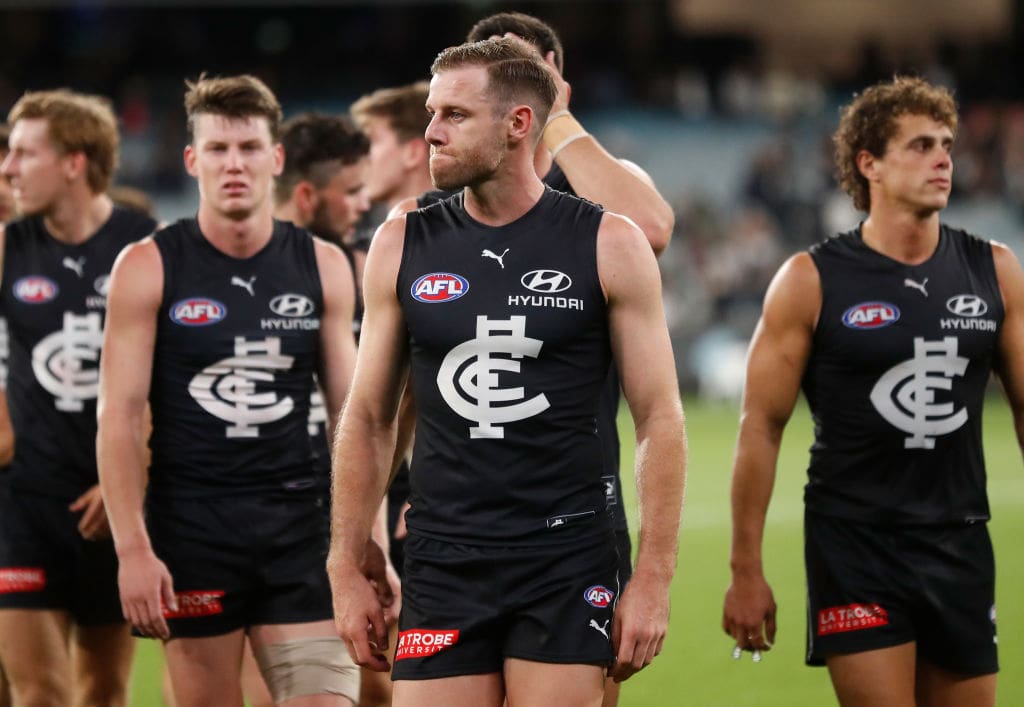 Off-field the Blues have the summer to get their ducks in a row and get the club on a potential fast-track to success.
Without this review would the Blues have moved Teague on at the end of the season or would they have wasted another year stuck in the middle of the road?
The review has forced the club to look at itself in a way it never has before and has pushed an accountability onto positions that otherwise haven't required much self-awareness or reflection.
The review wasn't all negative, but it highlighted issues Carlton simply didn't know were there before-hand. Would they have been able to find those issues without this spotlight on the club? Past evidence says probably not.
While now, and possibly for some time to come Carlton may look like their in a bit of trouble, they have time to fix things ahead of the new season. The benefit to missing finals yet again is that they have at least an extra month to get their backroom sorted.
If Sayers can get their board one the same path as their football department and get it all moving in the right direction improvement can come quick smart. In recent years reviews have seen struggling clubs improve rapidly.
There's no reason Carlton can't be one of those teams.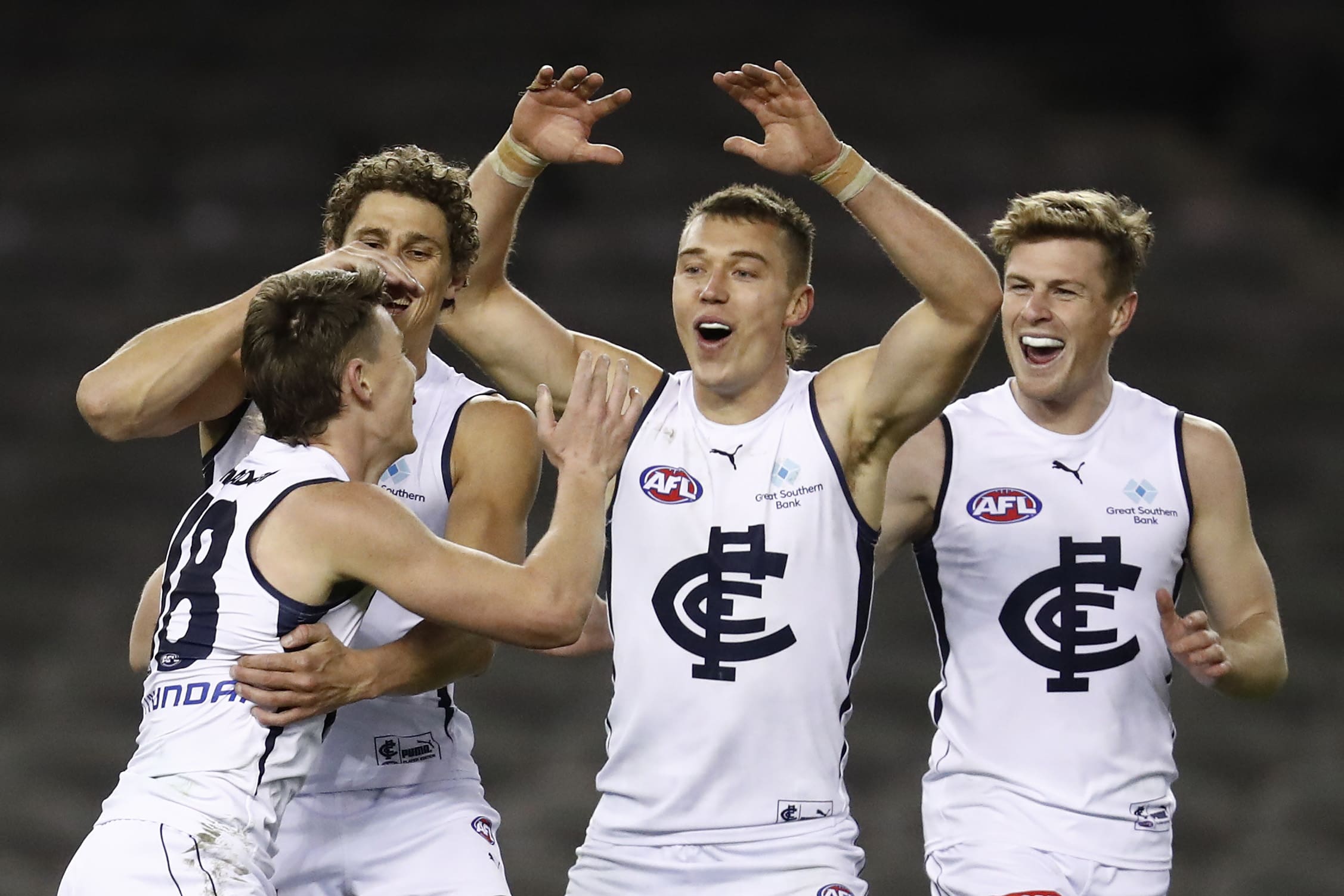 If Liddle isn't the man Sayers wants as CEO, then he has to make that call. Same goes for Lloyd.
It's easier said than done to get these decisions right but that's what the board is there to do and if they can get these big calls correct the club could be on the route it's been craving for so long.
They just need to fight the urge to do this in a way that resembles Carlton in almost any way, shape or form.