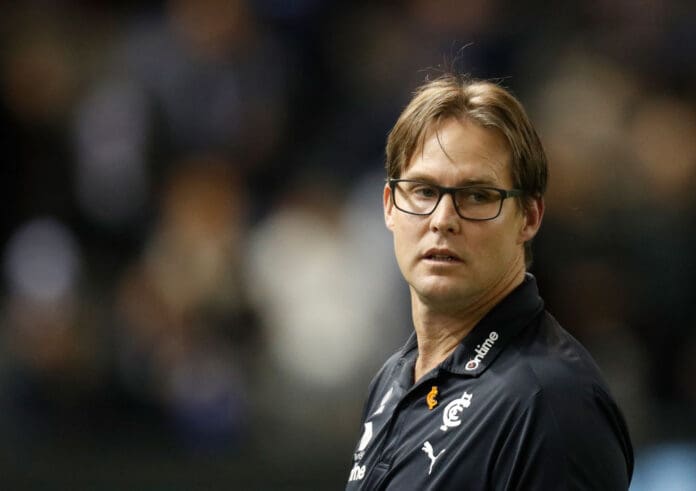 Carlton coach David Teague had admitted that he is unlikely to be in the role for much longer.
Carlton are expected to reveal their findings of an independent review of the football department at the start of the week with Teague expecting to hear about his future as early as Monday.
Speaking after his teams loss to GWS on Saturday night, Teague said that while he still believes he is the right man to take Carlton back to finals, it looks unlikely he will get that opportunity.
"Let's be honest, it doesn't look like it's going to go in my favour," Teague conceded.
"But in terms of what I've done and what I've been able to control, I know who I am, I know the way I've done it and I'm really happy with it."
There has been endless speculation about Teague's future since the review was announced and during the week the 40-year-old called for more support from this within the club.
Teague doubled-down on those comments in a revealing press conference.
"I probably challenged the other day for a little more support … I would've loved some people to come out and back me in," Teague said.
"It hurt when people said I didn't have relationships with the players, or I'd lost relationships with the players.
"That one probably dug a little bit deep, because it's not true. Yeah, there are certain players who don't love what I say all the time, but that's what a high performance environment is."
"I love this club. When the review gets announced through the media that's not high performance. I am going to call it out, this footy club have got some areas to improve. I thought at times (the public criticism) got a little bit personal towards me."
Teague admitted he had made errors along the way but believes he has learned from each and every mistake in the journey.
"Have I made mistakes along the way? Absolutely," Teague said.
"There are so many mistakes & so many learning opportunities. I'm not saying I'm a perfect coach, I'm not saying I'm a great coach, in terms of what I've done & why I've chosen to do those things, I feel comfortable.
"When you've got guys like (Alastair) Clarkson, (Damien) Hardwick, (Chris) Fagan, (Mick) Malthouse mentioning that I'm doing an okay job or 'tracking normally', it does give you a bit of confidence. I understand the club will make a decision."