Carlton President Luke Sayers has released a summary of findings delivered to him by the independent external review conducted by Geoff Walsh, Matthew Pavlich and Graham Lowe.
The Club has today finalised the key outcomes of an independent football department review.

The decision has been made to part ways with David Teague.

President Luke Sayers confirmed the decision, further details of the review as well as significant changes to the Board.

— Carlton FC (@CarltonFC) August 26, 2021
The review has resulted in a number of changes to the Carlton football department- headed by the sacking of head coach David Teague. He was joined by backline coach Dale Amos who won't have his contract renewed.
Midfield and transition coach Brent Stanton was another victim of the review, the former Bomber departing having also worked in development during his time at the Blues. Football manager Brad Lloyd and High Performance Manager Andrew Russell will both be retained in their positions.
Sayers sent an email which was accompanied by a video to members where he said the club had made difficult decisions in order to take the club forward in its pursuit for a 17th premiership.
"Following this consultation process, the Club was able to complete its thorough and extensive review process that has been underpinned by one objective – the improvement of the Club's on-field performance to take the football department forward," Sayers wrote.
"We are now able to confirm that after taking sufficient time to process the information from the review, the decision has been made to part ways with Senior Coach David Teague, while assistant coach Dale Amos has also been informed he will not be offered a new contract.
The Carlton board called for the review on June 12- mid-way through the season. It seemed at the time Carlton's finals hopes had been dashed for another year.
A turnaround in form and seemingly a slightly more defensive set-up saw Carlton claw back into contention for a first finals appearance since 2013 before disaster losses to North Melbourne and Gold Coast put an end to those hopes.
Sayers went on to say that the coaches had failed to properly implement a sustainable gameplan, with Teague and his team focusing far too much on the attacking side of the game.
"It was identified that there had been confusion associated with the game plan at times and on-field, the team has underdelivered in its ability to consistently defend, win the contest and apply pressure," he added.
"This was highlighted, but not limited to, an overt, consistent focus on offence at a detriment to the defensive side of the game.
David Teague was contracted for 2022 however Sayers was unwilling to give the 40-year-old the chance to turn things around. The new president said that the club had to move on from Teague in its bid to gain sustainable success.
"While the easier option would have been to wait a further 12 months in the hope these deficiencies would change," Sayers added.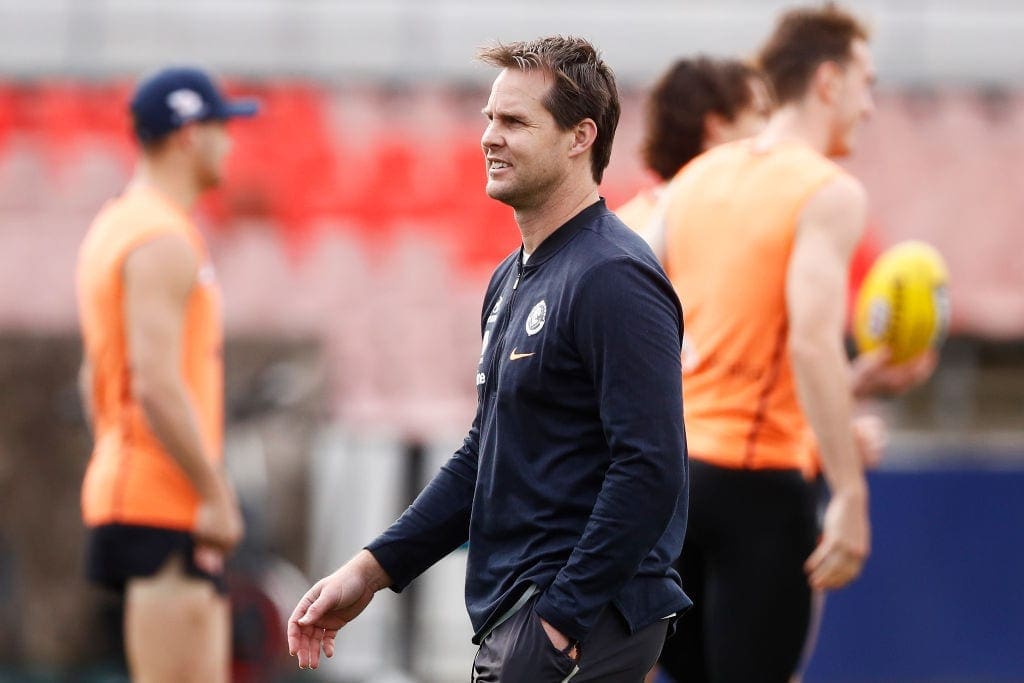 "The in-depth data gained over a significant period of time as part of this review process left no doubt that such an option would not be in the best interests of the Club. As such, it would have been irresponsible to ignore the decisions that had to be made.
"These decisions are incredibly difficult to make, and while we understand some will not agree with them, we entered this process knowing that if we refuse to act on decisions solely because they were difficult, we would be ignoring our responsibility to the Club, our members and our supporters."
Carlton premiership player greg Williams has been brought in as Director of Football in replacement of Chris Judd. Judd is one of four board members to depart. Williams has mentored Brownlow medalists Lachie Neale and Tom Mitchell in recent times.
Key Review Findings Below:
Whilst management and staff were found to be capable and committed to the success of Carlton Football Club, and demonstrating a positive mindset, there is a requirement for stronger leadership, more experienced coaching, and improvements in player development.
There has been confusion associated with the game plan at times and on-field, the team has underdelivered in its ability to consistently defend, win the contest and apply pressure.
There is a high level of expertise in the high-performance area, however opportunity exists to clearly define roles and responsibilities.
Good list management processes are now in place, including detailed analysis undertaken to support list management and recruitment decisions.
The Club has excellent facilities which reflects the ambition to compete against the best performing teams in the AFL.
We were pleased that the final report delivered by the external panel outlined a number of areas our football department had been performing strongly, relating to areas of football strategy, list management, systems and operations, with quality people committed to what they're doing.
The Blues are now on the search for a new coach with Ross Lyon the hot favourite to take over for 2022.