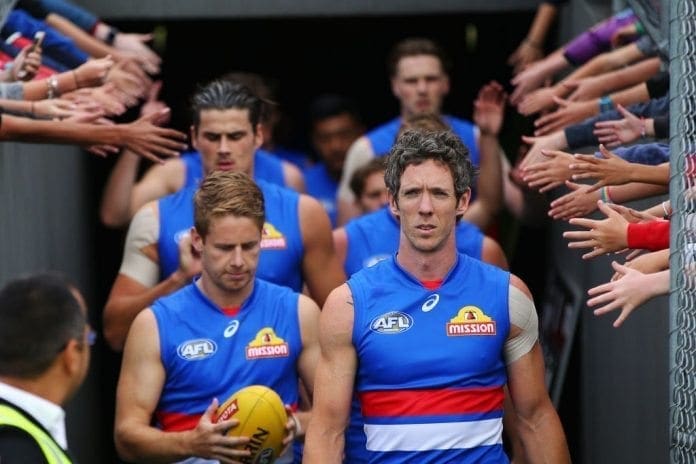 Changing their name back to Footscray from Western Bulldogs? Former club captain and Bulldog legend Robert Murphy thinks this needs to be done.
Murphy outlined his thoughts on SEN's Bob and Andy and said that the time is now to change the name back to the one that entered the competition in 1925.
Should the Western Bulldogs go back to being named Footscray?

Bob Murphy thinks so.

— Bob and Andy (@BobandAndySEN) February 10, 2021
"I have long held the thought that I would love the Western Bulldogs to go back to being the Footscray Bulldogs," he said.
"This is just me speaking for me, I understand why it was done in the first place, they were bleak times at the end of 1996."
Ahead of the 1997 season, Footscray changed their name to the Western Bulldogs in an effort to broaden the supporter base in hopes of a better financial outcome.
But Murphy said that he thinks that changing the name back to Footscray will still hold the club as a side representing the Western suburbs.
P.S. I ❤️ 'old @FootscrayVFL's name' as much as the next person but, to a @westernbulldogs supporter younger than 30, 'Footscray' has no 1st-hand significance. On balance, I'd be against changing back, but would like to see more acknowledgement of FFC (e.g. retro jumpers). #Admin

— Footscray FC 1961 (@FootscrayFC1961) February 10, 2021
"I actually don't think going back to Footscray leaves anyone out," he said.
"I don't buy the theory that calling ourselves the Western Bulldogs opens ourselves up to including more and bringing more people in.
"Footscray is a tangible feeling… that's where the heart of the football club is, that's where the football ground is, that's where the players are."
Murphy played 312 games for the Bulldogs from 2000-2017.