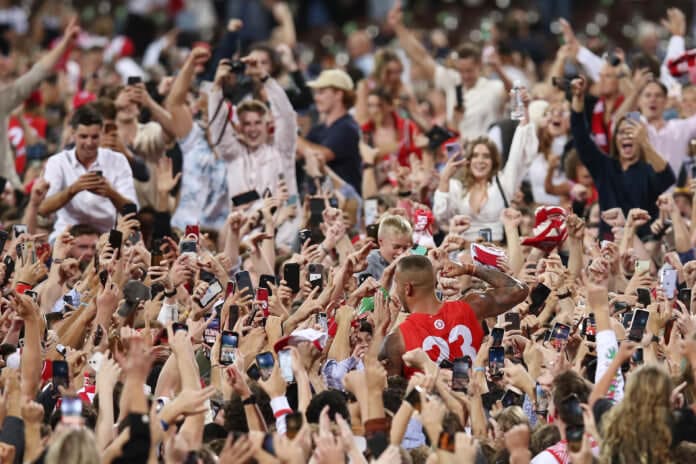 After a single-goal outing against the Giants in Round 1, Lance 'Buddy' Franklin entered Sydney's date with Geelong on Friday night requiring four goals to join the ilk of Gary Ablett Snr, Doug Wade, Jason Dunstall, Gordon Coventry and Tony Lockett in the 1000 club.
And after slotting a trifecta of set shots at the Randwick End of the Sydney Cricket Ground across the opening three terms, security and the 30,000 plus patrons in attendance were all on 'Buddy Watch'.
Despite the Swans' eventual victory paling into insignificance by the time the Sherrin was bounced to start the final term, it didn't take long before head coach John Longmire and contemporary sports science began to meddle with the potential milestone, with Franklin asked to ride the pine for five minutes.
With the bottom decks of the Bradman, Brewongle, Ladies, Members, O'Reilly, Messenger, Trumper, Churchill and Noble Stands all packed to the gunnels with patrons desperate to share in the history-making moment, the 'Buddy, Buddy, Buddy' chants quickly gave way to boos directed at Longmire's box.
Yet, with almost 10-minutes exactly left on the clock, Franklin was let out of the interchange gates by 'Horse' and trotted in his chest out manner down to the Paddington End of the oval.
For a handful of moments, it appeared as though the visitors were unwilling to come to the party, with Geelong heading inside 50 routinely and completely controlling the flow of play.
That was before a rebound leading to a chain and the chain leading to Chad Warner, with the youngster hitting his fellow Sandgroper lace out with just shy of seven minutes left on the clock.
With the advertising hoardings right around the oval now coated with a string of legs and many more sets ready to jump and join in the celebrations, Buddy obliged with his 1000th from almost the identical position as Tony Lockett slotted his own some 27 years ago.
And the rest, as they say, is now history.
While, seemingly, every last one of the raucous crowd made their way out onto the ground to rub shoulders with football's biggest rockstar, social media was sent into a frenzy.
Even we paid tribute to the big man.
Buddy brilliant! A history making night for one of the all-time greats 👏❤️#Buddy1000 pic.twitter.com/OGCP8O9k97

— Zero Hanger (@zerohanger) March 25, 2022
Warner was also pretty chuffed about his small part in the larger play.
"I fucking kicked it to him" #Buddy1000 pic.twitter.com/1jq1i2zjPO

— Oscar (@ozziedabeast) March 25, 2022
Although they are often on the end of tirades from the fans in the stand, credit must go to the man in yellow who wasn't willing to clock off before being swarmed himself.
How's the dedication to the craft here from 32? pic.twitter.com/Io6Sfp6gcq

— Gordon (@beetgordon_) March 25, 2022
And swarm they did.
A moment we will never forget.
Fans race onto the hallowed @scg turf to celebrate with @Buddy_Franklin. Thank you to the 36,578 fans who came along and joined the party 🎉. #Buddy1000 #LoveOurSCG pic.twitter.com/IewRdMPGhm

— Sydney Cricket Ground (@scg) March 25, 2022
Toughest game of Where's Wally I've ever played. #Buddy1000 pic.twitter.com/iziEPHjSQi

— Daniel Garb (@DanielGarb) March 25, 2022
Unreal 👏 #Buddy1000 pic.twitter.com/9MsTwSy2sR

— 7AFL (@7AFL) March 25, 2022
This view and the man himself 🌟

Just absolute scenes at the SCG. #AFLSwansCats | #Buddy1000 pic.twitter.com/JQRaZlW6gh

— AFL (@AFL) March 25, 2022
Irrespective of the fact that it was the Foo Fighters that acted as the soundtrack for the wild scenes in the Harbour City, one punter couldn't help be jogged by some operatic advertising from yesteryear.
Given Franklin claimed he had "got a taste of Carlton Draught in my mouth" before he eventually made his way down the Paul Kelly Race, this take has aged like a cellared red.
Fixed it. #Buddy1000 #AFLSwansCats pic.twitter.com/QhRszoOBST

— Tyson Whelan (@tyson_whelan) March 25, 2022
Those on the ground were able to find their own angle and bring us a slice of history, including legendary snapper, Michael Willson.
King 👑 pic.twitter.com/SWRp0IC9pK

— 7AFL (@7AFL) March 25, 2022
Sometimes a photo takes your breath away #Buddy1000 pic.twitter.com/xB3YNBPJpn

— Emily Benammar (@EmilyBenammar) March 25, 2022
This tik tok of #Buddy1000 is inaaaaaaaannnneee 🔥🔥 pic.twitter.com/BugRSCoDod

— Ashlyne McInnes (@ashlyne_mcinnes) March 25, 2022
Given it took what felt like an eon to clear the ground, there was also plenty of time for fun too.
Iconic #Buddy1000 pic.twitter.com/D1LT29U2Wg

— Kate Shierlaw (@kateshierlaw_) March 25, 2022
I can imagine the producer losing their absolute mind at this moment.

'FIND ANOTHER SHOT'
'TELL THEM TO SIT DOWN'

But in some ways, this shot captured the moment perfectly.

Every person standing up waiting in anticipation.

Congrats, Buddy! #Buddy1000 pic.twitter.com/8gB2cBD0WA

— Jarrod Walsh (@jarrodwalsh) March 25, 2022
Director: ok this is going to get replayed for years to come - let's get a good shot.#Buddy1000 pic.twitter.com/MCuVyLNR5g

— Greg Jericho (@GrogsGamut) March 25, 2022
How good was Pat Cummins' last wicket to wrap up the series?#PAKvAUS #Buddy1000 pic.twitter.com/ZUVJgbjj6g

— Lachlan McKirdy (@LMcKirdy7) March 25, 2022
well it's one small step f- god damnit Seven #AFLSwansCats #Buddy1000 pic.twitter.com/spUwy0vlyf

— Stuart (@stuartfaz) March 25, 2022
The iconic moment 📸 #Buddy1000 pic.twitter.com/2qOJoG0vAB

— RollnSport (@RollnSport) March 25, 2022
However, the night was perfectly capped with a bit of family time.
Dad 🥰#Buddy1000 pic.twitter.com/X7QQvT7eJj

— AFL (@AFL) March 25, 2022