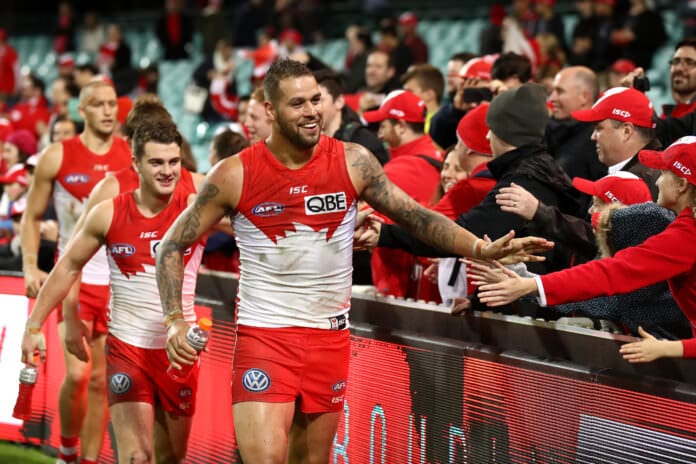 Sydney fans will be given the chance to farewell Lance Franklin at the SCG in the Swans' Round 24 match against Melbourne. Following weeks of speculation, where it looked possible that Franklin may never be seen on AFL turf again, the news will be welcomed by all.
Franklin triggered an outpouring of emotion and gratitude when he announced his retirement from the AFL at the end July, following an almost 19-year career where he thrilled, delighted and awed in equal measure.
It was thought that there was a good chance he may 'ride off into the sunset', never to be seen around the AFL again, which, while in keeping with the Buddy mythos, would have been a sad outcome for fans wanting to pay tribute to him.
The good news coincides with Member Thank You Round on August 27, where Franklin will complete a lap of honour at half-time to give Sydney fans the opportunity to say thank you to a legend who created historic scenes in 2022 when he kicked his 1000th career goal, among many others.
See Also: Swan Hayden McLean on taking "the hard way" to the AFL, Lance Franklin, Sydney's future forwards and contract latest
Over 19 seasons in the AFL, Franklin played 354 games, kicking 1066 goals, taking him to fourth on the all-time goalkicking table. Winning two premierships, eight All-Australians, four Coleman medals and 13 leading club goalkicking awards, he goes down as one of the greatest ever.
In addition to past Swans teammates of Franklin's being present, fans will have the chance to leave a message for the legend on the Thanks Buddy wall outside Sydney Swans HQ.
Sydney Swans CEO Tom Harley was effusive in his praise of Franklin, saying it's right that the champion will be feted at the venue where he took centre stage so many times in the second half of his storied career.
"Lance will go down as one of our club's greatest players and we think Member Thank You Round is the perfect opportunity for him to thank our members and fans as we pay tribute to him," Harley said.
"For almost 20 years we've been able to witness something special whenever Lance took to the field, and we expect this occasion will be another one of those special moments.
"I would encourage our members and fans to secure their seat now – we're fortunate to be pushing towards 65,000 members this year, so we know there will be plenty of Swans fans eager to be at the game."
The match will also serve as a chance for Swans fans to pay tribute to Paddy McCartin, who sadly had to call time on his career on Monday following his ongoing battle with concussion.