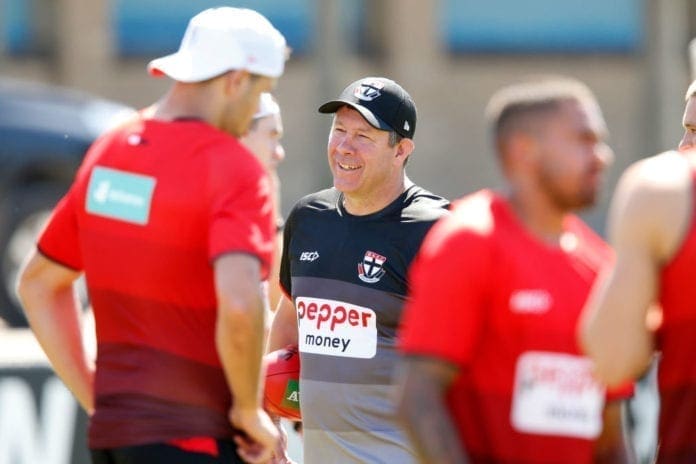 Despite coach Brett Ratten signalling a plethora of likely changes in his post-match press conference last Saturday night, St Kilda fans were left bemused with the blunt axe swung  at the Saints' selection committee ahead of their clash with North Melbourne.
Having conceded a fourth loss of more than 50-points - this time against the Bulldogs in Round 10 - the second-time head coach explained at Friday morning's press conference that a beleaguered playing squad negated his ability to drop any of his big-name players.
"We made the changes with [Luke] Dunstan for [Jack] Bytel, and [Jack] Lonie went out, [Hunter] Clark was injured, [James] Frawley injured, [Shaun] McKernan injured," Ratten said.
RELATED: Saints' defender to finally debut after 1283 days
"They all happened yesterday, so it threw some of our plans out, but the magnets yesterday afternoon got thrown around and we had to change a few things."
Although members and supporters had been hoping for a larger cull given the Saints' form, Ratten told media via Zoom that moves of this nature were not off the table in the future.
"There has probably been some conversations around our people's form and what they have done so far. It's probably been a bit like our season – it's been inconsistent," he said.
"Some of the players we rely on, or have relied on, are in that space.
"There has been some hard conversations this week about making sure that their performance is to the level, otherwise maybe they are on their last chance before they get put out of the team."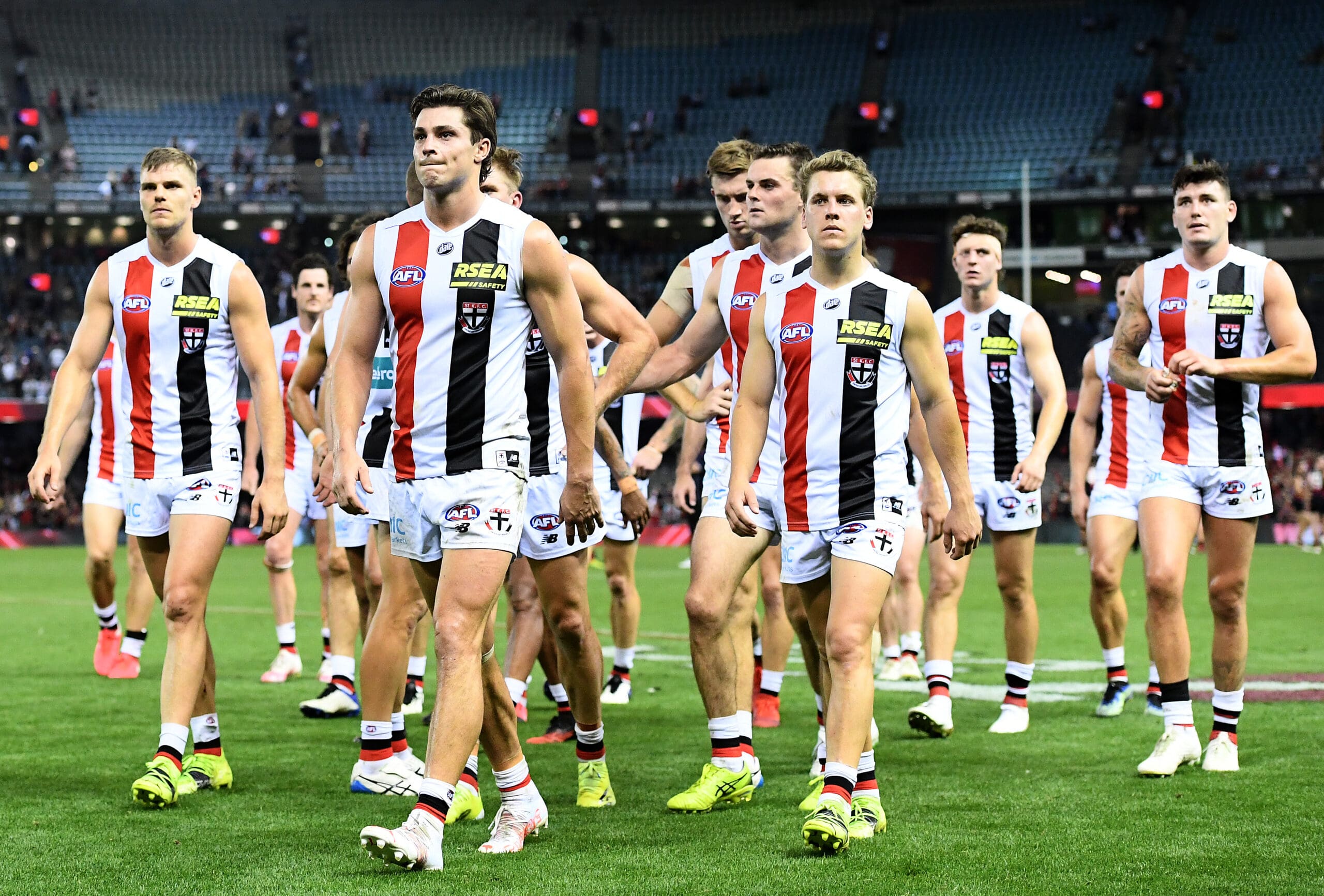 The 255-game former Carlton champion also clarified that it was his modus operandi to allow for his players to respond in the face of adversity.
"It's easy to say 'let's just make all these changes', but when we are actually trying to win the game, which we want to do, and address that performance that we had, sometimes you give the players the opportunity to respond."
When queried about the club's review process following their horrific 111-point loss last weekend, Ratten was candid in his response.
"We dug a lot deeper into the 'why,' and 'why are we giving up big margins?'" he said.
"We've played some alright football this year, but when we have fallen away, we've fallen away badly.
"We went through that, we had a look at what it looked like and why it happened. We had those conversations over a few days. They're hard conversations, but for us to be a better team, and a consistent team – and that's what we're after - we have to address this because we can't allow this behaviour to go from one week to the next or from quarter to quarter which is so critical in professional sport and the AFL."
"There's a fair bit going wrong on matchday" 👀 #AFL https://t.co/tC4gXh6v9B

— Zero Hanger (@zerohanger) May 24, 2021
Ratten also outlined a silver lining for long-suffering St Kilda fans, in that the discourse between he and his players had been largely positive.
"It was probably our best review or conversation in the time that I've been the coach here at the Saints about honesty," Ratten said.
"We just didn't stick to on-field, we spoke about programs, we spoke about everything.
"If we want to grow as a team and become the team that we are striving for, we need to deal with this and that's going to be the big thing going forward."
MORE ST KILDA SAINTS: Simon Lethlean says "There will be changes"
Earlier this week, St Kilda president Andrew Bassat preached to the club's fanbase via email that their Premiership window was more likely to 'open' in 2022 rather than this year. However, Ratten preferred to look at the bigger picture rather than absolutes when it came to claiming silverware.
"We would like to progress to the next stage as a football team and we don't shy away from that," he said.
"The game has challenged us in certain aspects, but when do premiership windows come up? When are they there? I'm not sure.
"It's about being a consistent team and putting yourself in that space, and at the moment, we're not doing that."
The former Blues coach stated that due to a decimation to his playing stocks, several under-performing players had earned a fortunate reprieve this week.
"We've [only] got three players outside of our emergencies available,"
"One is a Category B ruckman, and one is a first-year player (Matthew Allison) and one is a second-year player (Leo Connolly)."
Ratten explained that recruit, Shaun McKernan, and the oft-injured Dan Hannebery faced the possibility of another three weeks on the sideline.
Further strain was placed on the club, with forward Dean Kent and defender Darragh Joyce suffering concussions over the past seven days, and barometer, Rowan Marshall's status listed as indefinite.
In better news for the Moorabbin men, former top 10 draftee Hunter Clark remains a possibility to return in Round 12, with Ratten rating the precociously talented Saint as "touch and go."
Veteran full back, James Frawley, is also expected to return in time to face Sydney at the SCG.
Even though injury and inconsistency has all but ended the Saints' hopes of returning to September this season, it has meant that the door has opened for 22-year-old defender Oscar Clavarino to debut against the Kangaroos.
Having been taken with the 35th pick of the 2017 AFL Draft, the Dandenong Stingrays product has been forced to wait upwards of 1,200 days before officially starting his AFL career.
Not that we've been sitting on this one for 1283 days or anything...he's IN Saints fans!

Oscar Clavarino will make his debut for @stkildafc this weekend.

READ MORE: https://t.co/imNFTiT03f#AFL #TogetherWeRise pic.twitter.com/W1CrAm7xjf

— Zero Hanger (@zerohanger) May 27, 2021
With his 195cm frame, and ability to pluck the Sherrin at its highest point, Ratten spoke highly of the youngster, stating that Clavarino's was a "great story of persistence."
Clavarino's size, injury history and the club's inability to truly develop players in last season's hubs were listed as the reasons as to why he has needed to bide his time in the VFL.
Ratten also expounded that the Saints were likely to take a longer view with their selections at the Mid-Season Draft, instead of just trying to sort "the right here, right now."
The 4-6 Saints are set to do battle with North Melbourne in front of Marvel Stadium's empty stands on Saturday afternoon at 4:35pm AEST.