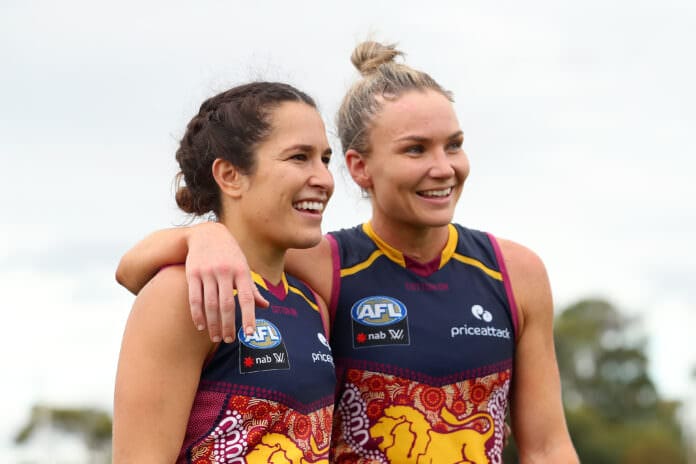 The stage is set for the season seven AFL Grand Final, with the 21-person teams for each side locked in ahead of the season decider.
Brisbane have made no changes to the side that defeated Adelaide last week in what will be Kate Lutkins' 50th AFLW appearance.
The Lions have listed Zimmorlei Farquharson, Lulu Pullar and Sharni Webb as their emergencies.
Melbourne will also enter the game unchanged from their preliminary final win over the Roos, while Charlotte Wilson, Jordan Ivey and Maggie Caris will be on standby as the emergencies.
The AFLW Grand Final will commence at 2:40pm (AEDT) at Brighton Homes Arena in Springfield, Queensland.
HOW TO WATCH AFLW GRAND FINAL
AFLW GRAND FINAL PREDICTIONS
Brisbane
B:  P Monahan, S Campbell
HB: B Koenen, N Grider, J Ellenger
C: O O'Dwyer, E Bates, S Conway
HF: C Hodder, D Davidson, B Dawes
F: G Bodey, J Wardlaw
Foll: T Hickie, C Svarc, A Anderson
I/C: K Lutkins, D Heslop, T Smith, M Pauga, R Svarc
Emerg: Z Farquharson, L Pullar, S Webb
Melbourne
B: L.Birch 9 T.Gillard 17
HB: S.Heath 30 M.Gay 3 S.Goldrick 23
C: S.Lampard 8 O.Purcell 2 B.Mackin 31
HF: A.Bannan 16 K.Paxman 4 K.Hore 10
F: D.Pearce - C 6 T.Harris 7
Foll: L.Pearce 15 E.West 11 T.Hanks 5
I/C: M.Chaplin 13 C.Sherriff 18 L.Mithen 14 E.Zanker 29 M.Fitzsimon 24
Emerg: C.Wilson 20 J.Ivey 19 M.Caris 21