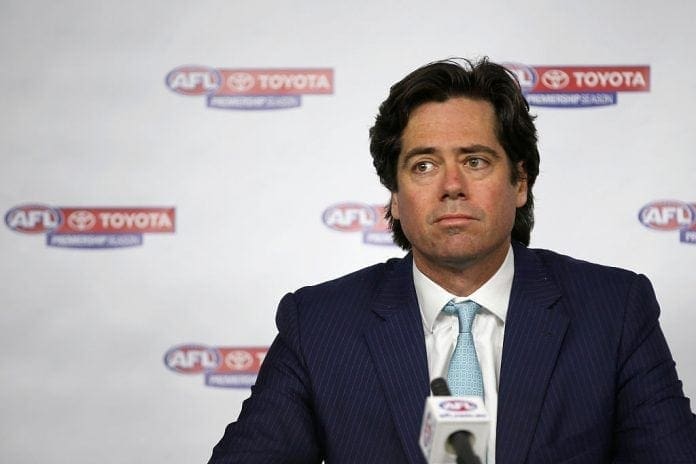 The AFL could look to continue hosting AFL matches in Tasmania despite the state government stating they will not renew contracts with North Melbourne and Hawthorn, per The Herald Sun. 
Tasmanian premier Peter Gutwein will be hoping the league returns to the negotiating table in a couple of weeks time with a new roadmap for the future of football with the island state, with the AFL threatening to deal with the Hawks and Kangaroos without Tasmania's added compensation.
A deal of the sort would see both clubs face major cuts compared to their current $8 million contract that is set to expire at the end of the year.
"The AFL owes Tasmania an answer." ABC commentator Alister Nicholson says Tasmanians have a right to feel let down by the AFL. #offsiders pic.twitter.com/4xkd44rShQ

— Offsiders ABC (@OffsidersABC) February 21, 2021
AFL boss Gillon McLachlan noted to the Tasmania government last Friday that the league will take another 12 months to study the concept of adding a Tasmanian club as the 19th license, a decision that has left local fans further frustrated.
The AFL believes the financial implications of adding a new club during the midst of a global pandemic is ill-advised, with the organisation posting a $22.8 million loss for last season alone.
However, home-and-away matches could still be fixtured for both Hobart and Launceston to continue development and retain the league's image in Tasmania, while biding their time and finances before eventually opting to add an AFL side, a decision that remains to have an unclear timeline.
Premier Gutwein has made a powerful point to the AFL. Tasmania is a major sponsor of their business yet it's long been treated as a doormat (my word). It's hard to imagine any sponsor from the corporate world being so disrespected by the game's administration.

— Tim Lane (@TimLaneSport) February 20, 2021