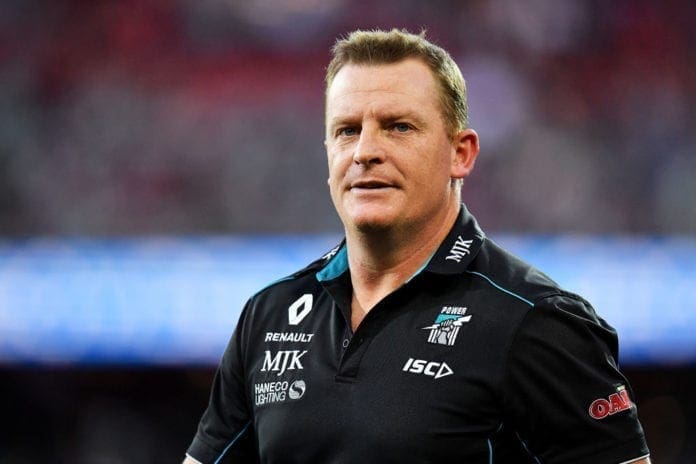 North Melbourne senior coach Rhyce Shaw has stepped away from the football club for the meantime for personal reasons, with serious doubts over whether he will return to the role for the 2021 season.
North Melbourne had already been planning a revamp of their footy department before the Shaw announcement, with Jade Rawlings departing and John Blakey coming in as a senior assistant.
Paul Roos appears certain to join in a mentor style role to work alongside Blakey at Arden Street.
But if Shaw can't return, who becomes head coach of the Kangaroos at a stage where the club embarks on a full rebuild.
Michael Voss is a name that has been brought up by AFL greats Jason Dunstall and Nick Riewoldt.
"No doubt if you do everything you've ever done before a second time around, you're going to have a better frame of mind to attack it," Riewoldt said on Fox Footy.
"You're not going to make the same mistakes again. I'd be surprised if it wasn't someone like that that ends up securing the job, if indeed it becomes available."
Dunstall added: "It's going to be a very testing environment for any coach that does come in to the mix.
"I'd be very surprised if Michael Voss doesn't get a look at it, particularly after we've seen the way that Brett Ratten has adapted in his second time around at the Saints.
"You've got to be a much better coach second time around because you've learnt so many things – what you did wrong, the little things you did right – you've gathered more experience. He might be the man in my eyes, but it's going to be a very interesting search."
Voss joined the Lions in 2009 and coached Brisbane for 109 games before being sacked in 2013 and has since worked under Ken Hinkley at Port Adelaide.
Another name being thrown around is Ross Lyon. The former St Kilda and Fremantle coach has been a revelation in the media this season and there is belief he could still want to return to the pressure seat.
However Riewoldt, who is a close friend and played under Lyon at St Kilda, said the rebuild of the Kangaroos isn't a project that will interest him.
"I don't think so. I think the one thing that would drive Ross Lyon in terms of a coaching opportunity would be the opportunity to do the one thing he hasn't done, which is coaching a premiership,' he said.
"Without speaking on Rossy's behalf …. I don't think a five to 10-year rebuild is part of his plans."