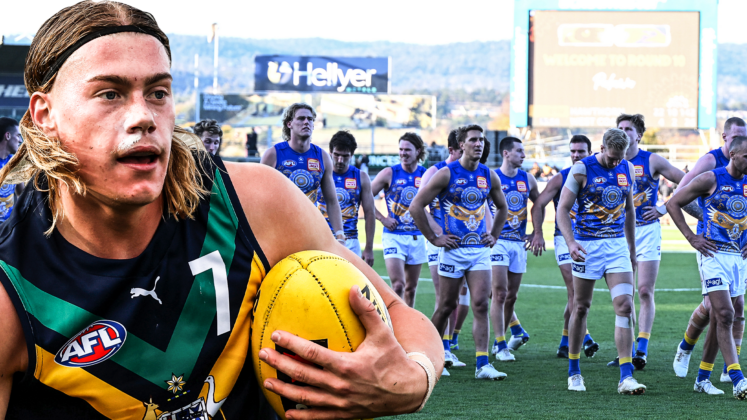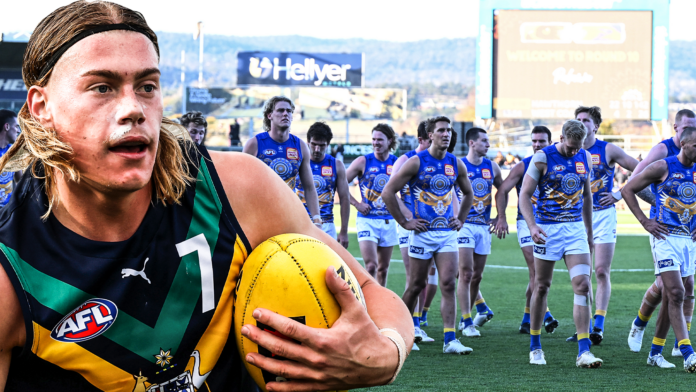 A penny for your thoughts, Harley Reid?
What did you make of all that, then?
For those on the underside of the proverbial rock, Harley Reid is this year's draft wunderkind. The proclaimed answer to all problems. The golden-haired heir to the throne.
At least that's what they say.
In Reid's eyes, he's just a country kid. A "bit of a bogan" from up in the Goulburn Valley. He lets his footy do the talking, and boy does his footy talk.
As pundits are wont to, Reid has already drawn lofty comparisons. His likeness to three-time Norm Smith medallist Dustin Martin, is due in large part to the pair's smooth skills, brute stoppage strength, and penchant for a fend-off. As those who have witnessed the weapons in Reid's arsenal will tell you, this judgement is tough to overrule. 
Unless we've been sold a furphy, it seems this kid is the whole box and dice.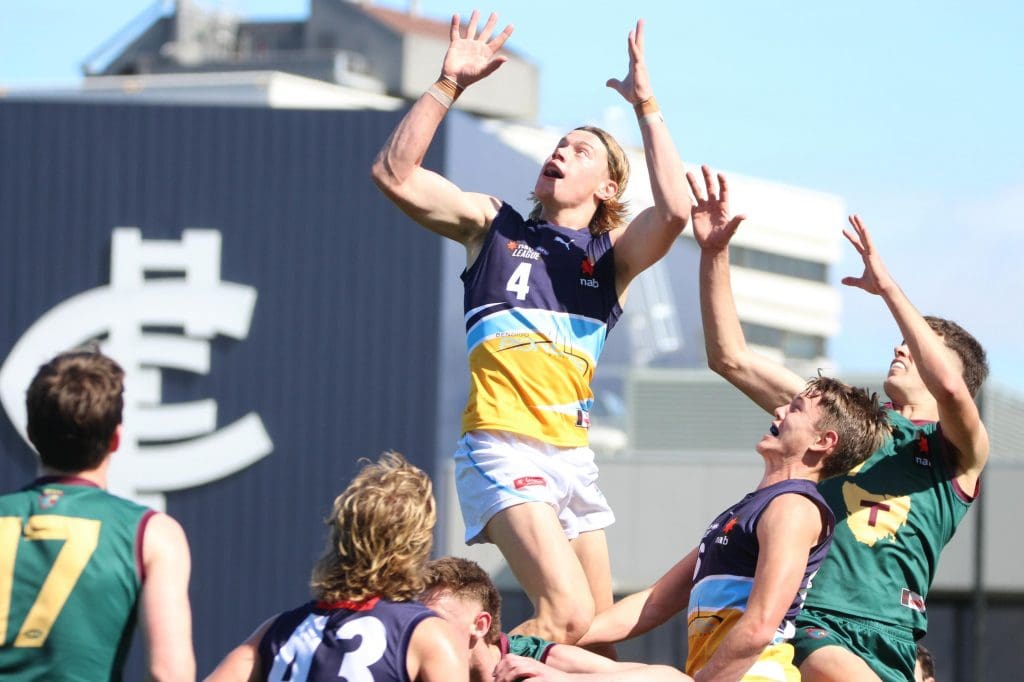 After sustaining a head knock in the AFL Academy's win over Carlton's VFL outfit, Reid was withdrawn from his Bendigo Pioneer's date with the Geelong Falcons at the weekend.
Though no chance of playing himself, the talented teenager would have made the hour's drive to Bendigo to watch his teammates kick the dew off Queen Elizabeth Oval at 11 on Sunday morning.
Sideline duties done, back behind the wheel, perhaps a bite to eat on the way back to Tongala, Reid will have melted into the couch and fired up Sunday's Hawthorn and West Coast's race to the bottom with interest, and trepidation.
After all, one of these cellar dwellers would likely be home in six short month's time.
RELATED: AFL Draft Order 2023
Not to be outdone, North Melbourne thrust themselves back into the Reid Race by shooting themselves in the foot on Saturday afternoon. Honest mistake or otherwise, the transcript of the steward's inquiry made for interesting reading.
Back home in Tongala, Reid will have seen his own highlights played during breaks in the Fox Footy broadcast, amped with bells, whistles, and more than just a sprinkle of hyperbole.
He will have heard commentators singing his praises. The same callers who add colour to the highlights of his heroes. The same commentators who will call his own for the next decade or two.
If Reid had his heart set on a future as a Hawk, he will have felt it plummet before quarter-time, as Sam Mitchell's boys slammed on seven goals to two in the opening term. By the half, Hawthorn had cruised through blue and gold witches' hats, leading by 46 as they headed to the sheds.
By afternoon's end, his number had been called. Two points after half-time to 72 the other way provided the final uppercut. The 116-point margin between last and second last the knockout blow.
If the status quo remains, Reid will be a West Coast Eagle by year's end. His blonde locks, hard edge, and silky skills are sure to see him draw Chris Mainwaring comparisons before too long.
Mind you, the kid still has some work to do on his tan before then.
What did the talented teenager make of Sunday's race to the bottom? The lead-up? The mass omissions? The scratchy skills? The one-way traffic? The off-Broadway timeslot? Did it whet his appetite for senior footy, or was his head in his hands like the rest of us?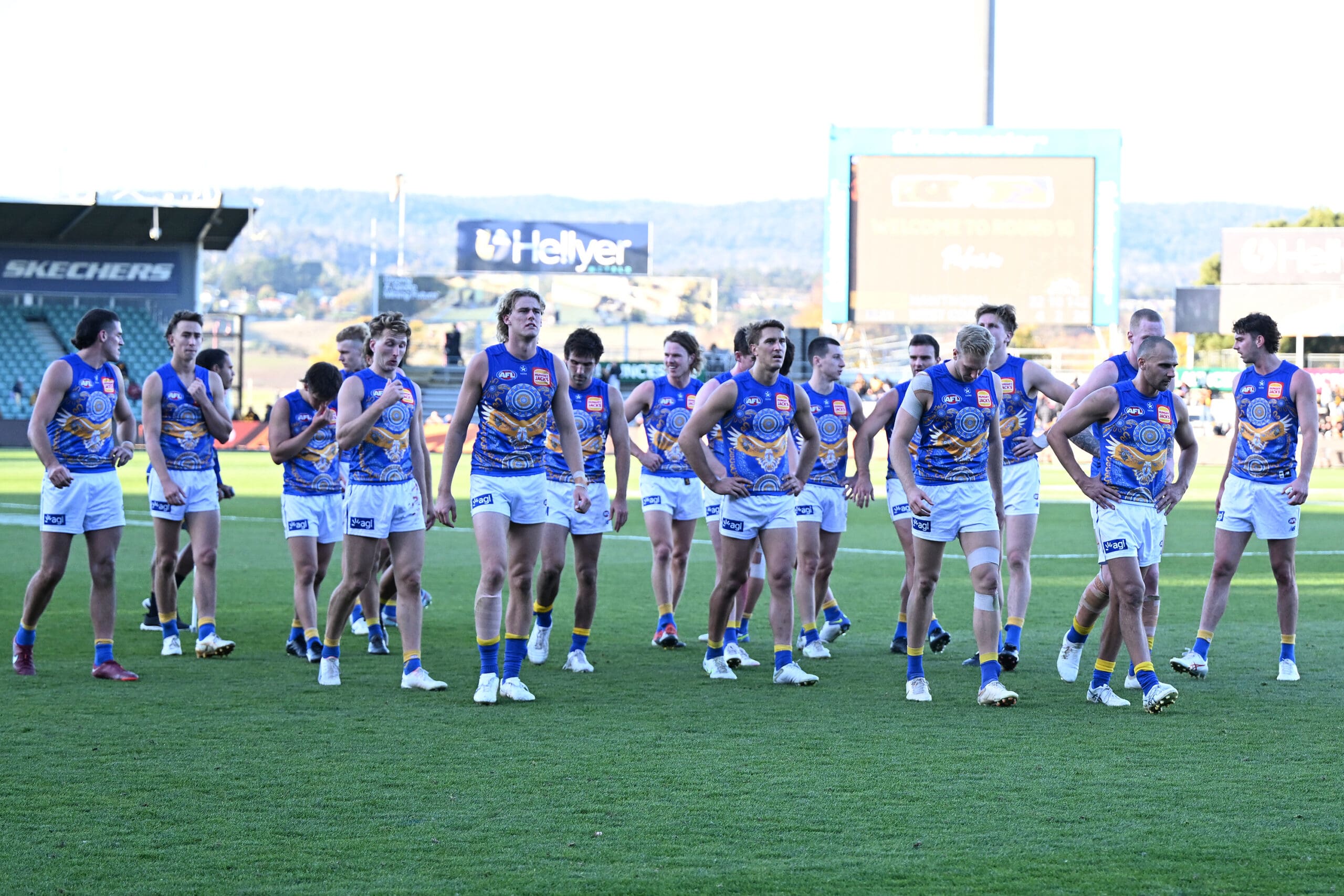 Sitting back as the bidding actively unfolded, Reid will have been quietly supporting one side over the other. They'll never tell you who, but these kids always have a preference. Just ask a certain Port Adelaide midfielder.
Lining up next to Jai Newcombe and Cameron Mackenzie for the next decade would have been fun. But that's gone now. For the moment, at least. If Hawthorn wants Reid back, they'll have to go to work. Or, in reality, put their tools down after unfavourably boosting their percentage in Launceston.
The brown and gold chains off half-back were sure to have stirred Reid. Weddle to Day to Mackenzie. Blue-chip prospect to blue-chip prospect.
The work ethic the other way will have worried him. Everyone loves a challenge, but what West Coast presents feels more of an impossibility.
Last week, Reid claimed he was a match-winner. Think Toby Greene. Dusty. The guy others turn to in order to turn the tide. Right now, the Eagles are short more than just a few of this kind.
What did West Coast sell Reid on Sunday? Everything and nothing. And though plenty of star quality will be back on the park in 2024, if Reid is out there with them, there will be expectations on him to do more than less - from those outside the four walls, of course.
Clearances. Tackles. Entries. Exits. Scores. Assists. West Coast requires a hand with just about every facet of their rebuild. The plumbing needs fitting. The slab needs pouring. The house needs framing. They're still years away from shopping for place settings and silverware.
You had better pack your hi-vis, Harley.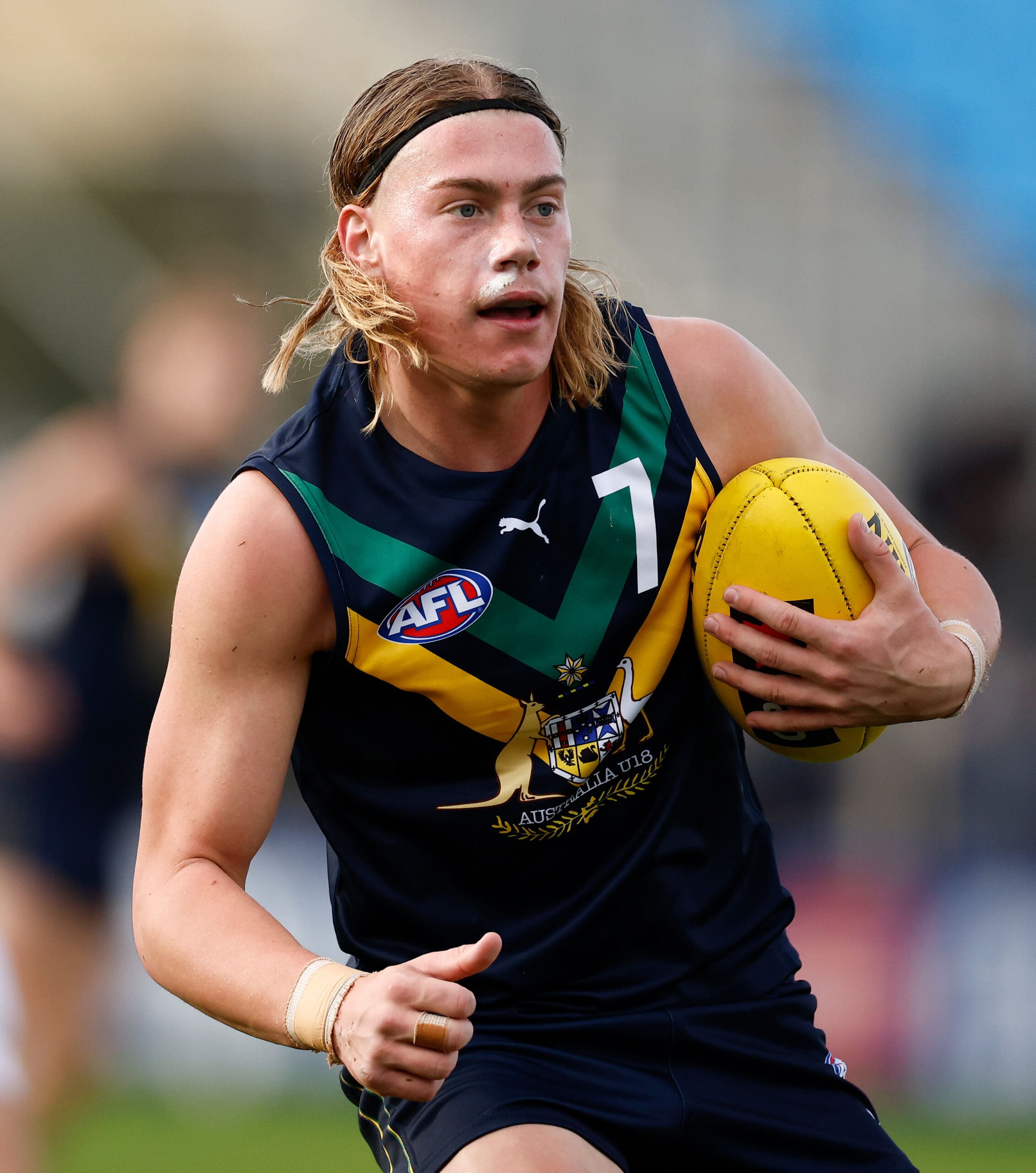 Pre-game, some had the cheek to question the legitimacy of Sam Mitchell's COVID test, Chad Wingard's calf complaint and every Eagle that fell to the flu at just the right - sorry, wrong - time.
In the real world, this contest was commensurate with a young team finding its feet at the coalface, and its opponent without wave a wave of champions. 2109 games experience missing in all. 587 more than the entirety of Hawthorn's squad for Sunday's pillow fight.
These are real issues having a real impact. But what can be confabulated? Are certain teams not trying? Are they inactively dawdling? Are they tinkering too much? Are they tan- nope, not going there! You almost got me.
Though an array of injuries and illness rocked the Eagles, what card do they play when the ilk of Tom Barrass, Shannon Hurn, Jeremy McGovern, Nic Naitanui, Liam Ryan, and Luke Shuey are back? What will be ailing them along the season's final furlong? Or is it naïve to believe that any of these stars out of action will play any meaningful footy this year?
Ahead of what was billed as the 'Harley Reid Cup', the same tired draft lottery was raised from the dead. The same tired notion that will supposedly bring an end to tanking, once and for all. 

MORE: The pros and cons of an AFL Draft Lottery
We may love burning cash at the tote in this country; sprinting down to the Newsagent whenever Powerball blows out to the equivalent of Tuvulu's GDP, but lottery balls and percentages are never going to take off in our game. No, we like our prizes hard-earned and our best and brightest conscripted.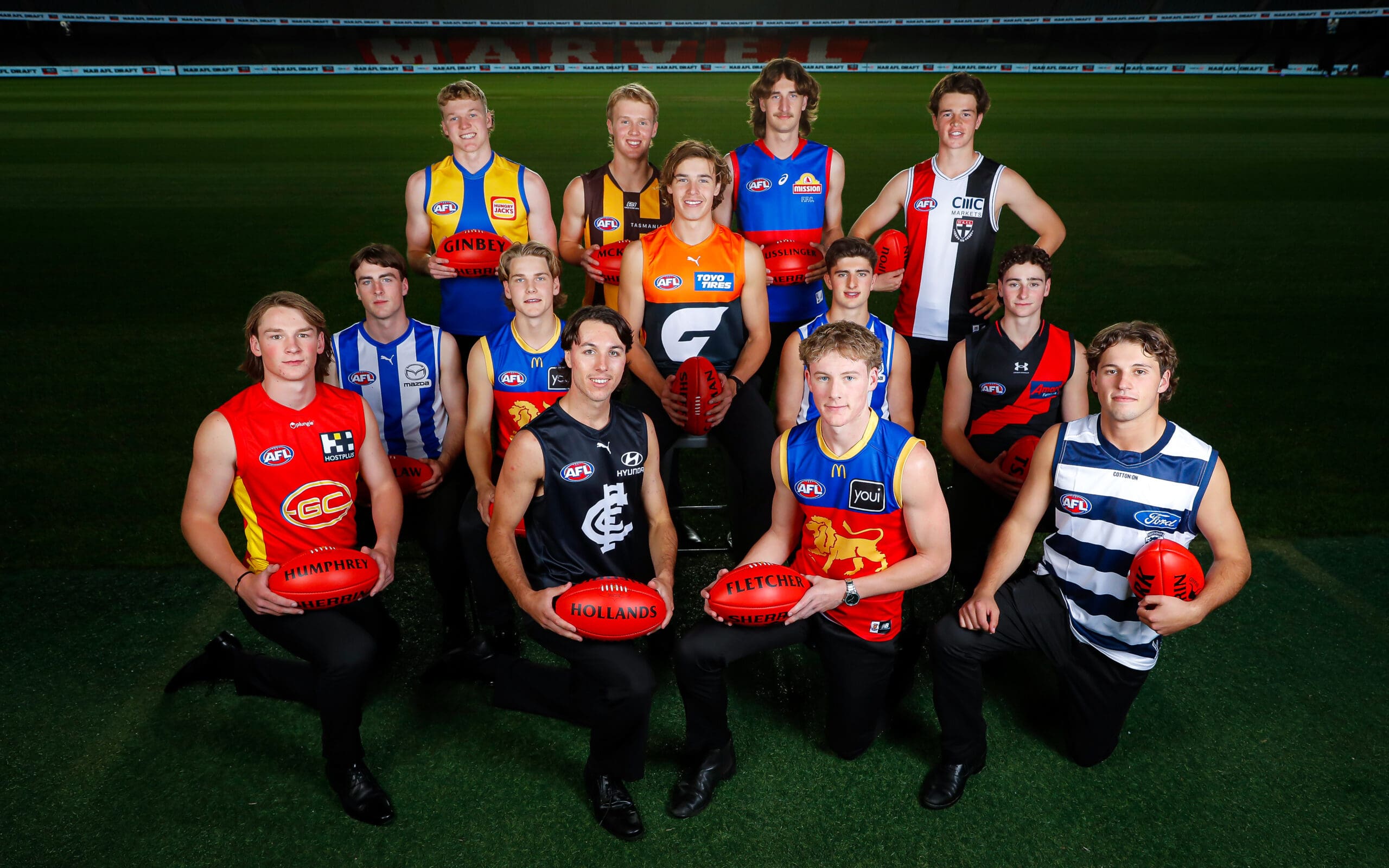 Whether exhilarated or intimidated, Reid's dream is now within reach. At times, he will have seen himself in brown and gold, or gold and royal blue on Sunday.
At times, he would have had that game on a string.
The nightmare fixture afforded him that, even if he is smart enough not to admit it.
In speaking to AFL Media last week, Reid claimed he had no preference for where he played his footy next season, stressing profusely that he wasn't keeping an eye on the foot of the ladder.
"Nah, not really. No. Not at all," he told the Gettable Podcast.
Trained to perfection on both sides of the boundary, Reid's platitudes are as pinpoint as his drop punts.
He won't tell us - maybe he never will - but he'll have his preference. Those that can read between the lines can see that.
"I haven't really thought about it," the Victorian added when quizzed about a future interstate.
"There's still a long way to go, but I'm really family-orientated."
That final line is about as decisive a 'thanks, but no thanks' the youngster could ever offer the Eagles without earning a wrap across the knuckles.
He's not alone in laying demands. Remember, Des Headland - the first pick of the 1998 draft - rocked up to his interviews in a Dockers polo.
You can't send a message much clearer than that.
We've heard the pre-trained lines. We've heard what his boots have to say. But despite suggestions that Sunday's fixture wouldn't pique his interest, we know Reid will have been watching this game like a Hawk, or, with an Eagle eye.
But these are just my thoughts, my future isn't on the line here.
So, a penny for your thoughts, Harley?
What did you make of all that, then?