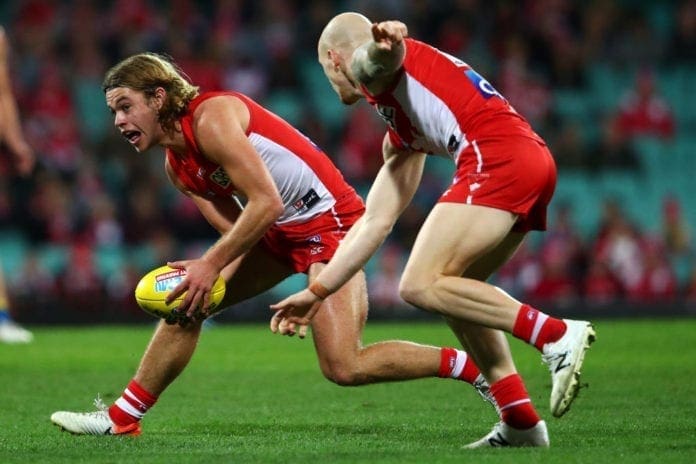 5 Votes: Sam Walsh (Carlton)
The ever-reliable Walsh was a standout again on Sunday afternoon, as Carlton fought back from the doldrums to nearly clinch a memorable win against the Demons.
The Blues youngster has shown no signs of slowing down in the absence of Patrick Cripps, with Walsh collecting 25 disposals and seven tackles as they fell agonisingly short.
David Teague's men have shown some consistent signs over the past four weeks, and Walsh is no exception. On the contrary, Walsh has been consistent for the entire season.
The five votes see the 19-year-old extend his lead in the votes for this season.
4 Votes: James Rowbottom (Sydney)
Last Saturday afternoon was James Rowbottom's first game at the MCG as an AFL player.
Perhaps it is quite telling that this was the Swan's best game in the red and white to date.
The 18-year-old was anything but daunted by playing on the big stage, recording 24 possessions, three score involvements and four marks in a gritty display which saw the Swans fall just short of knocking off the Bombers.
What's even more impressive is that Rowbottom did all this off just 52% game time. Expect the young Swan to continue thriving in the contest.
3 Votes: Oliver Hanrahan (Hawthorn)
The second-gamer was arguably the key behind the Hawks' come-from-behind win against Collingwood.
Hanrahan's first goal of the last quarter sparked the comeback for Hawthorn, providing the impetus for Alastair Clarkson's men to fight themselves back into the contest.
The 20-year-old ended up scoring a second goal to extend Hawthorn's lead.
He finished with 16 disposals, two goals and six score involvements in a very impressive showing. Expect him to continue to feature for the Hawks for the rest of the season.
2 Votes: Jarrod Cameron (West Coast)
Cameron thrived on the big stage for the Eagles, showing his flair and dash in the Eagles' forward line during the demolition job against Fremantle in the Western Derby.
The 19-year-old recorded four goals and six score involvements off just his seven disposals against the Dockers.
He might not get a lot of it, but when he does he makes it count.
1 Vote: Derek Eggmolesse-Smith (Richmond)
The Tigers debutant is worthy of retaining his spot in the side, and is more than worthy of collecting a vote after his exploits against the Gold Coast.
Eggmolesse-Smith provided some spark and poise off the half-back line for the Tigers, picking up 19 disposals (operating at 78% efficiency) and four rebound 50's as Richmond went on to thrash the Suns by 92 points.
With Eggmolesse-Smith being the fourth Tiger to register votes this season, it seems that the future is bright down at Punt Road.
Season Leaderboard:
42 – Sam Walsh (CARL)
29 – Sydney Stack (RICH)
20 – Gryan Miers (GEEL)
17 – Connor Rozee (PORT)
14 – Bailey Smith (WBD)
12 – Xavier Duursma (PORT)
11 – Jay Lockhart (MELB)
10 – Charlie Constable (GEEL)
9 – Tarryn Thomas (NM)
8 – Jack Ross (RICH)
7 – Marty Hore (MELB)
7 – Michael Gibbons (CARL)
5 – Callum Wilkie (StK)
5 – Jordan Clark (GEEL)
4 – Bailey Scott (NM)
4 – Jackson Hately (GWS)
4 – Zak Butters (PORT)
4 – James Rowbottom (SYD)
3 – Tom Atkins (GEEL)
3 – Oliver Hanrahan (HAW)
3 – Nick Hind (StK)
3 – Jarrod Cameron (WCE)
2 – Oskar Baker (MELB)
2 – Darcy Fort (GEEL)
2 – Nick Blakey (SYD)
2 – Lachlan Schultz (FREM)
2 – William Drew (PORT)
2 – Matthew Parker (StK)
1 – Josh Rotham (WC)
1 – Will Hayes (WBD)
1 – Derek Eggmolesse-Smith (RICH)
1 – Patrick Naish (RICH)