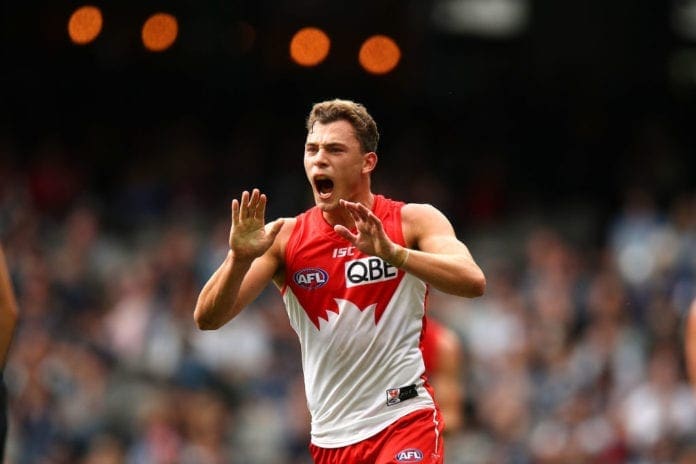 Sydney's disappointing loss to Brisbane at the SCG on Sunday may come at a greater cost than initially thought, as speedy half-forward Will Hayward has been put on report for a high hit on Lions backman Daniel Rich.
The contest was tight in the opening quarter as both sides were locked at nine apiece until the Lions began to kick away in the second en route to opening a 33-point lead at the half.
Sydney then responded with a Buddy Franklin bonanza that quickly pulled them to within three points seemingly within minutes of the second half commencing until Brisbane began to kick away again off the back of Brownlow medallist Lachie Neale working his magic around the contest.
However, during the midst of their comeback, the aforementioned Hayward and Rich were contesting a ball in dispute where the Swan seemingly cleaned up the Lion with a high bump while running at full tilt.
Hayward was reported for the incident but upon closer inspection, it appeared that he was shoved into Rich by fellow Lion Noah Answerth, which would make appealing the potential suspension favourable.
Will Hayward has been put on report after this incident with Daniel Rich in the third quarter.#AFLSwansLions pic.twitter.com/Zk52yrmncC

— AFL (@AFL) May 1, 2022
While the league has cracked down on high and careless hits in recent years, the mentioned case will no doubt have to be reviewed with the understanding that Hayward was forced into the action and appeared to brace with his shoulder rather than elect to bump a defenceless player.
Yet while the young Swan is obviously at the mercy of the MRO's discretion, the one-week bans handed out to Blues defensive duo Lewis Young and Liam Stocker were more clear cut, in particular, Stocker who landed a hit that resulted in star Roo Tarryn Thomas having to be subbed out.
Carlton have decided to appeal Young's ban as they feel his front-on bump has the potential to be downgraded, especially when considering the stunning tunnelling act that only landed North Melbourne power forward Nick Larkey a single week on the sidelines.
Nick Larkey has been suspended, while two Roos have been fined for other incidents 👉 https://t.co/nbgAuw8LIt pic.twitter.com/W4B1KSH7Xs

— North Melbourne FC (@NMFCOfficial) May 1, 2022
The incidents that occurred on the weekend have seemingly all resulted in the same outcome despite the varying shades of grey surrounding these punishable acts.
One would assume that the context and intent behind these offences weren't thoughtfully taken into consideration by the MRO as the proverbial punishments don't match the crime.
If the AFL seeks to continue improving upon the safety and integrity of the game, they are sure to exercise logic and reason when assessing the degrees to which they discipline their players moving forward to ensure consistent outcomes for future incidents.