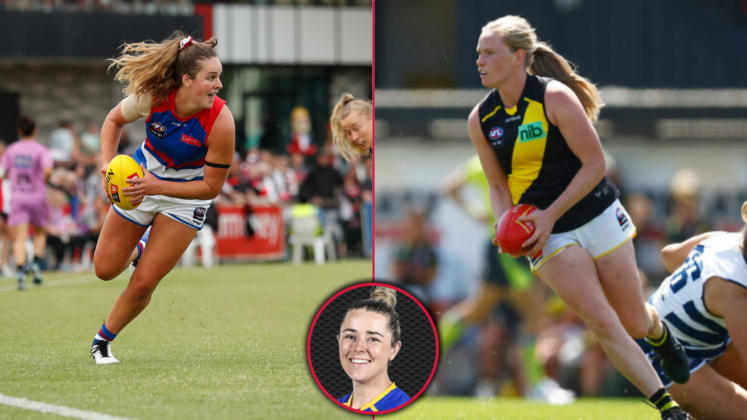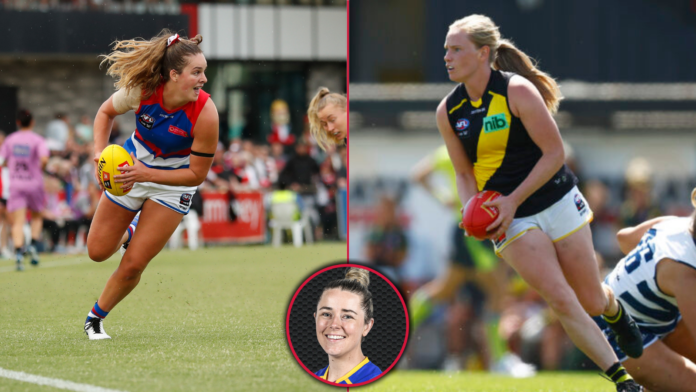 We're back for the second part of my unsung heroes series and I must say, I found myself evolving what an unsung hero is through tougher times at some clubs - particularly this weekend.
There must be something in the water over in Ireland, with three out of the 14 players I've listed have coming from there.
It's hard not to name more than one player in these teams because there are so many players that deserve more limelight for what they bring to their teams and to this competition. These women and all of those playing in the AFLW are incredible - this season has shown that no matter what we must give up, lose and sacrifice, we will do anything to play this game. To all the women playing this game, you are my unsung heroes.
PART I OF WOOSHA'S UNSUNG HEROES
GWS: Brid Stack
Technically in her second season but playing her first full season after a serious neck injury sidelined her in 2021, Stack has been thrown in the deep end.
The defender has had a multitude of work to do in her first six AFLW games, with the Giants struggling so far in 2022 and with the ball spending a lot of time in their back half.  In tough circumstances, Brid has become a reliable defender in stopping the opposition.
Although she has been caught holding the ball a few times, it's nice to see her trying to take the game on out of the back half. The mature-age recruit deserves some credit for what she is doing this year.
Melbourne: Eliza West
In her first year at the Demons, West has been fantastic and shows so much potential. An elite basketballer in her own right, West looks like a natural footballer; she's playing forward but clearly has the ability to play through the midfield in the future. Perhaps selfishly, I hope she continues on her forward craft because she will be one to watch for the future.
North Melbourne: Daisy Bateman
The smart forward is an important player in the North forward line.
While the stats could tell you otherwise - low disposals and hasn't hit the scoreboard as much this year compared to previous - Bateman is doing so many other things so well. She is a role player who unselfishly leads up the ground hard only to be bypassed as they kick to a key forward, and works hard back to be the one to do the small things like bumps, blocks or the little toe-poke to a teammate.
It can be a grind being a role player but it's something Daisy has done since day one at North - it's very obvious to me that if she wasn't surrounded by so many goal kicking options, Daisy would be even more damaging on the scoreboard.
Richmond: Sarah D'Arcy
The ultimate swing woman since moving to the Club from Collingwood, D'Arcy has been an important player to help balance the Richmond team when any player has gone down or they just need a change to give themselves something. Primarily playing in the backline, D'Arcy has been swung forward to try to give the Tigers another avenue to goal. Her best work this year has come in the backline swinging onto that left foot, or reading the ball better and taking intercept marks.
She's not the quickest player or perhaps the best one-on-one defender, but Sarah certainty makes up for it in her smarts and ability to read the play.
St Kilda: Rosie Dillon
The strong-bodied midfielder is one of my favourites to watch and has been sorely missed by the Saints in their past two games. Her ability to win the hard ball and impact contests is a huge attribute to the Saints midfield.
She was the joint Best and Fairest winner in the Saints' inaugural season and has continued that form - I'd love to see her go forward in patches and add some goals to her game in years to come.
She's well-loved at St Kilda and I reckon those around her would love to see her get more recognition, but from what I hear Rosie loves going under the radar.
West Coast Eagles: Niamh Kelly
A fast, electric and sometimes erratic player, Niamh is such an important player at West Coast - hitting every contest she can while running the entire ground with ease.
She's been able to hit the scoreboard on several occasions this year, something the Eagles have struggled to do as a unit.
Even though she's slightly down statistically this year, I think her influence has been greater and her possessions more effective. With the Eagles slowly growing their wings in the AFLW competition, I hope to see Niamh continue to excel for years to come as I think she could become a game-winner.
Western Bulldogs: Katie Lynch
I didn't know much about Lynch but after watching this year, I've been seriously impressed by her. Having previously been on Collingwood's list, Lynch made her way over to the Dogs in 2021. In her first season as a Bulldog, she shared the club's Best Young Player honours with Jess Fitzgerald.
Playing in the backline, she is perhaps overshadowed by some players around her, but her overhead marking and one on one work is fantastic. Perhaps her only downfall is her skill execution at times, but don't let that overshadow how important her position is in the Bulldogs' team.