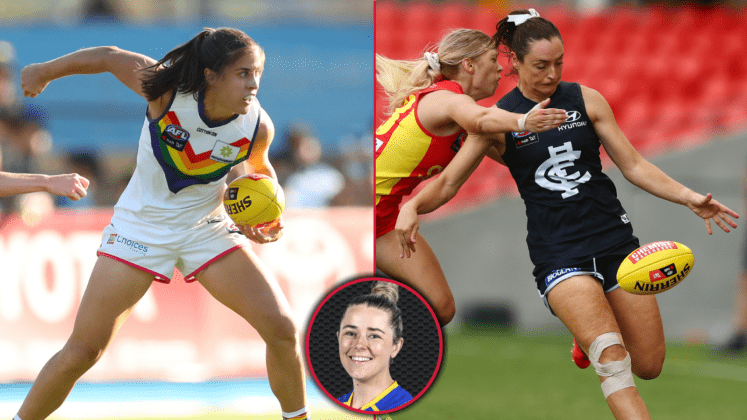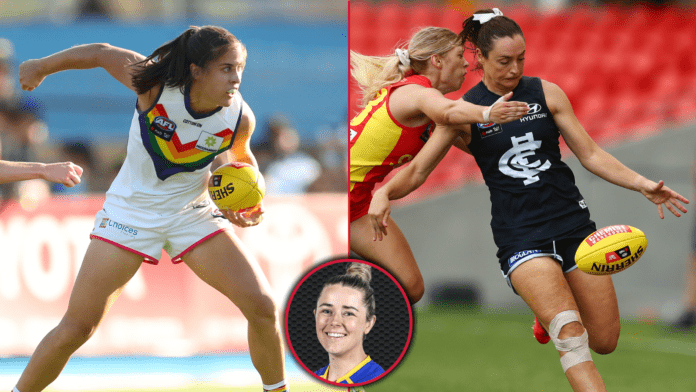 "Unsung heroes."
No, I'm not talking about the players that get called 'underrated' literally every week, when, in fact, most people rate them.
I want to talk about the players whose stats might not reflect the impact they have on games.
Having watched multiple games this year and many games over the last six seasons where players are raved about purely on how many touches they've got, are we looking at how effective they are?
Compared to the person who has half as many numbers on the stat sheet, but twice the influence?
As someone who has never been a high-disposal player, I admit I'm biased to seeing beyond the numbers and looking for the game-changers you might not know because you don't hear their name as often.
I want to take you through every club as I name my unsung heroes, what they're doing for their club, and why they are more important than the stats say ...
Adelaide Crows: Rachelle Martin
Standing at just 5 feet tall, Rachelle Martin is the shortest player in the AFLW and is the definition of an 'in-and-under' player. Martin only played one game in her first season after being drafted but worked her way into a strong Adelaide Crows team in 2021, playing seven games - including the AFLW Grand Final.
This season she has stood out with her pressure, effort, and unstoppable determination to impact contests. Rachelle is most definitely the kind of teammate you'd love to have.
Brisbane Lions: Greta Bodey
A former soccer player, Greta Bodey has fast become one of the most dangerous forwards in the competition - but taking a quick look at the AFLW app, the statistics don't tell the whole story.
Although not kicking bags of goals - yet - she contributes with her forward pressure, work rate, goal assists, and clever bodywork. She's just one big game away from stamping herself as the best small/medium forward in the competition and I've never met a forward who works harder on their craft than Greta Bodey.
Carlton: Nicola Stevens
Perhaps the most well-known player I'm going to list here, Nicola Stevens has been around since the competition's inception.
Drafted by Collingwood at pick #6 in the inaugural AFLW Draft, Nicola went on to win the club's best and fairest award and earned All Australian selection after a terrific season off the half-back flank. Fast forward a few years and, now at Carlton, Nicola is applying her craft at the other end of the ground.
Looking faster and working higher up the ground, she is always providing a pathway to goal - either by disposal, or clearing space for other forwards to work into. The trusty left-footer could flourish even more with clean supply into the forward line.
Collingwood: Sophie Casey
A smaller defender in height but not heart, Sophie Casey is rarely beaten in a contest - and in the shadow of Collingwood's 'stars', it is easy to forget that she has been at the Pies since day one.
This year she is averaging 6.5 disposals and 1.7 marks per game, which doesn't sound too flash on raw numbers - but this is a career-high. Clearly valued at Collingwood, and a mainstay in their backline, I encourage you to watch beyond the stats on this one and let me know if she is beaten one-on-one.
Fremantle: Gabby O'Sullivan
After playing a majority of her AFLW career as a small forward, O'Sullivan has moved into the Dockers midfield this year and is having a real influence.
She can be overlooked in Fremantle's current centerline given the more high-profile players running through there, but she is a very smart player with high footy IQ who is clean below her knees and above her head.
Perhaps being missed in the forward line with her clever knock-ons and ability to read the flight of the ball, she is averaging a career-high 7.7 tackles and 3.1 inside 50s per game.
In a star-studded midfield, Gabby O'Sullivan is holding her own.
Geelong: Rachel Kearns
I've been a fan since the first game I saw her play.
Although being in her first year in the AFLW, Irishwoman Rachel Kearns has added a new element to Geelong with her speed, tackling, and flair something that has eluded the Cats in recent times.
Can be clumsy at times with her tackling, but you wouldn't change that as it drives others around her.
Nowhere near reaching her potential yet, Kearns is an exciting talent that all fans should be excited about - if she continues in the AFLW, I'd imagine she will be another gem to come out of Ireland and could even help Geelong strive for their first AFLW Finals appearance.
Gold Coast Suns: Daisy D'Arcy
Only 19 years of age, and in her second season of AFLW, Daisy D'Arcy has poise and class beyond her years.
A name rarely heard in the media or on the TV, D'Arcy has been a very important part of the Suns' rise this season. Her decision-making and skill execution have been a highlight so far and, in years to come, I believe she will only get better and become an even more damaging player for the Gold Coast Suns.
I'll be back with Part II soon - stay tuned to zerohanger.com for more great AFLW content!