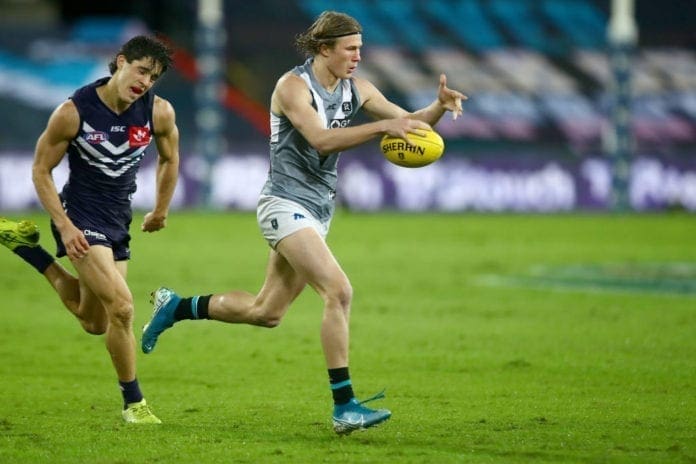 Youngster Zane Duursma is following in the footsteps of his brother, Xavier. He definitely has big shoes to fill; now the big question is will his feet fit, or will he bring his own shoe size?
Everyone who has seen Zane play commends his skill on the pitch, and the AFL Draft Central even labelled him as an "excitement machine". Such a statement proves how the youngster, only 15 years old, is turning heads. With such remarks, Zane earned himself a spot to try out for Vic Country, the Under 17s national carnival. 
Competing brothers
Zane has one wish, and that is to play against his brother Xavier only to prove who the better player is. However, compared to each other, the two siblings are different in how they engage with the game.
Dean Duursma, their father, comments on this. He makes note of how Xavier is more work ethic oriented and how he is quick with the ball.
In contrast, Zane is naturally gifted and has deep charisma but is also making an effort to improve on his work ethos. With help possibly from Target offers this week or Mobileciti, Zane can plug in his Sony earbuds, listen to some music to help get him in the zone to put in more work during his training. 
We reckon the younger brother has a long way to go to reach the levels that Xavier has conquered, despite being on the right track. Let's take a look at how much harder Zane needs to work so that he can take off like older brother Xavier has and match up with his stats.  
Season form for Xavier Duursma
A winger, Xavier Duursma is given his fair share of appraisal for his running ability and his fondness of getting forward and scoring goals. His work on the field speaks for itself. In the eleven games that Xavier has played this season, he has averaged 18.8 disposals, 10.1 kicks, 8.1 handballs, 4.7 marks, 2.6 tackles and 1.0 clearances. For a 21-year-old, those are outstanding statistics. 
Xavier is not an 'all talk and no action' type of person. His stats prove it all, and not to forget his work ethic. At the end of 2020, in the prelim finals, Duursma suffered ligament damage and a knee injury contributing to his team facing a bitter defeat. The Port Adelaide midfielder promised to come back better than before and help his team try and make it to the Grand final. 
Zane Duursma form
With Xavier's statement, Zane has lots of work to do, and he is on that path. His parents applaud him for the bit of progress he is making, and his newly adopted ethics are sure to get him the footy. Given his current form, Zane is eyeing the 2023 National Draft and is very confident to make it. The youngster is a wonder; in one game against Yinnar, he kicked five goals in just one quarter and scored three winning goals in another game. Against Toora, he kicked four goals and another three in the series against Tarwin. 
The Duursma brothers are a force to be reckoned with, their potential is spectacular, and without a doubt, Zane Duursma will take off like older brother Xavier.