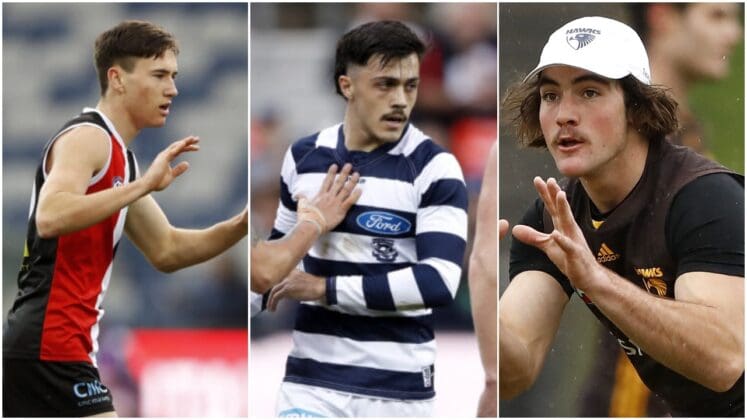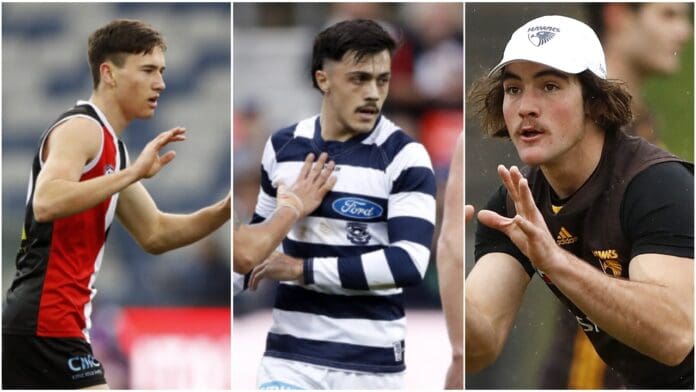 Rookie-listed players have begun to come in all shapes and forms as clubs continue to experiment with the AFL's list loopholes.
Veterans have begun to move to their club's respective rookie lists to aid list management, seeing more reliance on players falling under a category once seen as part-time supplemental selections.
With some instances seeing incumbent players penned to rookie contracts, we take a look over how each side utilised their rookies last year and what the beginning of this season had shown us.
Here's how your club relies on its rookie-listed players...
Adelaide
2021 Games: 81
2022 Games (so far): 5
The Crows utilised more minutes from their rookie-listed players than any other club last season, with their 81-game total coming thanks to Ben Keays and Jordon Butts, who both featured in all 22 games in 2021.
Butts remains an integral part of Matthe Nicks' side while still carrying the rookie tag, while fellow defender Nick Murray has been a fruitful selection since joining through the Supplemental Selection Period last year.
2022 Rookies: James Borlase, Jordon Butts, Ben Davis, Nick Murray, Tariek Newchurch, Patrick Parnell, Kieran Strachan
Brisbane
2021 Games: 48
2022 Games: 0
Retired defender Grant Birchall pulled most of the weight for the Lions rookies last season, playing 23 games in his final year in the league. James Madden and Rhys Mathieson also added to the tally, with the pair remaining as rookies in 2022.
So far this season the Lions haven't looked toward any of their six rookie-listed names, having only relied on 24 players across the opening three rounds of the season.
2022 Rookies: Mitch Cox, Kalin Lane, James Madden, Rhys Mathieson, Carter Michael, Uosis Deividas
Carlton 
2021 Games: 73
2022 Games: 9
The Blues were another club that found themselves relying on senior names in rookie spots last year, with Eddie Betts playing the most games of any rookie-listed player.
Matt Kennedy and Josh Honey were promoted to the senior list for 2022, with the Blues moving midfielder Lochie O'Brien to their rookie list for this season.
Having been more reliant than most on their rookie-listed players last season, that trend looks on course for Carlton this season, having seen four players from their list used across the opening three rounds.
2022 Rookies: Domanic Akuei, Jordan Boyd, Matt Cottrell, Oscar McDonald, Alex Mirkov, Lochie O'Brien, Matt Owies, Luke Parks
Collingwood
2021 Games: 36
2022 Games: 7
With the serviceable John Noble on the Magpies' rookie list last season, the wingman played 22 of Collingwood's 36 rookie-listed games, with Jack Ginnivan and Tom Wilson sharing a handful of appearances.
The trio look sure to see the Magpies surpass their tally of 36 games from last season, while uncapped defender Charlie Dean and mid-season draftee Ash Johnson also firm for senior appearances in 2022.
2022 Rookies: Aiden Begg, Isaac Chugg, Charlie Dean, Jack Ginnivan, Ash Johnson, John Noble, Tom Wilson
Essendon
2021 Games: 64
2022 Games: 7
The Bombers have leaned on the Supplemental Selection Period across the past two years to bolster their rookie list, with Kaine Baldwin, Nic Martin, Tex Wanganeen and Alex Waterman among those having joined through the pre-season window.
The quartet look certain to feature across the course of this season, with senior coach Ben Rutten having already deployed all four of his promising rookies in the opening few rounds of 2022.
2022 Rookies: Kaine Baldwin, Sam Durham, Tom Hird, Cian McBride, Patrick Voss, Alec Waterman, Nic Martin, Tex Wanganeen
Fremantle
2021 Games: 68
2022 Games: 7
Dockers forward Lachlan Schultz could be the pick of the bunch among the AFL's rookie-listed cohort, having been a key piece of Justin Longmuir's attack across the past 12 months.
Josh Treacy has emerged as another bargain rookie recruit, while Bailey Banfield, Connor Blakely and Mitch Crowden all find exposure at AFL level.
2022 Rookies: Bailey Banfield, Connor Blakely, Mitchell Crowden, Lachlan Schultz, Josh Treacy, Karl Worner
Geelong
2021 Games: 65
2022 Games: 6
The Cats will only have four rookie-listed players this season, two of which have staked their claim as household names among the club. Forward Brad Close has quickly emerged as a threat in attack against any opposition in his short spell with the club.
Outside of Close and Atkins, the Cats are unlikely to rely on tall rookie Paul Tsapatolis or first-year signing Ollie Dempsey, with spots in Chris Scott's side hard to come by.
2022 Rookies: Tom Atkins, Bradley Close, Ollie Dempsey, Paul Tsapatolis
Gold Coast 
2021 Games: 15
2022 Games: 3
Despite having more rookie spots than any other club, the Suns aren't as reliant on their supplemental recruits. Departed trio Zac Smith, Jarrod Harbrow and Jacob Townsend were the only contributors for the Queensland club last year.
In 2022, ex-Blue Levi Casboult looks to be the standout option for Stuart Dew, having been the only required rookie across the opening three rounds. SSP recruit James Tsitas firms as a potential feature for the Suns after moving from the SANFL in the pre-season.
2022 Rookies: Sandy Brock, Levi Casboult, Matt Conroy, Jez McLennan, Ned Moyle, Patrick Murtagh, Rhys Nicholls, Hewago Oea, Bodhi Uwland, James Tsitas
Greater Western Sydney 
2021 Games: 75
2022 Games: 4
A number of known names in the Giants' lineup remain on rookie contracts, with Daniel Lloyd, Jake Stein and Zach Sproule all having played their part in a strong campaign for Greater Western Sydney last season.
2021 Mid-Season draftee James Peatling has begun this season as a bright spark for Leon Cameron, with the Giants set to be among the top sides in utilising their rookie players again this season.
2022 Rookies: Callum Brown, Cooper Hamilton, Daniel Lloyd, James Peatling, Will Shaw, Zach Sproule, Jake Stein, Jacob Wehr
Hawthorn
2021 Games: 53
2022 Games: 3
The Hawks struck gold throughout last year's recruitment windows, having plucked Lachie Bramble via the SSP while mid-season selection Jai Newcombe has had an instant impact in his short tenure in the brown and gold.
The pair looks like mainstays in Sam Mitchell's planning, while uncapped quartet Ned Long, Fionn O'Hara, Jack Saunders and Jackson Callow will continue to hone their crafts in hope of debuts.
2022 Rookies: Lachlan Bramble, Jackson Callow, Ned Long, Jai Newcombe, Fionn O'Hara, Jack Saunders
Melbourne
2021 Games: 31
2022 Games: 0
The Demons recruitment team would have been over the moon with the rapid development of midfielder James Jordon, who played 25 of the club's 31 games among their rookie-listed personnel.
So far this season Melbourne hasn't been forced to rely on reinforcement from their rookie list, with competition for spots in Simon Goodwin's 22 at an all-time high.
2022 Rookies: Mitchell Brown, Kade Chandler, Majak Daw, Judd McVee, Andy Moniz-Wakefield, Deakyn Smith, Daniel Turner
North Melbourne
2021 Games: 19
2022 Games: 2
The Kangaroos have two more senior figures listed as rookies for this season, with ex-Crow Tom Lynch and wingman Jared Polec not making the senior cut for 2022.
North Melbourne had the third smallest tally of rookie games last season, with 2022 having only seen Polec feature among the cohort.
David Noble is sure to place a focus on the long-term development of several rookie selections, namely 2021 Mid-Season Draft No.1 pick Jacob Edwards.
2022 Rookies: Jacob Edwards, Kyron Hayden, Thomas Lynch, Matthew McGuinness, Jared Polec, Patrick Walker
Port Adelaide
2021 Games: 16
2022 Games: 2
The Power's band of rookies haven't been a large focus of selection for Ken Hinkley, having only seen three players utilised last season, while 2022 looks to follow a similar trend.
Jed McEntee remains the only capped player to remain on the club's rookie list from last season, while the Power have only gotten games out of the Mid-Season draftee and Sam Mayes across the opening three rounds.
Former Roo Trent Dumont will press for selection at his new club, while Jake Pasini and Taj Schofield remain on the periphery when it comes to senior selection.
2022 Rookies: Trent Dumont, Sam Mayes, Jed McEntee, Jake Pasini, Taj Schofield
Richmond
2021 Games: 77
2022 Games: 9
The Tigers' rookie group have several players who commonly feature at senior level, with Matthew Parker, Marlion Pickett, Jake Aarts and Ben Miller having already made appearances in 2022.
Utility Sydney Stack is also among the Richmond rookie list, with the Tigers having relied on the second-most games from rookies last season, tallying 77 matches.
2022 Rookies: Jake Aarts, Mate Colina, Ben Miller, Bigoa Nyuon, Matthew Parker, Marlion Pickett, Sydney Stack
St Kilda
2021 Games: 53
2022 Games: 10
Across the opening three matches of this season, the Saints have led the way for rookie matches, having already notched up 10 games between Cooper Sharman, Jack Hayes, Jarrod Lienert, Mason Wood and Darragh Joyce.
Should Brett Ratten's early-season reliance on Hayes, Lienert and Wood continue, the Moorabbin club is sure to surpass its tally of 53 games in a matter of weeks.
2022 Rookies: Max Heath, Darragh Joyce, Josiah Kyle, Jack Peris, Cooper Sharman, Mason Wood, Jack Hayes, Jarrod Lienert
Sydney 
2021 Games: 49
2022 Games: 9
Ex-Saint Paddy McCartin headlines an exciting group of rookies at the Swans, with the forward-turned-defender already one of the stories of this season.
Swingman Hayden McLean and small forward Sam Wicks are also sure to hold down key roles for the Bloods as they look on course to dwarf their games tally among rookies from last season.
2022 Rookies: Robbie Fox, Lachlan McAndrew, Hayden McLean, Barry O'Connor, Marc Sheather, Lewis Taylor, Sam Wicks, Patrick McCartin
West Coast
2021 Games: 30
2022 Games: 8
Having had to rely on 38 players across the opening three rounds of the season, the Eagles have already set a fast pace for their own reliance on rookie-listed players.
Recruits Hugh Dixon and Patrick Naish have quickly made their mark on Adam Simpson's side, while Jamaine Jones has found career-best form this season.
Connor West, Luke Strnadica and Tom Joyce will also warrant time at senior level, likely seeing the Eagles record an increased tally on their rookie-listed games total from 2021.
2022 Rookies: Hugh Dixon, Jamaine Jones, Luke Strnadica, Zane Trew, Connor West, Patrick Naish, Thomas Joyce
Western Bulldogs
2021 Games: 64
2022 Games: 5
The Dogs had seven rookie-listed players deployed last season, with SSP selection Anthony Scott leading the way with 21 appearances.
The Footscray product remains on Luke Beveridge's rookie list, while Roarke Smith, Jordon Sweet and Lachlan McNeil are also set to add to their respective games tallies.
2022 Rookies: Buku Khamis, Robbie McComb, Lachlan McNeil, Charlie Parker, Cody Raak, Anthony Scott, Roarke Smith, Jordon Sweet