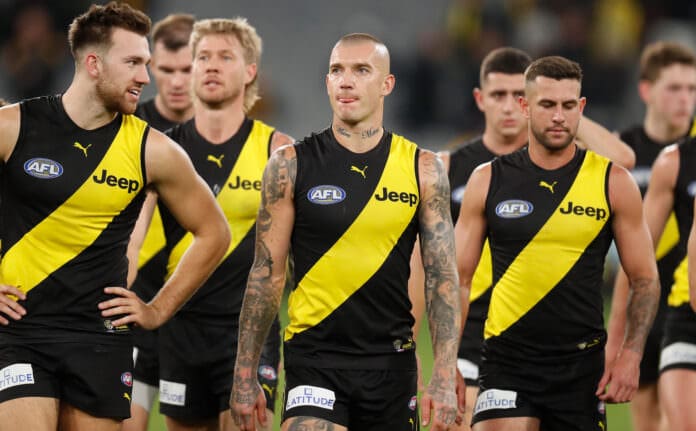 As the AFL world slowly recovers from the chaos of Round 1, Richmond finds itself in unfamiliar territory as it prepares to host the GWS Giants at the MCG on Sunday.
For the first time in a decade, the Tigers found themselves on the losing side of the traditional opening round match-up with the Blues.
Damien Hardwick's men were listless in the face of a fourth-quarter Carlton onslaught that was highlighted by seven consecutive goals after Richmond kicked the first of the term.
Richmond's midfielders were doormats to the likes of Patrick Cripps, Adam Cerra and Matthew Kennedy, who ran rampant and put into question - already - the viability of the Tigers' midfield, which was without midfielder Dion Prestia after he was subbed out earlier in the contest due to a hamstring ailment.
And that's all it took for SEN SA Breakfast's, Kane Cornes.
Cornes, renowned for his outlandish and (sometimes) pre-mature remarks, doesn't need to see any more to declare the Tigers dead in the water in 2022.
"This isn't for me an overreaction to Round 1," Cornes said on Tuesday.
"This has been building, they've won three out of the last 10 (premierships), their best players always get injured, and their best players are old, now that's the price you pay for success.
"If someone said to me your team is going to win three flags in the next 20 years I would take it, let alone three flags in the last six years and with that, you pay a bit of a price … so I think the era is over," he finished.
Cornes, while typically off the mark with his way-too-early proclamations, may not be too far off this time around.
While it goes without saying that it's too early in the season to make definitive judgements about any clubs, this Sunday against the Giants feels like a very important fixture for Richmond.
GWS, reeling after being bested by the superior Swans, is an opponent the Tigers are used to toppling; especially on the MCG.
Win, and suddenly the season outlook is brighter and more optimistic. Lose, and Richmond's situation becomes immediately more alarming.
Only time will tell which headline comes out of Sunday's battle, however, history suggests that Cornes will have something to say either way.