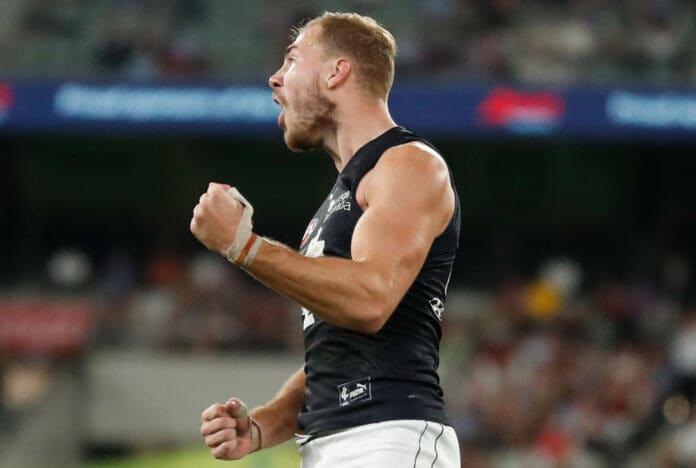 With another four goals over the weekend, Harry McKay has increased his lead in the Coleman Medal race to ten more than his next closest opponent.
In a breakout season for the forward, McKay finds himself on 52 goals for the season playing in 17 matches.
With the injury setbacks to fellow tall forwards Charlie Curnow and Mitch McGovern, McKay has had to take over the number one forward role. Despite facing the opposition's best defenders every week, he has still managed to score an average of 5 times per game, kicking 3.1 goals and 1.8 behinds a week.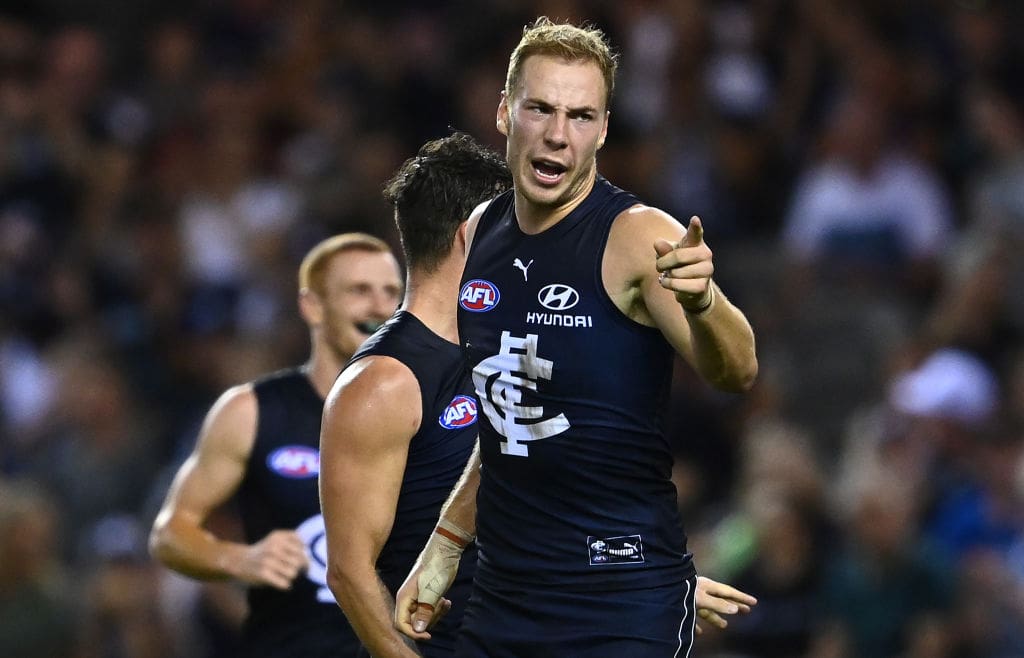 With just five rounds remaining of the premiership season it appears unlikely that anyone will be able to catch up to big Harry, and at just 23-years old and in his fifth season, he is yet to reach the prime of his career.
With his likely 2021 Coleman Medal, McKay has already established himself as one of the league's best forwards. His trajectory is stacking up to some of the best forwards of the past decade.
Going on his 2021 averages if the big left-footer manages to play the remainder of the season he is projected to have 68 goals by the end of round 23.
When comparing to other recent forwards, only Lance Franklin (4.5 goals per game) and Jack Riewoldt (3.6) have managed to average more goals before their fifth season of football.
They are also the only two forwards to obtain a Coleman Medal before their fifth season with both of them winning the award in their fourth season. They were 21 and 22 years of age respectively.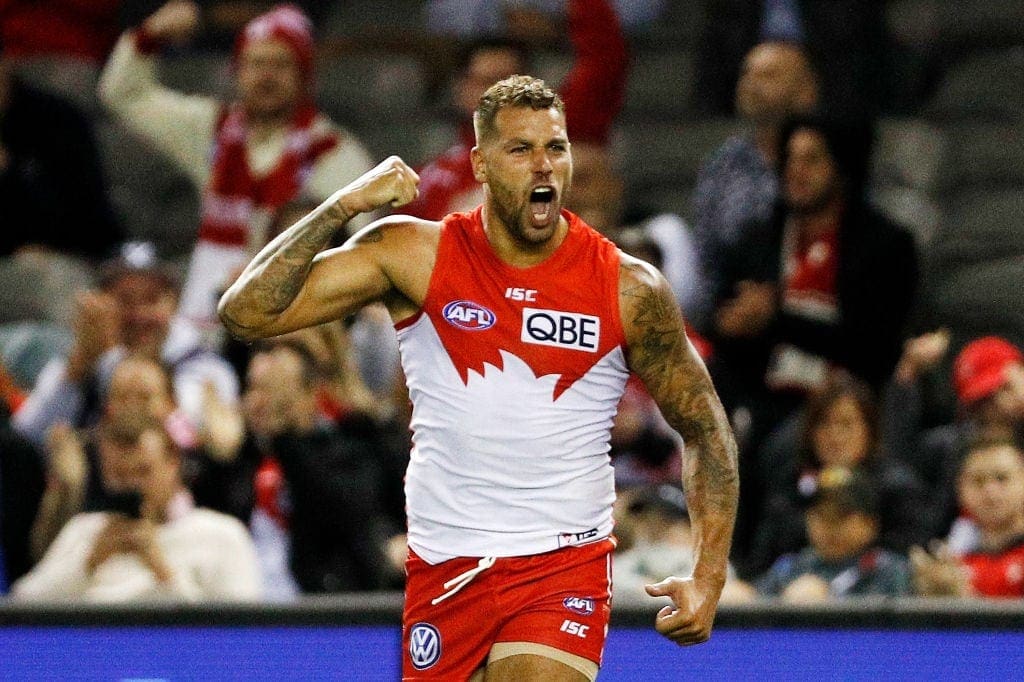 Jeremy Cameron and Jarryd Roughead both managed to average 2.7 goals in their fifth year but failed to win the Coleman during those seasons. The other two forwards to win the award in the past decade (Tom Hawkins and Josh J. Kennedy) both kicked under 2 per game in their fifth seasons.
McKay is already scoring at an elite level. Based on the improvements seen by some of the game's best forwards, we could see those averages increase even further in the years to come.
Another area where McKay has great strength is his marking - in particular contested situations. For the season he has 5.8 marks per game, with 2.7 of them being contested.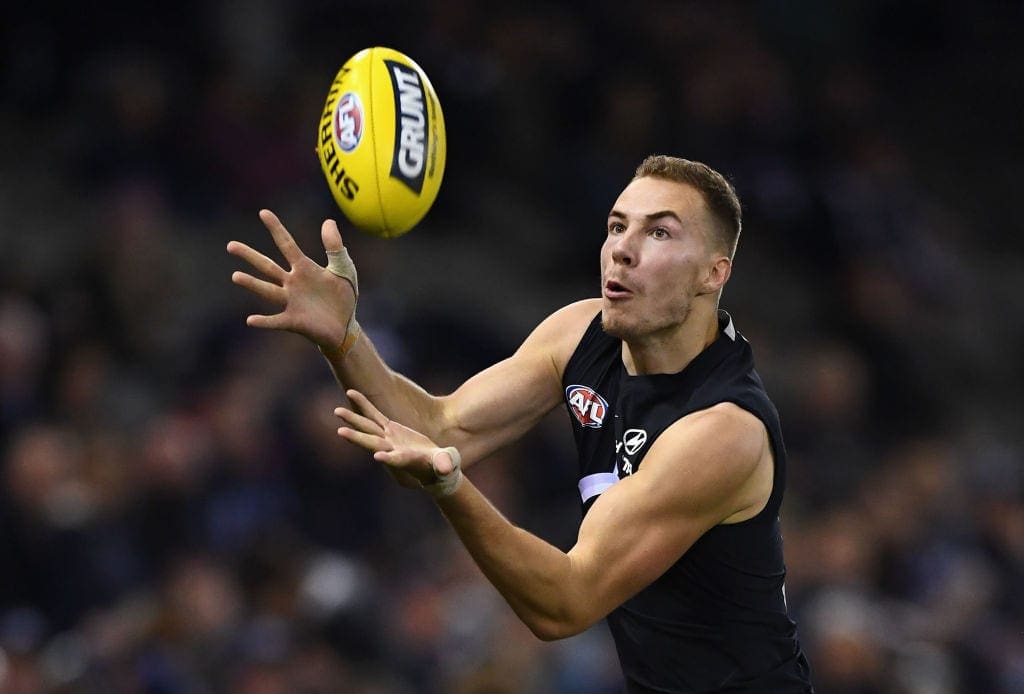 Lance Franklin (6.3) and Josh J. Kennedy (5.9) are the only listed forwards that have managed to take more marks per game before their 5th season in the league.
None of them managed to take more contested marks than Harry, whose 2.7-a-game record leads all the other aforementioned forwards.
While his contested marking is elite, it is relied on quite heavily for forward 50 opportunities.
An increase of uncontested marks will help increase his productivity and durability. This was seen when Harry was subbed out against West Coast for failing the concussion test after a collision in a marking contest.
Carlton doesn't generate consistent looks for the forward with multiple leads a game not being rewarded due to poor forward 50 entries. In the last quarter against Collingwood, the Blues were able to hit his leads, which led to four last quarter majors.
One of the major strengths of the league's premier forwards is their durability and consistency over the course of their careers. Being able to string together continual successful seasons helped all these forwards improve their craft and build up their career tallies.
The only Coleman Medal winner since Buddy won in 2008 to have less than 550 career goals is Jeremy Cameron. He is still just 28-years old however and will likely reach that mark before the end of his career.
While injury hasn't played a large part at the beginning of his career, staying healthy will be a major factor in how great he can become. Scoring is on the decrease with big bags of goals being harder to come by.
For Harry to have over 550 goals and be amongst the best in the next decade of forwards, he will need to elongate his career by increasing his uncontested numbers. Recent history does suggest he will manage to reach those milestones if he does win the Coleman this year.
Another area that McKay can look to improve is his disposals, as he currently finds himself below the other star forwards.
He is the only forward mentioned to average under 10 disposals per game, currently getting 9.5 per match.
Josh J. Kennedy is the next lowest with 10.9 per game, with the other forwards averaging over 12. Lance Franklin leads the pack with 15.4.
While the difference is small it demonstrates one of the main skill sets that currently separates the best forwards of the decade with McKay. All of these forwards are able to move up the ground and impact the game when the forward entries dry up.
While forwards in the last century were able to spend large periods of time in the goal square, the game has changed since then. With more positional defence, zones, and spare men back, it has become increasingly important for star forwards to be more well-rounded players.
Harry McKay boots a big one and the Blues fans love to see it 😍

📝 BLOG: https://t.co/kwJm0nLUsC
🔢 MATCH CENTRE: https://t.co/djXVeC7zlp
📺 WATCH #BluesCats on @kayosports: https://t.co/g1rLUONWl9 pic.twitter.com/dCuQGodrBw

— Fox Footy (@FOXFOOTY) July 10, 2021
Being able to generate a contest and impact winning football without kicking goals is the next leap that he can take to move into the upper echelon of key forwards.
The last area where McKay finds himself behind the other star forwards is team success. While a forward cannot win games by themselves, they are able to have a significant impact on their team's success.
While you cannot blame McKay for Carlton's recent underwhelming seasons, if the Blues continue to miss finals over the next few years it will begin to impact his legacy. All of the other major key forwards managed to plays finals, making it to the grand final at least once throughout their careers.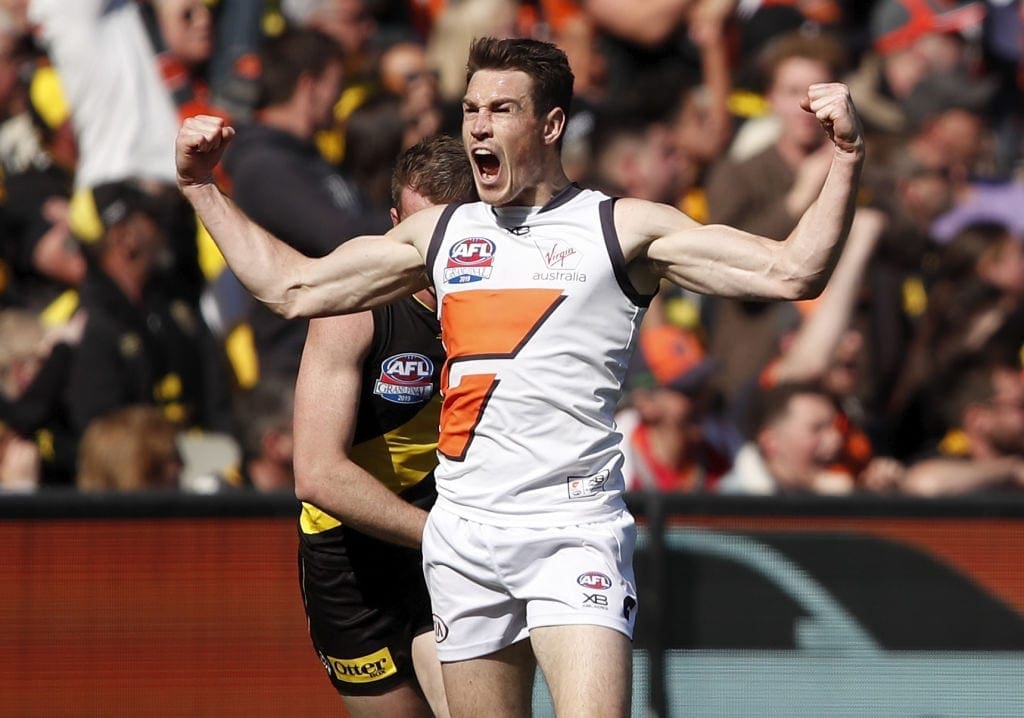 Other star forwards needed to find compromises and make changes to their game in order to find team success. Jack Riewoldt for example won all of his Coleman medals in unsuccessful Richmond seasons.
Instead of chasing individual honours he shared the burden of the scoring load which unlocked his side's potential. In the past four seasons Jack's only Coleman came in the season Richmond failed to win the premiership.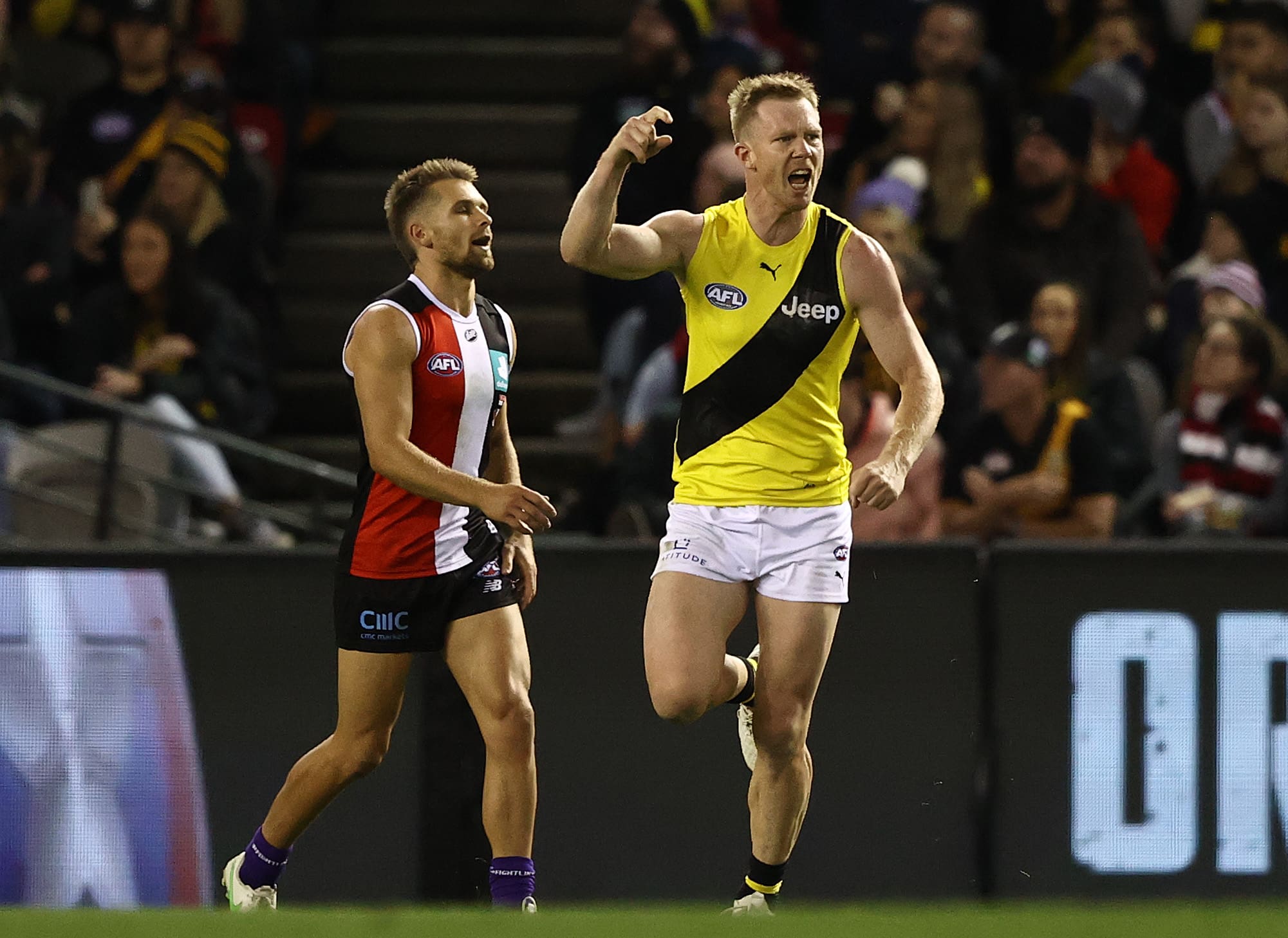 Jarryd Roughead is another forward who sacrificed his touches and individual milestones to allow Buddy Franklin to be the star. This was evident as the first year without Franklin he managed to win the Coleman medal.
This sacrifice could be what McKay needs to do to help the Blues reach the top 8. While carrying the scoring load this season, his side has been unable to seriously threaten to make the finals.
Due to his breakout year, McKay could easily expect the same opportunities in the upcoming seasons. While this could lead to multiple Coleman Medals, it likely won't lead to the Blues being premiership threats.
If Charlie Curnow is able to improve and regain his health, a two-headed forward unit might be the best for the club and both players. It would require sacrifice from both players similar to Buddy and Roughead, or Riewoldt and Lynch, but could be the secret to unleashing one of the most potent forward lines in the league.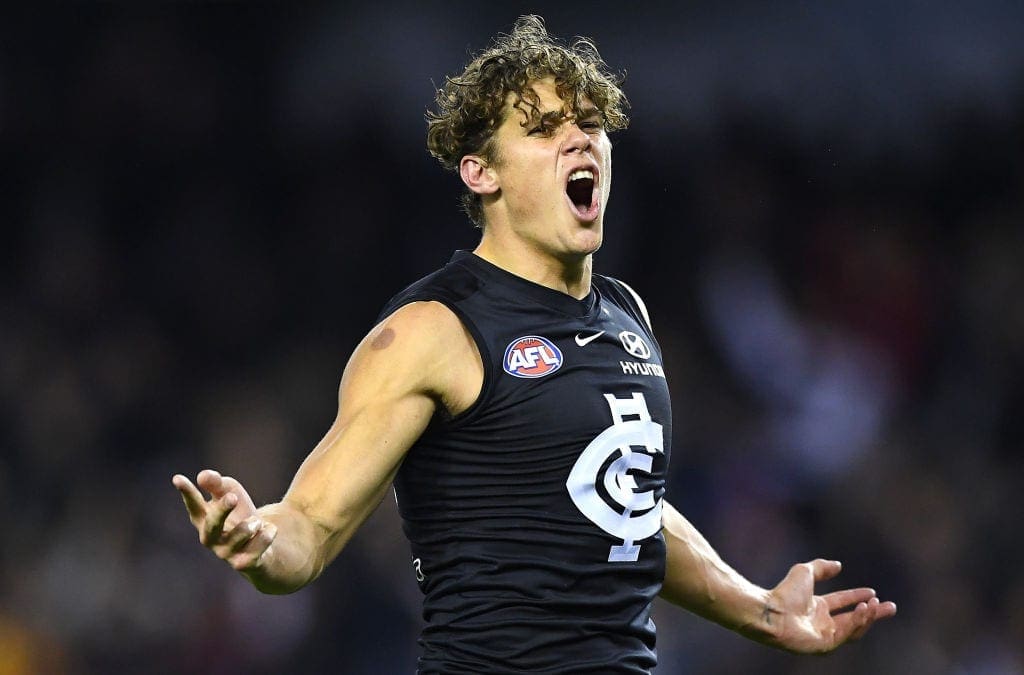 While there are a few areas for Harry McKay to improve on, he is still one of the most exciting forwards in the league. While reaching the level of Buddy Franklin seems incredibly unlikely, he could be not far behind.
If he continues with his current progression and progress, he could find himself in the same conversations as Cameron, Roughead, Hawkins, Kennedy, and Riewoldt.
Harry McKay
| | | |
| --- | --- | --- |
| Stats | 5th Season/1st Coleman* (Current at 17 games) | 5th Season/1st Coleman* (Projected 22 games) |
| Goals total (per game average) | 52 (3.1) | 68 (3.1) |
| Behinds total (per game average) | 31 (1.8) | 40 (1.8) |
| Marks total (per game average) | 98 (5.8) | 128 (5.8) |
| Contested Marks (per game average) | 46 (2.7) | 59 (2.7) |
Lance Franklin
| | | |
| --- | --- | --- |
| Stats | 5th Season (2009, 22 years old) | 1st Coleman (2008, 21 years old) |
| Goals total (per game average) | 67 (3.2) | 113 (4.5) |
| Behinds total (per game average) | 46 (2.2) | 88 (3.5) |
| Marks total (per game average) | 109 (5.2) | 158 (6.3) |
| Contested Marks (per game average) | 37 (1.8) | 64 (2.6) |
Jack Riewoldt
| | | |
| --- | --- | --- |
| Stats | 5th Season (2011, 23 years old) | 1st Coleman (2010, 22 years old) |
| Goals total (per game average) | 62 (2.8) | 78 (3.6) |
| Behinds total (per game average) | 26 (1.2) | 39 (1.8) |
| Marks total (per game average) | 102 (4.6) | 123 (5.6) |
| Contested Marks (per game average) | 41 (1.9) | 54 (2.5) |
Jarryd Roughead
| | | |
| --- | --- | --- |
| Stats | 5th Season (2009, 22 years old) | 1st Coleman (2013, 26 years old) |
| Goals total (per game average) | 51 (2.7) | 72 (2.9) |
| Behinds total (per game average) | 27 (1.4) | 34 (1.4) |
| Marks total (per game average) | 87 (4.6) | 112 (4.5) |
| Contested Marks (per game average) | 21 (1.1) | 28 (1.1) |
Josh J. Kennedy
| | | |
| --- | --- | --- |
| Stats | 5th Season (2010, 23 years old) | 1st Coleman (2015, 28 years old) |
| Goals total (per game average) | 41 (1.9) | 82 (3.3) |
| Behinds total (per game average) | 19 (0.9) | 55 (2.2) |
| Marks total (per game average) | 130 (5.9) | 168 (6.7) |
| Contested Marks (per game average) | 28 (1.3) | 39 (1.6) |
Jeremy Cameron
| | | |
| --- | --- | --- |
| Stats | 5th Season (2016, 23 years old) | 1st Coleman (2019, 26 years old) |
| Goals total (per game average) | 53 (2.7) | 76 (3.2) |
| Behinds total (per game average) | 25(1.3) | 50 (2.1) |
| Marks total (per game average) | 72 (3.6) | 157 (6.5) |
| Contested Marks (per game average) | 17 (0.9) | 31 (1.3) |
Tom Hawkins
| | | |
| --- | --- | --- |
| Stats | 5th Season (2011, 23 years old) | 1st Coleman (2020, 32 years old) |
| Goals total (per game average) | 27 (1.5) | 49 (2.3) |
| Behinds total (per game average) | 17 (0.9) | 36 (1.7) |
| Marks total (per game average) | 88 (4.9) | 114 (5.4) |
| Contested Marks (per game average) | 42 (2.3) | 32 (1.5) |