12 seasons into their AFL tenure, the Gold Coast Suns have been an interesting case.
The Queensland side is yet to play finals football, with the club's highest ladder finish being 12th in 2014.
To make matters worse, fellow expansion side GWS, who came into the league a year after, have made the finals five times, and have already played off in a grand final.
In 2022, things are looking bright for the Suns, tallying an impressive campaign and locking away key figures of the club, as well as coach Stuart Dew.
Their recent rise has them truly in finals contention at this very moment.
However, they generally tend to start seasons well and fall off. Still, Can this season finally be the one?
With that in mind, let's cast an eye back to their fledgling days, more specifically the Gold Coast Suns' very first AFL game in Round 2 against the Blues - and ponder the question, where are they now?
Currently Playing
Of the 22 who lined up for that first game in 2011, only four players remain on an AFL list today - Charlie Dixon, Trent McKenzie, Dion Prestia and David Swallow.
Dixon was traded to Port Adelaide at the end of 2015, and has since become an All-Australian in 2020 and a three-time leading goalkicker for the club.
Joining him at the Power at the end of 2017 was former Suns teammate McKenzie.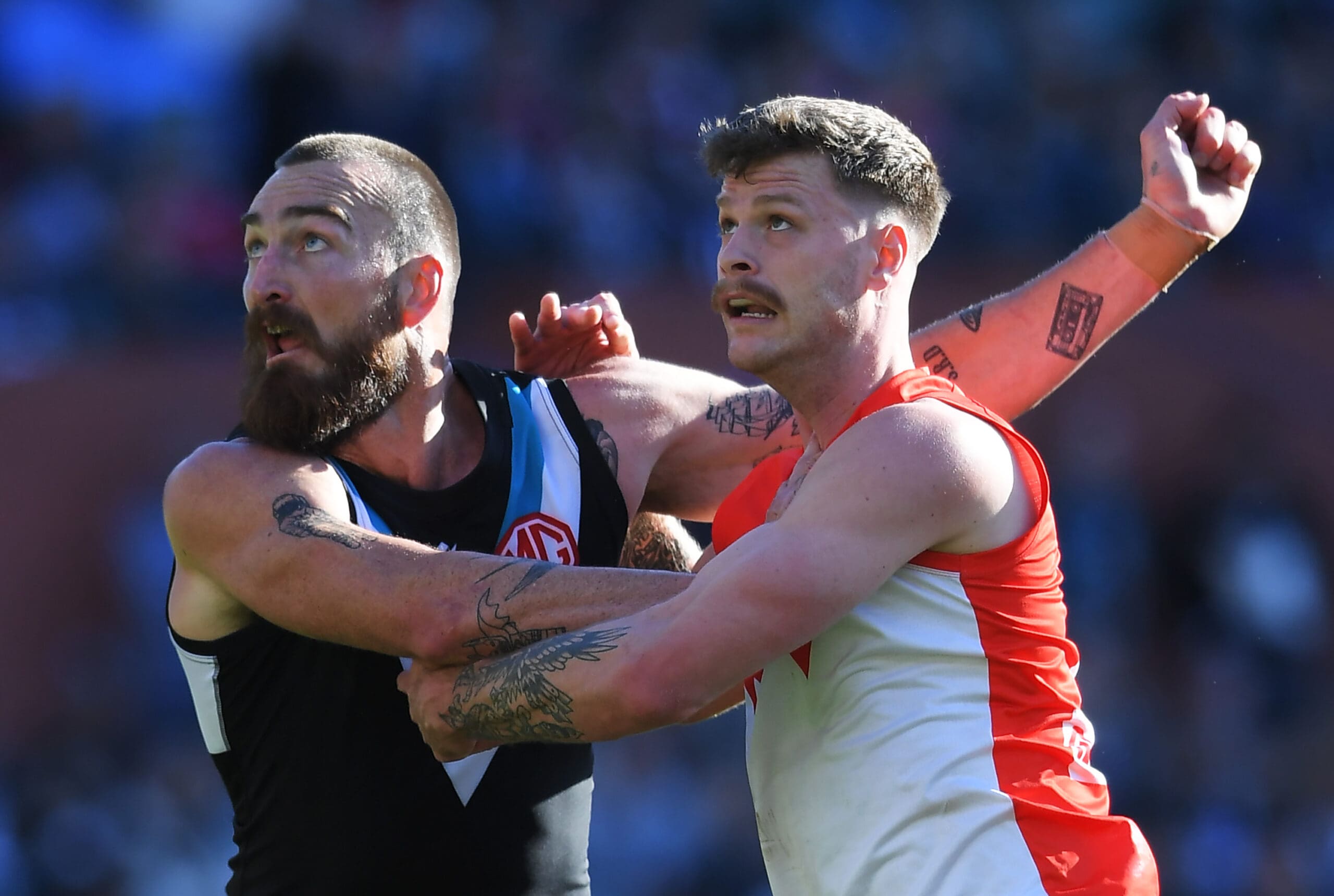 Prestia was one of the Suns' best in his time there, making the 22under22 team twice and was vice-captain from 2014-2016.
At the end of 2016, the top 10 pick was traded to Richmond, winning a premiership in his first season. Two more premierships in 2019 and 2020 and a club best and fairest can be found on his resume.
Meanwhile, Swallow remains the only inaugural member of their first side still at Carrara. A great servant to the club, the Western Australian won a best and fairest in 2014 and served as co-captain from 2019-2021.
No Longer Playing
Seb Tape
Tape started his career off well, playing 13 games in his first season.
He played another 10 the following year before a severe ACL injury required a full knee reconstruction.
His return in 2013 saw him play seven games, giving the club much-needed stability down back.
From then on though, the South Australian native never really broke into the side, just managing 10 games over three years before being delisted in 2016.
Tape stayed in Queensland, joining Southport in the NEAFL, co-captaining them to a premiership in 2018.
While playing football, the Glenelg export completed a Bachelor of Exercise Science and a Master of Physiotherapy at Griffith University.
He continues to play for the Sharks while also working as a physiotherapist at the Living Well Studio.
Nathan Bock
The first AFL-listed player to announce he was joining the Suns was former Crow, Nathan Bock.
The 2008 Malcolm Blight Medal winner (Adelaide best and fairest) was one of the side's best in their very first game, gathering 22 disposals.
He would play 21 games in the first season before injuries restricted him to just six games over the next two years.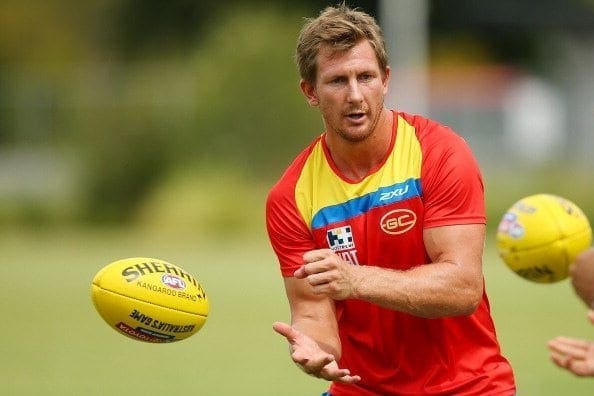 Retiring in 2014, Bock also stayed in Queensland, becoming the senior coach of Southport until 2017.
Currently, he works as an area manager for Scottish distiller and distributor William Grant & Sons.
Campbell Brown
Joining Gold Coast after a nine-year, 159-game career at Hawthorn, Brown had quite an eventful tenure.
In his second game for the Suns, he was suspended for four weeks.
Numerous other suspensions and a pre-season incident where he punched and broke the jaw of teammate Steven May saw his career end with a total of 29 weeks of suspension.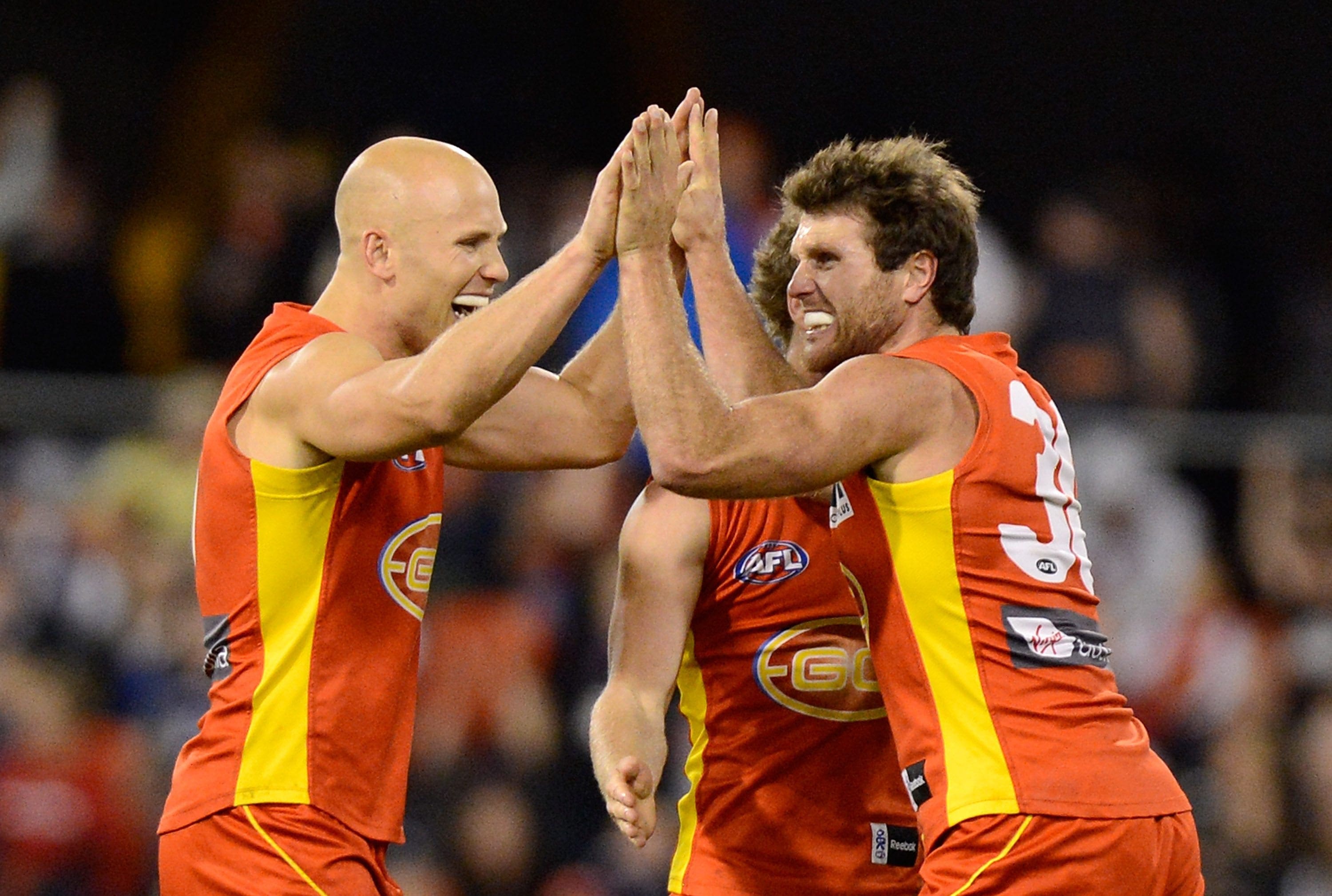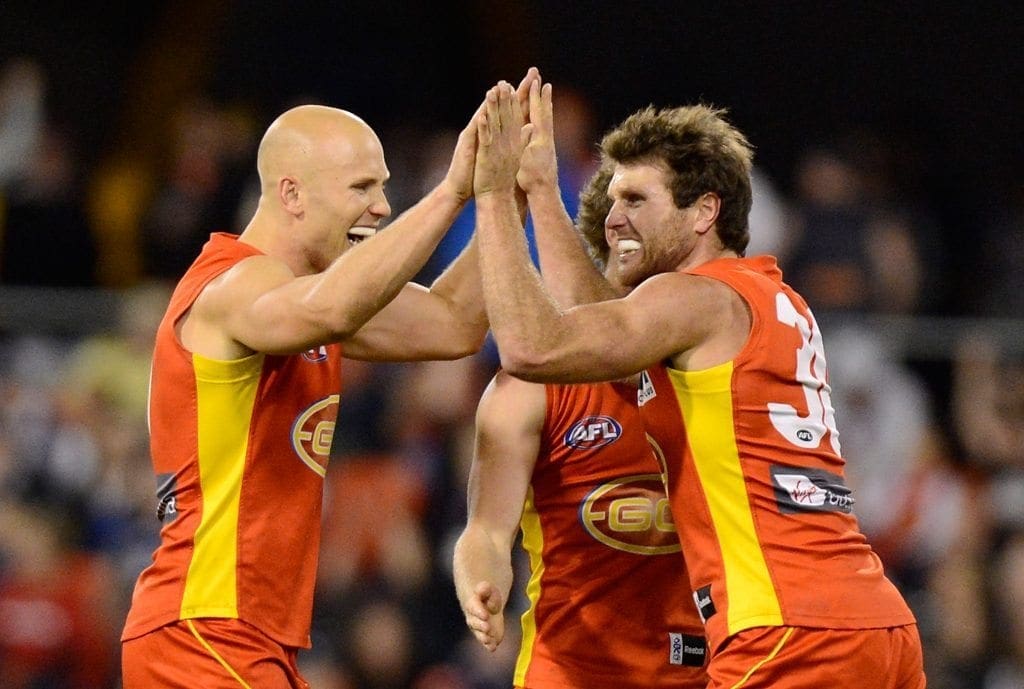 Included in this was a four-week suspension for striking, in what would be his final game in 2013.
The 2008 premiership player is now involved in multiple facets of the AFL media, including commentary, notably for the Seven network.
Jarrod Harbrow
Joining the club just days after losing a prelim final with the Bulldogs in 2010, Harbrow was the fifth uncontracted player to leave for the Suns.
He would go on to become one of the most integral names to represent the expansion side.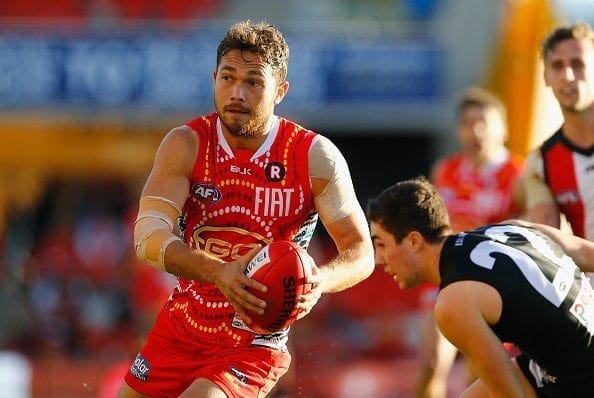 Retiring last year after 262 games, he is the record games holder at Gold Coast (192), and the first to reach 100 there.
The 2018 club best and fairest is now running around in the QAFL for reigning premiers Broadbeach.
Karmichael Hunt
In an experiment that didn't pan out as wanted, the code-jumping Hunt joined the AFL and Gold Coast in 2009.
After a season in the VFL and another four in the AFL, the former Brisbane Bronco left the AFL to return to rugby.
He would play 44 games and kick six goals for the Suns.
Jumping into rugby union, between his NRL and AFL tenure for French team Biarritz Olympique, Hunt also played for the Queensland Reds between 2015 and 2018, and then the New South Wales Waratahs between 2019 and 2020.
The New Zealand native would play one more season in the NRL for the Broncos again, managing two games.
Today, Hunt is the coach for the Souths Logan Magpies' Mal Meninga Cup team, winning the grand final earlier this year.
Nathan Krakouer
Joining Gold Coast from Port Adelaide on a three-year deal, Krakouer was the second uncontracted player to do so after Nathan Bock.
He would play 13 games in the first season but was released later that year due to personal reasons.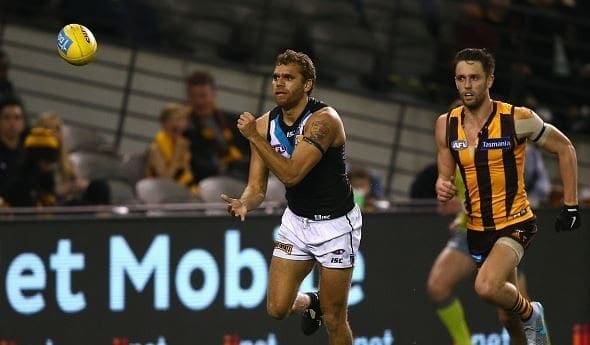 Four years later, he signed with Port Adelaide Magpies in hope of returning to AFL footy. His wish would come true with Power drafting him again.
The Claremont export would go on to play 29 games, a career total of 82, before retiring in 2017.
Today, Krakouer is playing for East Fremantle in the Great Southern Football League, returning to the club last year.
Daniel Harris
The 149-game Kangaroo was clinical in the first game for the Suns, with 30 disposals, nine clearances and a goal to boot.
He would go on to play 11 games for Gold Coast in 2011 before retiring later that year.
These days, Harris is a client director at 460degrees, a cyber security consultancy.
Michael Rischitelli
Winning the Brisbane Lions' best and fairest and then moving to their closest, and newest, rival was Michael Rischitelli.
In the club's first game, Rischitelli was one of the side's best, with 31 disposals, five inside 50s and six clearances.
He would go on to play 132 games for the Suns before retiring in 2019, finishing with 243 total games.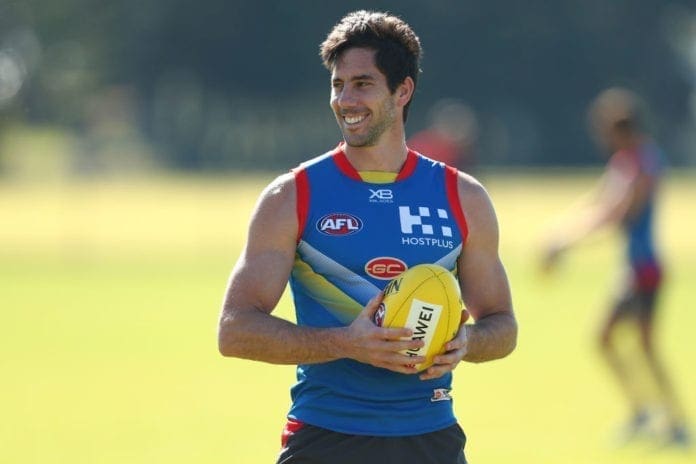 During his playing days, the Western Jets product was an ambassador for domestic violence charities.
After footy, Rischitelli remained in Queensland, moving into real estate, before a stint in business development.
He is currently a partner with a child learning centre, a financial analyst for Living Home Loans and co-founder of Playrpath.
Danny Stanley
Drafted in 2005, Stanley only managed five games for Collingwood before joining Gold Coast in the 2010 Pre-Season Draft.
He would play 83 games before being delisted in 2015.
Stanley was re-drafted as a rookie but failed to play a game in 2016 due to injury, and was subsequently delisted.
Today, the former Geelong Falcon is a real estate agent for Kollosche on the Gold Coast.
Alik Magin 
Making his AFL debut in the club's AFL debut was 19-year-old Alik Magin.
Much like brother Rhys, who only played four games for Essendon, Alik didn't play more than 10 games, eight to be precise.
After his delisting in 2012, Magin played for Bendigo in the VFL before they folded two years later.
More recently he could be seen running out for Sunbury in the Ballarat Football League, that was before he moved back to his home state Queensland last year.
Jared Brennan
Playing 119 games over eight seasons, Brennan was traded at the end of 2010 from the Lions to the Suns.
He would play 54 games in red and gold before the end of 2013.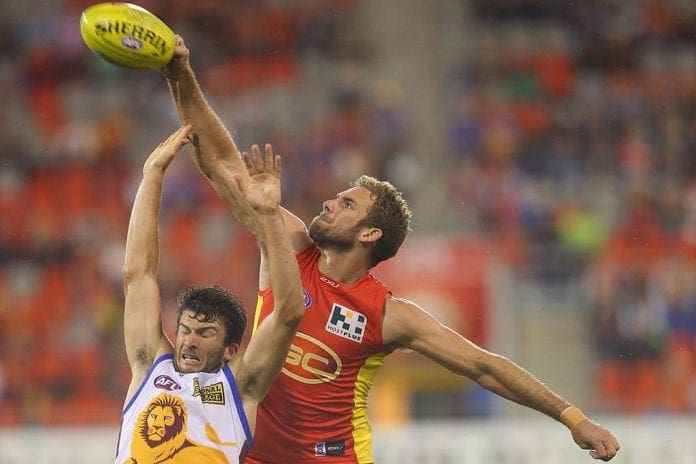 The Darwin native is currently playing for the Wodonga Raiders in the Ovens & Murray Football League.
He spent two seasons, 2018-19, at Henty and despite only playing 10 games, won the Swampies' best and fairest in 2019. He also played a handful of games at Violet Town.
Zac Smith
The player with the distinct honour of scoring the first point in Suns history (with a behind), was Zac Smith.
The ruckman would play 65 games for Gold Coast before he was traded to Geelong in 2015.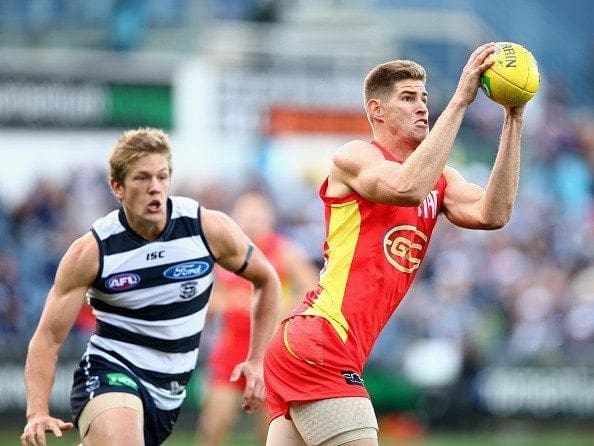 At the Cats, the ruckman ran out 50 times in four years before returning to the Suns.
The Zillmere export managed just nine games before retiring last season.
Brandon Matera
Making his debut in the inaugural Suns game, Matera had a standout first game.
The nephew of Eagles legend Peter, Brandon notched up 14 disposals, nine inside 50s and a goal.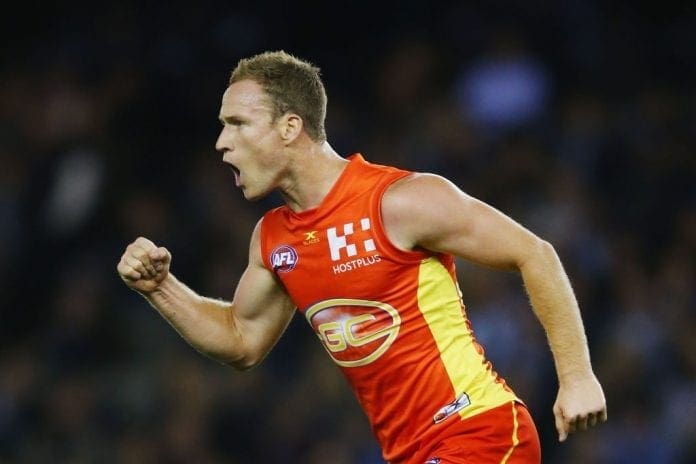 He would play 101 games before getting traded to Fremantle in 2017, where he played another 43 games.
Delisted in 2020 after a career 144 games and 170 goals.
Matera now plays in the WAFL for Subiaco, playing in a flag last year alongside brother Bailey.
Josh Fraser
200-game Collingwood ruckman Josh Fraser was picked by the Suns to be their number one ruck.
He would play 18 games across two seasons before retiring.
Following his playing career, Fraser moved into coaching.
First, he served as coach of the Suns' reserves side in the NEAFL before moving to Carlton in 2016 to be their development coach. This role saw him coach the VFL affiliate Northern Blues, remaining at the club until 2020.
COVID-19 cuts saw him out, but upon the league's recommencement, Fraser remained at the club.
The 1999 No.1 pick has since returned to his first club, where he heads the Academy and ruck coaches.
Gary Ablett
Not much has to be said about arguably the greatest player of this century, Gary Ablett Jnr.
Joining Gold Coast after an already legendary career at Geelong, the 'Little Master' would, unsurprisingly, become the Suns' best player before rejoining the Cats for three more seasons to end his career.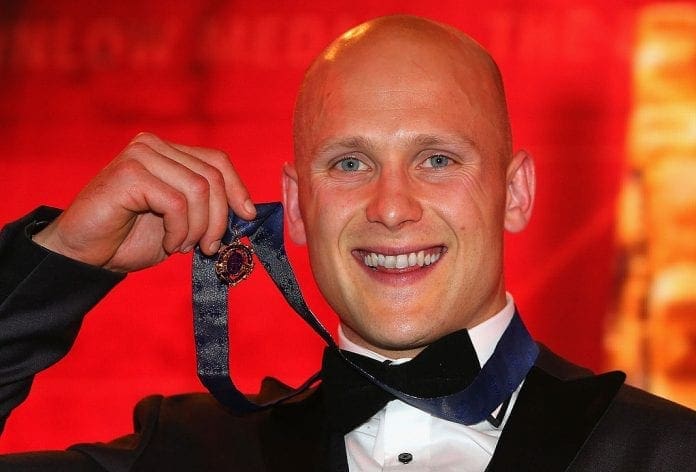 Just to list off some accolades...
Two premierships, two Brownlow medals, eight All-Australians, six club champion awards and five Leigh Matthew Trophies.
Today, Ablett is a retreat consultant at Active Vacay.
Marc Lock
Playing his sole AFL game in the first Gold Coast game was the club's VFL captain, Marc Lock.
Lock played five seasons for Box Hill in the VFL and three in the VAFA with Old Carey Grammarians.
He joined East Keilor in EDFL Division 1 for 2020.
Harley Bennell
Also making his debut in the game, Harley Bennell would have a great showing, with 17 disposals and a goal.
He would play 81 games and kick 92 goals before off-field incidents saw him traded to Fremantle.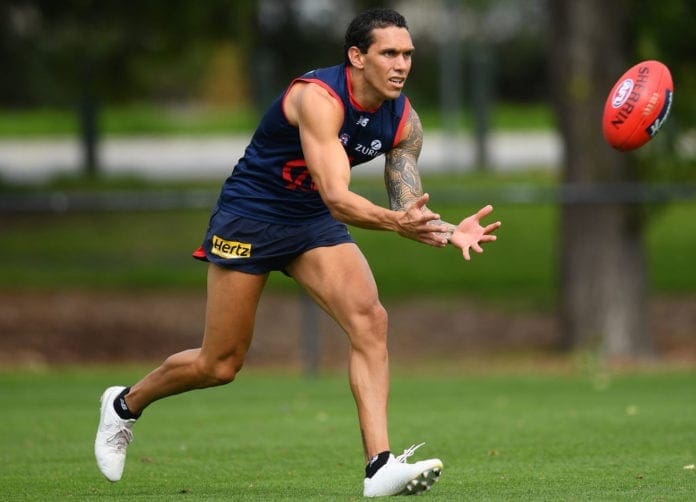 A string of injuries saw him only play two games in four seasons.
Parting ways with the Dockers, Bennell joined Melbourne for season 2020, playing five games before retiring last year.
He has since joined the Mines Rovers in the Goldfields Football League.
Josh Toy
The substitute player for his first game, Josh Toy was one of the Suns' underage recruits.
He played 13 games across two seasons before getting delisted.
Recently played for Aberfeldie in the EDFL Premier Division before moving on to PEGS Football Club.