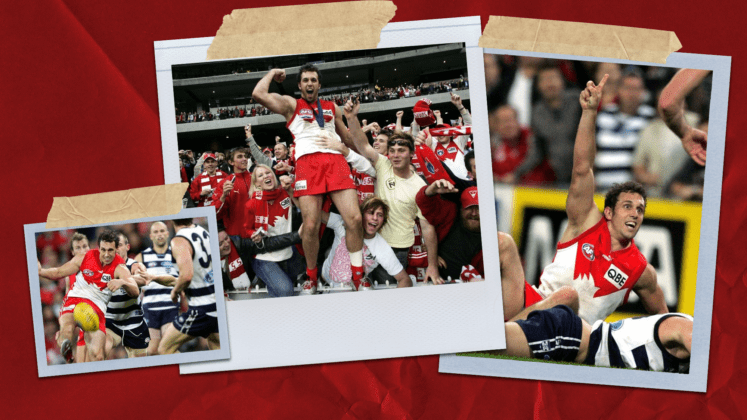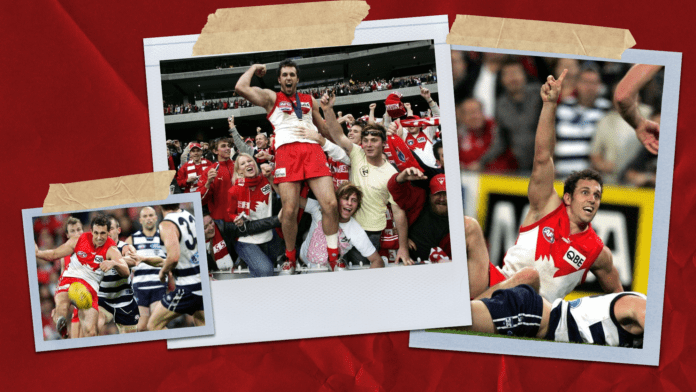 Regrets are an inevitable part of life. They come with the territory of breathing and are a part of the unwritten deal we all sign for the right to exist.
Although some contrition can feel enormous – such as the misery born when a relationship breaks down or after committing a far more criminal act – others are forgotten in the blink of an eye.
In terms of the unpredictable game of football, there are a plethora of scenarios that have made or broken careers.
What if your side picked a different player from a certain draft?
What if your star spearhead had kicked straight when it mattered?
What if a hero had stayed a villain instead?
Well, for fans of every creed we have sought to answer the question that has rankled you for years and kept you up at night for far too long.
We can't promise that we won't open old wounds, as let's face it, that is the entire point of the exercise.
From Adelaide to the Bulldogs, Fitzroy to the Bears, here are every club's biggest 'what if' moments since the dawn of the AFL era in 1990.
OTHER WHAT IFS: Adelaide, Brisbane Bears, Brisbane Lions, Carlton, Collingwood, Essendon, Fitzroy, Fremantle, Geelong, Gold Coast, GWS, Hawthorn, Melbourne, North Melbourne, Port Adelaide, Richmond, St Kilda
Alright, Swans fans. You're up today.
What if Nick Davis never came to save the Swans?
If you utter Nick Davis' name in any pub in South Melbourne and a handful around Sydney, then as sure as night leads into day, you will be met with a shrieking retort of someone channelling Anthony Hudson.
Yes, we all saw Davis swoop at a stoppage in the dying stages of the 2005 semi-final against the Cats, and yes, none of us believed it then either.
Prior to the 9th of September 2005, the former father-son pick who began his AFL life at Victoria Park had failed to set the footy world on fire. Since debuting for the Magpies in Round 1 of the 1999 season until the Swans Qualifying Final loss to the Eagles in '05, Davis had laced the boots on 127 occasions and had slotted 171 majors at a rate of 1.3 per game.
Sure, on the surface, these numbers are more than serviceable, but as we now know, 'serviceable' was replaced with 'heroic' by the semi's final siren.
However, had it not been for a stirring speech from his skipper, the then-25-year-old could easily have been cast in the role of a villain instead.
With Sydney trailing the Cats by almost three-straight kicks at three-quarter time, the hopes that many red and white backers held of breaking a 72-year premiership drought were fading fast.
And with less than three minutes gone on the clock in the final term, these dwindling dreams appeared to have well and truly gone down the drain.
Davis - who had been named by Paul Roos to line up in the forward pocket, and who, at that stage, had only troubled the scorers with a pair of behinds - started the final stanza alongside Geelong defender, David Johnson. But after allowing the bald Cat to waltz the length of the ground to extend Geelong's lead to 23 points, Davis and his Swans looked more like dead ducks.
On the television broadcast, as Johnson was surrounded by celebrating teammates, in the corner of the screen, viewers can see a muddied Brett Kirk jogging towards his defensive arc. His target? A sheepish looking Davis.
In a 2011 interview, the forward who had refused to defend spoke about how his skipper had helped lift his head following his lethargic brain fade.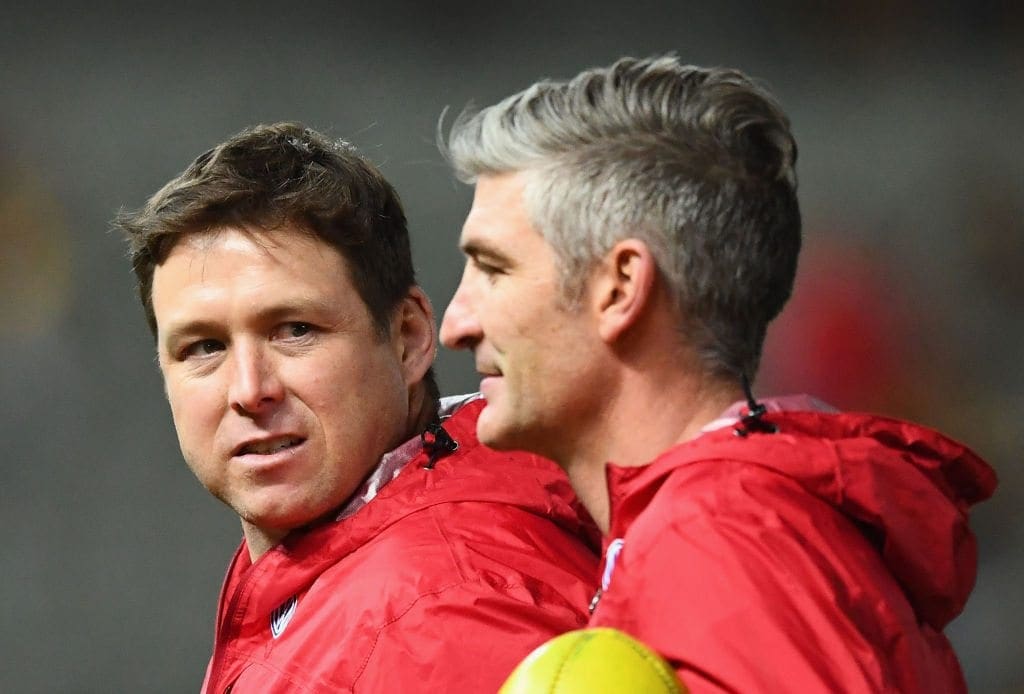 "He [Kirk] wasn't happy," Davis told Swans Media.
"There was a miscommunication between Lewis [Roberts-Thomson] and myself and I buggered it up.
"My man kicked a goal and 'Kirky' came and had a word gave me some words of encouragement, and they obviously worked."
With the Swans, at that stage, trailing by almost four goals with only three of their own posted on the old SCG scoreboard, the time for a comeback was then and there.
After a rushed behind for the Swans a minute after Johnson's jaunt and a further handful of minutes elapsing, Davis, a man with enough finals experience to know what was required, rose to the occasion and pulled his magic wand from his red ankle warmers.
As the clock ticked and the Swans remained stagnant, the Channel Ten commentary team began discussing the enormity of the task ahead of the Harbour City side. Risks were required, but in the eyes of Malcolm Blight, the home side was incapable of adapting their style that late in the game and that late in the season.
With the ball lodged within Sydney's forward arc, Blight began to move the magnets around.
"I reckon you've got to do something radical now," the two-time premiership coach began.
"I reckon you've got to throw Tadgh Kennelly onto the ball…probably Leo Barry. Just change the team around. Change the mix in the middle.
"You have to pick up four or five goals. The way they're playing, they're not going to do it this way."
Although the Hall of Famer's statements originally appeared salient, they would prove unnecessary, as Davis soon silenced Blight with his first major of the night from Row F of the Churchill Stand.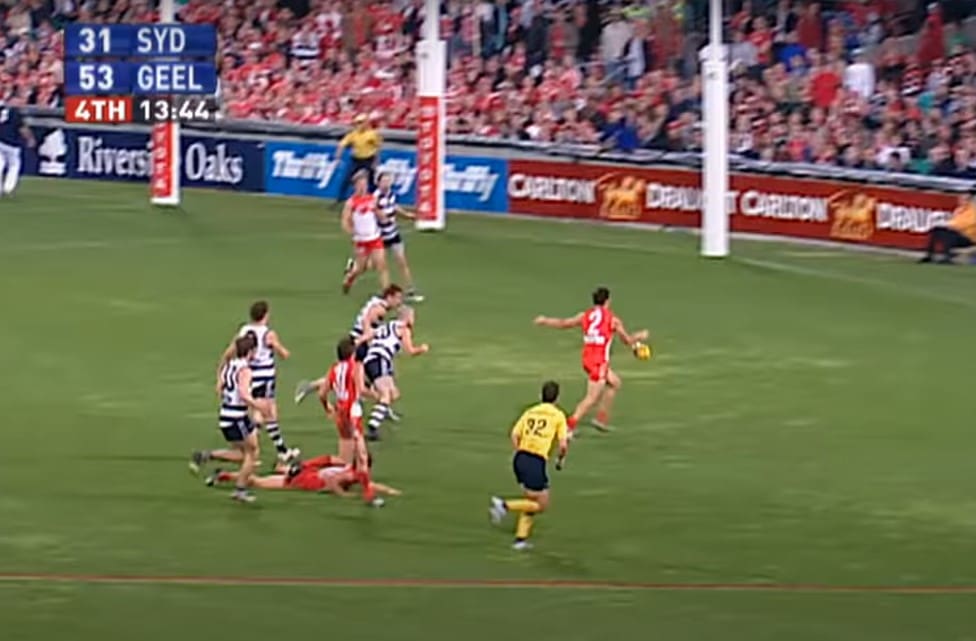 Such was the brilliance of Davis' opening goal, Blight's terseness was u-turned into laughter almost instantly.
One down. Three to go. Sydney still 16 points behind.
Following a Craig Bolton behind and another handful of tense minutes erased, Davis again bobbed up on the end of Ryan O'Keefe's floater inside 50. After lining his body up and running through a set of ballet-like warm-ups, the former second-round draftee slapped the Sherrin halfway up Yabba's hill and snapped the near 40,000 spectators from their slumber.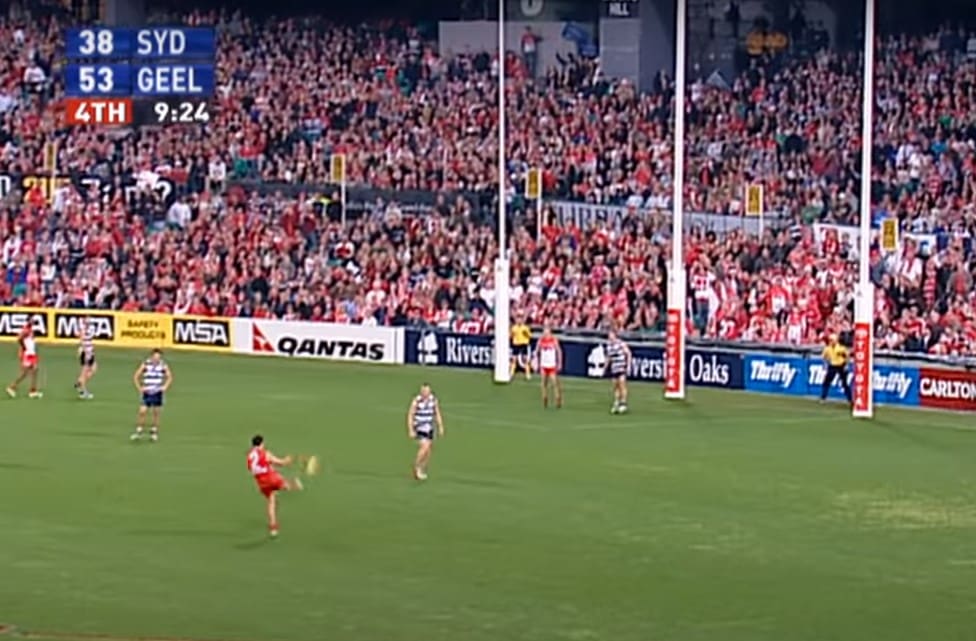 Two down. Two to go. The Swans still nine points adrift
Although he was only halfway there, and the Swans supporters were still living on a prayer, previously gnawn finger nails were once again placed between clenched teeth, as a further 10 minutes ticked off before Davis returned to centre stage.
Despite the fact his father Craig had played 163 games of top-flight Australian Rules Football, Nick Davis grew up playing Rugby League. And en route to his third major in 17 minutes, the in-form man fended Geelong's Darren Milburn like 'Joey' Johns and slapped the Sherrin through in a similar vein to the notorious toe-poker, Eric Simms.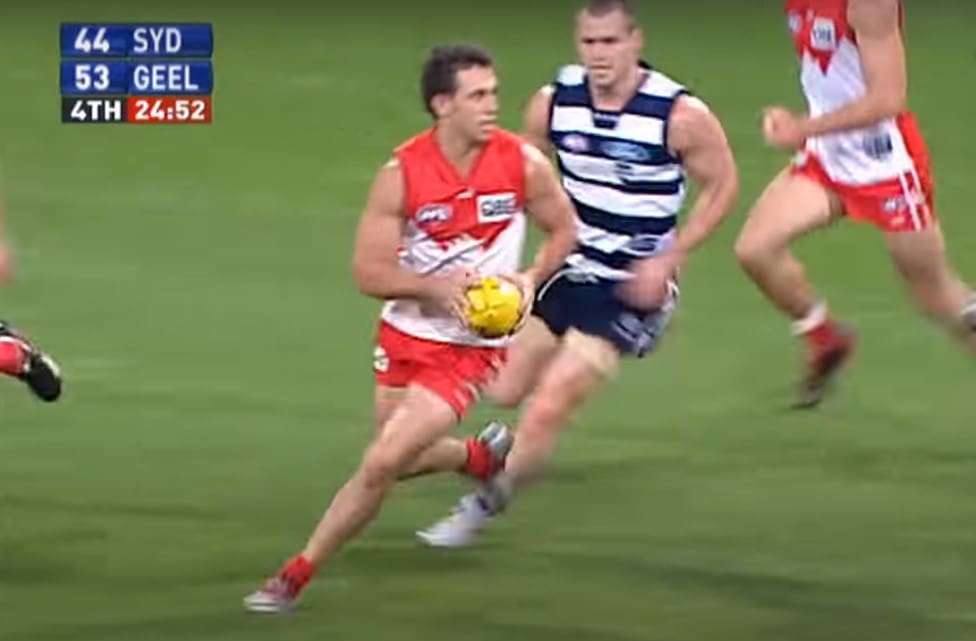 Three down. One to go. Just three points the difference.
Until the Swans' preliminary final win against Essendon in 1996, Melburnians had shown a propensity to snub their noses at those who filled the stands in Sydney, with many believing that they were a different breed to the barrackers that used to converge on the Lake Oval.
Yet, as the timekeepers readied themselves to put an end to the contest, even the routinely tame Member's Stand was rocking like the pit of a Pantera gig.
Lounge room audiences were also thrashing due to commentator, and current match review officer, Michael Christian reaching his audible zenith as time continued to tick beyond the then customary 'five-minute warning'.
Not content just to come close, Davis' teammates continued to mirror his intensity and thirst for victory, whilst conversely, the Cats had started to visibly wilt.
The night, the game and the Cats' season would be capped soon after when Swans ruckman Jason Ball reefed a tap down, Davis delivered for a final time and Anthony Hudson's voice broke despite doubting his eyes.
Siren. Swans by three points.
Should you look, you will find larger comebacks in the annals of Australian Rules Football, however, you won't find too many where the conductor also played every instrument in the orchestra. Nick Davis' one-man-band effort nearly 16 years ago set the Swans' benchmark for the remainder of that drought-breaking September.
But what if he had snapped a string? What if a reed was ruptured? What if his baton was bent?
Having single-handedly eliminated his side's deficit in the space of exactly 20 minutes, Davis deserves the space he owns in every Sydney fan's mind, yet would the narrative have played out as it did in reality had it not been his direct opponent that stretched Geelong's lead early in the final term?
Had it not been David Johnson that delivered what originally appeared a knock-out blow to the Swans chances of survival and advancement, Kirk would have never felt compelled to stride towards Davis and provide what could well be his second most impactful speech of all time.
Had it been Mooney, Ablett, Chapman, Gardiner, Playfair or any other name wearing blue and white hoops that night that had split the sticks, would Davis have felt compelled to pull a Bachman-Turner and switch into overdrive?
If Davis had either loped through the remainder of the contest or completely gone into his shell, any chance of a Swans' win would have stood a snowflake's hope in hell. And even if he had timed his run off a slight delay, Davis' efforts would have likely been in vain.
Should any of these scenarios have played out instead, Sydney's silverware dry spell would have extended into at least a 73rd year.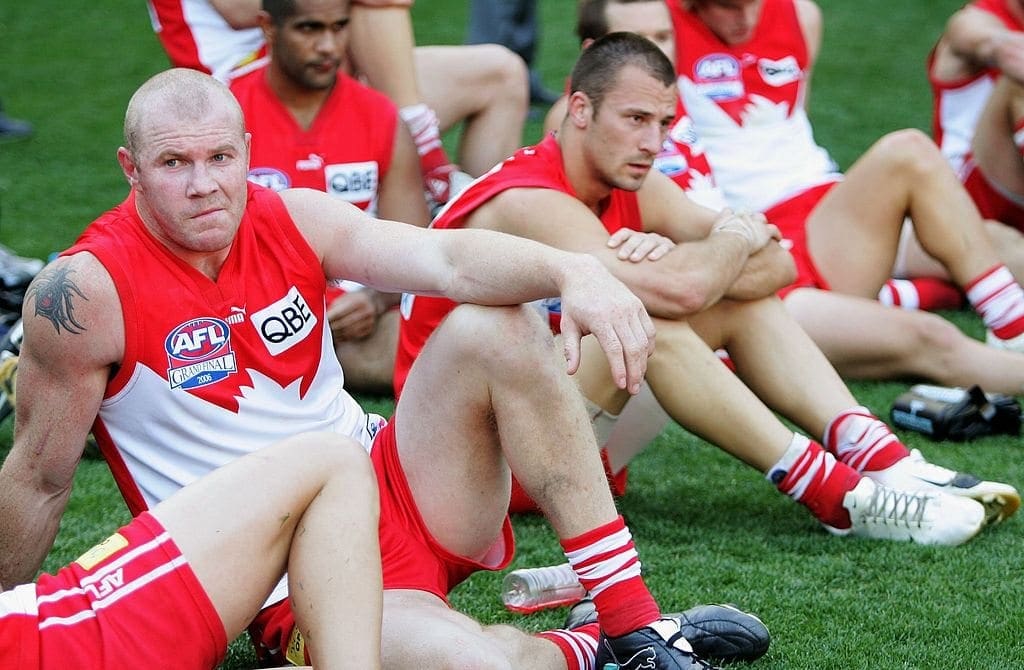 But which club would have had their name engraved on the cup instead?
Had the siren sounded with the Cats toppling the home side, they would have progressed to play St Kilda at the MCG the following week. With a 1-1 record against the Saints that year, the boys from the Pivot City could have felt content in the knowledge that the job was not beyond them.
Still, having been swept by the Moorabbin men just over a month prior to the tune of 41 points, punters would have likely been backing Grant Thomas' side to continue the trend after enjoying a week off.
Should the Saints have overcome their preliminary final hurdle that would, in reality, haunt them for a further four seasons, they would have faced West Coast on grand final day.
History suggests that John Worsfold's side were destined for late September success at some stage, and with the wood over the Saints that season, had Davis failed to deliver in the semis, then West Coast's inevitable celebrations would have taken place 12 months earlier than in truth.
However, as is known, Nick Davis came to save his side, so the Eagles were made to wait.