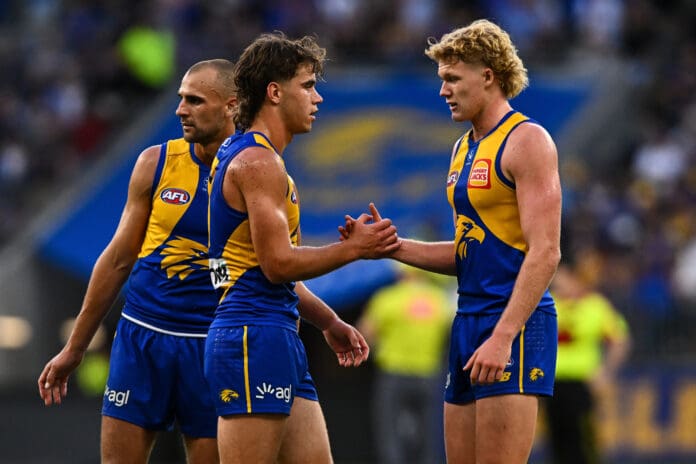 This year has not been kind to West Coast fans, having endured the club's worst ever season, there has been little to smile about. Yet Friday has seen at least some good news for the club after it announced a couple of young guns have re-signed.
First-year midfielders Reuben Ginbey and Elijah Hewett both put pen to paper, inking deals that will keep them at West Coast until the end of 2026. Despite a horror season, both have provided bright moments for fans to enjoy.
Following their bold decision to trade back from Pick 2 at last year's National Draft, which netted them both Ginbey and Hewett, the duo recommitting to the club strengthens their rebuild at a time when things have appeared bleak.
The call to trade down was widely applauded as the Eagles managed to select two quality locals for the price of one pick, with Ginbey taken at 9 and Hewett at 14 once NGA and father-son selections had been made.
Hailing from East Perth, Ginbey started the season incredibly well, registering 15 disposals and a staggering 12 tackles in his debut against North Melbourne. By Round 3 he had already earned a Rising Star nomination, continuing to perform above expectations until sidelined by a hamstring injury late in the season.
Ginbey was delighted when discussing the deal, comfortable in the knowledge that his future is secure until 2027 at least.
"I have recently signed on for another three years at the club and I couldn't be more excited and I have just loved my first year here," he said.
See Also: Port Adelaide confirm trio of contract extensions
"As soon as I came into the door with six other first year players you become best mates. And to be led by senior players like Bunga and Boots, who unfortunately are leaving, but it is now time for the younger boys to drive the club forward and it has just been an awesome year.
"It was disappointing doing my hammy in round 18 but it was an honour to play 17 games. If someone had told me at the start of the year I would play 17 games I would have said they were dreaming.
"The hammy is feeling really good three weeks into rehab and I can't wait for next season."
Hewett meanwhile managed to play 12 games in his debut season and while he experienced a slower start to AFL life than Ginbey, still showed plenty of ability, earning a Rising Star nomination in Round 22.
Hewett was equally as pumped up as Ginbey to have re-signed for the Eagles and was keen to emphasise his confidence in the direction of the club.
"Me and Reubs are absolutely stoked to extend... I'm a West Coast Eagles person, I absolutely love this club. I'm super excited for what's happening in the future and grateful that I can continue my football with this club," he said.
"It has been a crazy year, so many ups and downs. I have learnt so much and super fortunate to be alongside a great group of boys. The experience is invaluable and we're going to take it along in the next few years."
For their part, the Eagles were as happy as the pair of youngsters, securing two players they view as vital to the future of the club. List Manager Rohan O'Brien spoke of the pair's importance to the rebuild.
"We see Reuben and Elijah as important players in the long-term plans of the football club," O'Brien said. "We have been impressed with that they have shown in their first season at elite level and we really look forward to seeing their continued development," he said.
As the Eagles head towards the end of the season likely to finish with the number one pick, the option to again make a bold trade to accelerate the rebuild has presented itself. If last year is anything to go by, they would do well to strongly consider it.