You wouldn't be labelled an optimist to suggest finals for Collingwood now.
You'd be declared insane.
And rightly so.
The club is spectacularly unravelling, with performances growing more dispirited by the week. A 1-6 start for an established coach should be alarm bells at any club – more so for a club that had a tumultuous off-season which had people questioning whether the relationship between coach and players had been impacted.
Yet, somehow, the popular media are urging the Collingwood Football Club to re-sign coach Nathan Buckley. Give him two years now, and eliminate all this chatter. He's the man to rebuild the club. He's done it before. What are we waiting for?
Yada yada yada.
The biggest problem with Collingwood is system. What we're seeing now is what we saw in 2020, what we saw unraveling in 2019, what we saw 2014 – 2017 as Buckley and company embarked on their first rebuild, and what we saw 2012 – 13 when Buckley had a premiership list at his disposal.
For whatever reason, Buckley and his lieutenants just can't implement a purposeful gameplan that is sustainable, consistent, and resilient. Frequently, you see this shapelessness about the way Collingwood deploy. When they do win the ball, their players are too often caught flat-footed. They try to navigate congestion through dinky handballs, only to inevitably sell somebody into trouble, or have the last link in the chain panic-bomb out of pressure, often turning it over.
When they move the ball it's slow and indirect. Mason Cox has drawn the ire of the supporter base for not doing enough as primary key forward, but now Darcy Moore is showing the same ineffectualness. Matthew Lloyd identified the problem is the way Collingwood move the ball going inside forward 50. What a surprise. How long have supporters among the Collingwood faithful hollered this? As an idiot in the outer, I've been able to spot this for years. How can well-paid professionals not? How can coaches not?
RELATED: Dissecting Collingwood's horror start to 2021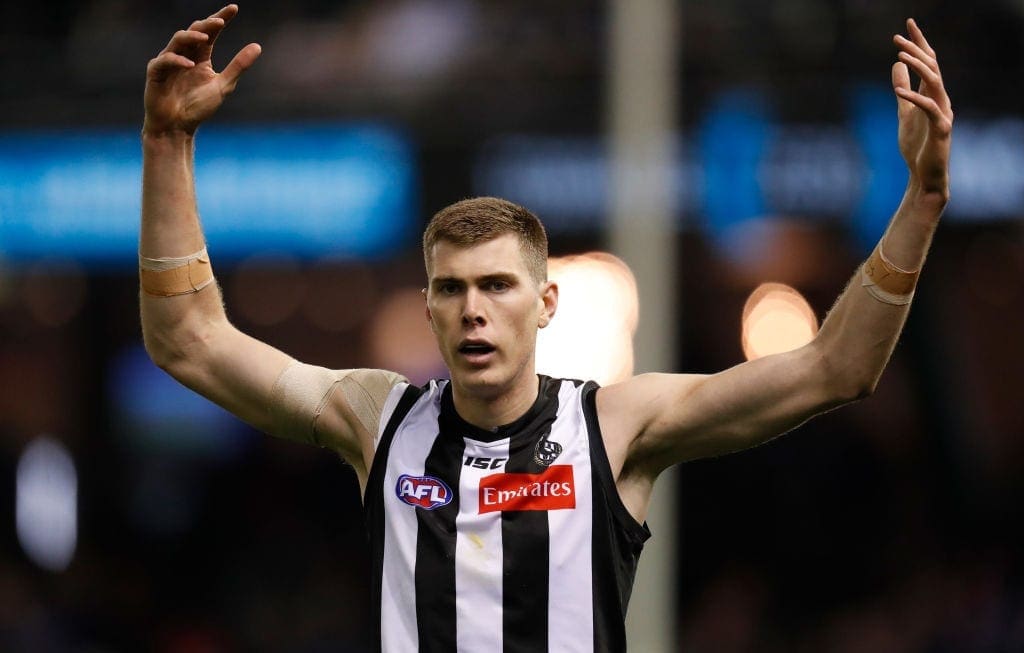 We can blame personnel, but that it's happened so regularly in Buckley's 10-year tenure suggests something greater's responsible – the gameplan. Collingwood just can't get their strategies to click and work for a whole game. So we see these scrappy, spirited efforts, flashes of brilliance, and then back to the scrappiness. Then they have to rely on defensiveness, protecting space, and frantic pressure to compensate – all unsustainable as the overriding strategy.
At what point do the coaches call it and realise it doesn't work?
Given we're ten years in here, apparently never.
Jake Niall wrote an article for The Age back in September 2018 entitled "From 'Shambles' to September", in which Brayden Maynard is quoted as saying that prior to 2018, "I just felt like we were a shambles. Like we didn't really have a game plan, we didn't really know what we were doing. We weren't really organised. But this year, with Justin Longmuir coming in, he's really told everyone that we've got to be organised behind the ball, you've got to expect the worst. So he's come in and he's helped a lot."
That's a damning quote from Brayden Maynard. Maynard debuted for Collingwood in 2015, so he was drawing on four years as senior experience when he offered that quote. One can only wonder what he would think now. All I see is that the breakdown we're witnessing now did exist before, and a player directly receiving the coaches' instructions was unsure about what was expected of them.
Of course, Fremantle appointed Justin Longmuir their senior coach for 2020. Collingwood's development coach, the highly regarded Matthew Boyd, went with him. In the two years Longmuir was at the club, Collingwood were grand finalists and preliminary finalists.
Garry Hocking, who was popular with the Collingwood players, was laid off last year due to Covid-related cuts. That's left Collingwood with their mainstay triumvirate: Nathan Buckley, Robert Harvey, and Brenton Sanderson. Are we really surprised that this long-term trio is not generating new ideas? Are we really surprised we're seeing more of the same? Why would anything change when everything stays the same?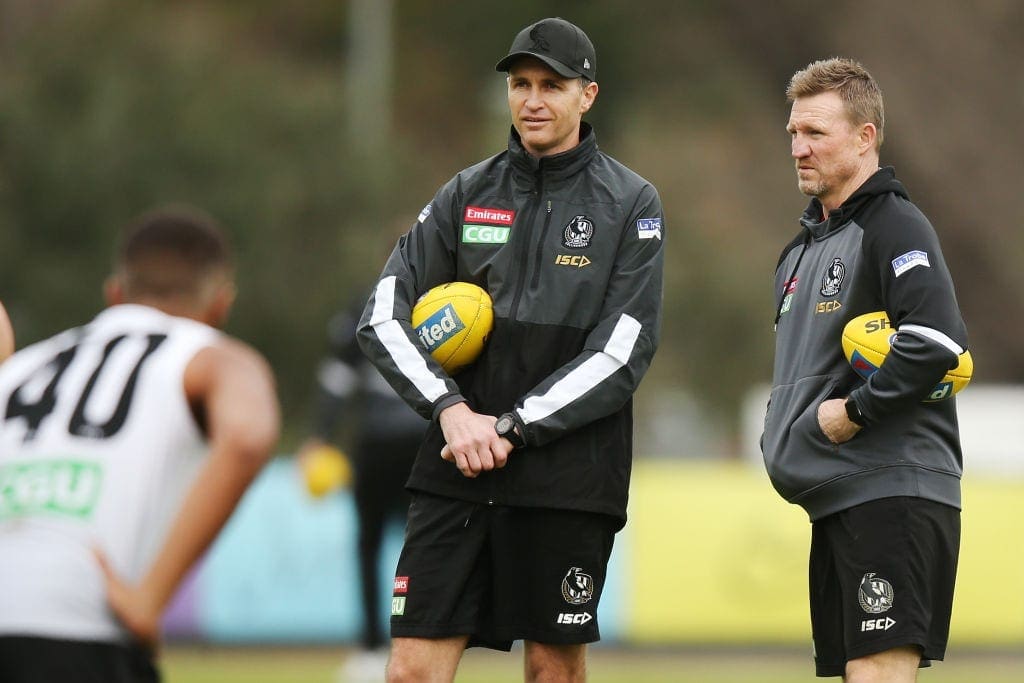 And yet, Buckley should be reappointed. "He's the best available", we're told – like that's justification for a coach. Maybe on that criteria, Collingwood should reinstall Mick Malthouse. He's available. And he has a Collingwood flag. Maybe he's the best available. Or how about Leigh Matthews? This "best available" tripe flies in the face of every club who's ever taken a chance on an untried coach and experienced success. Buckley wouldn't exist as senior coach if Collingwood followed this mandate.
In an article entitled, Collingwood Fans, the grass isn't always greener SEN's Kane Cornes writes, "Buckley is part way through his 10th season in charge and there is a myth circulating that 10 years is too long for a coach at one club who hasn't won a premiership. I wonder why that is? Why do people believe that? And do we discard coaches too quickly?"
Ten years is too quickly? Really, Kane? Most coaches wouldn't have been retained after missing the finals four years in a row. Tony Shaw was ditched halfway through his fourth year in 1999. Mick Malthouse was given 12 years, but he'd taken the club from wooden spooners, made back-to-back grand finals, missed two years of finals, and then trended up. I can understand persevering when that's the case. Collingwood's current trend is south, but apparently Buckley just needs more time.
This is just part of the narrative where media – perhaps fearful Buckley might dislodge them from a cushy media gig –  are descrying fan dissatisfaction, like fans are being unreasonable. No. Fans GET it. They've watched it for 10 years. I wanted Nathan Buckley to coach, I loved him as a player and still believed he's underrated in the echelon of the best players to play the game, but I've given up on the fairytale of him being a Collingwood premiership coach. I know a number of fans – who loved the prospect of Bucks coaching – who now feel similarly. It's not some kneejerk reaction. It's a decision made on a body of evidence – 10 years' worth.
RELATED: Former Collingwood recruiter believes club is capable of winning 2022 premiership with new coach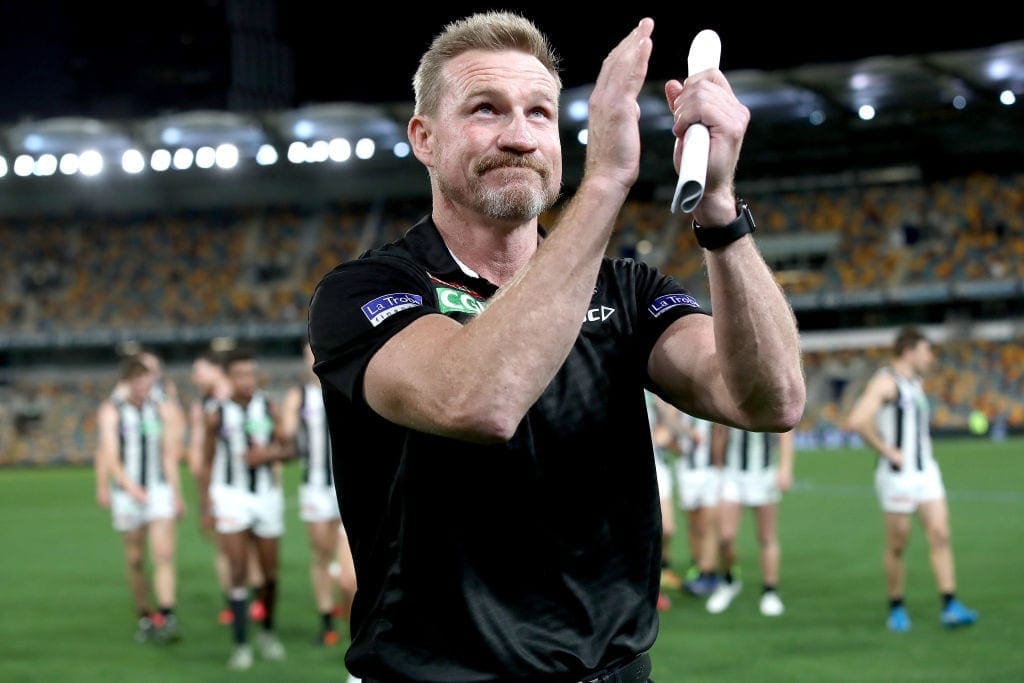 And it's about more than where Collingwood currently sit on the ladder, or that 2021 is becoming a disaster of Hindenberg proportions. It's about what we're seeing as the gameplan, knowing we've all seen it before. It's about realising that it's always going to be this, because the evidence overwhelmingly backs up that supposition.
However, the onus can't fall exclusively on the coaching staff. And I don't want to just make this an anti-Buckley rant. It's certainly not. A struggle of this magnitude is greater than one man. It's greater than three men. It takes a whole club working together to accomplish what Collingwood are now accomplishing.
Buckley has had to field a side from the list the club has manufactured for him. If he's been unfortunate in one regard during his time at Collingwood, it's that list management has veered towards a reliance on flanker-types, with ruckmen employed to fill key positions, rather than actual key positioners.
Collingwood's list is horrendously imbalanced, overloaded with untried youth, and still overly reliant on their 33-year-old captain Scott Pendlebury. Where is the transitional talent? Taylor Adams is injured. Adam Treloar now wears a Western Bulldogs jumper. Jaidyn Stephenson – who won the Rising Star in 2018 – is at North.
It still befuddles me how more questions aren't asked of Collingwood unloading a 21-year-old talent for virtually nothing, and it's still put down to just salary-cap management. There are a number of players I would've farewelled before somebody who might potentially play 10 years in black and white.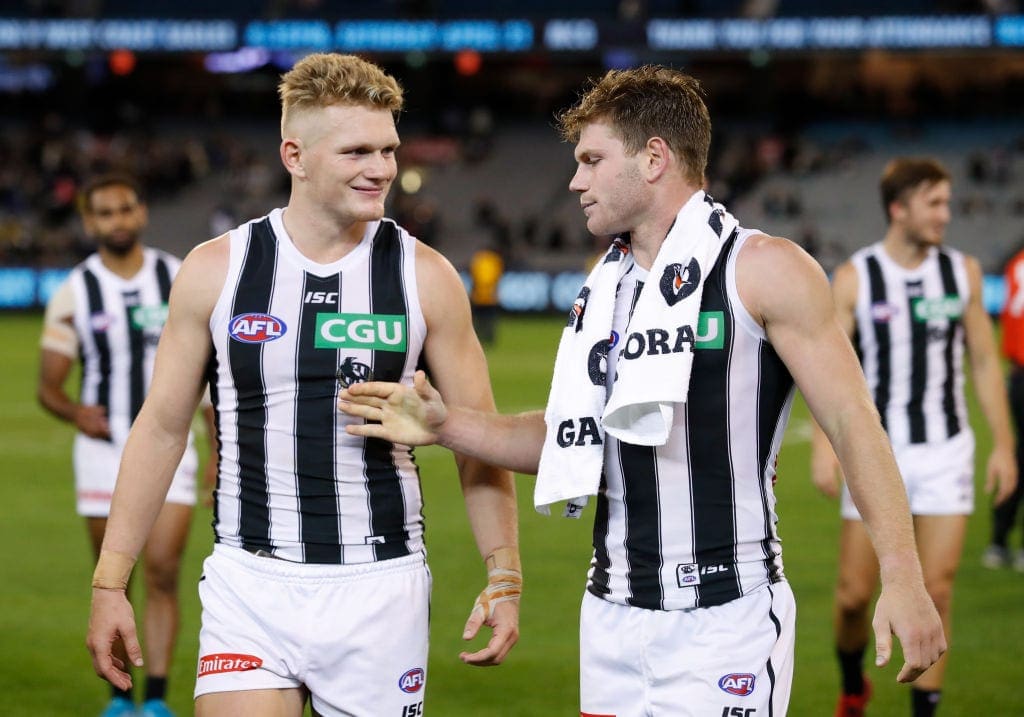 Some might suggest Collingwood hasn't had access to early picks to replenish key talent – a misnomer, given they took Jordan de Goey with the 5th pick in the 2014 draft, and (again) Jaidyn Stephenson with the 6th pick in the 2017 draft. Adam Treloar cost two number seven picks (2015 and 2016).
In fact, if you look at Collingwood's list management, they've traded out Adam Treloar (two picks 7s), Jaidyn Stephenson (pick 6), and retired Dayne Beams (two first rounders) – that's five first rounders and three players who are no longer at the Collingwood Football Club. Is that sound planning? Granted, the draft is still a lottery to some extent, but some of these players are still out there – just not at Collingwood. So either Collingwood failed in their estimation of these players, or failed these players when they arrived at Collingwood.
This is where I do feel for Buckley – after draft bombs with Matthew Scharenberg, Nathan Freeman, Ben Kennedy, Tim Broomhead and company, and free agents which didn't work out, he must've finally felt they were finally starting to get the list right, only for somebody there to tap him on the should and say they had to cut players because the cap was in a perilous state.
But we still want to buy into the "strategy" of it all. Honestly, how does anybody still believe that? How does anybody defend it? I can only guess it's because they need to rationalise as a coping mechanism, because if they don't they have to face the fact that the powerbrokers at their club messed it up, and messed up big.
So either we acknowledge that they stuffed it, and these people are still in charge, or that they're in control of this all and everything will be okay. Hmmm. If I were seeking assurance, I know which I'd believe. But I'm not seeking assurance. Assurance works when something mildly questionable arises, rather than the cherry on top of a sundae of a decade of missteps. I've ranted about this so long the print on the keys of my keyboard has faded.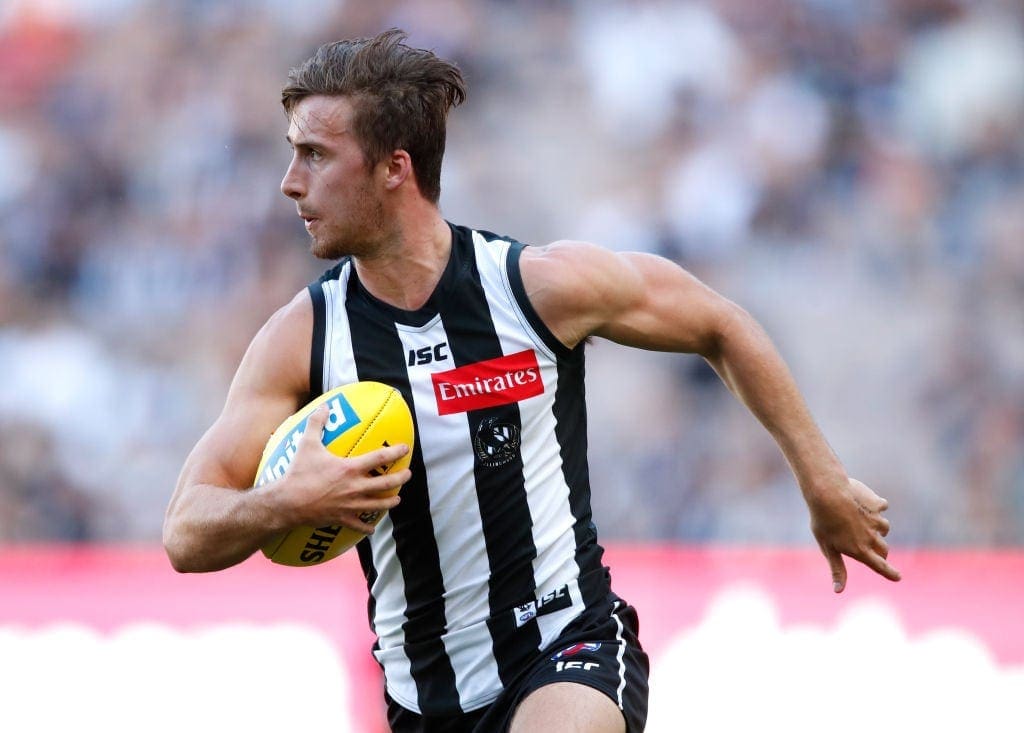 RELATED: Collingwood list manager Ned Guy quits club
What Collingwood did was gut their playing list – horrifically and extravagantly. It's not just Jaidyn Stephenson, Adam Treloar, and Tom Phillips. It's James Aish. It's Ben Reid and Travis Varcoe. It's Matthew Scharenberg. It's Tom Langdon. It's the kids pushed out because Collingwood opted to overpay for Dayne Beams instead of doing due diligence, not to mention players who've been re-signed at big dollars not commensurate with their worth. It's a big chunk of experience that they either dumped or lost with no view towards the future, or with no methodology to staggering departees so that this exact vacuum DIDN'T occur.
As far as the 2020's November Three go, Collingwood let it play out messily in the media.  It's still unclear how the playing group felt about being thrown under a bus, being made the scapegoat for why Treloar was wanted out. Judging current performances, there would seem to be issues. I don't blame them. You forge a unit. Then you unceremoniously jettison players, cite some scurrilous justification, blame the rest of the group that a popular teammate isn't wanted, and expect everything will be okay?
Are players meant to be robots? Are they just names on a page to be shuffled about? Is there no human equation in this?
Then the list manager, the football manager, the CEO, the coach, and the president all sell different explanations. Surely that in itself is an indictment on the football department that should've had everybody questioning them. Nope. About the best the sheep offered is that Buckley should've been the one who fronted the media first. Isn't the bigger question why they let this happen, why they all had different versions of WHY it happened, and why they didn't get more in exchange?
To top it off, the club is guided by the perpetuation of an administration that TWICE oversaw the club go from a power (2010 – 2011, and 2018 – 2019) to this listless, aimless, hollow entity that has no idea of its standing in the world. People will cite that Eddie McGuire and current powerbrokers saved the club, that they rebuilt it, and we should just park all the criticism. Great. Thank you, Eddie and company. But that was 20 years ago. Maybe I should also thank White Star for the majesty behind the construction of the Titanic, and all the hoopla that initially surrounded the maiden journey. Thank you, White Star. I won't comment on anything that happened afterward.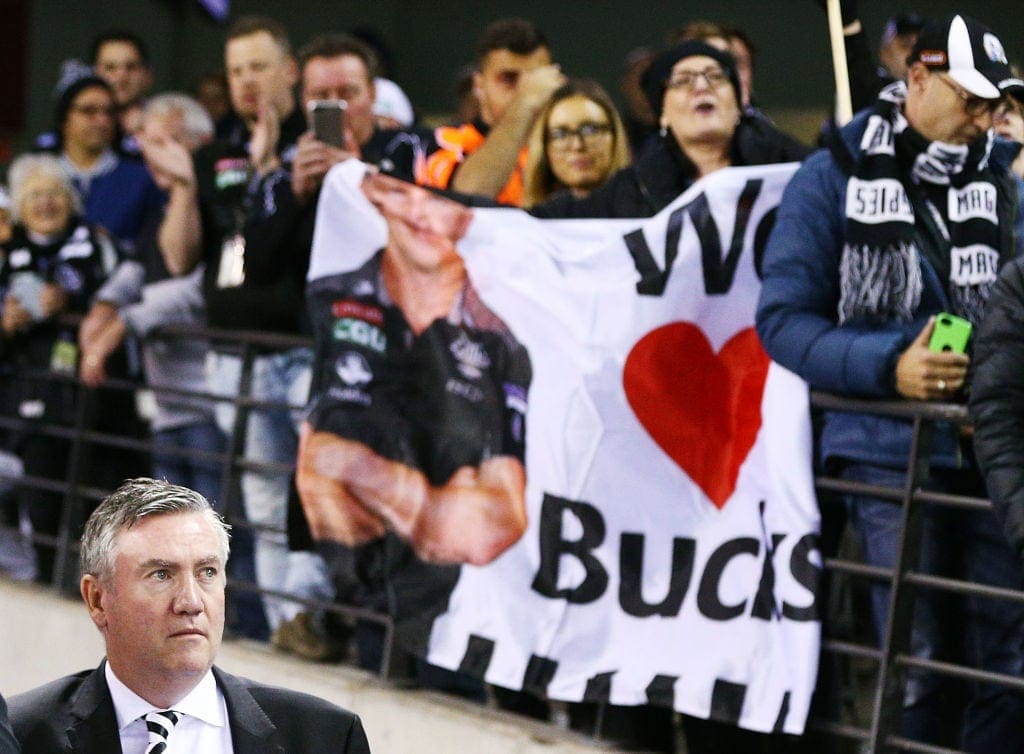 Or maybe we can deal with the present.
And reality.
Another counter might be that given the club has guided us out of murky waters previously, we should trust in them again. How about we just avoid murky waters? I'll accept the bottom dropping out after prolonged success – as occurred to Brisbane, as occurred to Hawthorn, as will probably happen to Richmond – but not because of a lack of foresight and salary cap mismanagement. If this wasn't negligence, if this WAS design, then it's design of the greatest idiocy, like New Coke, of the Samsung Galaxy Note 7, which had a tendency to catch fire and/or explode.
Eddie's successor, Mark Korda, was last week still selling that the club might play finals – that shows how poorly powerbrokers at the club genuinely read where Collingwood currently sits in the scheme of things. Do they truly believe this? If so, I have a swamp I'd like to sell them as prime real estate. Maybe they can train there. Either the expectation here is delusional, or it's the story they're selling to try placate the masses. Which do we prefer? Delusions of grandeur? Or being handled?
Everybody is slowly waking up – slowly, gradually, but inevitably. The sheep who pre-season were projecting Collingwood would be finalists, if not top four, are begrudgingly accepting that this Collingwood playing list would be lucky to make top fourteen. They're backtracking and rationalising but accepting the truth. As Alice Cooper sang, "Welcome to my nightmare."
There will be no quick turnaround here. Pendlebury at 33, and Sidebottom and Howe at 30, aren't getting any younger. Then you have the likes of Jordan Roughead, Chris Mayne, and Levi Greenwood – all stalwarts of Buckley teams. Who's replacing them? Collingwood might've had a top four pick this year but, hey, they gave that to GWS so they could trade into last year's draft. I'm still not entirely sure that draft period wasn't a PR exercise – to net a sizeable draft haul to convince people they knew what they were doing all along when it came to list management – following the disastrous trade debacle.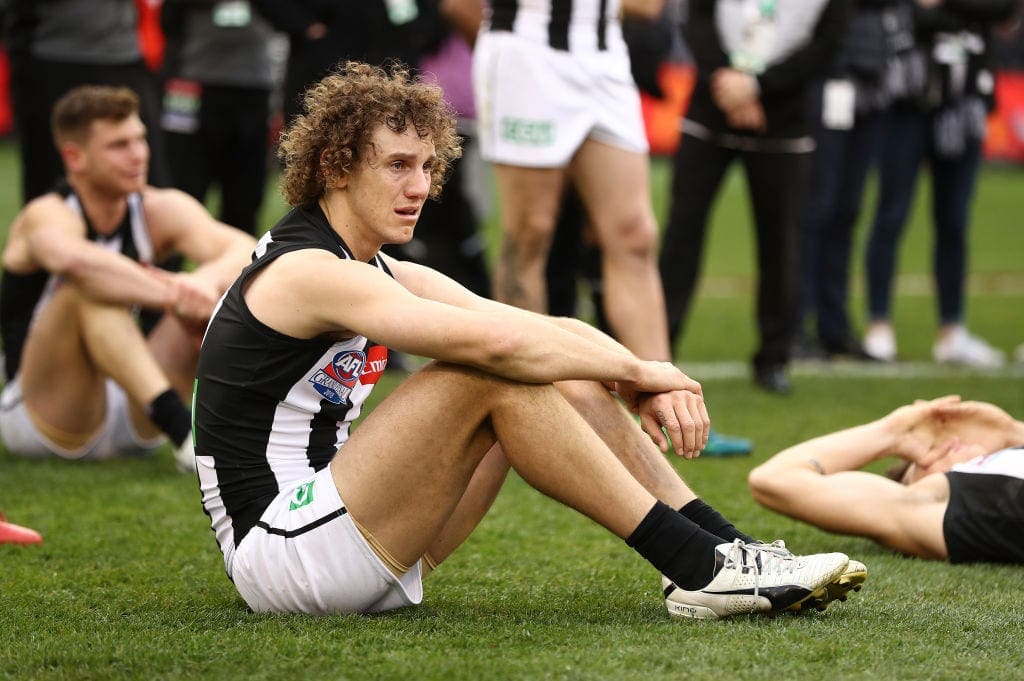 They will now have to finagle extra points to claim Nick Daicos, or go into deficit next year – not exactly ideal for a rebuild. You'd want to be stocking up picks and get as much quality talent into the club as possible – just as Essendon did when Joe Daniher, Adam Saad, and Orazio Fantasia left last year. Collingwood's strategy, on the other hand, seems to be seeing just how much key talent they can squeeze from the club.
On Footy Classified, former president, Eddie McGuire, claimed the salary cap is now in terrific shape. McGuire speaks with the stature of Al Capone running the Chicago underworld while he was in prison. But my understanding is the salary cap's far from being in anything remotely resembling terrific shape, and another player of note might be shed at the end of the year. Who's making all the money at this club that the salary cap has grown so bloated?
There are problems on so many levels at the club. As glacially as reality might be dawning on the last holdovers – I'd say as glacially as Collingwood move the ball going forward but, hey, at least glaciers move forward – the one thing that we can be certain of is that significant change is needed, and every position within the club should be under review, rather than just the senior coach's.
Collingwood's current plight harkens to other dark periods in their history – times that hubris saw them implode and, however fleetingly, face the reality of where they stood in the grand scheme of things. It's only then that they took un-Collingwood action. But once success appeared on the horizon, they filled the sails with hype and replotted their course for oblivion. Bravo.
How many times have I seen this in my lifetime? And it keeps happening exactly as it's happened before. For a club that prides itself on being a national powerhouse and a pacesetter, they sure do know how to mess up on extraordinary scales. I've only seen peers, Carlton and Essendon, express the one major debacle each, although to be fair Richmond managed it as an ongoing soap for over thirty years.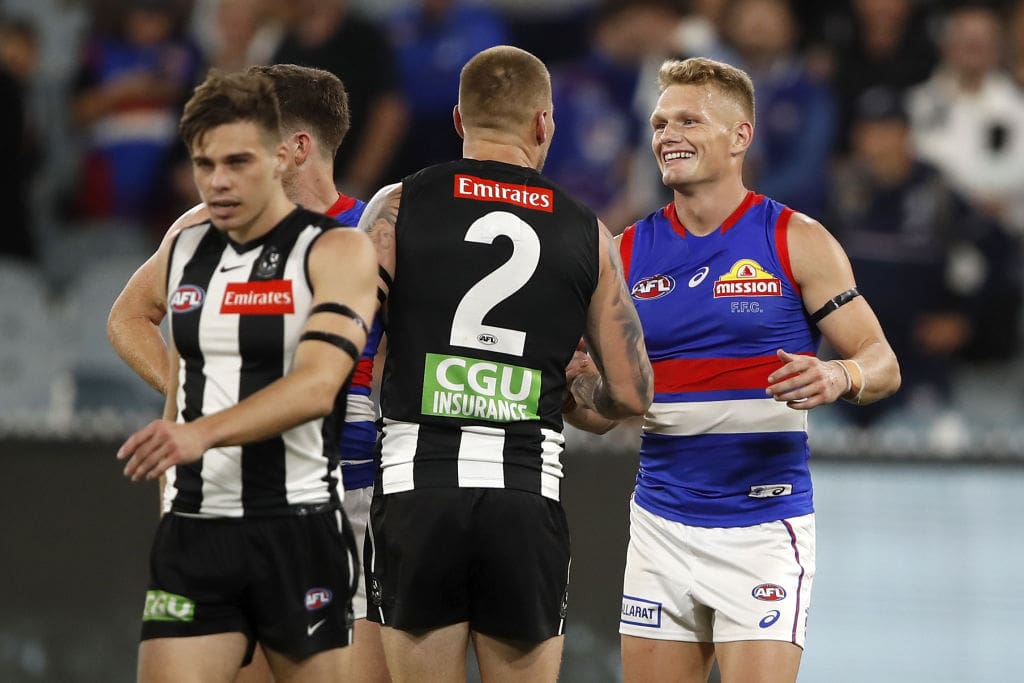 People might think I'm a doomsayer, always shouting about the club's problems. Or that I get joy out of mad ravings about things I believe aren't working. But I do it because I LOVE the club. I want to see them become a powerhouse. I want them to be deservedly acclaimed as the biggest and best club in the country. I want to see them enjoy dynastic success. That last time Collingwood saw that was the 1920s. Meanwhile, Richmond, Carlton, Hawthorn, Essendon, Geelong, and even North Melbourne have all enjoyed that in the last 50 years – several of those clubs repeatedly. Clubs like St Kilda and the Western Bulldogs haven't. Doesn't that tell you something?
People used to say Richmond was the sleeping giant. I've always disagreed with that. They're not. It's Collingwood, who in the second half of their history – in the latter 64 years of their 128-year history – have won just three flags from twelve attempts (excluding the two draws). Imagine Collingwood had a run like Richmond or Hawthorn or Brisbane.
What frustrates me more than anything is that Collingwood's shortcomings are so predictable and cyclical. You don't have to be Nostradamus to see them coming. They're as paint-by-numbers as paint-by-numbers, or as formulaic as the romance in a Mills & Boon novel. But, as Eddie McGuire's resignation showcased, we'll countenance that with our social philanthropy. Aren't we a wonderful organisation? Great! But I'm pretty sure we're a football club first and foremost. I don't see the Salvation Army pulling on the boots to field a football team in their spare time.
Cut through the hype and the truth is there. Unfortunately, there's always that overriding narrative, the zealots continuing to proclaim Collingwood's magnificence to the heavens, gleefully declaiming any who dare speak against them, while the real powers have their heads down and are working to earn their acclaim.
Collingwood needs a seismic shift in how they see themselves, how they see themselves in the competition, and how they see themselves moving forward. The need a plan, they need purpose, and they need some humility. The old Collingwood rah-rah is statistically proven to mean nothing in the contemporary game, and given the club's record in the second half of their existence, we can't claim it's working – unless your metric ISN'T flags, at which point I would suggest this view is part of the problem.
The club – on every single level – cannot try to corporate-speak their way out of the current mess, or try to handle the burgeoning disgruntlement, or even demand blind, fanatical patriotism.
They broke it.
They cannot be trusted to fix it.
Or build something new.