The Collingwood Football Club is currently, to put it bluntly in Australian terms, in all sorts.
Coming off one of the most tumultuous off-seasons in recent memory, a horror 1-6 start to 2021, including five consecutive losses, is the worst turn of events that could have played out.
Adam Treloar, Jaidyn Stephenson and Tom Phillips were all infamously booted from the club to clear salary cap pressure, while long-standing president Eddie McGuire was stood down from his role after a 22-year tenure in the fallout from the scathing Do Better report, which found the club guilty of systemic racism.
For all of this to happen in a contract year for senior coach and club icon Nathan Buckley, who is now in his 10th season in charge, has heaped tremendous pressure on the normally-unified powerhouse club.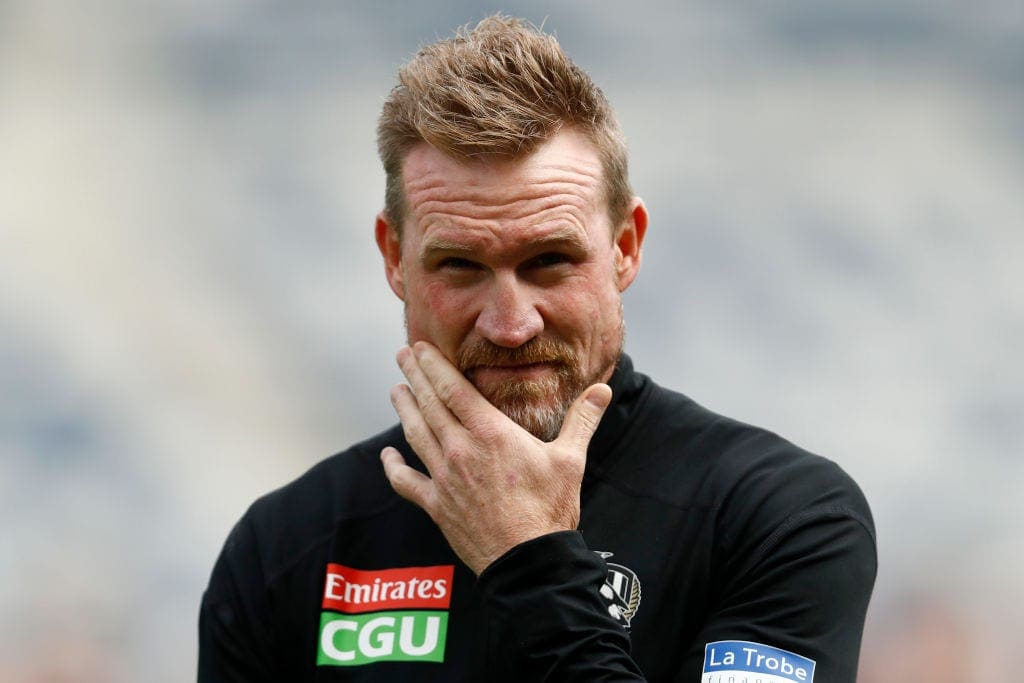 Once the envy team of the league is now divided both on and off the field - from the hierarchy, to the supporters and potentially even the players and coaches.
The Pies have had their legendary 'side by side' mantra questioned - maybe the worst thing that can happen to a football club. In short, it's been a perfect storm for the black and white in recent times.
We have detailed where it has all gone wrong for Collingwood in 2021, breaking it down into three key categories - the list, game plan and coaching and off-field - before looking to the future.
THE LIST
The most obvious anecdote surrounding Collingwood's list mishmash is the disaster 2020 trade period - and rightly so. However, in reality, the list problems have built up over a number of years.
Heading into the 2021 season, Collingwood ranked 12th in the league at an average age of 24.2, per Champion Data. In terms of average games played, the Pies ranked 11th with a median of 65.6 matches across the board.
Below is the breakdown of the club's list in terms of age profile.
Notorious for drafting well, the Pies struck out hard in the 2012 and 2013 drafts in pools they invested in. And it would have made up the core of their 'in-prime' players, traditionally considered to be 25+ year olds and an area they are now lacking in to help transition a list rebuild.
Collingwood had three top 20 picks in the 2013 draft - selecting Brodie Grundy, Ben Kennedy and Tim Broomhead. Despite arguably overpaying Grundy with the much-criticised $7 million, seven-year deal, they nailed this pick and the dual All-Australian ruckman is a key part of their future.
For all the backlash towards Grundy, he is also a two-time Copeland Trophy winner and was a kick away from being a premiership ruckman.
However, his fellow draftees, Kennedy and Broomhead, combined to play 62 AFL games for the black and white and neither are on the club's list anymore.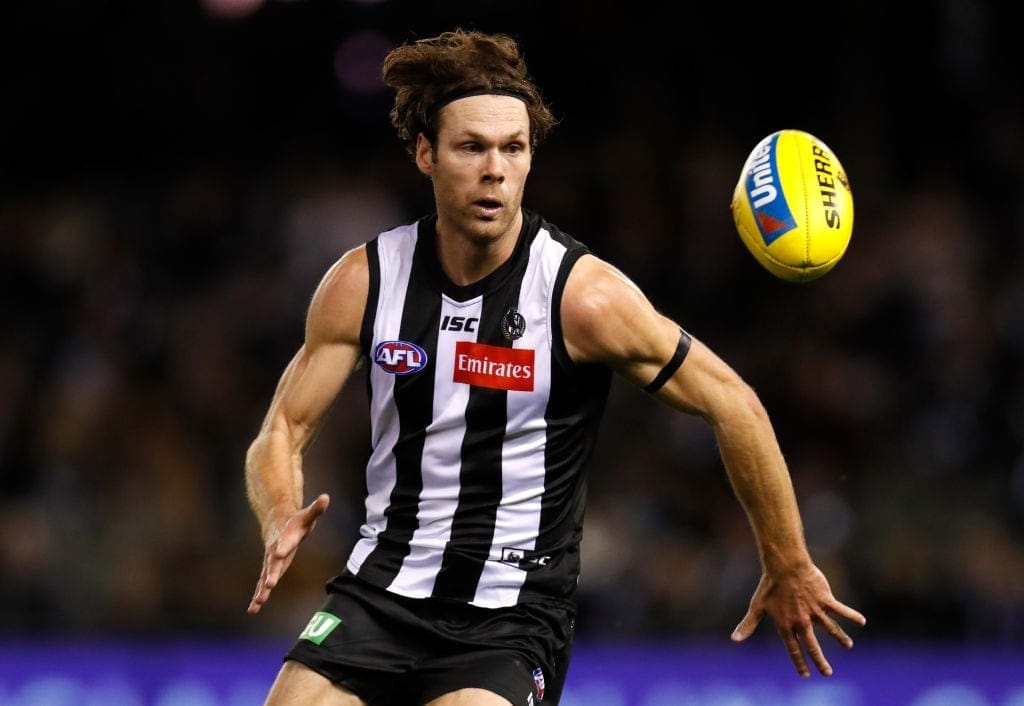 SEE ALSO: Collingwood star Taylor Adams rubbishes report that senior leaders put heat on De Goey
The 2013 draft is arguably more damning, where the Pies had two top 10 picks, taking Matthew Scharenberg and Nathan Freeman. Much like Broomhead before them, injuries savaged their careers, with Scharenberg playing 41 games for the club and Freeman not appearing at AFL level all. Suffice to say, it didn't work.
Then there is the obvious recruiting and overpaying mishaps, which started well before current list boss Ned Guy joined the club at the end of 2017 - in large the public fall guy in that department.
Handing out lucrative deals to the likes of Chris Mayne, Daniel Wells and Dayne Beams set off a butterfly effect, causing a host of contracts to be back-ended and culminating in last year's trade period where good players literally had to be pushed out.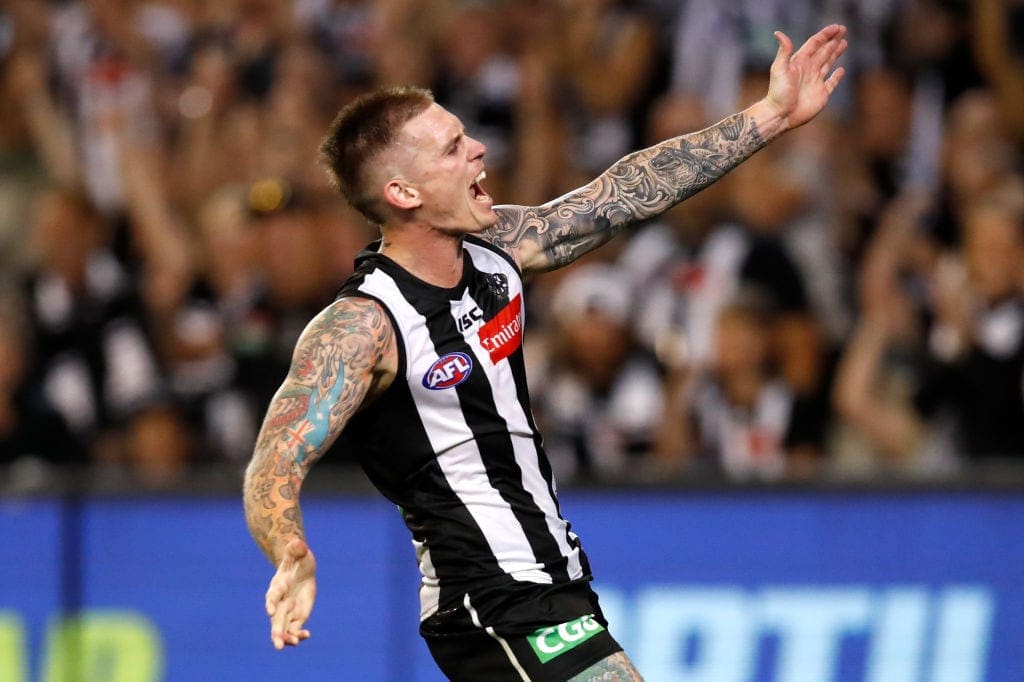 Meanwhile, the reported massive contracts handed to guys like Treloar, Phillips, Stephenson and Mason Cox is equally confusing. It doesn't represent the shrewd handlings of a club trying to win a premiership, nor the financial sacrifice you see from players hoping to lift one.
In addition to the trade period, the Pies lost a host of other senior players in the off-season, including Flynn Appleby, Lynden Dunn, Tom Langdon, Ben Reid, Travis Varcoe, Rupert Wills, Beams, Broomhead and Scharenberg.
This left glaring depth issues and a massive void of experience, which is equally important off the field as it is on it. Going into the season with a shallow list, injuries to key players like they currently have was always going to exasperate their issues.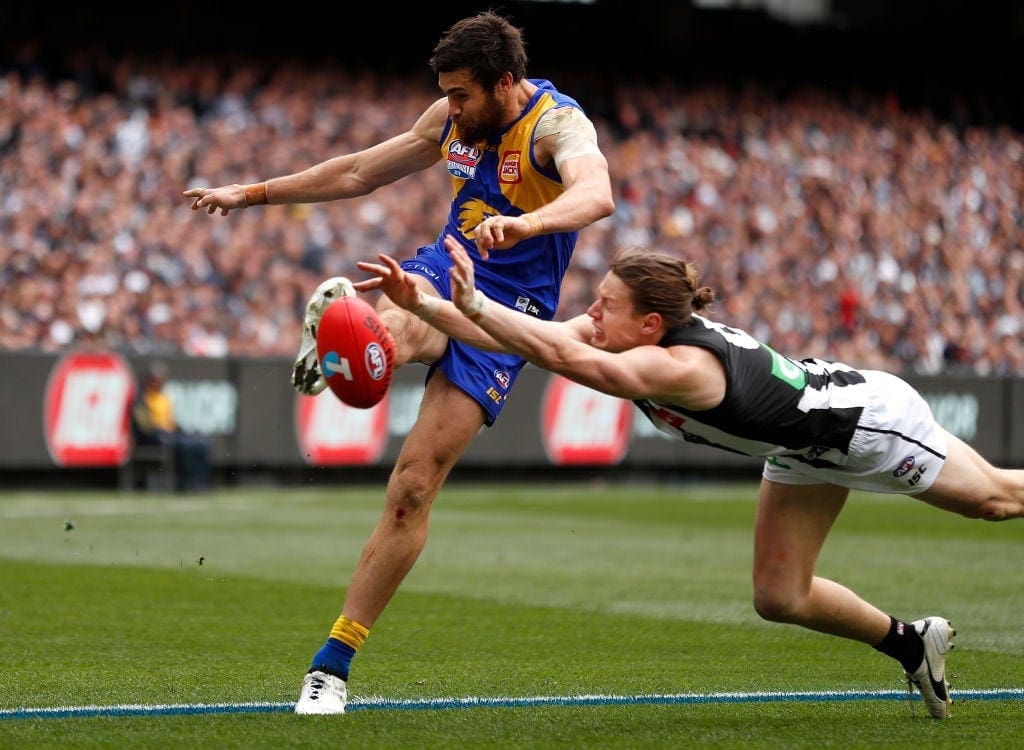 So maybe they did realise they needed to rebuild the list at the end of last season? And simply got a poor return of draft assets in the trade period  - five top 31 picks, but the first not being until selection No. 17 - in what was considered to be a weak draft.
There remains a significant lack of young star power on the list and question marks of whether their 2020 draft crop is the nucleus to carry the club forward to its next premiership tilt. At it stands, the only kids who supporters have reason to be especially bullish about is Isaac Quaynor, Josh Daicos and Beau McReery. Mark Keane, Finlay Macrae, Will Kelly, Caleb Poulter and Ollie Henry all have potential, while the 24-year old John Noble is also a big part of the future.
However, as it has been a problem for years, there is no exciting key-forward prospect coming through and certainly none in their prime currently on the list.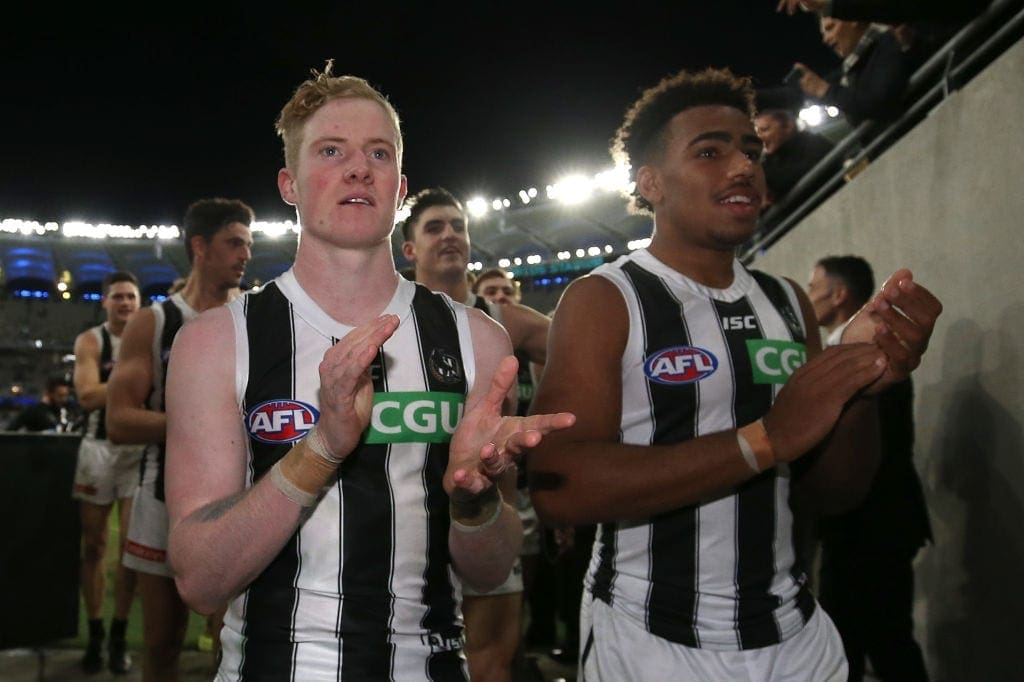 There are more questions than answers and the overall list profile still doesn't jump out as an exciting one with exuberant youth. There remains a reliance on the likes of Scott Pendlebury, Steele Sidebottom, Jordan De Goey, Darcy Moore and Grundy to win games, which was also a theme in 2020, with no youngsters truly putting their hands up to take games by the scruff of its neck.
Expect to see more list turnover at the end of the year with a number of veterans coming out of contract.
THE GAME PLAN AND COACHING
Last year's game plan and largely their DNA in recent years - high possession, uncontested marks, and slow, measured ball movement - is dated. The Pies' defence ranked No. 1 in the competition in 2020, but ranked 13th offensively.
They could stop teams from putting on big scores, but simply weren't able to hit the scoreboard enough themselves.
Unfortunately, the Pies have gone backwards both defensively and offensively in 2021, despite a clear direction to play faster and more direct. Losing Jeremy Howe to a hamstring injury is a major blow to the backline and Darcy Moore's move forward to try and spark something in attack has arguably backfired and done more harm than good. To be fair, Buckley had to try something new in the forward half. But not only has their offence not improved, their defence suddenly looks uncharacteristically vulnerable.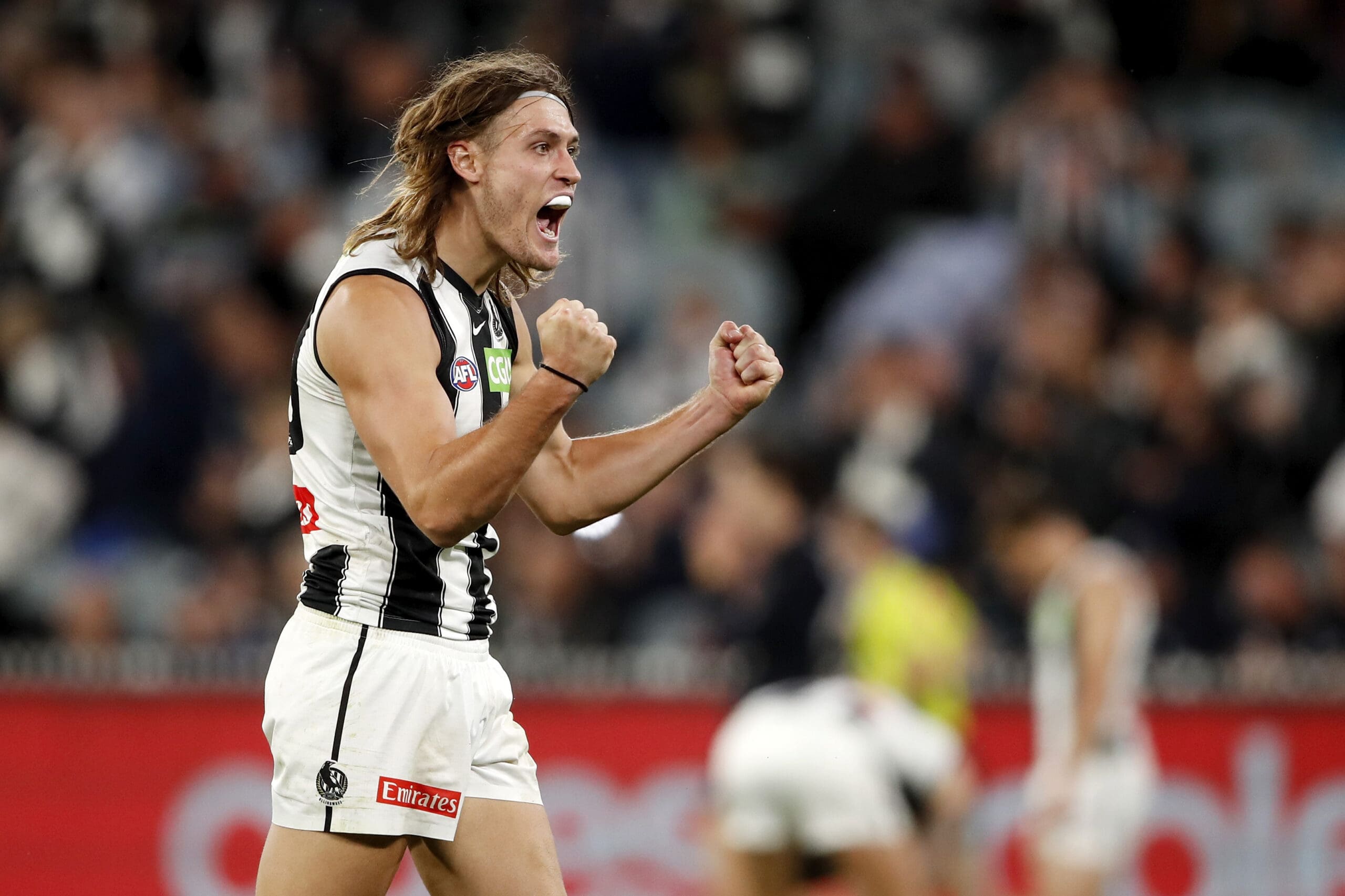 Collingwood currently has the 11th best defence in the league, a shadow of their 2020 version, and sits 16th in points for.
The disconnection between the midfield and forward line remains maybe their most glaring issue, with Pendlebury himself admitting he wouldn't want to play in the forward line currently.
"As I said, once we get our connection better and we start using the ball and being more predictable, I feel like forwards are a by-product of that, especially the way footy's played at the moment. I feel like Darcy can give us the ability to unlock that bit of our offence," the Magpies skipper told Fox Footy ahead of last Saturday's loss to Gold Coast.
AFL TRADE NEWS: The rival offers for Collingwood's first-round pick revealed
Collingwood ranks 16th for inside 50s, winning the count just twice this season, and 17th for marks inside 50s, a stat they haven't won all season.
The forwards are getting bad service that even Tom Hawkins or Josh Kennedy would struggle to operate in there, while the personnel itself leaves a lot to be desired for. Brody Mihocek leads their goalkicking with 15 majors, followed by De Goey (7), Cox (6), McReery (6), Daicos (5), Jamie Elliott (4) and Will Hoskin-Elliott (4) - a poor return across the board. They still can't figure it whether Cox or Darcy Cameron is their key target in attack and neither are pure forwards.
Furthermore, despite Grundy's domination in the ruck - currently leading the league in hitouts (288) by over 60 - his connection with the midfield remains an issue. The Magpies rank 17th in clearances despite winning the hitout battle in all seven of their matches.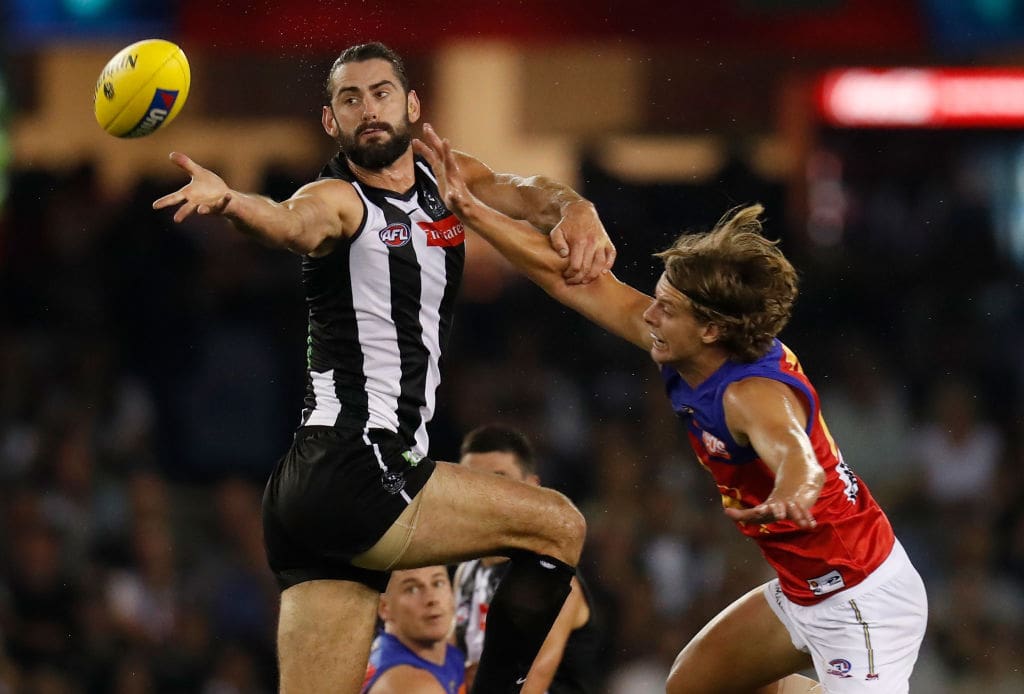 An area they have always been strong is contested possessions - currently ranking sixth in the league and winning the count more often than they lose it. But when Collingwood wins the ball their use of it has been appalling, ranking 16th in the competition for effective disposals, thus giving it back to the opposition. Shades of their 2017 self is shining through, although with more youth and inexperience on every line.
Meanwhile, the loss of Treloar's exceptional ball-winning ability has perhaps had a greater impact than they anticipated. The Pies currently rank 15th in total disposals, an area they led the league in each of the last three seasons. Brayden Sier, touted as the midfielder who would help fill the Treloar void, has struggled, and the delisting of Rupert Wills is suddenly questionable, while the long-term hole Taylor Adams has left with an MCL injury can't be understated.
Put simply, you have a side that isn't winning enough of the ball, and when they do, are sloppy in their execution and wasteful in the forward half. Having lost the inside 50 count on five occasions, the ball is living in their defence, and without Howe and Moore down back taking intercept marks, is leaking scores.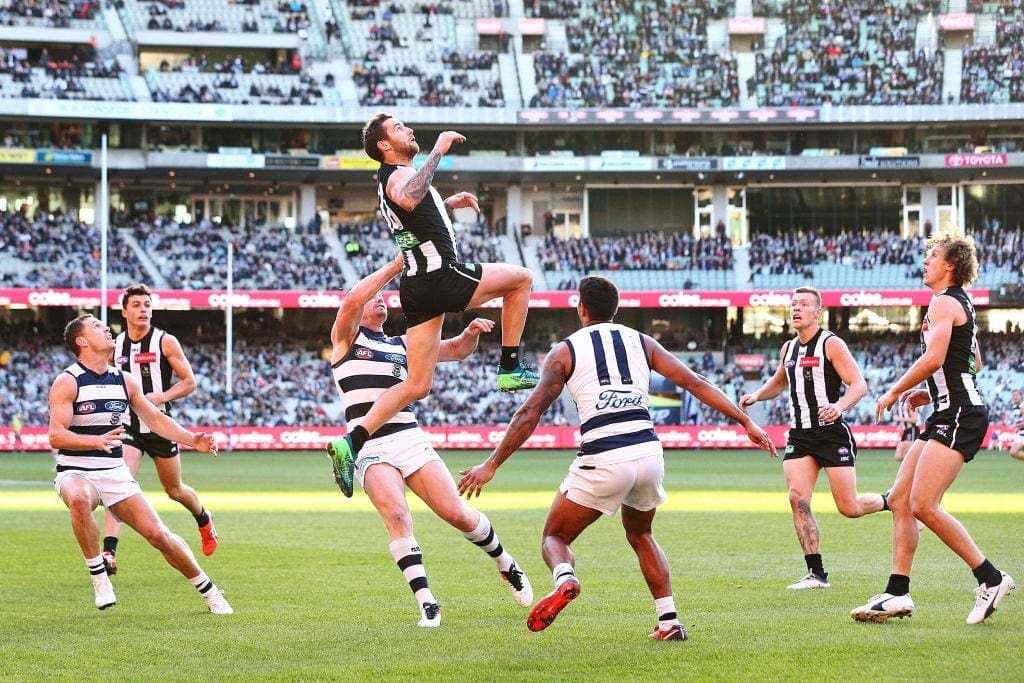 Any club that doesn't win enough of the ball needs to be efficient when they get it, and perhaps more importantly, put on serious pressure without it. Unfortunately, the Pies rank just 12th in total tackles, losing the stat on six occasions this season despite consistently having less of the ball. Rediscovering a physical edge and competitiveness should be the number one priority for any struggling side. Is it time to shift Jack Crisp or even Brayden Maynard into the guts permanently? Or trial a McReery in there, who has led the club's tackling count as a forward since his debut in Round 4 with 23.
The aforementioned struggles makes for tough reading and an astronomical task for Nathan Buckley.
The long-standing coach's future has been a massive side show and potential distraction for the club all season. Ultimately, their record for the remainder of the season might be irrelevant now, unless it is something untenable like 2-8.
We know this club isn't making finals, needs to blood youth and is probably in for some pain over the next few seasons. Therefore, the question is simple: is Buckley the man to rebuild Collingwood?
His record speaks for itself - a 53 per cent win record, which ranks fifth among current coaches, including five finals series. And if not for an astray Dom Sheed kick, maybe we wouldn't even be having this conversation.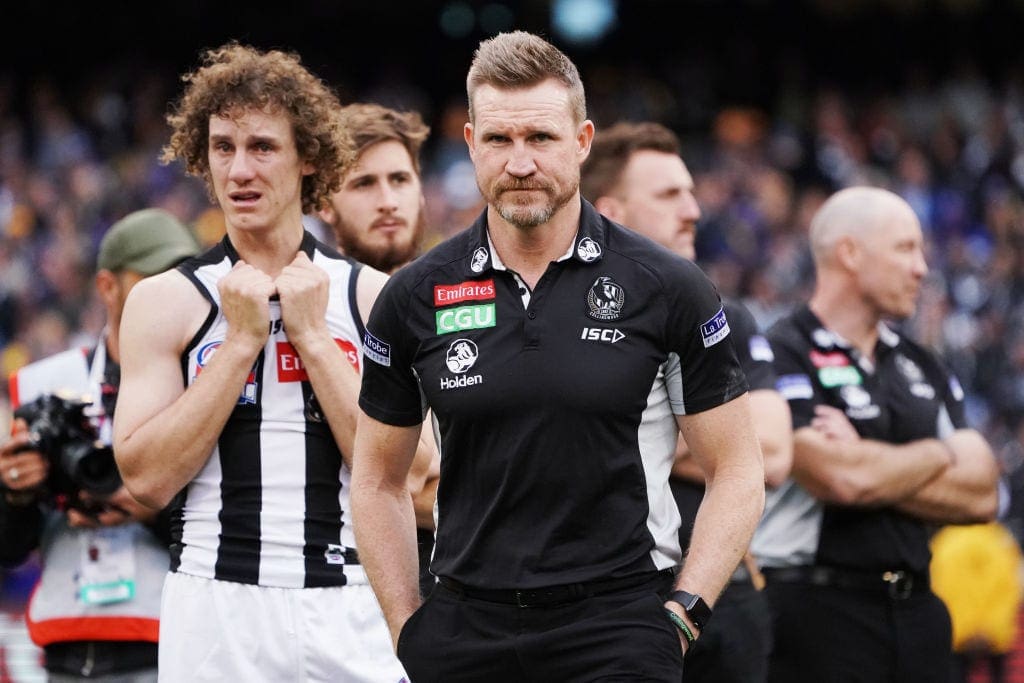 It really just comes down to whether or not he is the man to take the club forward and regenerate its list, or if after 10 years, it's time bring a fresh voice into the group and new eyes into the coaches' box. The uncertainty around Buckley's future also cascades onto his assistants, all of whom may not be there in 2022 regardless of the outcome of the senior role.
And a decision needs to be made sooner rather than later to alleviate the pressure, deflect the spotlight, and start moving the club in the right direction.
OFF-FIELD
The messaging from the club since last year's trade period has been a muddle - seemingly both internally and externally. Inside the four walls, Stephenson and Treloar revealed that they hadn't been given any strong indication they were going to be traded.
What's worse, in Treloar's case, he alleges he was told his exit was related to senior teammates wanting him gone and concerns over his ability to perform with his partner Kim Ravaillion and baby daughter moving interstate after she signed with Super Netball side the Queensland Firebirds.
An emotional Treloar in March opened up on his "sh*tstorm" exit from the Pies.
"And then for it to get turned on her, the whole re-signing at Queensland, coming back and being able to now train and play in a couple of months at the highest level," the gun Bulldogs recruit said on Fox Footy's AFL 360.
"To have that used against her and turned into a story with me, that was probably the most hurtful thing, because the story it should've been was this incredible woman who sacrificed her body for nine months to have Georgie and not play at the professional level, to then make a comeback and sign for a club where she's wanted to play for for such a long time."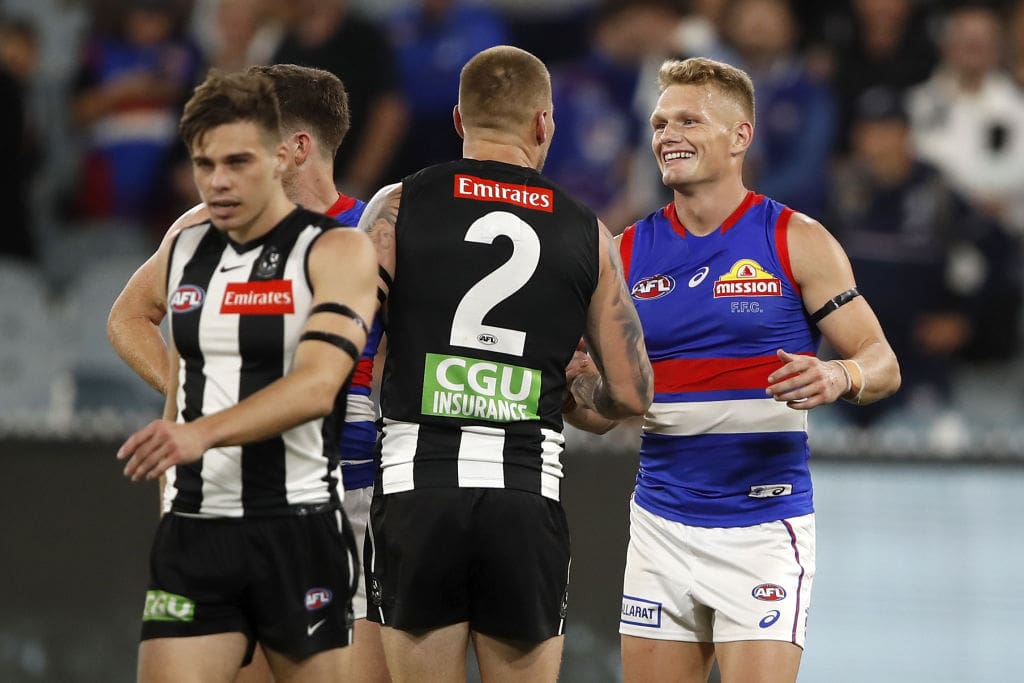 His departure was the most stark evidence of how mixed the messaging inside the joint has been. But what might be worse is the club's poor communication to its fans. The Pies were adamant all off-season that their trade exodus was part of some grand plan to build capital into the draft.
Again, a draft that was not highly rated, and one where Collingwood's first pick wasn't until No. 17. It left Pies fans - some of the most loyal and passionate in the game - shocked, heartbroken and betrayed.
And who could forget Ned Guy's infamous interview with Fox Footy immediately after the trade period?
Watch the interview below
Had the club simply admitted they had maxed out their books to the extreme in a bid to win a premiership, and as a result, needed to make ruthless list culls, no one would've begrudged them. Sure, they would have copped some short-term heat, but not the ongoing flogging that remains.
Most importantly, fans would have understood and appreciated the honesty, and had more trust in the club moving forward. Instead, it will go down as one of the all-time PR disasters that alienated the supporters and could well have sent shockwaves through the playing group.
SEE ALSO: Zero Hanger's Round 7 MVP votes
One of the big unknowns is how the players responded to the trade period and if it caused any friction within the group. Or if it subconsciously affected them in any way, potentially leading to their current disconnection on the field.
Of course, the other big off-field issue has been the turmoil at board level and ugly presidency handover. Just when you thought the club had taken enough of a beating, the Do Better report exposed horrible truths about its culture.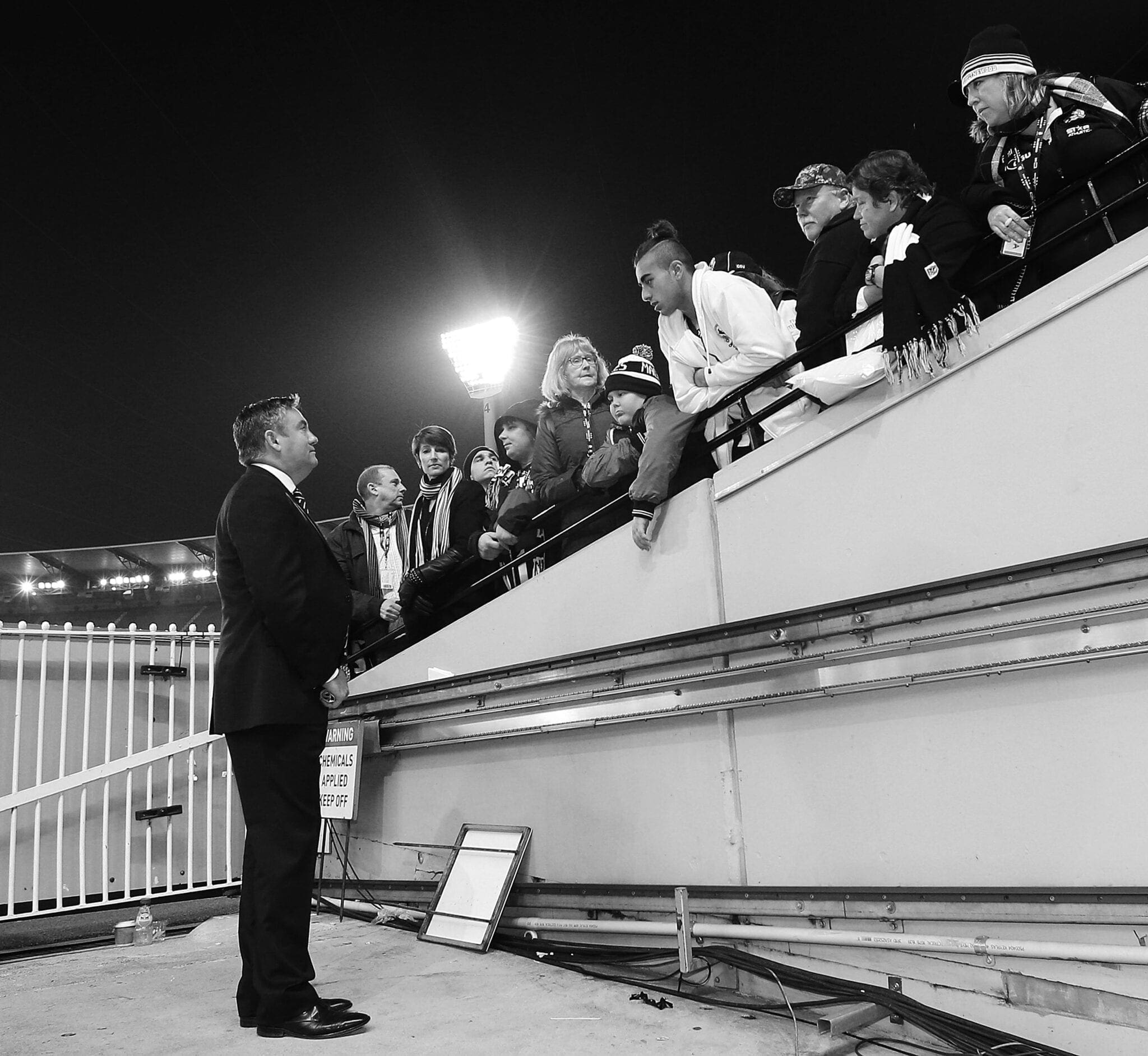 Eddie McGuire did what he has done best during his entire 22-year tenure - he was bold and on the front foot. But in this case, it was to his detriment, declaring at a press conference that the racism findings marked a 'proud and historic' day for the club. The scrutiny surrounding his comments were so intense that he stood down as president the following week.
Replacing Eddie was always going to be impossible, and there was murmurs of division within the board in the aftermath of his exit. Some two months later, the Magpies named long-time vice president Mark Korda as its new president, but the radio silence from club's hierarchy during their search was defeating.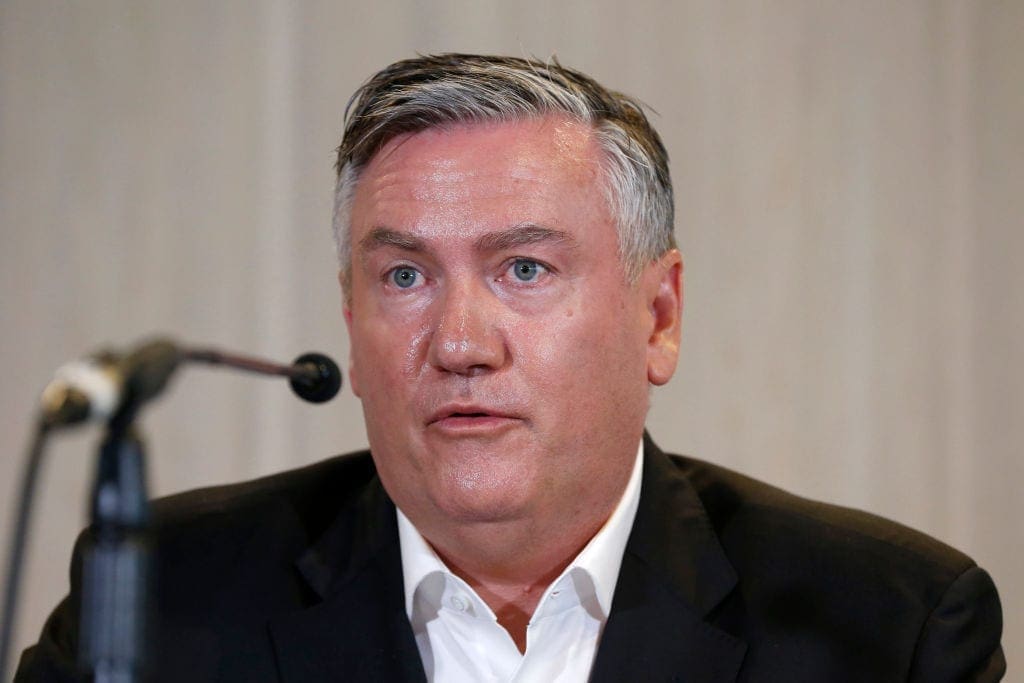 It felt like all leadership had been ripped out of the place and their direction was unknown. And now, a man who has served on the board since 2007 - during the Do Better findings - steps into the big chair, raising questions about the culture moving forward. Even as recently as last week, Korda declared that finals were still on the agenda in 2021, a fantasy for even the greatest optimists and creating more mixed messaging.
To add to the current instability, there are murmurs that Jeff Browne, one of McGuire's long-time friends, will call an election for the presidency. Throw in Graham Wright replacing Geoff Walsh as the General Manager of Football and it is a major period of change for the black and white. And so much change so quickly is never usually a good sign for a footy club.
They might be one of the AFL's richest clubs, but Collingwood's off-field issues are arguably just as bleak as they are on it.
THE FUTURE
A must-win bottom-of-the-ladder clash looms against North Melbourne this weekend, who are still searching for their first victory of the season. You can only imagine the reaction if the Pies go down here.
The remainder of 2021 should be a transitional phase for the club, aiming to get as many games into their youngsters as possible. And they need to start visualising what life looks like after Pendlebury and Sidebottom and who will help lead this club forward. Who is the next skipper?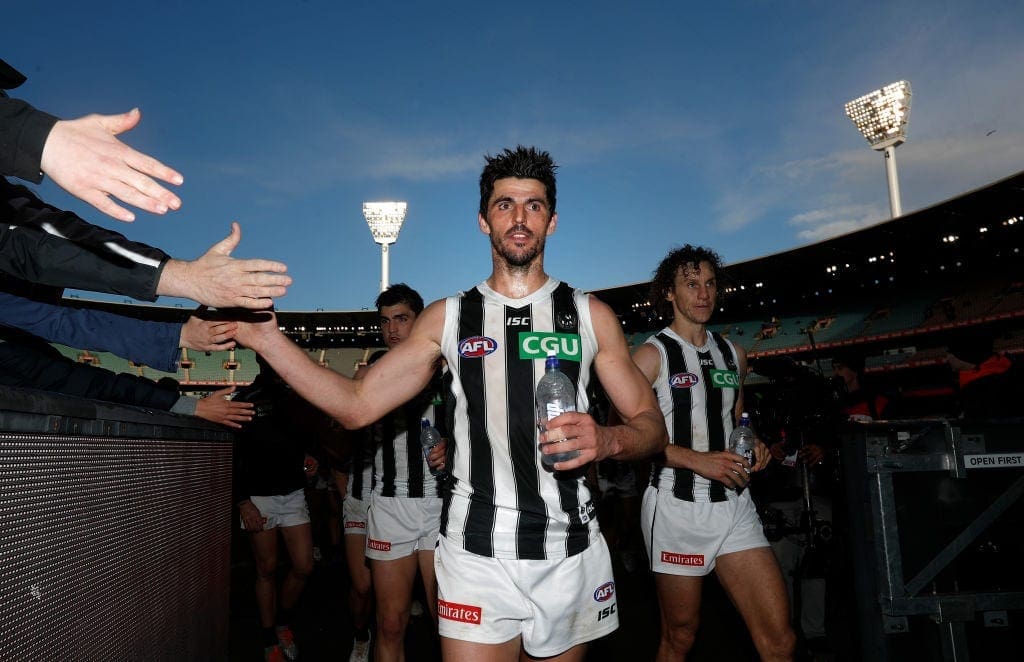 The Pies may need to make some more ruthless list management decisions at the end of the season, particularly given how poorly they have performed thus far. Could it be time to part ways with De Goey? Or thank free agent Sidebottom for all his services and bid him good luck at a rival club? Pendlebury is the only untouchable, while everything they do must be with an eye for the future, yet ensuring they don't implode in the process.
An interesting storyline will be how badly the Pies want father-son prodigy Nick Daicos. Touted as the likely No. 1 pick for this year's draft, the Pies currently don't have enough draft points to match an early bid for him.
It comes after the club traded away their first and second-round picks to load up on prospects from last year's draft, but they do hold the Bulldogs' second round pick -currently No. 37.
They also currently hold three additional selections - No. 39, 47 and 50, which add up to 1518 draft points, while a Pick 1 bid for Daicos will cost the club 2400 points. If the Pies match with fewer points, they go into points deficit, thus pushing back their 2022 first rounder to match the difference.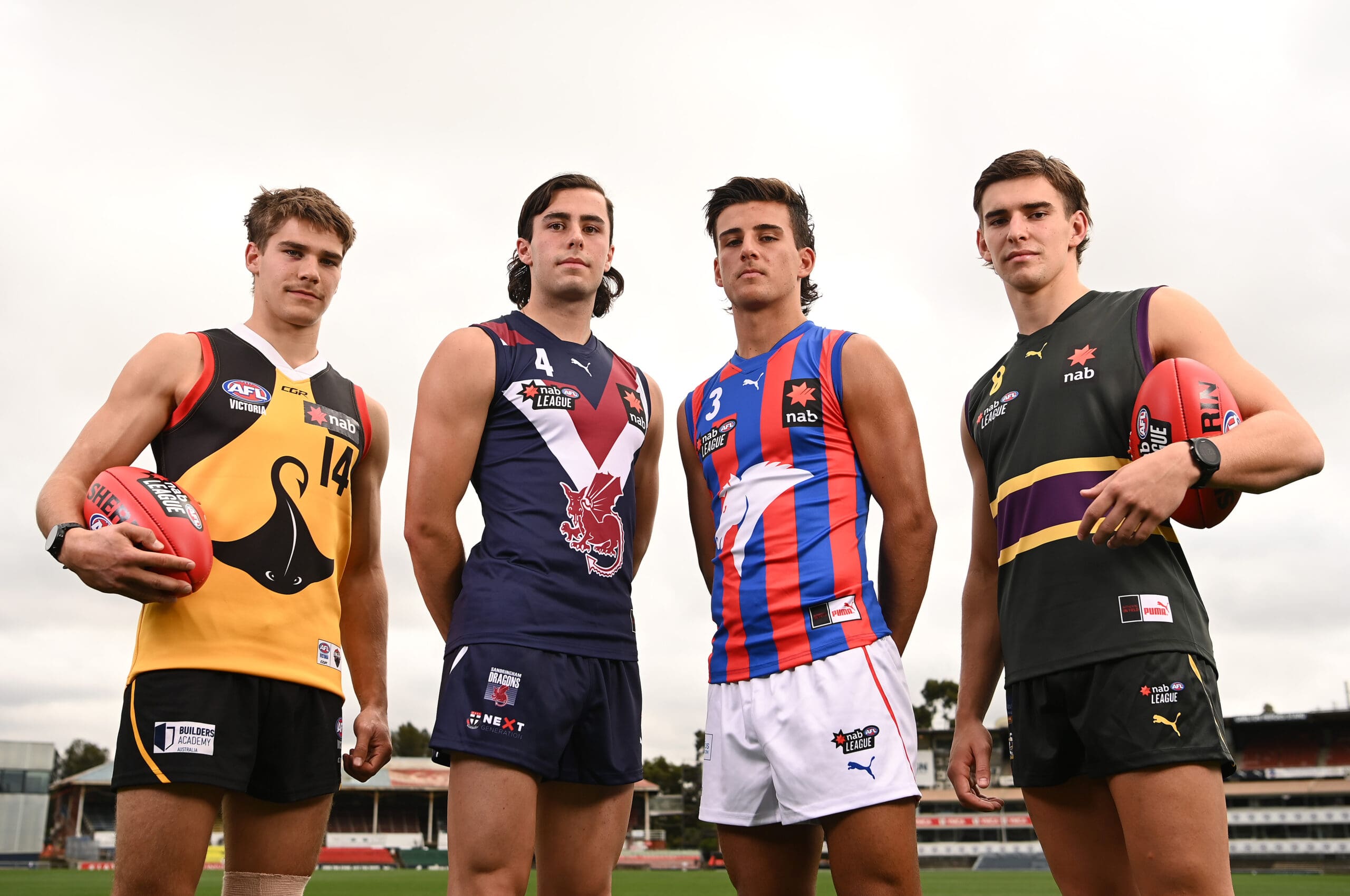 Furthermore, Daicos is still yet to formerly declare himself a Pie and will yet be interviewed by rival clubs before making his decision.
The question Collingwood needs to ask itself is whether or not the current nucleus, plus Nick Daicos, is promising enough to carry the club to its next flag tilt. While it is almost a certainty that Daicos Jr. will be a Magpie, there is an argument to be made that Collingwood are better off spreading their selections to bring in multiple youngsters.
Last time this club underwent a mini rebuild, it landed two blokes called Scott Pendlebury and Dale Thomas to compliment an already strong list. This time round, they will need to commit to a larger scale list reconstruction.
Looking at the most dominant clubs of the modern era like Hawthorn and Geelong, drafting a massive core of youngsters and bringing them on together is the blueprint of building for sustainable success. And you don't need to look any further back than Essendon's impressive draft haul last year - where they walked away with three top 10 prospects - to now boast one of the most exciting lists in the competition.
Collingwood has traditionally been a club that doesn't stay down for long, and if they make some smart decisions, can turn things round quickly. Unfortunately, it has been nothing but a stream of errors at the club for months now, making it hard to be too optimistic.
Where has it all gone wrong? There are multiple reasons, but all the club can do now is saddle up and prepare for the future. Although fans might need thick skin throughout the process.