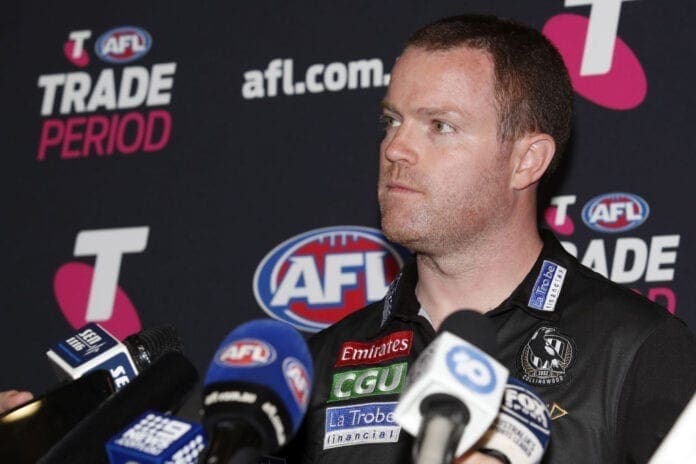 While Collingwood's poor on-field performances has put senior coach Nathan Buckley under immense pressure, the club's off-field management equally continues to dominate the AFL landscape.
According to a report by The Herald Sun's Marc McGowan, rCollingwood list manager Ned Guy sought a top-10 selection in last year's draft in exchange for the club's 2021 first-round pick, before eventually settling on the Giants' lower picks 24 and 30.
The emergence of father-son in waiting Nick Daicos as this year's potential No. 1 pick meant Guy was eager offload their expendable first rounder at last year's draft.
As a father-son selection, Collingwood have the option to match the bid on the prospect if he is drafted by a rival club, but must have enough points to do so.
The Tigers reportedly offered Pick 20 to the Pies in negotiations, while Port's offer was understood to be two picks in the 20's.
Collingwood can't pin all its hopes on Nick Daicos. It must look to move on senior players with currency, and one star in particular could appeal to rivals, writes @RalphyHeraldSun https://t.co/UiIUZAjzKS

— SuperFooty (AFL) (@superfooty) May 2, 2021
RELATED: Collingwood star Taylor Adams rubbishes report that senior leaders put heat on De Goey
Essendon, who had three picks inside the top 10 at last years draft, reportedly offered a pick swap. With No. 9, which was eventually used to draft Archie Perkins, going to the Pies in exchange for Pick 17, which was used for Oliver Henry. Two future third-round selections were also involved in the deal.
Collingwood, with help from the acquired picks from the Giants, drafted six players in a 2020 draft that many commentators deemed quite shallow.
Of the six drafted: Ollie Henry (Pick 17), Finlay Macrae (Pick 19), Reef McInnes (Pick 23), Caleb Poulter (Pick 30), Liam McMahon (Pick 31) and Beau McCreery (Pick 44), four have made their AFL debuts in the opening seven rounds of the season.
Bucks v Poulter 🏀

The moment Caleb Poulter won his AFL debut. pic.twitter.com/HTkluwJ2av

— Collingwood FC (@CollingwoodFC) April 28, 2021
Following the large haul in 2020 and the expected pick up of Daicos in 2021, Collingwood could potentially face a shortage of picks in both the later rounds of the 2021 draft and in 2022.
Approaching Round 8, Collingwood sit at a lowly 17th on the ladder, meaning that the Giants currently hold the number two pick.
On field, the Pies next face the bottom-of-the-ladder Kangaroos under the roof at Marvel Stadium in what could be a season defining match.
Meanwhile, off field, the club faces several key decisions which will define the next stage of the club's long history.