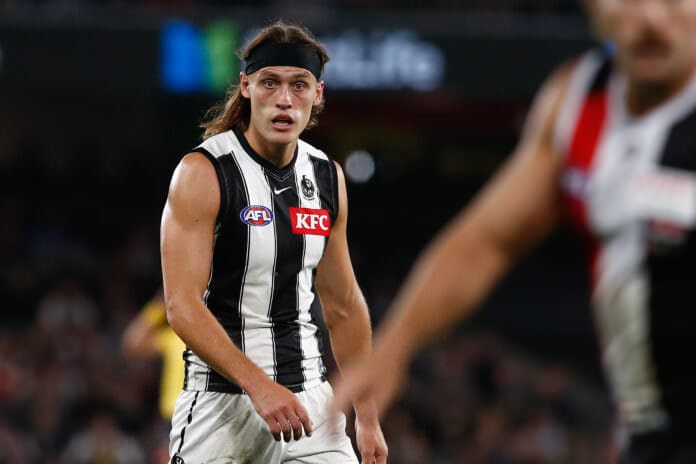 New Collingwood captain Darcy Moore believes the sanctions handed down to teammate Jack Ginnivan following his illicit drugs confession have been "dealt with appropriately", with the star Magpie stating he is eager to read the findings from the AFL's review into its own drugs policy.
Ginnivan will be required to undergo the necessary education and has been handed a suspended $5000 fine after receiving his first strike under the AFL's illicit drugs policy, while Collingwood has suspended Ginnivan for the opening two rounds of the home and away season.
An AFL Players' Association Board member, Moore holds close knowledge of the ongoing review of the illicit drugs policy, which is led by the league, the AFLPA and a third-party specialist.
The review has been underway for some time, with both Ginnivan and Western Bulldogs player Bailey Smith earning a strike in that time.
The policy itself has faced criticism from key figures across the league, with Moore looking forward to the findings once the review is finalised.
"It's being reviewed," Moore told reporters on Monday morning. "It's been reviewed, the IDP [illicit drugs policy], over the past 12 months by the AFL, a third-party medical specialist and the AFL Players Association.
"The IDP is a voluntary program that players have signed up to in order to safeguard their welfare and wellbeing. It's, obviously, something that is much talked about, especially when incidents like this occur. I am really looking forward to seeing the outcome of that review and what the AFL and the independent experts have to say about how effective it is.
"Obviously, the model is designed around welfare and wellbeing and harm minimisation of drugs amongst young people, in this case, AFL players. I am really looking forward to the results of that."
Smith was handed a two-game ban in the second half of last year after images allegedly showed the midfielder with a bag of white powder.
Western Bulldogs coach Luke Beveridge questioned the league's drug policy in the wake of Smith's suspension last year, stating it should "disappear".
"None of us really feel it works," he said in June last year.
"Essentially any player with a clinically diagnosed mental health challenge will never be exposed to the policy anyway, because regardless of whether you test or how often you're tested, you're always going to get a pass. That's a real chink in the actual process.
"It needs to be reviewed all the time - I'm a big believer that it should disappear. There are not many sporting codes in the world that have an illicit drugs policy – it's obviously all based around performance-enhancing (drugs)."
Speaking on Ginnivan's controversy, Moore echoed his club's stance that the incident is isolated.
The Magpies defender, who was promoted as captain in place of outgoing skipper Scott Pendlebury ahead of the 2023 season, called for more people to understand "people make errors of judgment".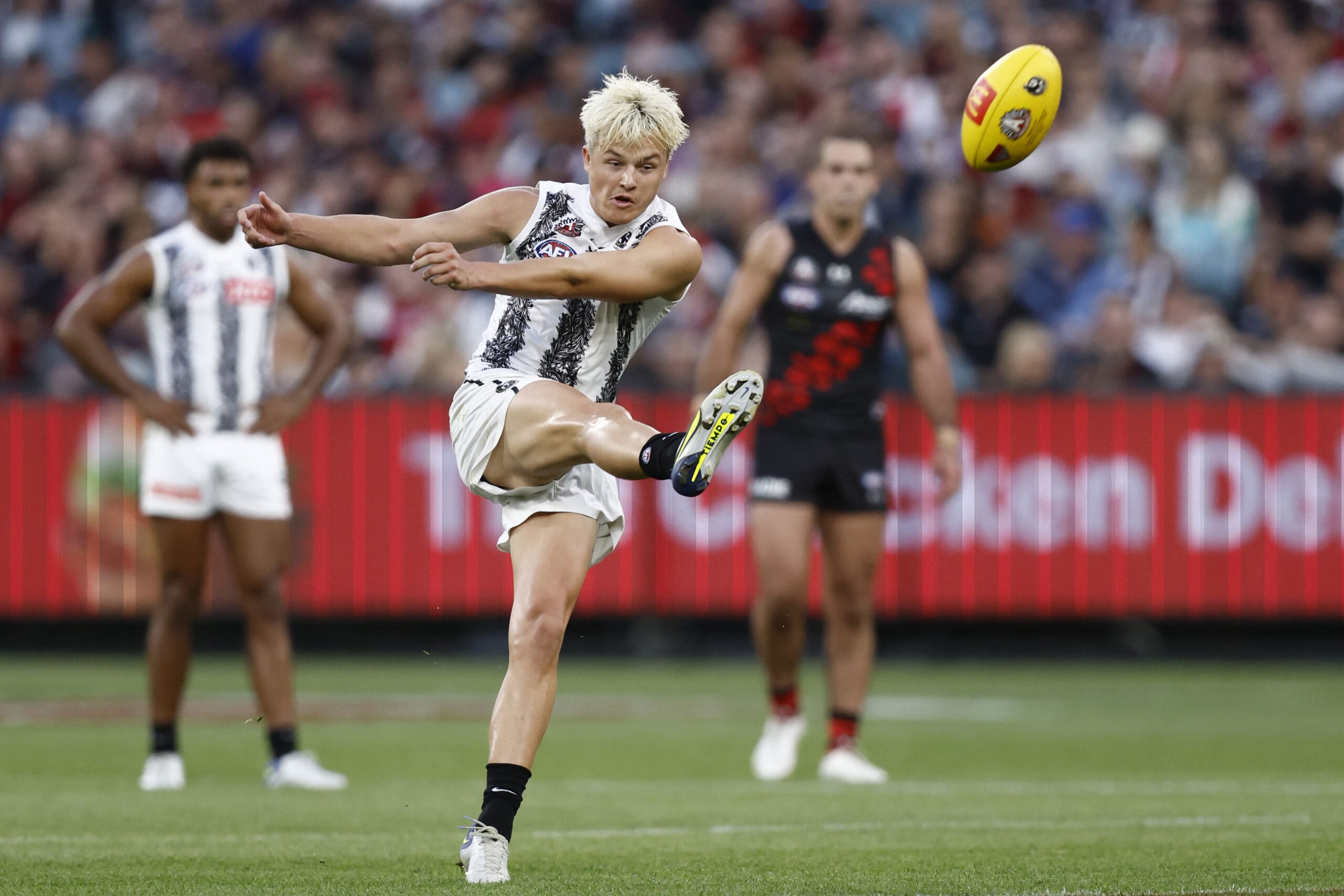 "Jack has made an error of judgment," Moore said.
"We get a lot of education. I think the community knows that and that is a source of disappointment for us. In this case, it is a 21-year-old man who has made an error of judgment at a venue.
"He has owned that, we have owned that, and the sanction has been dealt with appropriately.
"We have over 90 male and female athletes at this club, the large majority of whom take their job really seriously and make great decisions. But having said that, we don't operate in a vacuum, we are human beings, people make errors of judgment, and it's something that Jack has done in this instance."
Ginnivan has returned to training at Olympic Park this week but won't be able to play in a match at either AFL or VFL level for close to six weeks, with his suspension including pre-season matches and VFL games.
The 20-year-old will be available to face Richmond in Round 3 once his suspension ends.